Vietnam News Today (Dec. 1): PM Chairs 2022 National Urban Conference in Hanoi
Vietnam News Today (Dec. 1): PM chairs 2022 National Urban Conference in Hanoi; Vietnam-Australia trade forecast to set new record this year; Investors hunt for real estate as prices fall; Japanese firms highly value HCM City's investment environment.
Vietnam News Today (Dec. 1) notable headlines
PM chairs 2022 National Urban Conference in Hanoi
Vietnam-Australia trade forecast to set new record this year
Investors hunt for real estate as prices fall
Japanese firms highly value HCM City's investment environment
Dong Thap develops lotus-related tourism products
HCM City leader offers greetings on Lao National Day
Vietnam to have an effective match against Borussia Dortmund: Coach Park
Vietnam named among leading sources of seafood supply for US
Communication work on human rights to be stepped up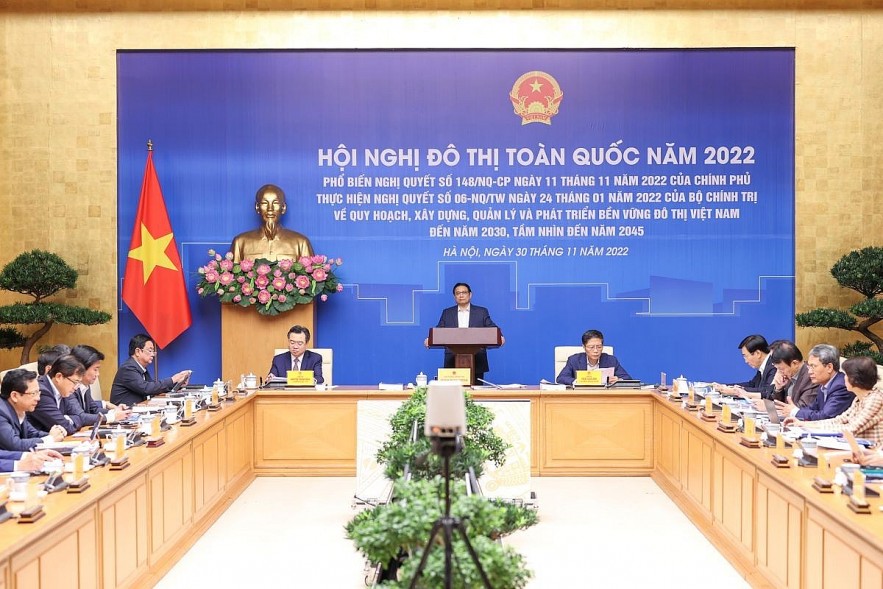 Prime Minister Pham Minh Chinh on November 30 presided over a national urban conference in Hanoi aiming to make a breakthrough in urban development in the coming years. Photo: VGP
PM chairs 2022 National Urban Conference in Hanoi
Prime Minister Pham Minh Chinh on November 30 presided over a national urban conference in Hanoi aiming to make a breakthrough in urban development in the coming years.
In his opening speech, Chinh noted the conference presents a chance for the government, ministries and localities to review the urbanization process in recent times and introduce solutions to better manage urbanization and urban developent in the coming years.
He expressed hope solutions and recommendations put forward at the conference would help improve the quality of urbanization and urban development in the next 10 years with a vision to 2045, with a particular focus on enhancing the efficiency of exploitation and use of resources, and bringing into full play innovation resources as well as comparative and competitive advantages of urban areas in the context of national, regional and international development.
According to the Ministry of Construction, Vietnam has 888 urban areas at present, and the figure is projected to rise to 950 – 1,000 by 2025 and 1,000-1,200 by 2030. Its urban economy is anticipated to make up 75% and 85% of the country's GDP by 2025 and 2030 respectively,
Under the Politburo's Resolution 06 on urban planning, construction, management and sustainable development of Vietnam to 2030, with a vision to 2045, the urbanization rate of Vietnam is required to rise to over 50%, striving to reach the average level of the ASEAN region, cited VOV.
Vietnam will build at least 3-5 international urban brands, and the urbanization rate is in the middle and high group of ASEAN and Asia by 2030.
Vietnam-Australia trade forecast to set new record this year
Two-way trade between Vietnam and Australia is expected to surpass the projection of US$15 billion and set a new record in 2022.
National Assembly (NA) Chairman Vuong Dinh Hue's ongoing official visit to Australia is also hoped to open up new opportunities for bilateral cooperation to turn the bilateral ties into a comprehensive strategic partnership.
At present, Vietnam and Australia are both members of at least three free trade agreements (FTAs), namely the ASEAN-Australia-New Zealand FTA (AANZFTA), the Comprehensive and Progressive Agreement for Trans-Pacific Partnership (CPTPP) and most recently the Regional Comprehensive Economic Partnership (RCEP).
Thanks to these deals, bilateral trade hit US$12.4 billion in 2021, up nearly 50% against the previous year, and surpassed the US$12 billion in the first nine months of the year, up 31.5% year-on-year, according to VNA.
According to the Vietnam Trade Office in Australia, the chance for Vietnamese goods to enter the Australian market is very favourable, as the tax rate levied on Vietnam's exports to Australia has been brought down to almost 0%.
Notably, at the end of 2021, Vietnam and Australia signed a strategy to strengthen economic ties with an aim to turn the two countries into the top 10 trading partners of each other and double bilateral investment. This is a premise to create favourable conditions for businesses of the two countries to expand cooperation.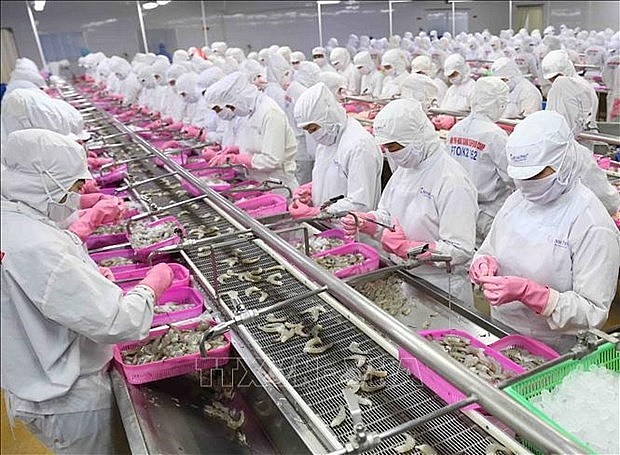 Illustrative image. Photo: VNA
Chu Thang Trung, Deputy Director of the Trade Remedies Department under the Ministry of Industry and Trade, said that expanding exports to the Australian market can help enterprises diversify markets and take advantage of opportunities brought about by FTAs.
However, it is necessary to prepare solutions to deal with trade remedy investigations from this market in order to ensure legitimate interests of enterprises, he stressed, adding that Australia has to date conducted nearly 20 trade remedy investigations against Vietnamese exports.
The ministry has promoted coordination among ministries, sectors and Government agencies at central and local levels in handling trade remedy cases, and guided Vietnamese firms to handle these cases more effectively and better meet the rules of origin to take advantage of the benefits of the signed FTAs.
Investors hunt for real estate as prices fall
As the real estate market has been cooling down over the last two months, now is the time for investors to buy land and housing at reasonable prices.
At this time, the real estate market is quiet and land prices are much better than before. However, Nguyen Van Chung, a real estate investor in Hanoi, said he doesn't intend to make purchases now though he has enough capital.
Like Chung, many others are watching the market to find opportunities and spend money. Pham Duc Toan, CEO of EZ Property, said many investors are holding on to cash to wait for a new cycle.
Photo: VNN
Duong Thuy Dung of CBRE Vietnam said many investors are still watching and not making investments. Meanwhile, investors who have borrowed money from banks to buy property are worried if lending interest rates increase.
She said that it is a sensitive time in the market. Landed houses and high-end apartments are the market segments that have been affected the most. This is because prices have increased rapidly, the value of the products is high, and they are fastidious about buyers when the market is in difficulty. The prices may decrease or see corrections when liquidity drops.
In its Q3 report, CBRE Vietnam predicted that the real estate market will face challenges, VNN reported.
Nguyen Duc Quan, CEO of Nam Land, said there are opportunities for bottom fishing. Investors eye market segments that promise good profits and projects developed by prestigious enterprises. "Liquidity is still good for products which can satisfy real purchase demand and long-term investments," he said.
For the apartment segment, he believes that with tightened credit, apartment prices may go flat or decrease next year.
Japanese firms highly value HCM City's investment environment
Ho Chi Minh City is an attractive investment destination for Japanese businesses thanks to its both development potential and mechanism to accompany and support investors, heard a seminar held by the Investment & Trade Promotion Centre of HCM City (ITPC) and the Japanese Business Association of Ho Chi Minh City (JCCH) on November 30.
Dao Minh Chanh, Vice Director of the municipal Department of Planning and Investment, said the JCCH and Japanese investors have made great contributions to HCM City's socio-economic development, and joined hands with municipal authorities to overcome severe effects of the COVID-19 pandemic over the last two years.
Municipal authorities have taken measures to speed up administrative reform in order to create a more open and favourable investment environment for investors who choose the southern hub for their projects, Chanh said.
Japanese Consul General in HCM City Watanabe Nobuhiro said Vietnam is a destination that Japanese businesses are interested in thanks to its rapid development and efforts to diversify supply chain.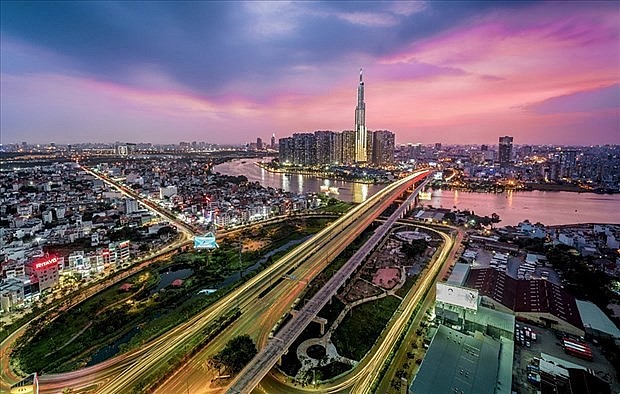 A view of Ho Chi Minh City from above. Photo: VNA
As an economic centre of Vietnam, HCM City boasts great potential to attract investment in the coming time, he said, adding that the Japanese business community highly values municipal authorities for efforts to promptly solve arising problems facing businesses and investors.
Before the seminar, Japanese businesses proposed 23 issues related to the environmental and life, law and labour, tax and customs, cited VNA.
Vice Chairman of the municipal People's Committee Vo Van Hoan said he hopes the Japanese business community will continue to share and contribute ideas on the areas that they are interested in the near future, and support local enterprises in seeking investment opportunities in Japan.
HCM City always leads localities nationwide in the number of foreign direct investment (FDI) projects, especially in areas of real estate business, processing and manufacturing industry, education and training.
As of November, the city was home to 1,568 projects invested by Japanese firms with a total capital of 5.5 billion VND. Japan is the third biggest foreign investor among the 117 countries and territories investing directly in the city, mainly in processing, manufacturing, wholesale and retail industries; automobile and motorbike repairing; science and technology, and construction.
Dong Thap develops lotus-related tourism products
Thap Muoi District, in the Mekong Delta province of Dong Thap, has moved to develop ecological agricultural tourism with a focus on designing new lotus-related tourism products since 2013.
Covering around 2 hectares in My Dong Commune, the Hoa Dong ecological site is a favourite tourist attraction providing leisurely travel experiences for visitors.
Visitors to the site can admire the beauty of vast rice fields and lotus farming areas while tasting delicious local dishes in small wooden houses.
Pham Thi Vem, the owner of Hoa Dong ecological site said that she came up with the idea of establishing a model combining agricultural production and ecological tourism a long time ago. The model not only benefits farmers but also helps visitors to explore the natural beauty of rice and lotus fields, she said.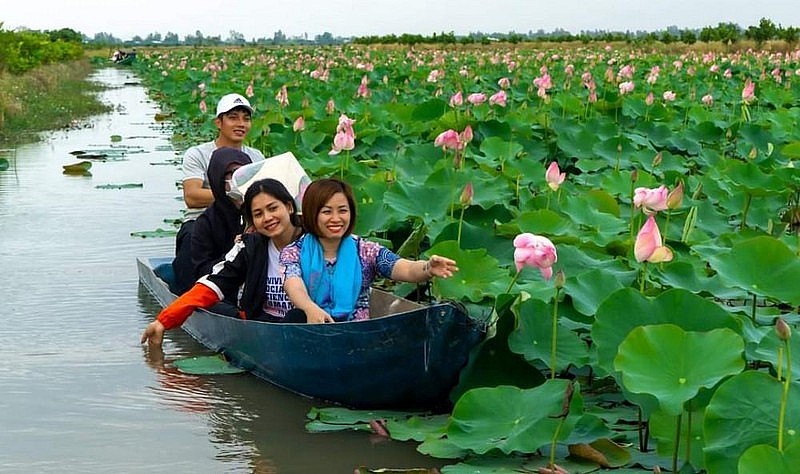 Dong Thap develops lotus-related tourism products. Photo: Nguyen Toan
As a major rice granary of Dong Thap Province, Thap Muoi District is equipped with favourable waterway and road transport systems. It is also home to vast lotus fields and unique traditional culture and arts. In addition, Thap Muoi is the first district in the province to have been recognised as a new-styled rural area with diverse agricultural products, particularly lotus-related ones.
These factors have created favourable condition for the locality to develop tourism. As a result, the district now has 15 tourism facilities, nine of which are located in lotus farming areas, NDO reported.
The facilities welcome more than 700,000 holiday makers every year, who come to visit lotus farms and shop for lotus-made products. The district's annual tourism revenue reaches approximately 8.4 billion VND.
Today, ecological tourism has become a growing trend. Tourists now prefer visiting places with fresh air and friendly people to live with nature. Given the situation, the district's authorities are paying due attention to developing agricultural tourism.
To date, agro-ecological tourist sites in Thap Muoi District have created jobs for nearly 500 farmers with stable incomes. In addition to fresh flowers, seeds and roots, the sites have also diversified the types of lotus-related products, such as essential oil, cosmetics, wine, milk, tea and other beverages, and food.
In order to increase the quality of ecotourism products, Thap Muoi District's Office of Agriculture and Rural Development has encouraged farmers to promote clean and environmentally friendly production.
Following this direction, farmers can provide better services for tourists while meeting the needs of companies and businesses for raw materials, thus contributing to the project on restructuring the local agricultural sector.
Chairwoman of Thap Muoi District People's Committee Tran Thi Quy said that the district has implemented many solutions to develop agricultural tourism in the ecological and community-based direction, with a focus on promoting the value and potential of the lotus.
Accordingly, the district has expanded lotus-growing areas to create a stable source of raw material for enterprises and facilities working with lotus products, while taking action to attract further investment in the local tourist sites.
Attention is also paid to enhancing training for staff at community-based tourism businesses to improve their skills in a more professional and effective manner.
In addition, the district has been actively coordinating with travel businesses to design new routes linking tourist attractions in the area in a bid to lure more tourists and encourage them to stay longer for their vacation in the locality.