Vietnam News Today (Jan. 7): Vietnam Adopts Decision on RCEP Enforcement Plan
Vietnam News Today (Jan. 7): Vietnam records 25,787 new local Covid cases; Vietnam Airlines resumes regular flights with RoK; Vietnam adopts decision on RCEP enforcement plan; SEA Games 31 preparations score budget boost.
Vietnam News Today (Jan. 7) notable headlines
Vietnam records 25,787 new local Covid cases
Vietnam Airlines resumes regular flights with RoK
Vietnam adopts decision on RCEP enforcement plan
SEA Games 31 preparations score budget boost
Vietnam becomes major manufacturer of Nike sports shoes
Vietnam attends SOM to gear up for ASEAN Foreign Ministers' Retreat
HCM City celebrates 50 years of Vietnam-India diplomatic ties
Rubber exports likely to reach US$3.5 billion in 2022
More efforts needed to stimulate economic recovery, says top Party leader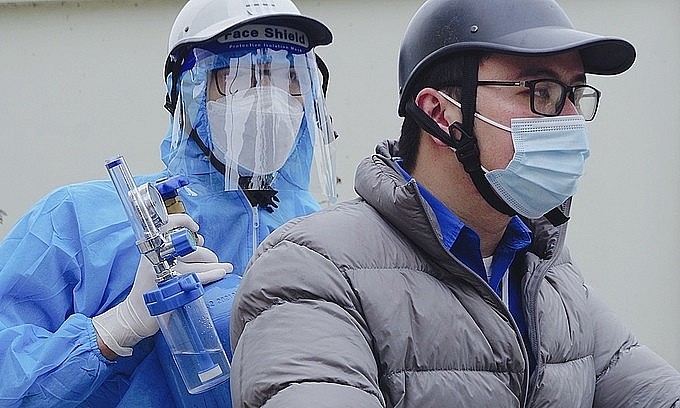 A health worker in Hanoi's Hoang Mai District brings an oxygen canister to the home of a Covid-19 case. Photo: VnExpress
Vietnam records 25,787 new local Covid cases
Vietnam on Thursday recorded 25,787 local Covid-19 cases, including 9,370 cases in the southern province of Vinh Long added to the national database.
The total infection tally in the new wave so far is 1,837,650 cases.
The three localities with the highest numbers of new cases are Hanoi with 2,716 cases, Hai Phong with 923 cases and Tay Ninh with 853 cases.
170 deaths were added to the national database on Thursday, with 21 cases in Ho Chi Minh City. The total number of Covid-19 deaths so far is 33,644 cases, or around 1.8 percent of all infections.
28,369 Covid-19 patients were announced recovered on Thursday, bringing the number of recovered cases so far to 1,464,415 cases, cited VnExpress.
Vietnam has recorded 25 Covid-19 cases infected with the Omicron variant so far, all imported cases. There are 15 in Quang Nam, six in HCMC, two in Thanh Hoa, and one each in Hanoi, Hai Duong and Hai Phong.
78.1 million people have received their first Covid-19 vaccine shots, 70.2 million have received their second shots, and 8.5 million have received their third shots.
Vietnam Airlines resumes regular flights with RoK
The first regular flight between the Republic of Korea (RoK) and Vietnam, which was operated by national flag carrier after two years of hiatus due to the Covid-19 pandemic, landed safely at Noi Bai International Airport in Hanoi at 12:43pm on January 6.
The flight VN417 carrying 63 passengers departed from Incheon International Airport in Seoul.
Nguyen Huy Duc, head of Vietnam Airlines' branch in the RoK, said Vietnam Airlines is the first Vietnamese carrier to resume regular flights between the two countries. There is high demand for returning to the homeland, especially when Tet (Lunar New Year) is approaching, he said.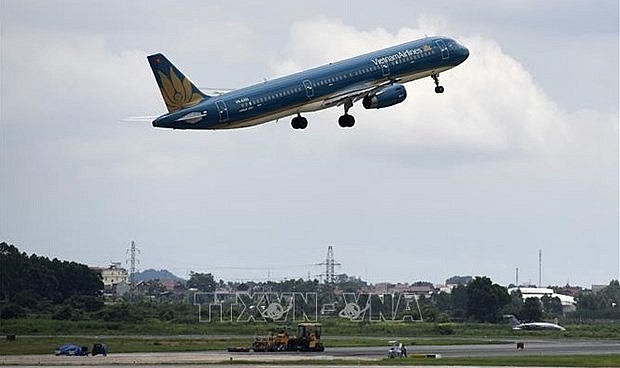 A plane of Vietnam Airlines. Photo: VNA
In the beginning stage, Vietnam Airlines will operate two flights per week between Seoul and Hanoi but the carrier is ready to add more flights if permitted.
To ensure the safety of the flights, the airline always strictly adheres to regulations on Covid-19 prevention and control, he said.
Pham Thi Luong, a passenger on the flight, said she was glad to return to Vietnam after two years. It was easy to buy the ticket and complete necessary procedures so people feel secure to come back to the homeland for reunion with their relatives on the Tet holidays, she said.
The flight is part of a plan to restore regular international flights with a high safety level, starting from January 1, 2022, which has been approved by the Government, according to VNA.
This policy aims to restore international passenger transport activities, promoting economic recovery and tourism as well as creating conditions for Vietnamese citizens to return home to celebrate the Lunar New Year.
Vietnam adopts decision on RCEP enforcement plan
Deputy Prime Minister Pham Binh Minh has signed a decision granting approval to a plan on the enforcement of the Regional Comprehensive Economic Partnership (RCEP), which entered into force from January 1, 2022.
The plan is designed to assign various tasks and responsibilities to relevant agencies and organizations, decide on measures relating to the direction and administration, and other measures which can fully and effectively implement this agreement.
Accordingly, ministries, ministerial-level agencies, Governmental agencies, along with People's Committees of provinces and centrally-run cities will enhance the dissemination of information about the RCEP and legal documents revised, supplemented, annulled, or promulgated. This will be done to implement an agreement for relevant entities, especially those that may be impacted such as the business community, industry associations, cooperatives, management agencies at the central and local levels, and workers through the media, websites, publications, documents, training courses, seminars, and dialogues.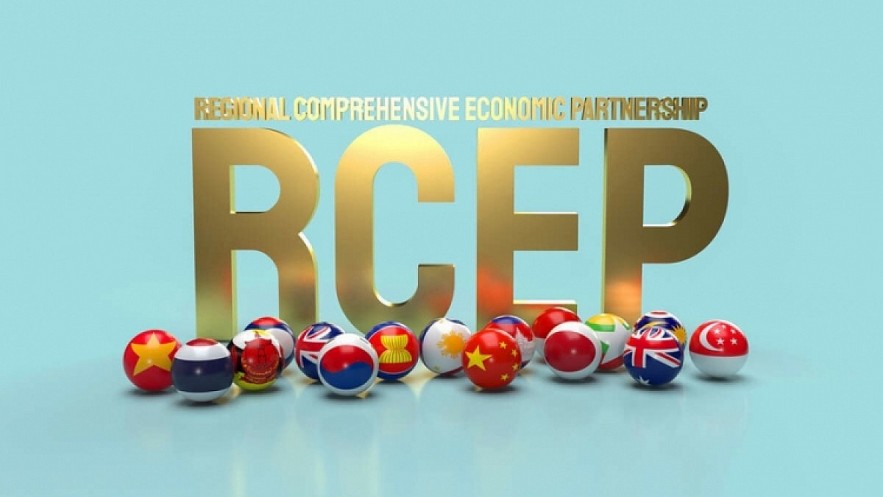 Photo: VOV
Attention will also be paid to promoting the provision of information and forecasts relating to import and export markets, as well as the domestic market, in order to help Vietnamese enterprises gain a greater understanding about the information, technical requirements, and import-export management regulations of RCEP signatories. This will therefore facilitate the making and the implementation of business and investment strategies.
Ministries, sectors, and localities will therefore formulate programs to support and improve the competitiveness of industries and businesses, especially micro-, small- and medium-sized ones, cooperatives, and farmer households, all of which will be done in line with international commitments. This is in addition to preparing a range of response solutions and support policies for industries that are greatly and directly impacted by the implementation of the agreement, reported VOV.
The plan also underlined the importance of restructuring agriculture, digital transformation, application of science and technology, and advanced production models to improve product quality and traceability, whilst also protecting the environment, thereby helping to meet national and international standards.
The RCEP was signed between 10 ASEAN members and five partners, including China, Japan, the Republic of Korea, Australia, and New Zealand, in November, 2020. The deal features nations which account for 30% of global gross domestic product (GDP) worth US$26.2 trillion.
It also forms a market consisting of 2.2 billion consumers and makes up the largest free trade area in the world. It will serve to eventually eliminate tariffs on as much as 92% of goods traded among its signatories, expand market access for investment, harmonize rules and regulations, and strengthen supply chains within itself.
SEA Games 31 preparations score budget boost
The government has approved VND301 billion (US$13.23 million) to be added to the preparation budget for SEA Games 31.
Approval was granted by Deputy Prime Minister Le Minh Khai. In particular, VND283 billion would be distributed to the Ministry of Culture, Sports and Tourism and VND18 billion to the Ministry of Public Security.
The organizers are speeding up the upgrade process of facilities, especially competition venues, which must be completed by March 2022.
SEA Games 31 was initially set to take place from Nov. 21 to Dec. 2, 2021 in Vietnam. But due to the Covid-19 pandemic in the country, the event was postponed and is set to take place from May 12 to 23 this year, cited VnExpress.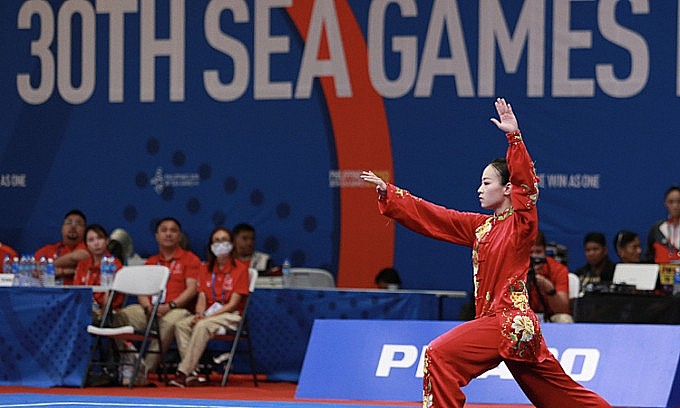 Gold medalist Tran Thi Minh Huyen performs tai chi at SEA Games 30 on December 1, 2019. Photo: VnExpress
Hanoi and 11 northern localities will host the event, which features 40 sports with 526 categories and about 10,000 participants.
The initial budget to host SEA Games 31 was around VND1,000 billion. Organizers expect to get US$11.3 million in revenue, of which US$3 million is from sponsors.
At SEA Games 30 in 2019, Vietnam finished second with 98 gold medals, behind hosts the Philippines.
Vietnam becomes major manufacturer of Nike sports shoes
Vietnam has surpassed China to become the major manufacturer of Nike sports shoes.
According to a report by the Central News Agency (CNA) of Taiwan (China), Nike's financial report indicates that up to 51% of Nike sports shoes were produced in Vietnam last year, while the share of production in China fell to 21%, a drop from 35% in 2006.
Along with Nike, Adidas, another major brand in the footwear industry, has also shifted their outsourced work to the Vietnamese market as opposed to China, with roughly 40% of its footwear produced now taking place locally, cited VOV.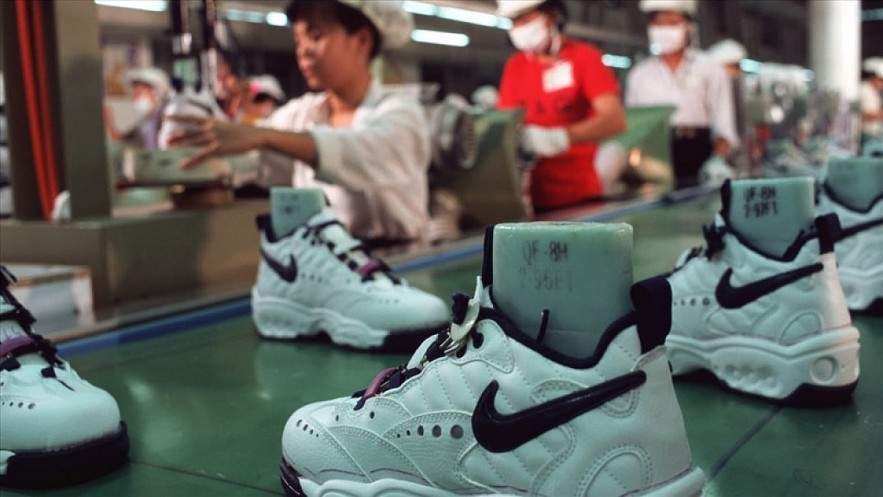 Vietnam surpasses China to become the main manufacturer of Nike sports shoes. Photo: VOV
The fourth wave of the Covid-19 pandemic had forced Nike to temporarily shut three of its facilities in the country, although they were able to reopen once again in mid-September, 2021.
Nike remains confident that the resumption of production locally will boost the company's future recovery efforts.
"We are increasingly confident supply will normalize heading into fiscal 2023," Matthew Friend, chief financial of Nike, told the Wall Street Journal amid factories in Vietnam being put back into operational and production being at approximately 80% of what it was before the closure.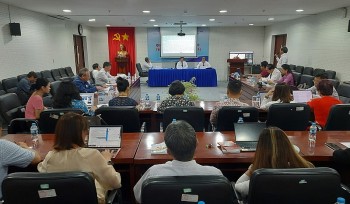 Friendship
The Vietnam - India Friendship Association's Ho Chi Minh City branch, the Ho Chi Minh City Union of Friendship Organizations (HUFO) and the Southern Institute of Social Sciences on March 21 held a scientific seminar themed "Vietnam - India relationship: tradition and present".