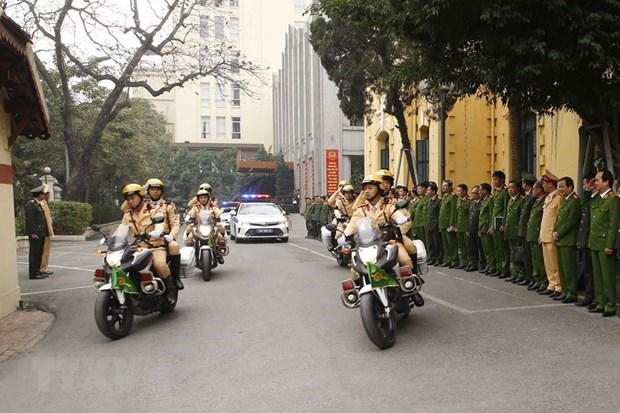 Hanoi's police begin the task of ensuring security for the 13th National Party Congress (Photo: VNA)
Hanoi's police begin task of ensuring security for National Party Congress
Hanoi's police held a conference on January 20 to start the implementation of plans to ensure security and order during the 13th National Party Congress, which will start next week, according to VNA.
Addressing the conference, Chairman of the municipal People's Committee Chu Ngoc Anh asked the police force to strictly implement directions from the Party Central Committee, the Government, the Ministry of Public Security, and the sub-committee for ensuring security, order, and safety for the congress.
He suggested Hanoi police further intensify inspections and urge those on duty to fully perform their tasks.
According to Deputy Minister of Public Security Bui Van Nam, Hanoi's police force should pay special attention to understanding the ongoing situation to promptly detect, prevent, and disable any and all conspiracies and activities by hostile and reactionary forces and other crimes during the congress.
Hanoi's police have already set up a command committee for protecting the 13th National Party Congress and security working groups to serve the command over and management of security work.
It has also worked closely with units under the Ministry of Public Security in assigning specific responsibilities, positions, and tasks to each unit.
Vietnam-Laos relations even more special amid COVID-19: Ambassador
The Vietnam-Laos relationship has remained pure and faithful and become even more special amid COVID-19, a diplomat has said.
Vietnam and Laos are among very few countries to have maintained in-person meetings and visits at the highest level given the pandemic, Vietnamese Ambassador to Laos Nguyen Ba Hung told the media.
Last year, Lao Prime Minister Thongloun Sisoulith visited Vietnam three times, in June, August and December, while Prime Minister Nguyen Xuan Phuc paid a visit to the neighbouring country in May, he went on.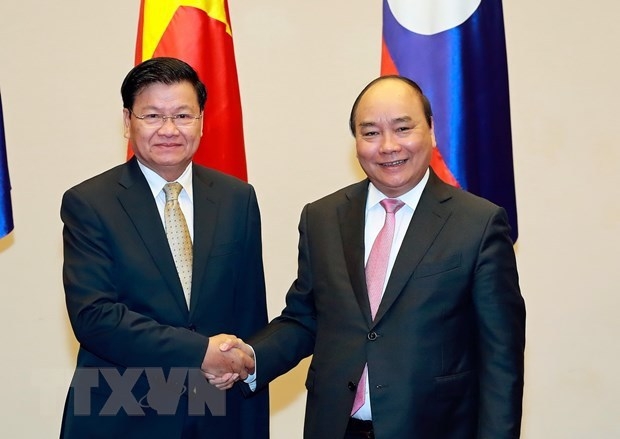 Prime Minister Nguyen Xuan Phuc (R) and Lao Prime Minister Thongloun Sisoulith (Photo: VNA)
The inter-governmental committee convened two meetings within a year for the first time, demonstrating the two governments' promptness in reviewing and promoting bilateral ties before Laos' 11th National Party Congress and Vietnam's 13th National Party Congress, he said.
Hung emphasised the two countries' mutual support in pandemic-related issues, saying PM Phuc vowed to help Laos with medical supplies during phone talks with his Lao counterpart two days after the first COVID-19 case was detected in the country.
The ambassador said Vietnam and Laos will further deepen their political ties in 2021 while enhancing cooperation in national defence, security, and external affairs, according to VNA.
Four U.S. returnees confirmed latest cases of COVID-19
Viet Nam confirmed four new COVID-19 cases on Wednesday, raising the patient tally to 1,544.
The latest patients are Vietnamese brought home from the U.S.
Patient 1,541 is a 72-year-old woman in Hoa Hiep Nam Ward, Lien Chieu District, Da Nang City.
She flew from the U.S. to Hong Kong and then took flight CX799 to Ho Chi Minh City on January 17.
The patient is being treated at the city's Hospital for Tropical Diseases.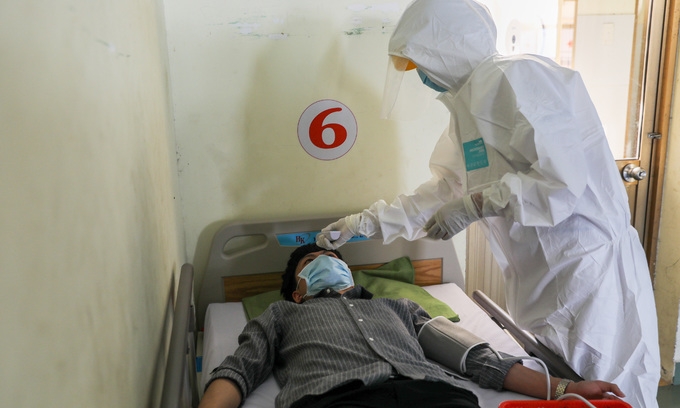 Prime Minister Nguyen Xuan Phuc (R) and Lao Prime Minister Thongloun Sisoulith (Photo: VNA)
Patients numbered 1,542 – 1,544 are natives of Ward 6, District 3, Ho Chi Minh City.
The same day, four more patients were declared free of the virus, bringing the total recoveries to 1,406.
Though the COVID-19 pandemic has been brought under control in Viet Nam, the Government has still maintained high level of vigilance to prevent external source of transmission. The Government requested all entrants must undergo 14-day mandatory quarantine, as reported by VGP.
Tet gifts offered to needy people nationwide
On January 20, Deputy Prime Minister Trinh Dinh Dung visited and presented gifts to poor households, policy beneficiaries, needy workers, and children at the SOS Children's Village in Viet Tri City, Phu Tho Province, ahead of the Lunar New Year (Tet).
The Deputy PM and representatives from the Vietnam Fatherland Front Central Committee, the Vietnam General Confederation of Labour and provincial leaders handed 100 gifts to policy beneficiaries and another 100 to disadvantaged workers.
Visiting the SOS Children's Village Viet Tri, Deputy PM Dung encouraged the village to continue promoting its traditions, while mobilising and effectively utilising resources and assistance from individuals and organisations to take care of and educate disadvantaged children.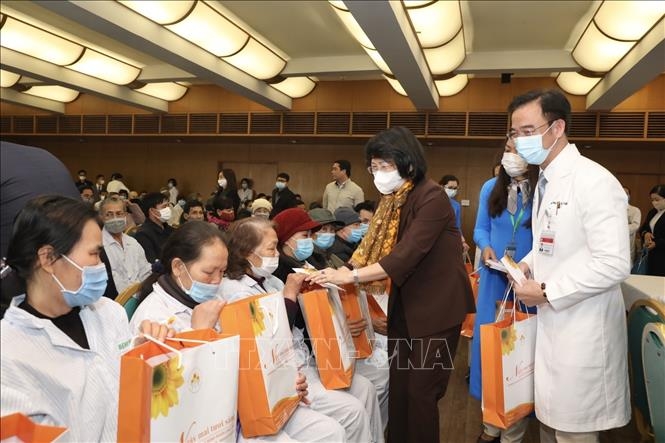 Vice President Dang Thi Ngoc Thinh presents gifts to cancer patients at Bach Mai Hospital. (Photo: VNA)
On the same day, Vice President Dang Thi Ngoc Thinh paid a pre-Tet visit to Bach Mai Hospital in Hanoi, during which she presented 100 gifts to cancer patients being treated at the hospital.
The same day, a delegation from the Cao Bang provincial authorities, led by the Secretary of the Provincial Party Committee Lai Xuan Mon, visited and presented Tet gifts to ethnic minority communities in Tan Tien Hamlet, Minh Tam Commune, Nguyen Binh District. The delegation presented gifts to 68 local households and 100 bicycles worth VND150 million to 100 students.
On January 20, in Thu Dau Mot City, the Binh Duong Provincial People's Committee organised a "Tet for the Poor 2021" programme, during which provincial leaders presented more than 600 gifts worth VND1.3 million each to disadvantaged people, poor households, Agent Orange victims, people with disabilities, and workers living away from home, NDO said.
Foxconn's laptop plant in Bac Giang and implications for Viet Nam
The Bac Giang Provincial People's Committee on Monday awarded a license Taiwan's Foxconn to build a US$270 laptop and tablet plant in the northern locality.
This is among four foreign-invested projects with combined registered capital of US$570 million that got licenses from the local authorities on the same day.
The projects send out a positive message to the wider world that Viet Nam remains a favorite destination for foreign investment but experts says localities need to stay prepared to welcome new wave of investment.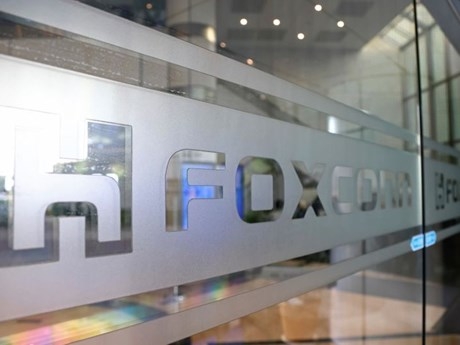 (Photo: Vnanet)
According to the Ministry of Planning and Investment, the project indicates that Government's great efforts to improve business climate have brought about tangible outcomes in the context that multinational business giants are planning supply chain diversification and optimization.
Attraction of foreign investors like Foxconn is in line with the guidelines enshrined in the Resolution No. 50-NQ/TW dated August 20, 2019 of the Politburo providing orientations for improving institutions, policies and efficiency of foreign investment cooperation through 2030, VGP said.
Jasmine Le