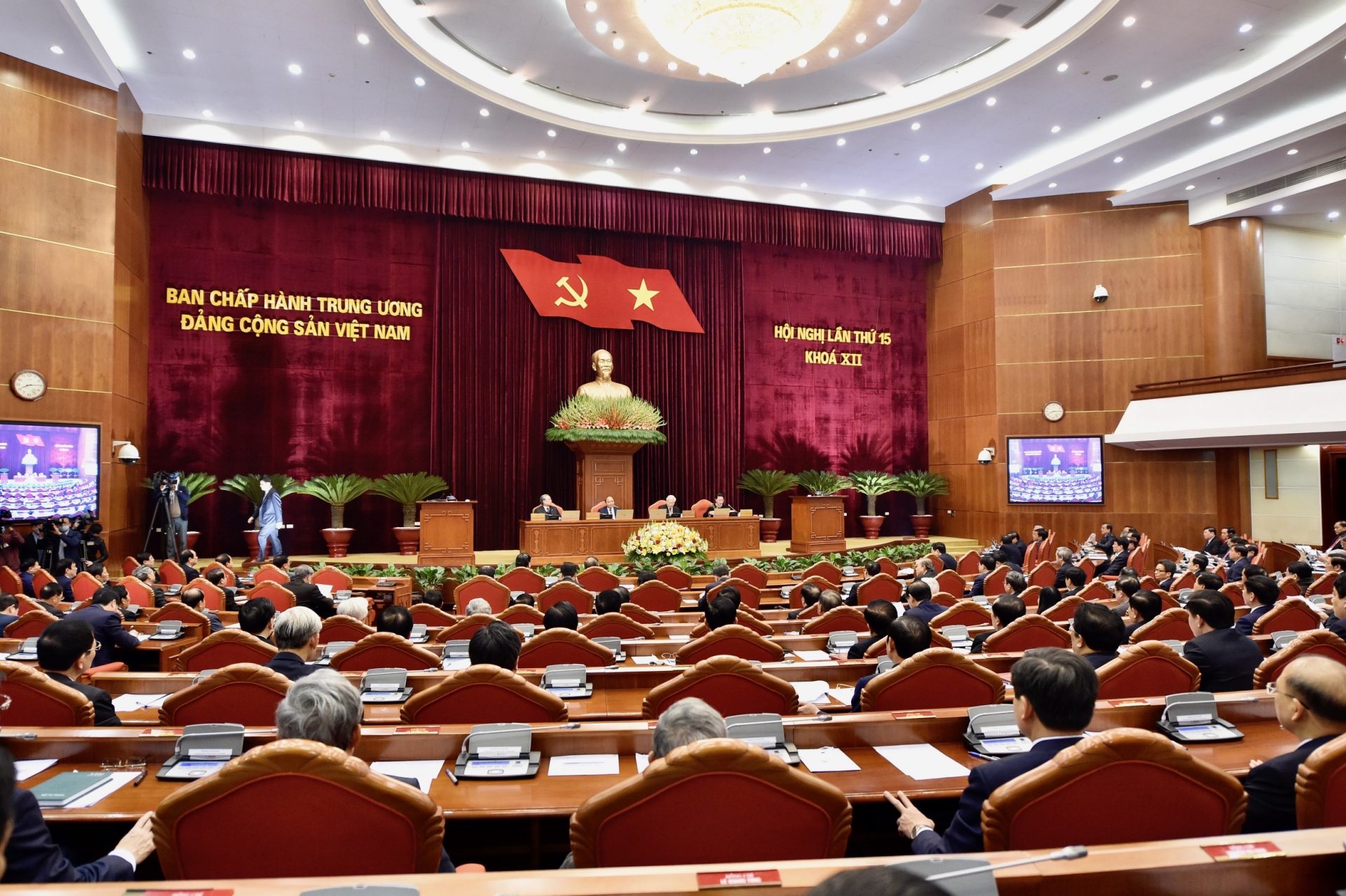 The plenum is scheduled to run until January 18. Photo: VGP
Party Central Committee convenes 15th plenum
The 15th plenum of the 12th-tenure Communist Party of Viet Nam Central Committee opened Saturnday morning.
During the three-day meeting, the Party Central Committee will continue finalizing personnel preparations for the next tenure.
The Committee will also discuss and approve reports of the 12th-tenure Party Central Committee on documents to be submitted to the 13th National Party Congress scheduled to begin on January 25.
Viet Nam holds National Party Congress every five years. A National Party Congress have main duties: it approves the Political Report, adopts Viet Nam's Socio-Economic Plan for the next five and 10 years, amends Party Statutes, and most importantly, elects new Party Central Committee.
The newly-elected Party Central Committee will then convene first Plenum to elect the Party General Secretary, the Secretariat, and Head of the Party Central Committee's Inspection Commission and its members, VGP reported.
Top leader holds phone talks with new Secretary General of Lao People's Revolutionary Party
Party General Secretary and State President Nguyen Phu Trong held phone talks with the newly-elected General Secretary of the Lao People's Revolutionary Party (LPRP) Central Committee Thongloun Sisoulith on January 16.
During the talks, Trong congratulated the LPRP on the successful organization of the 11th National Congress and Sisoulith on his election to the Party General Secretary post, according to VGP.
He expressed his hope that under the leadership of the LPRP and General Secretary Sisoulith, Lao people will gain greater achievements in the national building and defense and renewal cause.
Sisoulith, in turn, thanked Vietnamese leaders for sending congratulatory messages to the LPRP and him, and briefed Trong on the outcomes of the just-ended 11th National Party Congress of Laos.
He also showed his belief that under the leadership of the Communist Party of Viet Nam, the country will reap more fruits and successfully organize the upcoming 13th National Party Congress.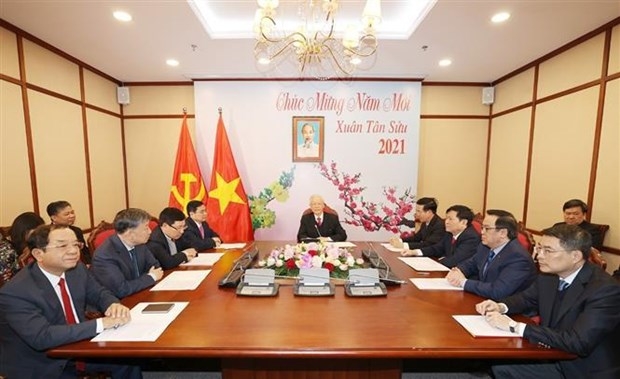 Party General Secretary and State President Nguyen Phu Trong holds phone talks with the newly-elected General Secretary of the Lao People's Revolutionary Party (LPRP) Central Committee Thongloun Sisoulith, January 16, 2021 - Photo: VNA
The Vietnamese leader spoke highly of the outcomes of Laos' 11th Congress, stressing that this is an important milestone in the country's development process and a great encouragement for Viet Nam during its preparation and organization of the 13th National Party Congress.
Both leaders showed their delight at the constant development of the Viet Nam-Laos special solidarity, which has benefited the two countries' people.
They also vowed to do their utmost to protect and foster the special relations in any circumstances.
Both leaders invited each other to visit their respective countries at an appropriate time.
Prime Minister Nguyen Xuan Phuc also extended congratulations to the new General Secretary of the Lao party./.
Nigerian national confirmed positive for COVID-19
A Nigerian man was confirmed positive for COVID-19 on Saturday, raising the country's patient tally to 1,537.
He took flight QR976 from Qatar to the Noi Bai International Airport on January 14 and was quarantined in Thanh Hoa Province.
The patient is being treated at the National Hospital for Tropical Diseases in Ha Noi's Dong Anh District.
Of the country patient tally, 1,380 have been cleared of the virus while fatalities remain at 35.
Meanwhile, 17,954 people who had close contact with COVID-19 patients or arrived from pandemic-hit areas are being quarantined nationwide, with 135 at hospital, 16,466 at designated facilities and 1,353 at home or their accommodations, as reported by VGP.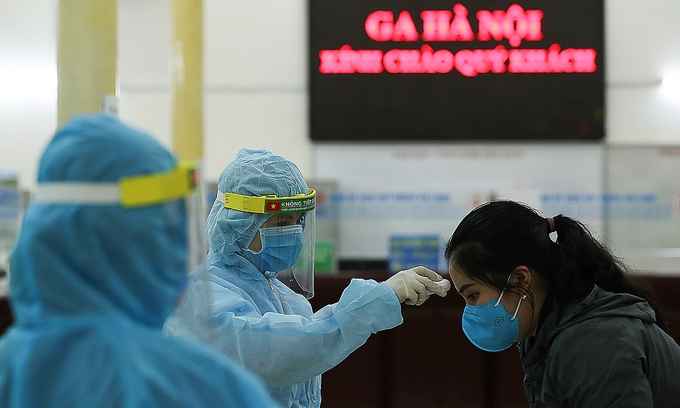 A passenger (R) has her body temperature checked at a railway station in Hanoi, April 6, 2020 (Photo: VNE)
All senior citizens to be covered by health insurance in 2021
Vietnam aims to provide social insurance coverage for all elderly people nationwide by 2021, said Deputy General Director of Vietnam Social Security (VSS) Tran Dinh Lieu at a meeting of the Vietnam National Committee on Ageing (VNCA) on January 15, VNA reported.
According to a report of the Ministry of Labour, Invalids and Social Affairs, Vietnam had nearly 13 million elderly people (aged 60 and above) in 2020, accounting for 12 percent of the population, with about 1.98 million aged over 80, and approximately 7.7 million elderly people living in rural areas.
The State budget spent about 18 trillion VND (779.69 million USD) implementing social assistance policies for the elderly in the community. Specifically, more than 1.8 million elderly people received monthly allowances, over 1.4 million enjoyed allowances as national contributors, and 3.1 million are enjoying pensions and social insurance benefits. In addition, 12.1 million senior citizens currently have health insurance cards.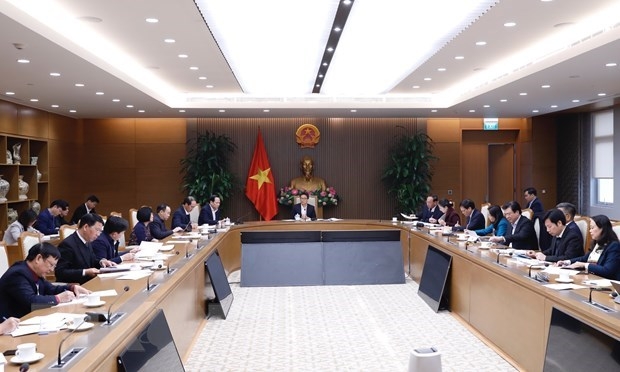 An overview of Vietnam National Committee on Ageing's meeting (Photo: VNA)
The VNCA highly appreciated the efforts made by the Vietnam Association of the Elderly (VAE) and its local chapters in creating conditions for the elderly to participate in cultural, musical and sports activities, while urging for more active support from all-level Party committees and authorities in the work.
At the meeting, VNCA members agreed that in the time ahead, ministries, sectors and localities should focus on implementing policies related to the elderly in close association with multidimensional poverty elimination policies.
Remittances from Vietnamese migrant workers reach US$4 billion annually
The yearly amount of remittances sent by Vietnamese guest workers to Vietnam from abroad is between US$3 billion and US$4 billion per year, according to the Ministry of Labour, Invalids and Social Affairs.
Nguyen Gia Liem, deputy director of the Department of Overseas Labor Management under the Ministry of Labour, Invalids and Social Affairs told a recent workshop on ensuring the rights of Vietnamese migrant workers" that sending guest workers abroad has contributed to creating jobs whilst also improving the lives of both workers and their families, VOV said.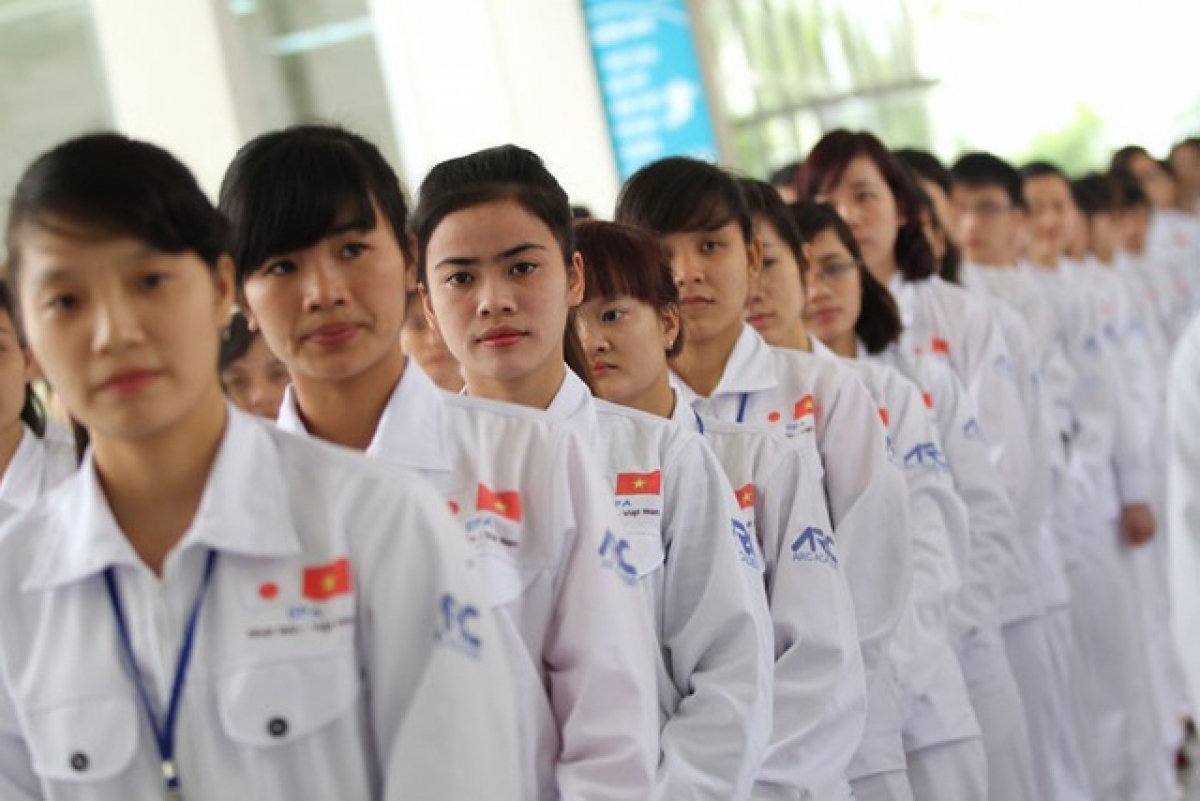 (Photo: VOV)
Vietnamese migrant workers mainly operate in fields such as construction, manufacturing, nursing, cleaning, agriculture, and fisheries, with the majority going to markets such as the Republic of Korea, Japan, Taiwan (China), the Middle East, and Malaysia.
Most notably, the number of Vietnamese labourers working abroad has steadily increased each year, especially over the last five years which has seen an annual rise of approximately 10,000 people.
The department has initiated plans to send roughly 90,000 Vietnamese workers abroad in 2021, with between 120,000 and 150,000 workers a year in the future.
Jasmine Le