Vietnam News Today (January 15): VUFO to step up peace, solidarity, friendship activities
Vietnam News Today (January 15) features headlines including VUFO to step up peace, solidarity, friendship activities, Vietnam to virtually attend ASEAN Foreign Ministers' Retreat 2021, Vietnam reaps many diplomatic achievements, COVID-19 updates.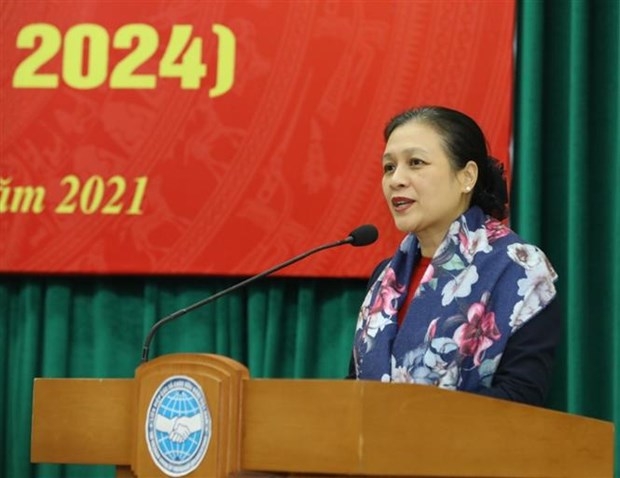 VUFO President Ambassador Nguyen Phuong Nga (Photo: VNA)
VUFO to step up peace, solidarity, friendship activities
The Vietnam Union of Friendship Organisations (VUFO) plans to step up peace, solidarity, and friendship activities with foreign countries, strategic and comprehensive partners, and international friends in 2021, heard a conference in Hanoi on January 14.
The information was unveiled at the third conference of the presidium of the VUFO, during which delegates agreed that the union will enhance cooperation with partners in addressing the consequence of war, Agent Orange (AO)/dioxin, bombs and mines, natural disasters, and diseases.
Information efforts will be boosted to mobilise international support for Vietnam's stance on issues regarding sea and island sovereignty, among others.
It will play a more active role in activities relating to the UN agenda on sustainable development by 2030 and will consider joining other major international mechanisms and forums in order to generate more support for the country.
As reported by VNA, VUFO Vice President and Secretary General, said the union provided timely aid to international friends in fighting the pandemic last year, with total funding amounting to about 13 billion VND (563,500 USD).
Meanwhile, through the union, 115 non-government organisations sent more than 6.5 million USD in cash and kind to Vietnam during the fight, he added.
Vietnam to virtually attend ASEAN Foreign Ministers' Retreat 2021
Deputy Prime Minister and Foreign Minister of Vietnam Pham Binh Minh will attend an ASEAN Foreign Ministers' Retreat to be virtually chaired by Brunei Foreign Minister Dato Erywan Pehin Yusol on January 21, as reported by VOV.
This is the first of a series of meetings and conferences to be hosted by Brunei in 2021 during its ASEAN Chairmanship under the theme of "We Care, We Prepare and We Prosper", said Foreign Ministry spokesperson Le Thi Thu Hang at a regular press briefing of the ministry in Hanoi on January 14.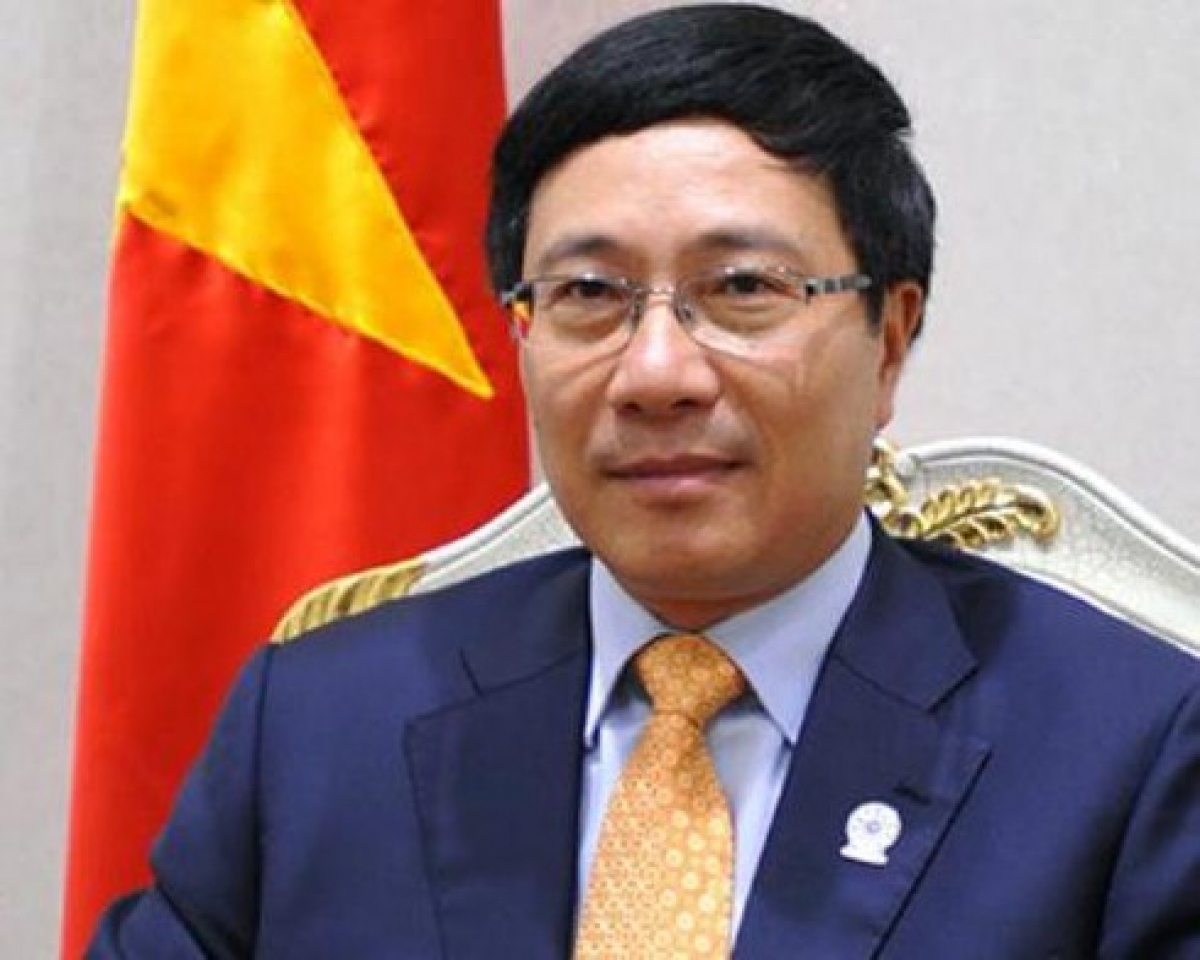 At the upcoming meeting, ASEAN Foreign Ministers will exchange views on many important issues, including the implementation of the results of the 37th ASEAN Summit held in Vietnam's Hanoi capital in November 2020, and work on ASEAN's priorities in 2021.
They will also touch upon issues related to ASEAN external relations, as well as regional and international issues of mutual concern, Hang said.
Vietnam chaired the ASEAN Year 2020 and it handed over the chairmanship title to Brunei at the 37th ASEAN Summit in Hanoi last November.
Vietnam reaps many diplomatic achievements: Foreign Ministry spokesperson
In the context of the COVID-19 pandemic, Vietnam has reaped encouraging achievements in pandemic control, socio-economic development and particularly external relations, said Foreign Ministry spokesperson Le Thi Thu Hang.
At the Foreign Ministry's regular press conference on January 14, Hang said Vietnam has fulfilled its roles as Chair of ASEAN in 2020, Chair of the 41st General Assembly of the ASEAN Inter-Parliamentary Assembly (AIPA 41) and a non-permanent member of the UN Security Council in the first year of the 2020-2021 tenure.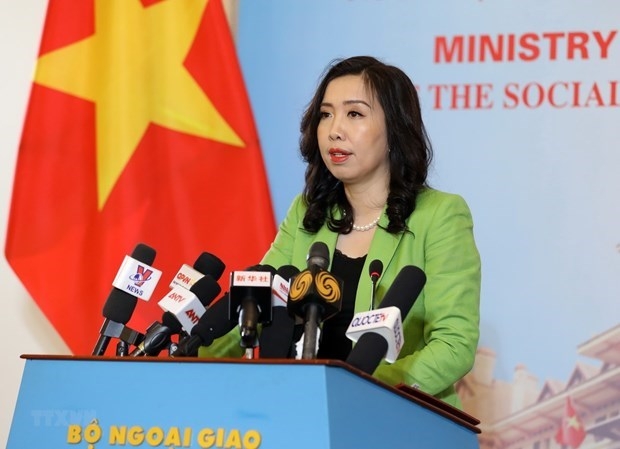 Foreign Ministry spokesperson Le Thi Thu Hang (Photo: VNA)
She noted that bilateral and multilateral diplomatic activities continued to be strengthened through both online and direct forms. Vietnam has provided support in the form of medical supplies to 51 countries and international organisations, contributing to global efforts in fighting the COVID-19 pandemic.
Amid the difficulties caused by the pandemic, Vietnam has treated citizens infected by the novel coronavirus of many countries and sent them home, while protecting its own citizens abroad. According to Hang, Vietnam has conducted 299 flights to bring more than 80,000 Vietnamese citizens in 60 countries and territories back to the home country, VNA reported.
Only expats with urgent needs could be repatriated before Lunar New Year
Only Vietnamese expats with seriously urgent needs would be repatriated on rescue flights from now to the Lunar New Year festival, Foreign Ministry Spokesperson Le Thi Thu Hang told a room of reporters Thursday.
A detailed plan for such rescue flights is being developed by several ministries in accordance with regulations on COVID-19 prevention and control as well as the country's domestic quarantine capacity, Hang said.
Earlier, on January 11, PM Nguyen Xuan Phuc requested subordinate levels to minimize inbound flights until the Lunar New Year holiday due to the emergence of new COVID-19 variants that are up to 70% more transmissible in many countries, as reported by VGP.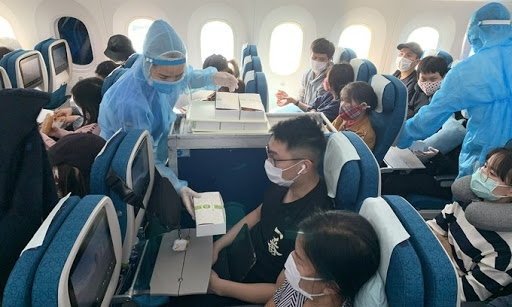 Vietnamese citizens onboard a flight (Photo: VGP)
All inbound flights, if any, must be agreed upon by four ministries, namely the Ministry of Health, the Ministry of National Defense, the Ministry of Public Security and the Ministry of Transport, before reporting to the Government chief for consideration and decision.
So far, Viet Nam has conducted 299 flights to bring home over 80,000 Vietnamese citizens from 60 foreign countries and territories, according to Hang.
Four foreign nationals among 10 new COVID-19 cases
Viet Nam on Thursday confirmed ten new COVID-19 cases, including four foreign nationals, bringing the patient tally to 1.531.
Specifically, patient 1522 is a 53-year-old man in Ho Chi Minh City.
He flew from Dominica to France and then took flight VN18 to the Van Don International Airport in Quang Ninh Province on December 12.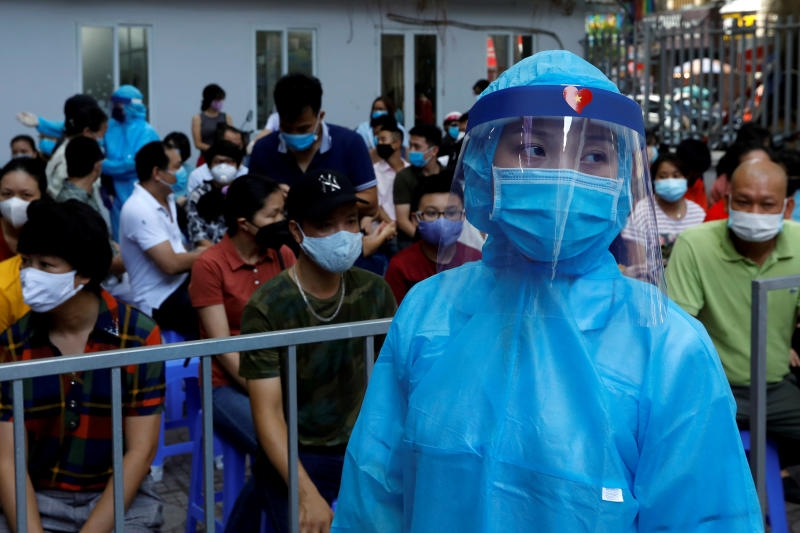 A healthcare worker wearing protective suit walks past as local residents wait at a coronavirus disease (Covid-19) testing center in Hanoi, Vietnam Aug 10, 2020. (Reuters)
The patient is being treated at the Ha Nam Provincial General Hospital.
Earlier 12 passengers onboard the flight VN441 had been confirmed positive for COVID-19.
Of the patient tally, 1,369 have recovered and exited hospitals while the number of fatalities stands at 35.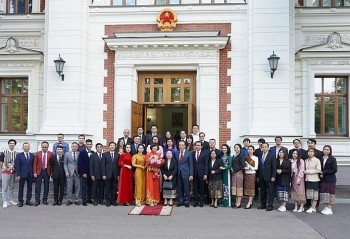 Friendship
The Vietnamese Embassy in Cuba will make efforts to consolidate and cultivate the special Vietnam-Laos relationship in the spirit of respect and support for mutual benefits.