Vietnam News Today (July 24): Vietnam Daily Covid Cases Reach Record High 7,295
Vietnam News Today (July 24): Vietnam daily Covid cases reach record high 7,295; HCM city raises Covid-19 alert level, adopts stricter rules; 1.2 million more doses of AstraZeneca vaccine arrive in Vietnam and Tropical low depression dumps heavy rain on northern, central Vietnam.
Vietnam News Today (July 24) notable headlines
Vietnam daily Covid cases reach record high 7,295
HCM city raises Covid-19 alert level, adopts stricter rules
1.2 million more doses of AstraZeneca vaccine arrive in Vietnam
Tropical low depression dumps heavy rain on northern, central Vietnam
Vietnam is one of the top 5 targets of Android malware
Vietnam seeks Covid-19 vaccine production technology from France
HCM city coronavirus hotspot disinfected against Covid-19
Vietnamese dragon fruit favourite with Australian consumers
Wood exports to UK rise by 53.5% in first half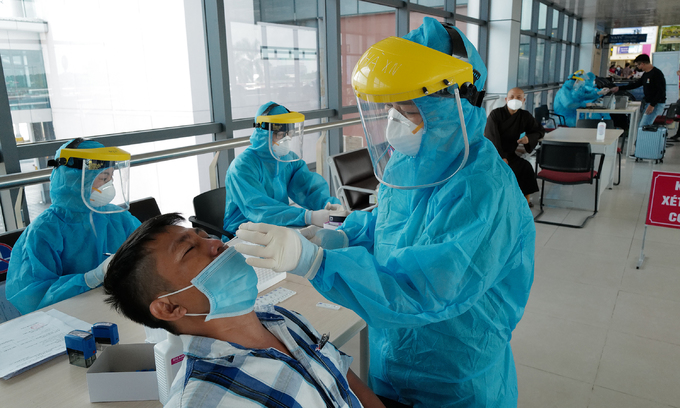 A medical staff takes a sample of a passenger for Covid-19 testing at Noi Bai International Airport on July 15, 2021. Photo: VnExpress
Vietnam daily Covid cases reach record high 7,295
The Ministry of Health confirmed 3,397 Covid-19 cases Friday evening, pushing the daily tally to a new high of 7,295.
HCMC led the latest count with 1,611, followed by Binh Duong (571), Long An (379) and 27 other cities and provinces.
Of Friday's total, 1,083 cases were detected in the community and the rest in quarantine facilities, or lockdown zones.
On Friday's total, 4,913 cases were in HCMC, cited VnExpress.
With 2,115 patients declared recovered on Friday, the total number of recoveries since the start of the pandemic rose to 15,536.
The national Covid-19 tally since the new wave started late April has reached 77,882, recorded in 61 of 63 localities.
HCM city raises Covid-19 alert level, adopts stricter rules
As Vietnam's largest Covid-19 hotspot, Ho Chi Minh city has introduced more restrictive measures in an effort to curb the spread of the SARS-CoV-2 virus due to continued transmission throughout the locality.
With the exception of medical emergencies, local residents in areas under lockdown will only be allowed to go out for food twice a week and must use coupons given by the local administration, according to a directive recently signed by Nguyen Van Nen, secretary of the Ho Chi Minh city Party Committee.
In areas which are judged to be at very high risk, residents are required to stay home and the local administration will deploy teams to distribute daily necessities to their door.
In isolation areas, people must strictly abide by Covid-19 guidelines, not leave their room and not come into direct contact with others, with the exception of cases of medical emergencies.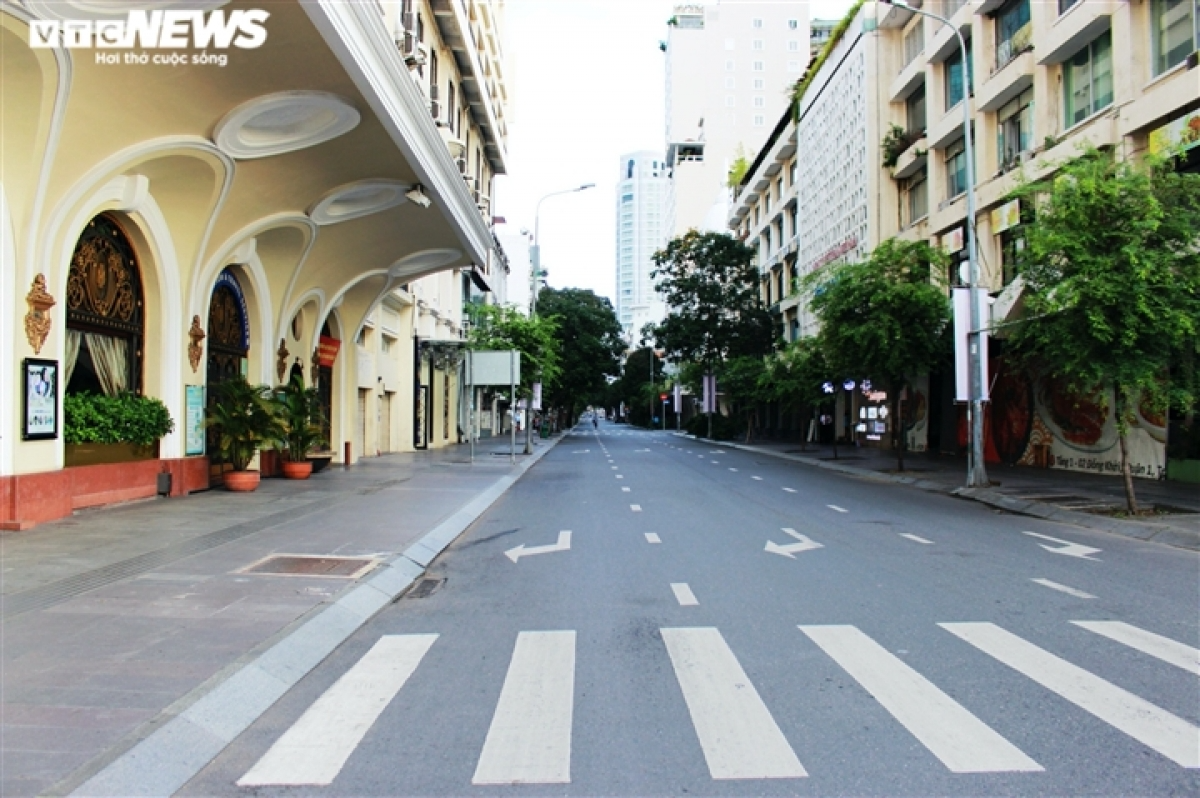 A HCM city street has been left deserted as restrictive measures are in force. Photo: VTC
For F0 and F1 cases who are permitted to undergo home quarantine, they must strictly follow instructions set out by the Ministry of Health. Their relatives will be not allowed to leave their home, except for medical emergencies. In addition, food and other daily necessities will be provided by local authorities.
Furthermore, all houses located in small, narrow, and crowded lanes and alleys, are required to strictly implement social distancing rules.
All unnecessary construction works and traffic projects have been ordered to be suspended.
Only businesses that specialise in medical services, pharmaceuticals, food, and foodstuff processing, power and water supply, postal – telecommunications, and public sanitation services, will all be allowed to operate, reported VOV.
Other manufacturing enterprises are only permitted to operate on the condition that they ensure safety and strictly adhere to the 'three on the spot' rules, under which employees work, sleep, and eat at their workplace.
Wet markets are allowed to continue running in an open and airy space with a barrier between buyers and sellers. However, all markets must downsize by 30% and are encouraged to sell daily necessities.
The new restrictive measures come into force following Ho Chi Minh city just completing a two-week social distancing order.
Despite the latest policy, the fresh outbreak remains complicated in the southern metropolis. Known á the busiest and most populous city in Vietnam, the city has constantly recorded high infection and mortality rates, while its human resources and medical facilities have been overloaded.
The local administration expects that with more restrictive measures in place, the city will slow the spread of the virus, expand the safety zone, and eventually control high-risk areas.
1.2 million more doses of AstraZeneca vaccine arrive in Vietnam
A plane carrying more than 1.2 million AstraZeneca vaccine doses touched down at Ho Chi Minh city's Tan Son Nhat International Airport on July 23 morning.
The latest shipment marks the fifth delivery and the largest batch of the AstraZeneca vaccine to arrive in Vietnam so far.
The delivery is part of a contract signed by the Vietnam Vaccine Joint Stock Company (VNVC) last year to purchase 30 million vaccine doses developed by Oxford/AstraZeneca. Currently, the country has received more than 3.1 million doses under the contract.
Since the start of February, Vietnam has received more than 11.5 million doses of Covid-19 vaccine doses from AstraZeneca, Sputnik V, Pfizer/BioNTech, Moderna, and Vero Cell, VOV reported.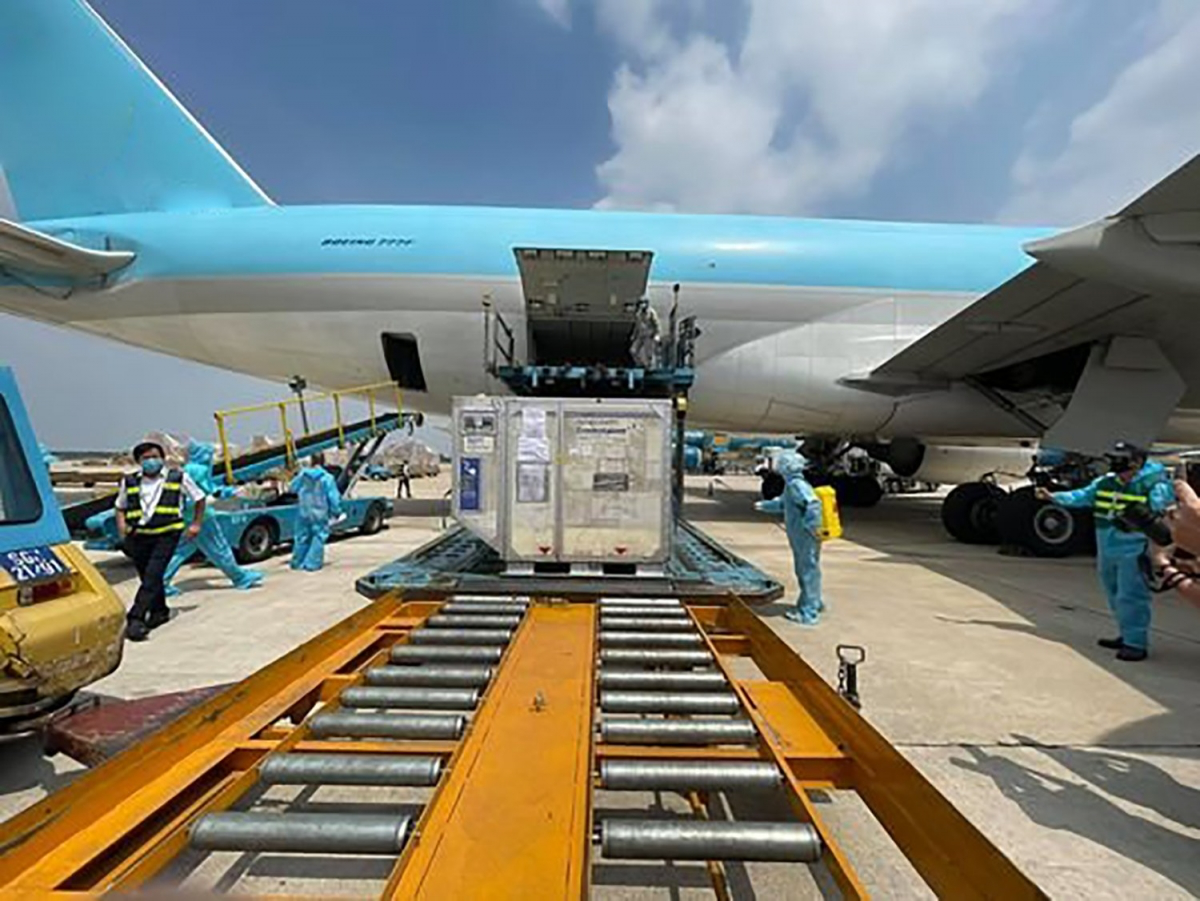 An additional 1.2 million doses of AstraZeneca vaccine arrive in Tan Son Nhat international airport on July 23. Photo: VNVC
Of the total received, 2.5 million doses of the AstraZeneca vaccine have been sponsored by the COVAX Facility, whilst two million doses of the Moderna vaccine have been donated by the United States and channeled through the COVAX Facility. In addition, approximately four million vaccine doses have been donated by various other countries.
Furthermore, more than 194,000 doses of the vaccine have been ordered from Pfizer/BioNTech.
According to the schedule, three million more doses of the Moderna vaccine donated by the US via the COVAX Facility will arrive in the country on July 25.
Moreover, Vietnam will also receive an additional 1.6 million doses of the AstraZeneca vaccine by July 30.
Nitin Kapoor, president for Asia Area Frontier Markets at AstraZeneca and chairman and General Director of AstraZeneca Vietnam, emphasised that the company's relentless efforts to deliver its vaccine in July offer timely support in the country's ongoing Covid-19 battle.
At present, roughly 8.6 million doses of AstraZeneca vaccine have been shipped to Vietnam.
He therefore pledged to continue working closely with the Ministry of Health, WHO, UNICEF, and VNVC to deliver the vaccines to Vietnam in the fastest and safest manner possible in order to help Vietnamese people overcome the current challenging period and return life to normal as swiftly as possible.
Tropical low depression dumps heavy rain on northern, central Vietnam
A tropical low depression is moving along the northern and central coasts of Vietnam, bringing torrential rain to coastal localities of the northern and central regions.
The National Centre for Meteorological Forecasting reported at 10.00am on July 23 the depression was heading close to the coast of Quang Ninh province, northern Vietnam, packing winds of 46kph.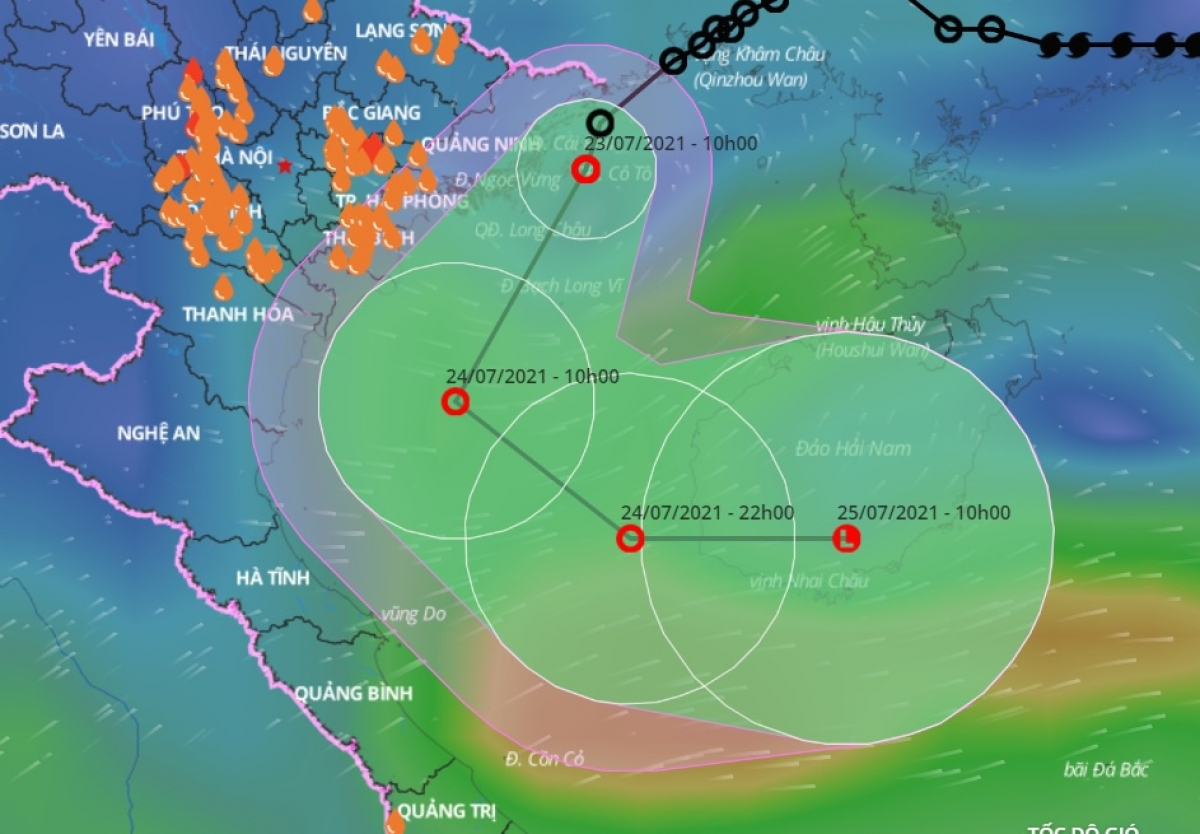 A tropical low depression has strengthened into Cempaka storm before weakening into a tropical low depression again. Photo: VNDMS
In the next 24 - 48 hours, it is forecast to travel south-west at a speed of 10km and move far away from the mainland, cited VOV.
However, the depression which was downgraded from Cempaka storm will cause rough seas and bring torrential rain to coastal provinces from Quang Ninh to Ha Tinh.
About 150mm or even 300mm of rainfall will be recorded in northern and central localities, especially in Thanh Hoa, Nghe An and Ha Tinh.
Torrential rain is likely to trigger water levels in major river systems in the regions to rise quickly.
Meteorologists have not ruled out the possibility of landslides and floods to occur in mountainous localities such as Son La, Dien Bien, Thanh Hoa, Nghe An, and Quang Tri.
Vietnam is one of the top 5 targets of Android malware
India and Vietnam are ranked among the top five countries globally to be hit by Android/FakeAdBlocker malware, according to ESET, a Slovak internet security company headquartered in Bratislava.
Vietnam is the country with the most android malware attacks in the Asia Pacific region, reported Techwire Asia.com.
The country is one of the fastest-growing economies in the ASEAN region. With fast growth, increased tech usage has also seen more mobile devices enter the market.
There are 61.3 million smartphones in Vietnam, making the country among the top 10 users of smartphones after China, India, Indonesia, and Japan, it said, adding that the increase in the number of mobile devices also led to increasing cybersecurity concerns.
Photo: nintendo-power.com
Mobile devices are vulnerable to cyberattacks and continue to be targeted by cybercriminals, and can be easily affected by malware via apps, emails, and even text messages, according to the website.
Android/FakeAdBlocker is an extremely stealthy trojan. Masquerading as an ad blocker for Android mobile devices, it installs adware and possibly other malware when users look for a legitimate adblocker install them from third-party sites or app stores.
The malware usually hides its launcher icon after the initial launch. Not only does it deliver unwanted scareware or adult-content advertisements, but it also creates spam events for upcoming months in iOS and Android calendars, according to VNA.
These ads often cost victims money by sending premium-rate SMS messages, subscribing to unnecessary services, or downloading Android banking trojans, SMS Trojans, and malicious applications. The malware also uses URL shortening services to generate links to ads to monetize mouse clicks.
While malware like Android/FakeAdBlocker continues to be a growing concern in both Vietnam and India, businesses and individual users can take the necessary steps to secure their devices. Common security practices include downloading software from reliable sources only and not simply clicking on links.