Vietnam News Today (July 23) notable headlines
HCMC Covid-19 outbreak yet to peak: health authorities
Vietnam ensures health safety and medical care for foreigners
Nation set to receive three million Moderna vaccine doses on July 25
Da Nang bans delivery, ride-hailing services amid Covid surge
Vietnam sees opportunities to emerge as global supply chain moves
Party and State leaders make all-out efforts to ensure sufficient Covid-19 vaccines
Vietnam, Mexico hold sixth political consultation
Vietnam, UK seek to forger stronger defence links
Newly issued stamps to feature several national treasures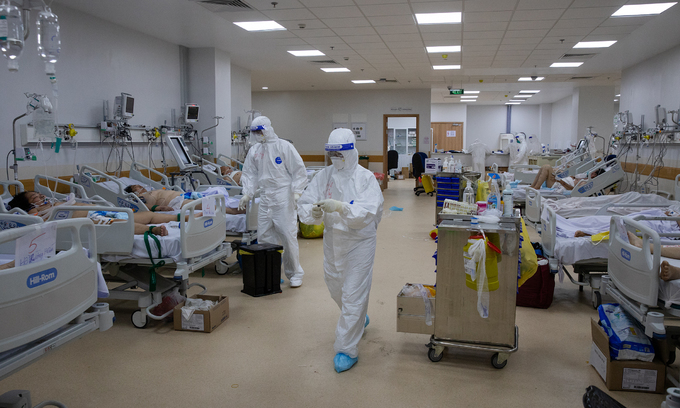 Medical workers treat Covid-19 patients in a HCMC hospital, July 19, 2021. Photo: VnExpress
HCMC Covid-19 outbreak yet to peak: health authorities
The ongoing Covid-19 outbreak in HCMC is yet to reach its peak and the numbers could keep rising in the coming days, the municipal CDC warned Thursday.
Within just 12 hours starting 7:30 p.m. Wednesday, the southern city had recorded 2,433 new Covid-19 cases, according to the Ministry of Health. In the fourth coronavirus wave which hit Vietnam in late April, HCMC has recorded over 43,700 cases so far to become the heaviest hit locality in the country, cited VnExpress.
Despite the rising case count, several positive signs have been seen, including the fact that no new cluster has been detected and almost all detected cases have been in quarantine zones and other locked down areas, the HCMC Center for Disease Control (CDC) said.
Going forward, the city has prepared several scenarios for following up on the 15-day social distancing order imposed since July 9. The most appropriate option would be to continue social distancing measures, even ramping them up in certain areas, according to Phan Van Mai, deputy secretary of the HCMC Party Standing Committee.
Stricter social distancing for another 7-10 days would help curb transmissions in the city and the infection count could peak, he said.
The ongoing social distancing order in HCMC, issued under Directive 16, requires residents to stay home and only go out for basic necessities such as buying food or medicines, or to work at factories or businesses that are allowed to open.
People must stay at least two meters from each other. No more than two people can gather at public places apart from workplaces, schools or hospitals.
Vietnam ensures health safety and medical care for foreigners
The Vietnamese Government always pays attention to and ensures medical care and health safety of foreigners in the country, including citizens of the Republic of Korea (RoK), especially amidst complex developments of the ongoing Covid-19 pandemic.
Spokeswoman of the Vietnamese Ministry of Foreign Affairs Le Thi Thu Hang made the affirmation while responding to queries regarding the death of a Korean citizen contracting Covid-19 in Ho Chi Minh city, at the ministry's regular press conference on July 22.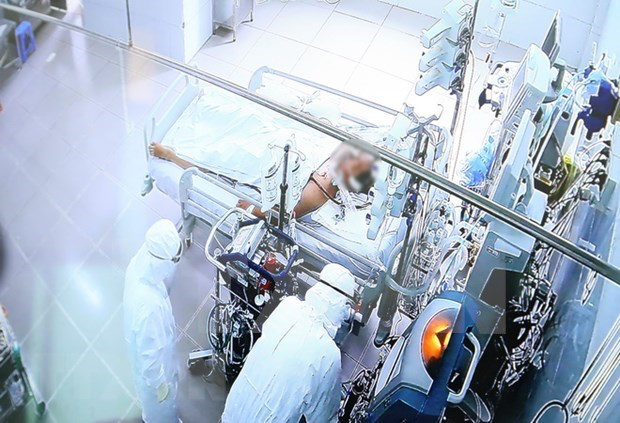 A Covid-19 patient treated at Cho Ray Hospital. Photo: VNA
She cited information from the municipal Department of External Affairs as saying that the patient died of the disease at Cho Ray Hospital on July 13.
"We are really sorry and would like to extend our deepest sympathy to the bereaved," Hang said, adding that the patient had been treated at one of the most leading medical facilities in Vietnam and received the wholehearted care of the hospital's medical staff in the best possible conditions, but it is unfortunate that the patient had not survived.
According to the spokeswoman, Vietnam's competent agencies have been working with the Korean side to deal with post-death procedures, according to VNA.
Vietnamese agencies and localities will review related protocols and work closely with foreign representative offices in the country to address emerging issues in a timely manner, and avoid the repetition of similar incidents in the future, Hang said.
Nation set to receive three million Moderna vaccine doses on July 25
A haul of three million doses of the Mordena Covid-19 vaccine donated by the United States through the Covax Facility will arrive in the country on July 25, according to Vietnamese Foreign Ministry spokesperson Le Thi Thu Hang.
Hang unveiled the information during the Ministry's regular press briefing held on the afternoon of July 22 via online platform.
This vaccines are being donated by the US Government through the COVAX facility, which has been jointly initiated by the World Health Organization (WHO), the Coalition for Epidemic Preparedness Innovations (CEPI), and the Global Alliance for Vaccines and Immunizations (GAVI), with UNICEF being the key partner in the deal.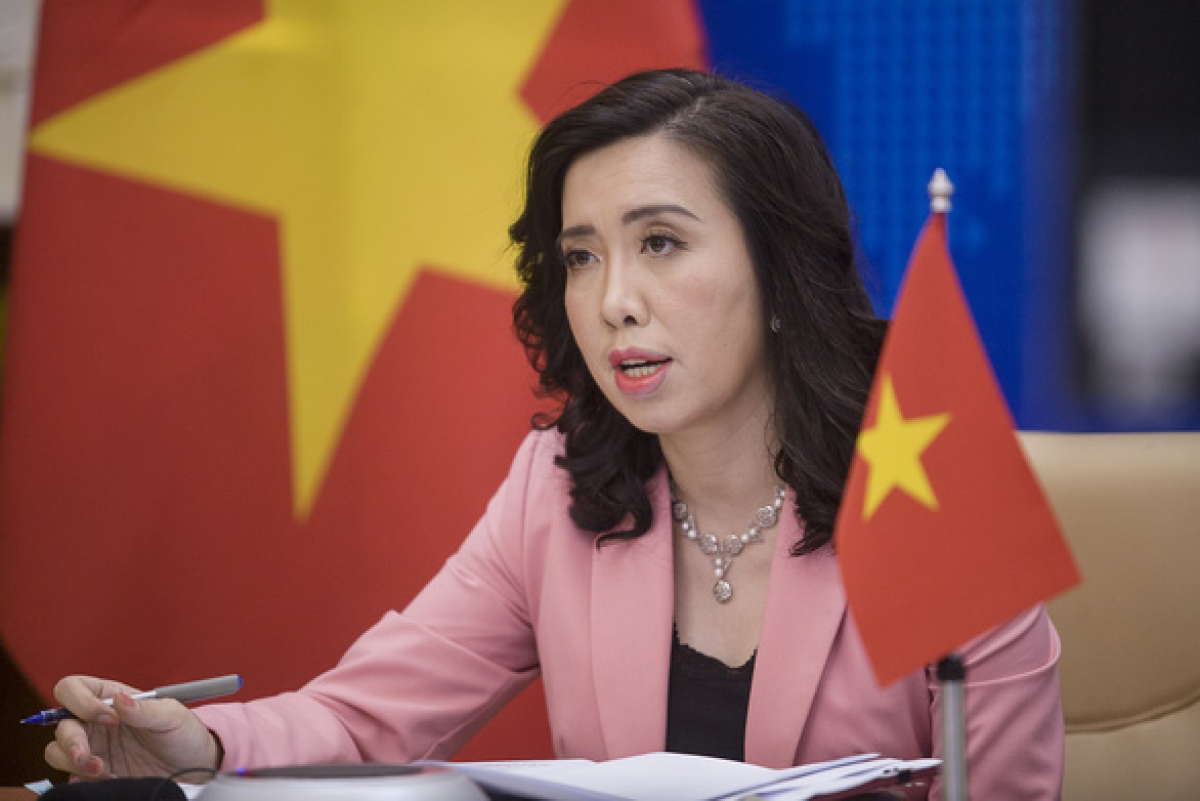 Spokesperson of the Vietnamese Foreign Ministry Le Thi Thu Hang. Photo: VOV
The Moderna vaccine, also known as Spikevax, uses the same mRNA technology as in the Pfizer vaccine and was granted approval by the WHO on April 30, with research showing that the vaccine is 90% effective in preventing Covid-19 cases.
According to a study conducted by American scientists, the Moderna vaccine is notable for being highly effective against the emerging Delta variant, also known as B.1.617.2, formerly known as the Indian variant, reported VOV.
The doses are set to arrive following the Ministry of Health approving the Moderna vaccine for emergency use in order to meet the country's urgent needs in the Covid-19 fight.
Previously, the US Government had donated two million doses of the Moderna vaccine to Vietnam through the COVAX mechanism, with these vaccines being shipped to the country on July 10.
Immediately after receiving this batch, the Ministry of Health distributed two million doses of the Moderna vaccine to 53 provinces and cities, police and military force, along with 20 hospitals.
In addition to the batch of two million doses of the Moderna vaccine, the nation has received 2,493,600 doses of the AstraZeneca vaccine through the COVAX mechanism.
To date, the country has received more than 10.6 million doses of the Covid-19 vaccine, including 7.1 million doses of the AstraZeneca vaccine, two million doses of the Moderna vaccine, and 194,200 doses from Pfizer.
Da Nang bans delivery, ride-hailing services amid Covid surge
Da Nang has banned delivery and ride-hailing services from noon Thursday and urged people not to go out unnecessarily amid a rise in Covid-19 incidence.
The people's committee said people should only go out for essential purposes like official work, buying food or medicine and other emergencies and stay at least two meters apart from each other and not more than two should gather in in public.
Other outdoor activities like jogging and cycling are also banned.
Non-essential businesses and services have been shut down, while funerals must be completed within 48 hours and have no more than 20 people participating.
All taxi services have also been shut down, VnExpress reported.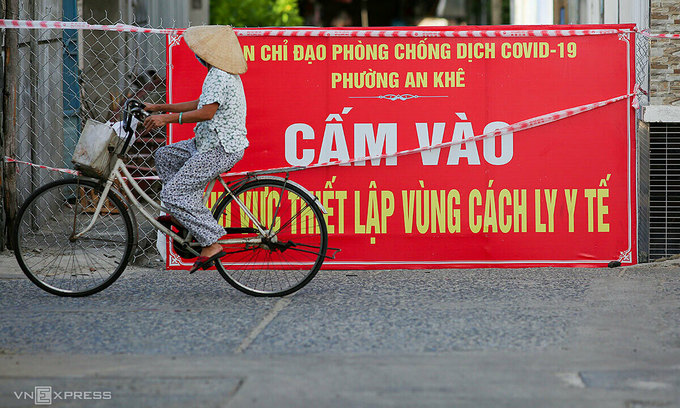 A woman cycles past a banner that indicates a locked down area due to Covid-19. Photo: VnExpress
Offices are only allowed to have half their workforce on site, and ordered not to hold non-essential meetings. Should employees need to go out for essential purposes, companies need to issue letters to them.
The city had already banned non-essential activities like indoor dining and going to the beach. Certain places in Thach Khe, Lien Chieu and Cam Le districts already imposed strict social distancing mandates under Directive 16 from July 17 after several coronavirus clusters were found there, requiring people to stay home and only go out for necessities such as buying food or medicines or to work at factories or businesses that are allowed to open.
Da Nang has had 528 Covid cases since the current wave surfaced in late April. They have been found in 35 out of 56 wards and communes. Over 2,600 people have been quarantined while another 3,200 were told to self-isolate at home.
On Wednesday the central city took samples from over 56,300 people and found 28 infected.
Vietnam sees opportunities to emerge as global supply chain moves
Stable economic growth has made Vietnam an attractive destination for foreign investors particularly amid current changes in the global supply chain, according to a recent article published by The Economic Times.
According to the article, a disruption of international trade, resulted from the US-China trade conflict and the Covidbuss-19 pandemic, has necessitated a rethink on the supply chain. Earlier, supply chains were designed to keep costs low. In the post pandemic era, supply chains are being reworked to reduce the risks of future disruptions.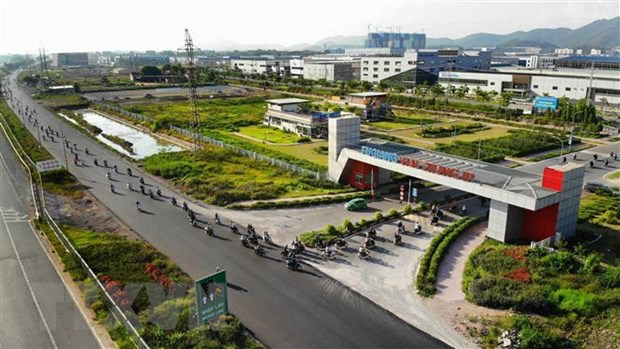 The Van Trung industrial park in Bac Giang province. Photo: VNA
The international community is looking to move towards relocating supply chains to India and Vietnam, it said.
The article cited a recent Q2 Barometer report by QIMA, which showed that Vietnam and India came emerge as alternative sourcing locations, according to VNA.
Accordingly, Vietnam's reforms allow foreigners to own property as well as majority holdings in Vietnamese companies. Consistent economic growth has also made Southeast Asian nation attractive for foreign investment.
The QIMA global sourcing survey showed that 43 percent of US-based respondents described Vietnam among their top three buying geographies as of early 2021 and around one-third of buyers globally.
Rosie Nguyen