Vietnam News Today (July 7): Vietnam's Covid-19 tally tops 1,000 for second straight day
Vietnam News Today (July 7): Vietnam's Covid-19 tally tops 1,000 for second straight day; High school graduation exam starts on July 7; Covid-19 sources spread all over HCM city, says health department and Vietnamese meteorologist wins WMO award for young scientists.
Vietnam News Today (July 7) headlines
Vietnam's Covid-19 tally tops 1,000 for second straight day
High school graduation exam starts on July 7
Covid-19 sources spread all over HCM city, says health department
Vietnamese meteorologist wins WMO award for young scientists
Import-export turnover likely to hit US$600 billion this year
Disbursement of public investment must be sped up in H2
HCM city outlines response plan to care for up to 500 critically-ill Covid-19 patients
Vietnam, UK set US$10 billion trade target over next 5 years
Rubber exports surge in first half of 2021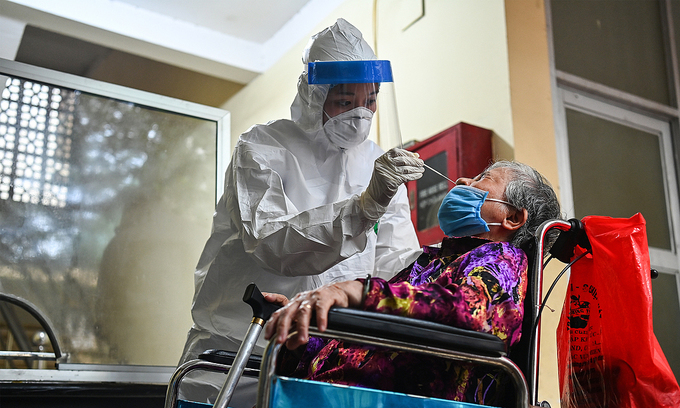 A medic takes the sample of a woman in Hanoi during a mass coronavirus test, May 2021. Photo: VnExpress
Vietnam's Covid-19 tally tops 1,000 for second straight day
Vietnam recorded 500 new community transmissions of Covid-19 Tuesday night, raising the day's tally to 1,019.
Tuesday's local tally is the second highest daily number since the disease broke out in Vietnam, after 1,089 on Monday.
Of the new night cases, Ho Chi Minh city accounted for over half with 271 cases and the remaining cases were detected in 12 other localities, cited VnExpress.
In HCMC, 247 cases were found in quarantine camps and areas under lockdown and 24 are being contact traced.
Mekong Delta's Dong Thap province reported 98 cases that are all people having contact with Covid-19 patients except one case with unidentified source of transmission.
Binh Duong province that borders HCMC got 92 cases, including 48 linked to a company in Di An town, six linked to a company in Thu Dau Mot town, one associated with a company in Thuan An town, and 27 linked to previously confirmed patients. 10 other cases have unclear transmission sources.
The central Phu Yen Province registered 16 cases that are all related to existing cases.
Long An province, another HCMC's neighbor, reported eight cases, and the central Nghe An Province three, and they have all come into contact with Covid-19 patients.
Bac Giang province in the north and its neighbor Bac Ninh got two cases each. They are all linked to previously confirmed patients.
Hanoi recorded two cases, with one returning from HCMC and the other having contact with a Covid-19 patient.
Mekong Delta's Tra Vinh province recorded two cases, including one linked to a cluster at Binh Dien wholesale market in HCMC's District 8 and one who had returned from HCMC.
High school graduation exam starts on July 7
The high school graduation exam begins on July 7 morning for millions of students, with strict Covid-19 measures in place as the fourth wave of infections has seen complicated developments.
Students nationwide will do their literature tests in the morning and maths in the afternoon of the same day.
The exam is being held with the Covid-19 pandemic still developing in a complex manner in many localities, so pandemic prevention work has been a key focus for the education sector.
Candidates will have their temperature checked and have their hands disinfected before entering the test sites, while they must wear masks during the exam, according to VNA.
Each test site will be sprayed with disinfectant and medical staff will be on duty during the exams, while isolation rooms and backup exam rooms have been arranged if any students need to be isolated due to contact with a Covid-19 patient.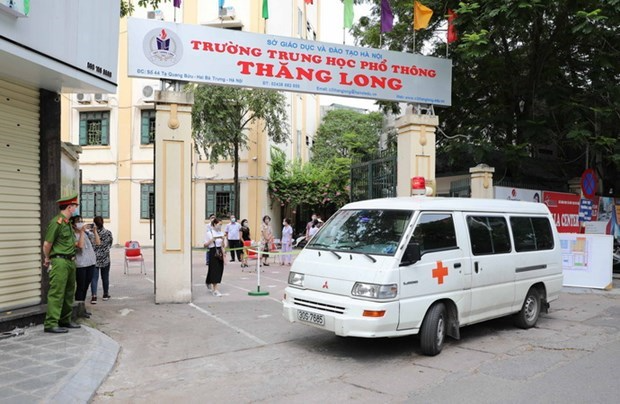 An exam centre prepares for the national high school graduation exam in Hai Ba Trung district, Hanoi. Photo: VNA
Medical staff have also been placed on alert to respond if any candidates show Covid-19 symptoms.
Previously, exam boards held rehearsals to prepare for the exam.
On July 6 morning, the examiners met together at the test sites to go over exam regulations.
In the afternoon, candidates visited their test sites and completed the examination preparation procedures.
On July 6, candidates were reminded to bring their exam notice, review the information on the exam paper and the candidate's information, and promptly report to the examination staff for correction if there are any errors.
Candidates were also informed by the examination staff about exam rules and reminded of banned items.
Deputy Minister of Education and Training Nguyen Huu Do said the pandemic situation was more complex this year than in 2020.
Covid-19 sources spread all over HCM city, says health department
Random health checks at hospitals and in lockdown areas have accounted for a majority of infections detected in HCM city, indicating infection sources are widespread, officials say.
Between April 26 and July 4, the city recorded 6,470 local Covid-19 cases in 306 of 312 wards and towns, according to the municipal health department.
Of those cases, 23 percent were detected via mass testing in the community, 12 percent among those seeking medical examinations at local hospitals, 25 percent in lockdown areas and the rest at at centralized quarantine facilities.
In the preceding 24 hours until Monday morning, the city had recorded 711 new infections, including 169 identified via random medical checks at hospitals and 12 through community mass testing.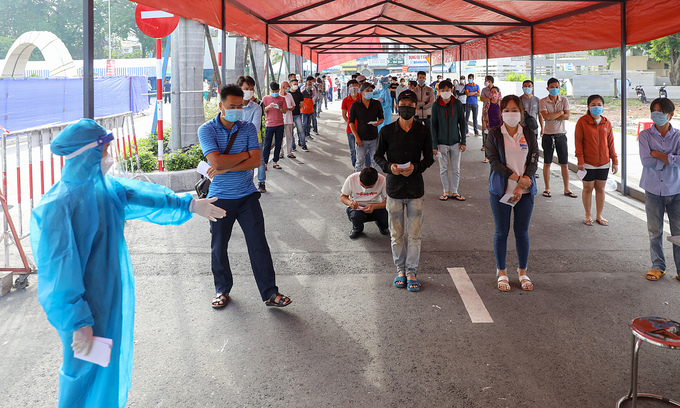 People in HCMC line up for coronavirus tests, July 6, 2021. Photo: VnExpress
The figures prove that "the transmission sources have spread all over the city," the municipal health department said, reported VnExpress.
As of Monday morning, HCMC had placed 738 areas under lockdown after detecting Covid-19 cases.
On Sunday, the city became the worst-hit locality among all 55 infected cities and provinces. Its infection tally for the ongoing wave that started April 27 in Vietnam has reached 7,385.
HCMC chairman Nguyen Thanh Phong said at a city meeting last week that the Covid-19 wave Vietnam was currently experiencing was "more dangerous, complicated and unpredictable than previous ones."
The spread of the disease has proved how complicated the pandemic has become, especially considering the World Health Organization warning that the Delta variant is much more transmissible and has the ability to reduce the effect of Covid-19 vaccines developed to date, he said, adding that "the rate of secondary infection and the spreading speed of this variant is strong, therefore the number of infections is likely to keep rising in the coming days."
The city will continue its social distancing measures, locate infected areas and trace down all people related to the infections for imposing lockdowns where needed.
It will also continue the mass testing campaign it launched June 26 to detect all possible infections in the community.
Vietnamese meteorologist wins WMO award for young scientists
Vietnamese scientist Nguyen Hoang Minh has won the UN World Meteorological Organization (WMO) Research Award for Young Scientists in 2021.
Minh, 34, from the National Center for Hydro-Meteorological Forecasting, receives the noble award for his research entitled "An approach for improving the capability of a coupled meteorological and hydrological model for rainfall and flood forecasts".
This study proposes a method for improving the capability of rainfall and flood forecasts by generating ensemble precipitation predictions (EPPs) associated with radar-based rainfall prediction by considering spatial rainfall errors.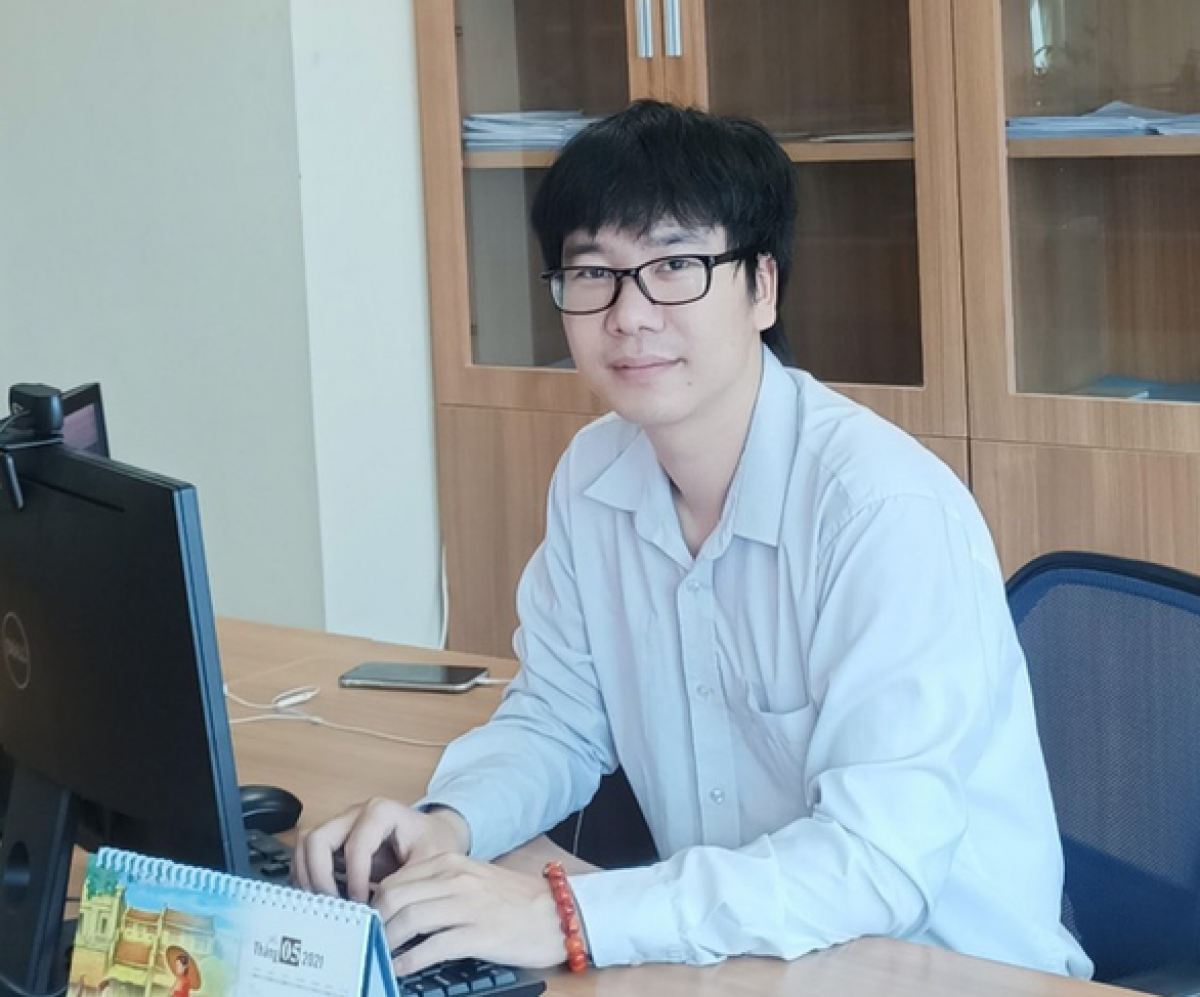 Dr. Nguyen Hoang Minh. Photo: TuoiTre
The EPPs are generated as a kind of Monte-Carlo simulation based on the performance of the numerical weather prediction (NWP) model in the previous time step window. The generated EPPs continue to be blended with radar-based rainfall predictions to produce hybrid rainfall forecasts that perform better than each system could perform individually.
Minh's research has been highly evaluated by world leading experts in the field. Its results have been applied in Vietnam, according to VOV.
WMO Awards recognize outstanding contributions in the field of meteorology, breakthroughs in scientific research, young scientists for their exceptional contributions to meteorology and climatology, and young engineers/scientists working on development hydrometeorology.
WMO Research Award for Young Scientists aims to encourage young scientists, particularly in developing countries, to undertake outstanding research work in all fields of meteorology and hydrology. The award has been granted to young scientists from more than 20 different countries.
Import-export turnover likely to hit US$600 billion this year
With total import and export turnover of goods surging by 32.2% to US$316.73 billion in the first half of the year, Vietnam is likely to gross US$600 billion in import-export turnover throughout the year, according to industry insiders.
Economists have therefore emphasized that the manufacturing and agro-forestry-fisheries sectors are anticipated to become two major pillars for Vietnamese exports moving into the second half of the year.
Photo: VOV
Nguyen Anh Duong, head of the Central Institute for Economic Management (CIEM)'s General Research Department, believes there is plenty of room for the country to boost exports in the near future due to the Covid-19 pandemic being brought under control in several major Vietnamese export markets, including the United States and the EU, cited VOV.
Furthermore, as one of the country's crucial export markets, China has also been enjoying a strong recovery in the post-pandemic period, a factor which is expected to offer fresh impetus for the expansion of exports moving forward.
Moreover, there are also bright prospects ahead for the country's exports of electronics as they strive to bounce back due to large corporations like Apple and Samsung projecting that smartphone consumption will enjoy positive signs ahead in the second half of the year, Duong noted.
Despite the nation recording a trade deficit of US$7.7 billion during the first half of the year, it should not be considered a matter of concern due to the country importing goods mainly for production and export activities, Duong added.
Tran Thanh Hai, deputy director of the Import-Export Department under the Ministry of Industry and Trade, pointed out that Vietnamese Covid-19 containment efforts in industrial parks situated in pandemic-hit localities such as Bac Ninh and Bac Giang have served to restore production activities at factories there.
In addition, the country's relentless efforts in deploying its vaccination campaign and the effective enforcement of free trade agreements (FTAs), especially new-generation FTAs, are expected to accelerate import-export activities in the near future, according to economists.