Vietnam News Today (July 1) notable headlines
Northern region faces prolonged hot spell
Vietnam plans comprehensive vaccine industry growth focused on Covid-19
Vietnam ranks second in ASEAN in IPv6 transition
Tourism sector experiences ups and downs amid new outbreak
Hanoi posts export growth of 4.5 percent in H1
HCM city vows to control outbreak by end of social distancing period
Eight Vietnam-Thailand political consultation held
Cambodia appreciates Vietnam's support in difficult times: King
Dong Nai's export growth exceeds 34 percent in first half
Vietnam calls for more efforts to stabilize situation in Bosnia and Herzegovina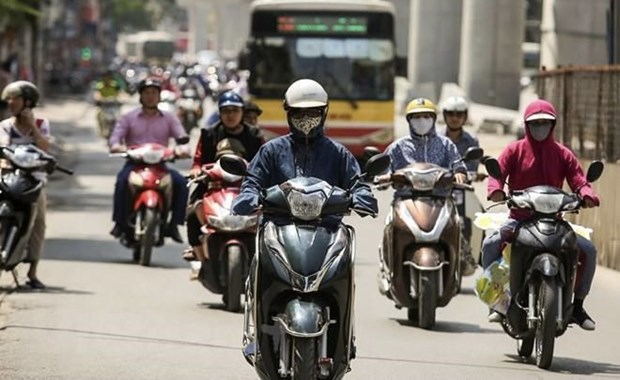 A new heat wave hits the northern region. Photo: VNA
Northern region faces prolonged hot spell
Vietnam's northern region is being hit by another heat wave, which began on July 1 and is forecast to last until July 3-4, according to the National Centre for Hydro-Meteorological Forecasting (NCHMF).
Temperatures are forecast to range between 35-38 degrees Celcius, and may exceed 38 degrees Celcius in some localities.
The heat wave will cover the northern region until July 3-4, while the central region will continue suffering from scorching heat in the next couple of days, cited VNP.
The high temperature along with the lowest relative humidity of 40-60 percent during the heat wave pose risks of fire and explosion in residential areas due to the increased demand for electricity, as well as risks of forest fire in central localities, the centre said.
Dehydration, exhaustion, and heat stroke as the human body is exposed to high temperatures for a long time are also warned.
Vietnam plans comprehensive vaccine industry growth focused on Covid-19
The Vietnamese government is planning a comprehensive development boost to the industry involving Covid-19 vaccine research, technology transfer, and producing vaccines that meet international standards.
It has entrusted the Ministry of Health with making a plan for establishing a center for Covid-19 vaccine research, technology transfer and vaccine production. Policies will be issued to attract investment in Covid-19 vaccine research from enterprises and organizations.
Prime Minister Pham Minh Chinh has requested that a domestic Covid-19 vaccine be available before June 2022.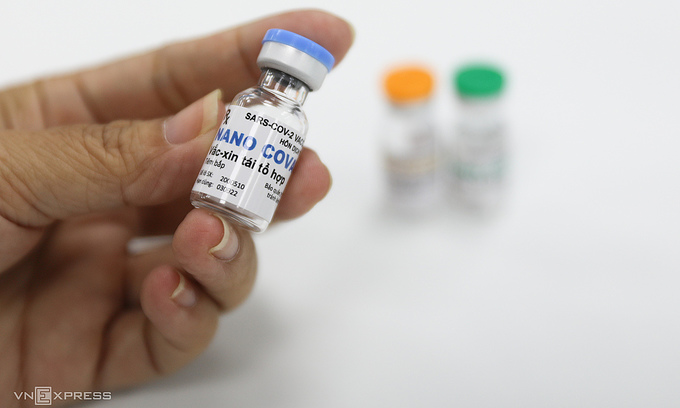 A researcher holds up a vial containing the Vietnamese Nanocovax Covid-19 vaccine at a production facility in HCMC. Photo: VnExpress
The government has also directed that the Covid-19 vaccine fund, set up in May for buying Covid-19 vaccines from abroad and supporting production of made-in-Vietnam vaccines, is used effectively.
The fund is part of efforts to meet the target of securing 150 million vaccine doses to inoculate 70 percent of Vietnam's 98-million population, according to VnExpress.
The health ministry's vaccine research and producing company, Vaccine and Biological Production No. 1 (VABIOTECH), is in charge of technology transfer for the production of Russia's Covid-19 vaccine, Sputnik V.
The technology transfer will be conducted in two phases. First, Vietnam will import semi-finished doses and complete the process using local staff, equipment and facilities with guidance from a Russian partner. In the second phase, the partner will transfer the necessary technology to produce the vaccine from scratch, and Vietnam aims to produce 100-150 million doses per year.
The country has inoculated about 3.5 million people since March, with more than 182,000 receiving two shots.
Vietnam ranks second in ASEAN in IPv6 transition
Vietnam's Internet Protocol version 6 (IPv6) adoption rate reached 44%, ranking second in ASEAN and 10th globally, according to the Asia Pacific Network Information Centre (APNIC).
The Ministry of Information and Communications' Vietnam Internet Network Information Centre (VNNIC) said in an effort to switch to IPv6, 44 out of 63 cities and provinces have issued their own action plans, cited VOV.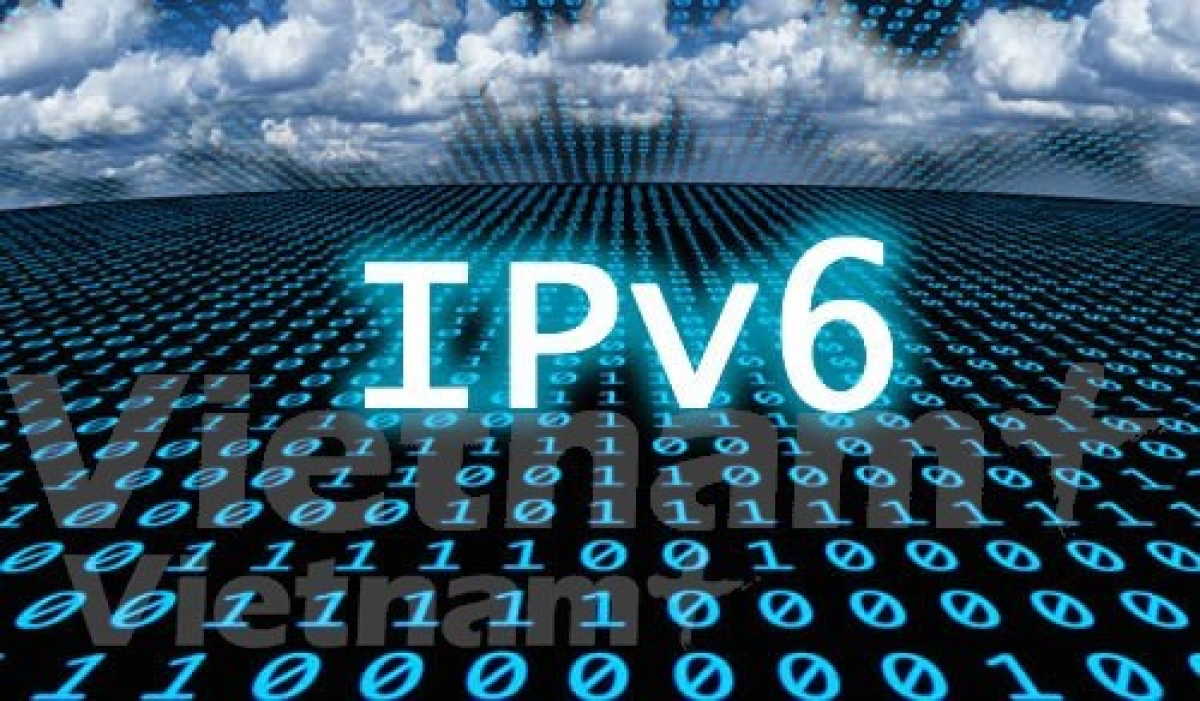 Photo: VOV
IPv6 is expected to meet Vietnam's demand to offer new and quality services such as Internet of Things, 4G-LTE and 5G networks, contributing to digital transformation and digital government building.
In the first half of this year, many localities such as Vinh Long, Binh Thuan, Hau Giang, Thai Binh and Ha Tinh rolled out their plans to switch to IPv6 and partnered with the VNNIC to hold training for information technology officers in the field.
The VNNIC also recently held a webinar on guidelines for IPv6 address planning for departments of information and communications in the central and Central Highlands regions.
In Vietnam, 34 million mobile and 11 million Internet subscribers are using IPv6 services.
As of the mid-June, over 20% of information and public service portals by municipal and provincial authorities worked on IPv6 platform.
Tourism sector experiences ups and downs amid new outbreak
Quang Ninh once again has had to close the door to fight the pandemic after just half a month of opening to travelers. Localities have had to change their tourism development plans regularly.
Quang Ninh announced the reopening of tourism facilities to travelers on June 8, when the outbreak was constrained.
At first, the facilities were allowed to receive local guests from inner provinces. One week later, some resorts were allowed to receive guests from other localities, who came to eat, stay and do sightseeing on the spot, if guests could show negative PCR testing results.
However, as people still felt insecure, the number of travelers to Quang Ninh remained modest. The provincial People's Council on June 18 approved a resolution on a 100 percent exemption of tickets for admission to Ha Long Bay, Yen Tu and Quang Ninh Museum, from now till the end of 2021, instead of the 50 percent reduction as previously applied.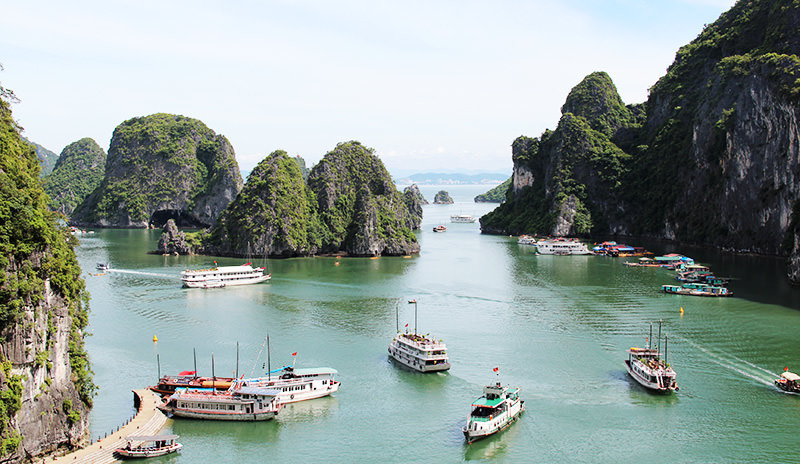 Quang Ninh once again has had to close the door to fight the pandemic. Photo: VNS
However, when travelers were preparing to go to Quang Ninh following the good news, an outbreak once again recurred in the province on June 23 with high community transmission risks, especially in Cam Pha.
In the latest notice, Quang Ninh provincial authorities decided that from June 25, all activities gathering high numbers of people, religious events, festivals and public beaches in Ha Long City, Cam Pha, Van Don District and Co To must be stopped.
The new decision has affected the tourism demand stimulus campaign, according to VNS.
In Phu Yen province, Tuy Hoa City has been imposed social distancing in certain areas in accordance with the Government's Directive No 15, commencing from 3 pm of June 24 for 15 days.
Binh Thuan also imposed social distancing in Phan Thiet City on June 24, and in Tuy Phong District on June 25 in accordance with Directive No 15.
Civil flights to Con Dao Island were stopped on 5 pm on June 5. The air routes to Phu Quoc Island still operate, but passengers must show negative testing results within the last 24 hours.
In the north, Ha Giang has stopped receiving travelers since June 2 and receiving people from Covid-stricken localities. If it is absolutely necessary, people have to show negative testing results within 5 days to be eligible to enter the province.
There are still some safe destinations that travelers can go, if following the 5K principle.
Hanoi posts export growth of 4.5 percent in H1
Hanoi earned US$7.16 billion from exports in the first half of 2021, up 4.5 percent year on year, the municipal Statistics Office estimated.
Some commodities with good export growth include mobile phones and parts (US$177 million, doubling the figure in the same period of 2020), footwear (US$176 million, up 47.7 percent), timber and wood products (US$313 million, up 22.3 percent), and machinery and spare parts (US$885 million, up 16.8 percent).
Overseas shipments in the second quarter stood at US$3.78 billion, rising 11.7 percent from Q1 and 2 percent from a year earlier.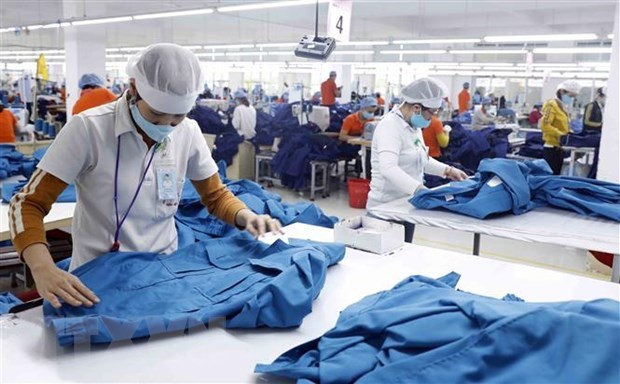 Hanoi exported US$7.16 billion worth of goods between January and June. Photo: VNA
During the first six months, the city's gross regional domestic product (GRDP) grew 5.91 percent from a year earlier, the office noted, adding that the agro-forestry-fishery sector rose 3.09 percent, industry and construction 7.74 percent, and services 5.74 percent.
The GRDP rose 5.17 percent in Q1 and 6.61 percent in Q2, reported VNA.
Office Director Dau Ngoc Hung said the six-month economic growth is faster than the 2.92-percent pace recorded in H1 of 2020 but still slower than that in the same period of previous years.
The COVID-19 pandemic has negatively impacted production and business activities, with tourism, hotels, restaurants, and entertainment services hit hardest, he noted.
However, the industrial sector has continued recovering. The index of industrial production went up 9.7 percent year on year in Q2 and 8.7 percent during January - June, data show.
The June consumer price index (CPI) inched up 0.2 percent from the previous month, 1.41 percent from last December, and 1.98 percent year on year. The six-month index increased 1.14 percent from the same period of 2020, the Statistics Office reported.
Rosie Nguyen