Vietnam News Today (Jun 17): Apple's iPhones Likely to be Assembled in Vietnam
Vietnam News Today (Jun 17): Covid-19: 774 cases added to national caseload on June 16; Apple's iPhones likely to be assembled in Vietnam; Hanoi targets 7 million foreign tourists by 2025; Vietnam, Australia promote technology transfer, innovation cooperation.
Vietnam News Today (Jun 17) notable headlines
Covid-19: 774 cases added to national caseload on June 16
Apple's iPhones likely to be assembled in Vietnam
Hanoi targets 7 million foreign tourists by 2025
Vietnam, Australia promote technology transfer, innovation cooperation
FDI lifts Vietnam up global value chain
New ecommerce platform launched for Vietnamese musicians
Workshop held to discuss investment strategy in the new normal
Digital transformation helps diversify forms of media products
Vietnam's first engineering unit matches for UN mission in Abyei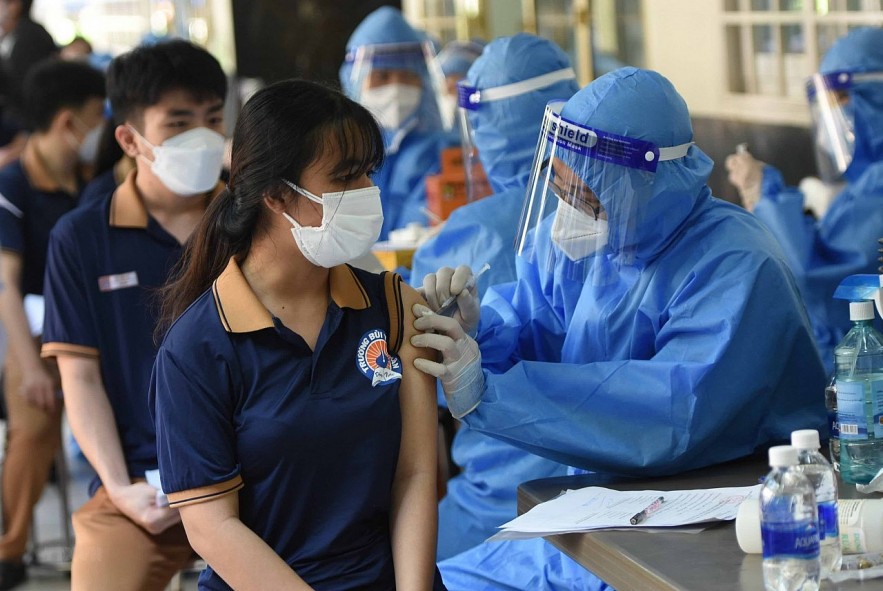 Photo: VNA
Covid-19: 774 cases added to national caseload on June 16
A total 774 new cases of Covid-19 were recorded from 4pm June 15 to 4pm June 16, according to the Ministry of Health.
Hanoi still reported the highest number of infections on the day with 145 cases, followed by Da Nang with 48 and Nghe An with 45.
The national caseload reached 10,734,925.
A total 8,835 Covid-19 patients were given the all clear on June 16, bringing the number of recoveries so far to 9,583,105. There are 41 patients in serious conditions needing breathing support, cited VNA.
No death from Covid-19 was recorded in the past 24 hours. The total fatalities stood at 43,083.
On June 15, 480,686 doses of vaccines were administered, raising the total number of doses of Covid-19 vaccines administered to 224,618,268.
Apple's iPhones likely to be assembled in Vietnam
Apple iPhone assembler Pegatron Corp has recently unveiled its expansion plan in other countries including Vietnam due to Covid-19 restrictions in China, according to Reuters.
"We faced Covid controls for two months. We couldn't have assessed that in advance, so that makes me emphasize our expansions in Vietnam, India, Indonesia, and North America, to solve our labour shortage, the gap between peak and low seasons, and to increase the utilization of our production capacity", President Liao Syh-jang told an annual shareholder meeting in Taipei.
In April, Taiwan-headquartered Pegatron suspended operations at its Shanghai and Kunshan plants in China due to strict Covid-19 protocols, impacting production and deliveries. China has since lifted those restrictions.
In recent years, Pegatron has sought to expand its footprint in Southeast Asia and North America.
Chairman of Pegatron Tzu-Hsien Tung added that their customers had "different reasons" for setting up factories in Vietnam, India and Mexico, according to VOV.
"But one shared factor is the ability to reduce concentration in Shanghai, Suzhou, Chongqing," Tung said, adding that recruiting staff in China has become increasingly difficult over the past seven to eight years.
According to the executive, with the Covid pandemic easing globally, China coming out of its lockdowns to control the coronavirus and the electronics industry's peak season coming later in the year, the rest of 2022 should be much better for the company.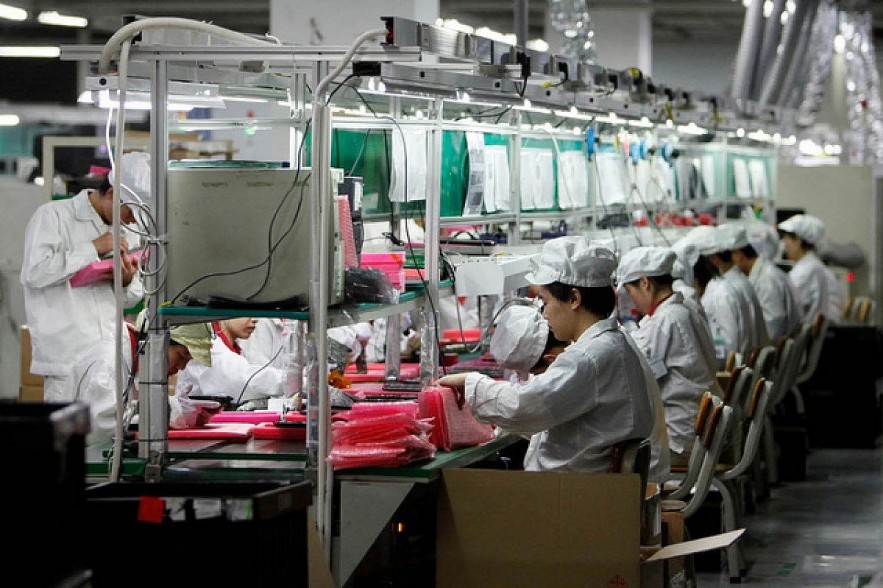 Apple's iPhones are likely to be assembled in Vietnam. Photo: VTV
"Combining these factors, I expect the second half of the year to be better, or a lot better, than quarter two", he noted.
The plan to expand the production line to Vietnam has been provoked since 2020. Currently, Pegatron is building a factory in the northern port city of Hai Phong in Vietnam.
A series of Apple's assembly partners such as Foxconn, Luxshare, and Goertek have also set up their factories in Vietnam, but none production base has yet assembled iPhones.
Apple products manufactured in Vietnam currently include AirPods headphones and HomePod speakers.
Another Apple's partner, BYD, has recently moved the iPad production line to Vietnam, making Vietnam the first nation after China to have an Apple tablet assembly plant.
Apart from Apple, major electronics firms including Samsung and Xiaomi have also set up their manufacturing facilities in Vietnam.
Hanoi targets 7 million foreign tourists by 2025
Hanoi eyes to welcome over 30 million visitors, including 7 foreigners, by 2025, according to the municipal Party Committee' draft conclusion on tourism development for 2016-2020 and following years.
The visitors are expected to spend more than VND130 trillion (US$5.59 billion) while in the capital.
At a conference collecting feedback on the conclusion held on June 15, participants basically agreed with the targets and solutions drafted, reported VNA.
Illustrative photo. Photo: VNA
They said it is necessary for the local sector to boost public-private partnership, formation of new products, and tourism connectivity.
The capital city hosted 6.53 million tourists in the first five months of 2022, more than double the figure in the same period last year.
It greeted 126,200 foreign visitors, particularly during SEA Games 31 held this May. As a result, the city earned an estimated VND18.9 trillion (US$815.36 million) from tourism, doubling the previous year's figure.
Vietnam, Australia promote technology transfer, innovation cooperation
Vietnam and Australia have plenty of opportunity to increase innovation cooperation, especially in technology transfer in the fields of clean energy, high-tech agriculture and digital transformation applications.
The view was shared by officials and experts attending the Australia-Vietnam business cooperation forum in Ho Chi Minh City on June 16.
Australia is one of the 20 leading foreign investors in Vietnam, with US$2.5 billion poured into 550 projects in 2021.
The Vietnam – Australia Enhanced Economic Engagement Strategy has been approved, aiming to double bilateral trade and investment, promote economic development, increase income, create jobs and opportunities for workers and businesses of both sides, cited VOV.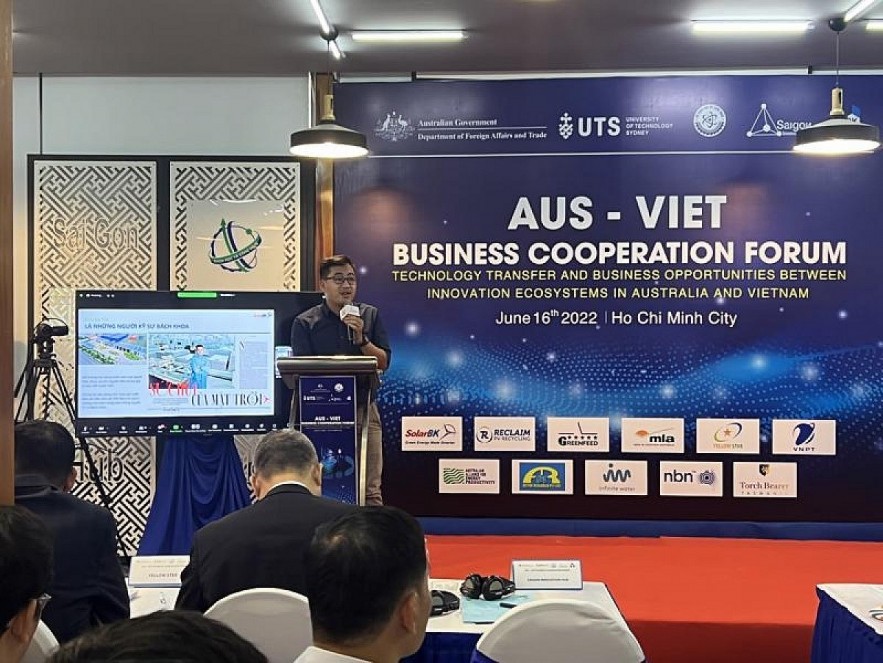 A representative of Solar BK (Vietnam) introduces solar energy solutions at the Australia - Vietnam Business Cooperation Forum. Photo: vneconomy.vn
Australia is an important partner in supporting Vietnam's economic reform and international integration. However, there is still much room for cooperation between the two countries, especially in the fields of technology and innovation which is yet to be fully tapped.
Addressing the event, Australian Consul General in Ho Chi Minh City Sarah Hooper noted innovation is essential, especially when it comes to energy development, to help Vietnam achieve its Net Zero goal set out in COP26.
Australia is ready to invite Vietnamese businesses to explore new opportunities in clean, renewable energy, as well as to cooperate in technology transfer with Australian partners, she said.
Cooperation programs will help strengthen the relationship between the two countries, including trade and investment cooperation, she added.
For his part, Deputy Minister of Science and Technology of Vietnam Bui The Duy said alongside business cooperation, the Vietnam - Australia innovation ecosystems have been deployed for more than four years in various areas to promote technology transfer related to the development of the digital economy, especially in the agricultural sector,
Such cooperation programs should be formulated and developed regularly to boost bilateral economic cooperation, he stressed.
Experts shared the view that most of production businesses in Vietnam desire to learn and access new technologies in order to increase productivity and engage deeply in the global supply chain.
Huynh Kim Tuoc, director of Saigon Innovation Hub, said that the idea of innovation is not only for the startup community but also for small and medium sized enterprises.
"We are aware that science and technology play an important role in innovation. However, from science and technology to commercialization is a long way…. We do hope sci-tech research results should be materialized soon," he said.
At the forum, a number of solutions and technologies were introduced with regard to digital transformation and technology transfer for small and medium enterprises, application of digital transformation in search & rescue, climate change response, and health, profit-sharing business model in energy investment and smart agriculture.
The forum was jointly held by the Ministry of Science and Technology of Vietnam, Saigon Innovation Hub in collaboration with the Australian Department of Foreign Affairs and Trade, and University of Technology Sydney.
FDI lifts Vietnam up global value chain
Vietnam, like many other East and Southeast Asian countries, is further climbing up the global value chain (GVC) thanks to the positive effect of the utilization of foreign direct investment (FDI), according to the latest report by Hinrich Foundation.
The opportunities are plentiful for countries to move up the global value chain, said Riccardo Crescenzi, Professor of Economic Geography at London School of Economics, at a press conference announcing the report "Climbing up global value chains: Leveraging FDI for economic development" on June 14.
Amidst current challenges, Asian countries can analyze the link between global economic integration and sustainable development, on the basis of which they will be able to adopt support policies encouraging the participation in the GVC to promote sustainable development, NDO reported.
Vietnam's increasing openness leads to a higher rise in FDI stock as a percentage of GDP, the report said.
"Compared to regional peers, the country changed from one of the most restricted to FDI, to one of the most open.
"One useful change was the revision of the Law on Investment policy, which restricted the ability of the central and subnational government to issue regulations on investment. This change removed uncertainty and overlapping or contradictory legislation.
"Vietnam's economic model remaining led by FDI but focused on final-stage assembly tasks that depend on imports," it added.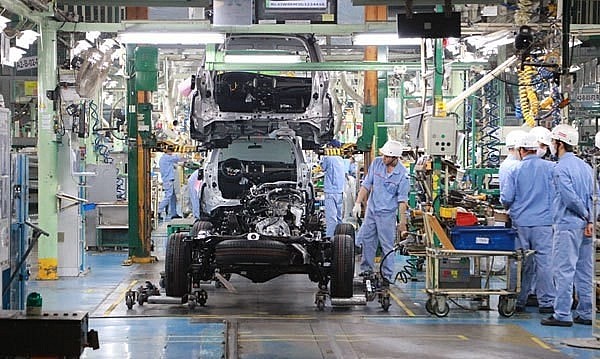 Photo: VNA
Crescenzi stressed it is important that the government and enterprises understand exportation activities, from goods to sources of investment to build domestic capacity and create domestic value-added.
Some 68 percent of global FDI flows landed in Asia-Pacific Economic Cooperation (APEC) economies in 2020, compared to less than 50 percent 10 years ago, said Akhmad Bayhaqi, Senior Analyst at APEC Policy Support Unit.
East and Southeast Asian countries, which make up half of the APEC economies, play a critical role in GVC, he noted, adding that the regions have attracted 18.4 percent of the global FDI and served as the "world's factory" for more than two decades.
Countries holding central positions in the FDI network are also hubs in the global trade network, he said, and it seems that participating in the GVC helps many emerging economies lure investment.
Without creativeness, Vietnam will not be able to improve productivity and struggle to compete, he continued, adding the formula for victory in a global competition is being creative.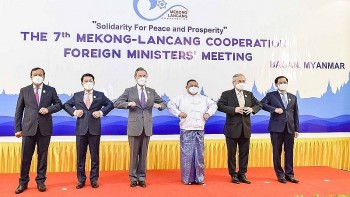 National
Foreign Minister Bui Thanh Son led a Vietnamese delegation to the seventh Mekong-Lancang Cooperation (MLC) Foreign Ministers' Meeting that was held in Bagan, Myanmar on July 4.