Vietnam News Today (Jun 9): Hungary - Vietnam Relations Will Increasingly Develop
Vietnam News Today (Jun 9): Vietnam remains an attractive retail market: reports; Vietnam and OIF support promotion of French language training; Hungary - Vietnam relations will increasingly develop; Vietnam among top 5 impressive destinations for 2023 summer.
Vietnam News Today (Jun 9) notable headlines
Vietnam remains an attractive retail market: reports
Vietnam and OIF support the promotion of French language training
Hungary - Vietnam relations will increasingly develop
Vietnam is among top 5 impressive destinations for 2023 summer
The Vietnamese community recognized as ethnic minority group in Slovakia
HCM City seeks stronger cooperation between local firms and Japanese counterparts
Da Lat moves to join UNESCO Creative Cities Network
Vietnam raises objection to Taiwan's live-fire Drills in Ba Binh
Vietnam's coffee exports hoped to earn over 4 billion USD this year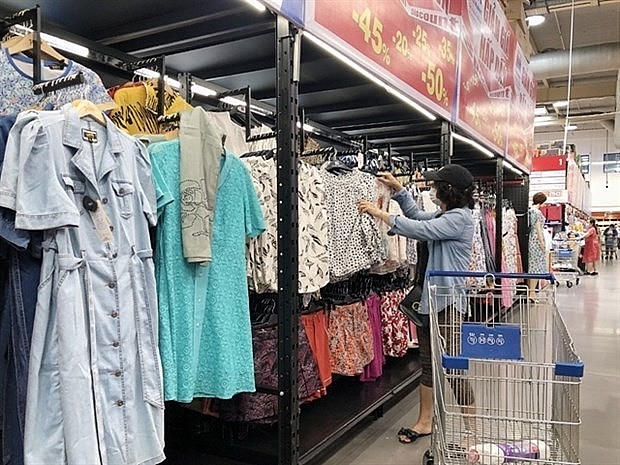 Vietnamese consumers are also becoming more discerning and value-conscious (Photo: VNA)
Vietnam remains an attractive retail market: reports
Vietnam remains an attractive market for retailers as Vietnamese consumers remain optimistic about the economic challenges and are driving premium purchases.
Vietnamese consumers' overall optimism remained one of the highest among countries globally, according to global management consulting firm McKinsey.
In a recent article on its website, McKinsey wrote that Vietnamese consumers were optimistic that the country's economy would rebound within two to three months and grow just as or even more strongly than before the COVID-19 pandemic.
There was also a clear intent by consumers to "splurge" and treat themselves, with more than 70% of respondents saying they intend to increase spending on categories of products or services they spent less on over the past year and a half.
It was estimated that more than half of the Vietnamese population would enter the global middle class by 2035, creating more disposable income and fuelling consumption.
However, Vietnamese consumers were also becoming more discerning and value-conscious.
McKinsey analysis showed that Vietnam's prospects remained strong for the upcoming decade since GDP growth was on the rise again – with year-on-year growth of 2 to 7% expected between 2023 and 2030.
However, the country was facing headwinds at the start of 2023 which were likely to impact the ability of its population to spend.
"More Vietnamese consumers anticipate a reduction in income and savings than consumers in other Asia - Pacific countries, with more than 90% noting price increases, fears of inflation, gas shortages coupled with higher fuel prices, and rising interest rates. These mounting financial pressures and uncertainties are accelerating consumers' shift to more discerning shopping choices."
McKinsey said that Vietnamese consumers were becoming more sophisticated and seemed to be evolving in four ways: they were more value-conscious, preferred omnichannel platforms, had less brand and store loyalty, and looked for purpose in what they bought.
A report by global trend forecasting organization WGSN also said that Vietnam was a key growth market in the Asia – Pacific for brands and retailers this year.
WGSN also said that Vietnamese consumers were increasingly having trust in domestic brands and products with 76% said preferring goods of domestic brands to foreign brands, urging brands and businesses to seamlessly blend in-person and online channels by investing in online presence, service discovery 'click and collect' (order online and pick up in store), pay in-store for online orders, and multi-service upgrades.
As Vietnamese consumers were embracing the convenience and ease of digital payments, brands needed to start integrating digital payments and diverse payment methods across channels to reduce problems and increase conversion rates, as the trend of using cash will decrease in the coming years, WGSN said.
Vietnam and OIF support the promotion of French language training
Minister of Foreign Affairs Bui Thanh Son visited the headquarters of the International Organisation of La Francophonie (OIF) on June 7 in Paris to meet with Louise Mushikiwabo, secretary general of the OIF.
During a working session held with Mushikiwabo, FM Son voiced his support for the OIF's efforts aimed at promoting the use of the French language, cultural diversity, and economic cooperation within the Francophone space.
Vietnam remains an active and responsible member of the Francophone community, he said, noting his appreciation for the OIF's attention to regional matters, including the South China Sea issue.
The Minister also made a series of proposals aimed at enhancing ties between Vietnam and the organization in terms of economics-trade and French language teaching, particularly for Vietnamese officers participating in the UN peacekeeping mission in Africa, cited VOV.
Minister of Foreign Affairs Bui Thanh Son (L) and OIF Secretary General Louise Mushikiwabo (Photo: VNA)
In response, Mushikiwabo said that the OIF greatly values the Vietnamese role and position in the French-speaking community and strongly desires the nation to press ahead with elevating its positive role at international forums and sharing its own experience with African countries in food self-sufficiency and poverty alleviation.
Taking into account FM Son's proposals, she said that the Francophone community will seek to boost its cooperation with the nation in expanding the reach of the French language and support its strengthening of economic, trade, and investment ties with French-speaking countries.
French language training assistance will be offered to Vietnamese peacekeepers and personnel working in the field of multilateralism, the OIF official added.
Hungary - Vietnam relations will increasingly develop: Hungarian NA official
Hungary - Vietnam relations will increasingly develop in the future, Márta Mátrai, first officer of the Hungarian National Assembly (NA), has said.
Mátrai appreciated the sound relationship between the two legislatures, which has developed on three pillars. They are the cooperation of the two countries Friendship Parliamentary Groups, links between specialized committees and ties between the two NA Offices, according to VNA.
A series of activities were organized in late last June, including the visit of NA Chairman Vuong Dinh Hue, business and educational forums, and cultural events, reflecting that the relationship between the two countries has grown across multiple fields, she said.
According to her, the political and diplomatic relations between the two countries play a leading role, while economic and trading ties are also indispensable.
At the meeting between the Hungarian Prime Minister Viktor Orbán and NA Chairman Hue during the Vietnamese top legislator's visit to Hungary last year, the two sides discussed a wide range of measures to further promote their economic collaboration, she said.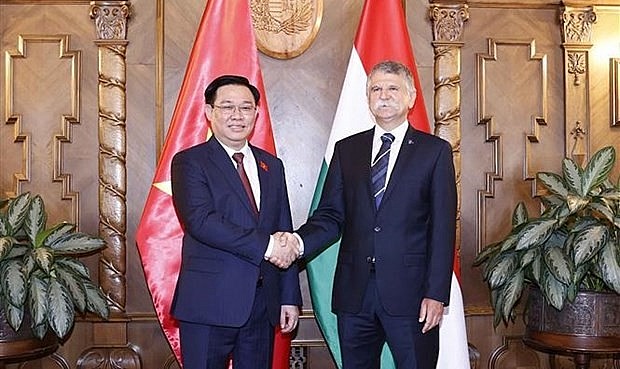 National Assembly Chairman Vuong Dinh Hue met with his Hungarian counterpart László Kövér on June 27 last year. (Photo: VNA)
According to Mátrai, the signing of a series of bilateral cooperation agreements serves as a good foundation for boosting ties between the two countries. Especially, eight Vietnamese universities signed collaboration programs with Hungarian partners within the framework of the visit, she noted.
Hungary provides 200 scholarships for Vietnamese students to study in the Eastern European country every year, she said, emphasizing that the move aims to help more young people be trained in Hungary, with this group being the ones who will serve as a bridge boosting the relationship between the two countries in the future.
Mátrai also highly appreciated the establishment of the Hungarian Club in Hanoi in early 2023 which aims to bring together alumni who have studied in Hungary and young people who are interested in learning about the Eastern European country.
She believed that it will strengthen people-to-people exchanges and help Vietnamese people gain a better understanding of Hungary.
Vietnam among top 5 impressive destinations for 2023 summer
Readers of the online travel network Expedia have selected Vietnam as one of the world's top destinations for travelers this summer.
According to Expedia, Vietnam is one of the Asian countries attracting many foreign tourists as the number of searches and bookings has increased significantly. Hanoi saw a 298% increase in search and booking rates, Da Nang 439% and Ho Chi Minh City 219%.
According to Expedia, Hanoi is known as the "art capital". Visitors can find interesting structures and learn about the city's centuries-old culture.
Other popular destinations are Japan, New Zealand, France and Italy.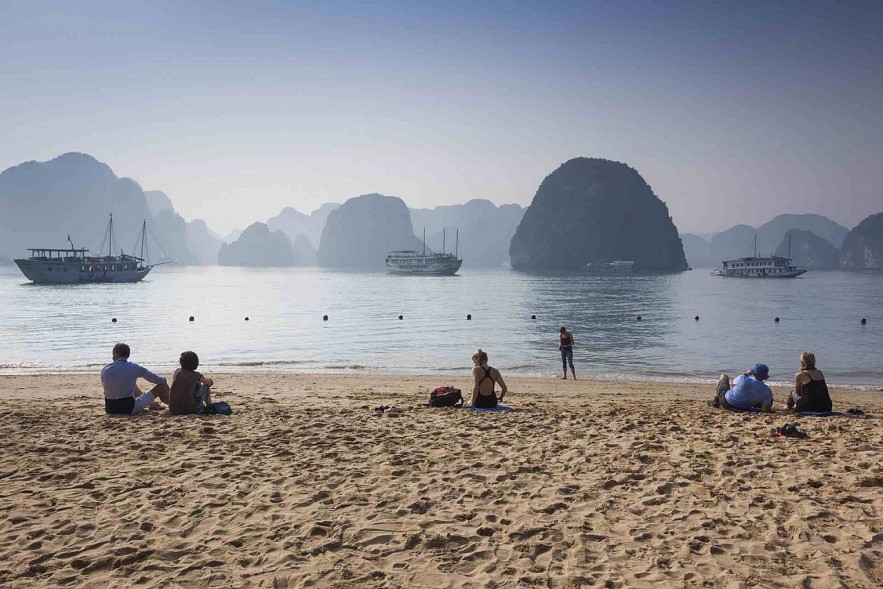 Photo: VNN
Japan is famous for its long history, amazing food and culture in the "city of the future" Tokyo, onsen hot springs, and kabuki baths.
For New Zealand, searches for its capital Wellington have increased by 465%. The most populous urban area, Auckland, has seen a rise of 267% this past year, showing that this country is set to become one of the most popular places to visit this summer.
France has always been a traveler's favorite during the summer but that interest has increased almost double this year, according to the site.
For Italy, searches for cities like Rome have risen by 201% and Venice by 148%.
Vietnamese community recognized as ethnic minority group in Slovakia
The Slovak Government on June 7 officially recognized the Vietnamese community as the country's 14th ethnic minority group and moved to adopt regulations for the community.
This decision was made on the basis of recommendations put forward y the Slovak Government council on human rights, ethnic minorities, gender equality, and experts.
In line with the decision, the Vietnamese community fully meets the criteria "in quantity" and "has lived in Slovakia for nearly 70 years and the 3rd generation has fully integrated into society."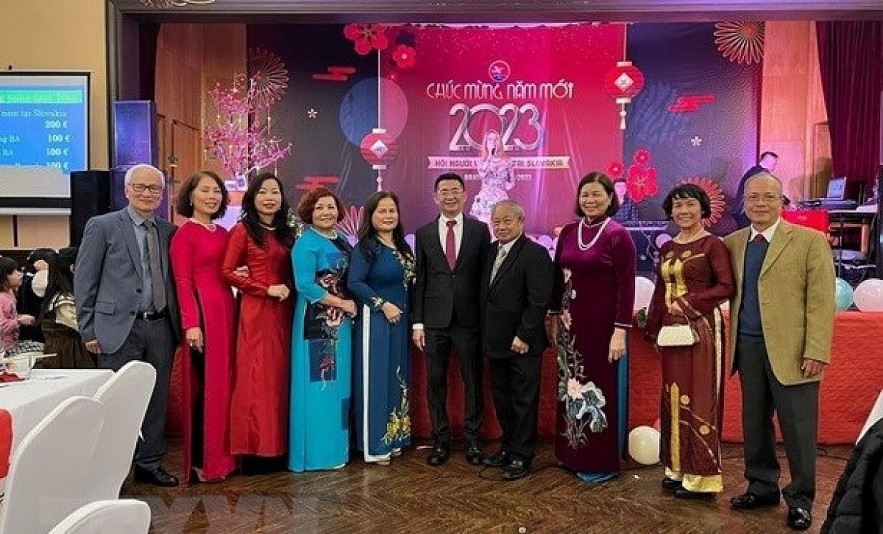 Vietnamese people in Slovakia (Photo: VNA)
Following the Government's passing of the resolution, the Vietnamese community will have representatives at the Committee on Ethnic Minorities and Ethnic Groups under the Council of the Government of the Slovak Republic for Human Rights, Ethnic Minorities, and Gender Equality. The community will therefore be supported with financial resources from the Fund for Cultural Support of Ethnic Minorities and will have the right to voice opinions regarding the fund.
The Vietnamese Association in Slovakia sees the Slovak Government's recognition as a prime opportunity to bring about more benefits to the Vietnamese community, cited VOV.
It is estimated that roughly 7,000 Vietnamese-origin people are currently living and studying in Slovakia. The last time that the Central European country with a population of 5.5 million people had recognised a community as an ethnic minority was 13 years ago when a similar resolution was passed for the Serbian community.