Vietnam News Today (June 11) notable headlines
Vietnam firmly opposes sovereignty violations in Truong Sa
Technological "weapon" in fight against Covid-19
Hanoi's tourism prepares recovery plan after Covid-19
Vietnamese film reachs US$ 1 million in US
Vietjet to trial IATA Travel Pass for international flights
Ho Chi Minh city businesses ask for vaccination of workers to be prioritised
More vaccines via COVAX Facility to arrive in Vietnam in July: UNICEF
Health ministry warns of Covid-19 vaccine fraud
Ho Chi Minh city brings fourth Covid-19 wave under basic control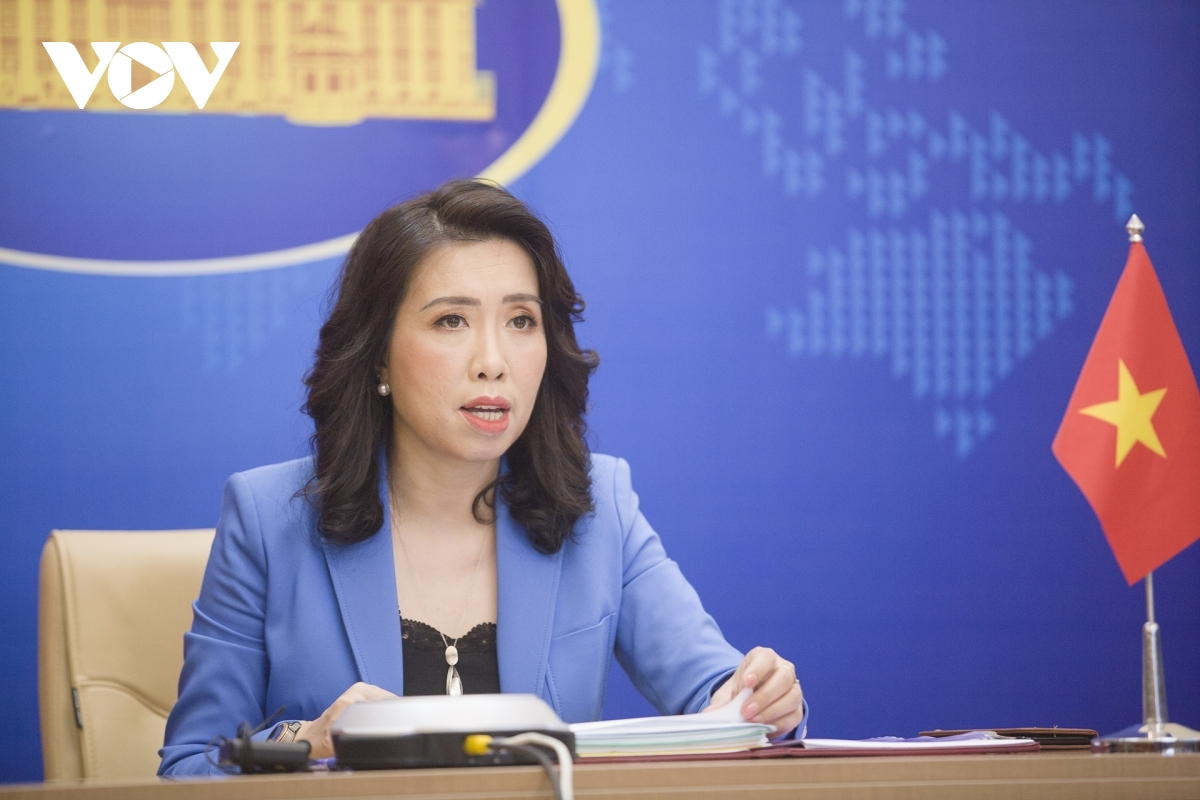 Foreign Ministry spokeswoman Le Thi Thu Hang. Photo: VOV
Vietnam firmly opposes sovereignty violations in Truong Sa
Vietnam has sufficient legal basis and historical evidence to affirm its sovereignty over Truong Sa (Spratly) archipelago in accordance with international law, Foreign Ministry spokeswoman Le Thi Thu Hang has said.
She made the statement during the ministry's regular press conference in Hanoi on June 10, in response to a reporter's question about Vietnam's reaction to the recent arrival of a Philippine military official to Thi Tu (Thitu) island in Vietnam's Truong Sa archipelago.
"As repeatedly affirmed, Vietnam has sufficient legal basis and historical evidence to affirm its sovereignty over Truong Sa (Spratly) archipelago in accordance with international law. The nation resolutely opposes any act of infringing upon its sovereignty and related rights over the archipelago," the spokesperson said, cited VOV.
Vietnam requests concerned parties to respect its sovereignty, international law, and the Declaration on the Conduct of Parties in the East Sea (DOC), without taking actions that could complicate the situation. The parties should make practical and active contributions to maintaining peace and stability in the East Sea and create an environment conducive to negotiations on a Code of Conduct in the East Sea (COC), Hang added.
Earlier on June 9, the Philippine Department of National Defense reported that Armed Forces of the Philippines (AFP) chief Cirilito Sobejana on June 7 came to Thi Tu island by C-130 military transport aircraft.
Reuters quoted Sobejana as saying that the visit aims to review the situation on the island, serving a plan to renovate the island into a logistics center to ensure the operation of Philippine forces.
Thi Tu is an entity belonging to Vietnam's Truong Sa archipelago, which is currently illegally occupied by the Philippines.
Technological "weapon" in fight against Covid-19
Implementing the Prime Minister's strategy on pandemic prevention and control, including the principle of "5K plus vaccine and technology", in the two Covid-19 outbreak hotspots of Bac Ninh and Bac Giang, forces are using information technology (IT) as "a weapon" in the fight against Covid-19 pandemic.
According to Assoc. Prof Tran Quy Tuong, director general of the Agency of Information Technology under the Ministry of Health, the deputy head of the Special permanent department of the Ministry of Health to support Covid-19 pandemic prevention and control in Bac Ninh province and the Department of Information and Communications of Bac Ninh province advised the Provincial Steering Committee to set up an Information Analysis Team to analyze data sources, propose tracing, testing and assess the risk of infection, and make timely recommendations on disease prevention and control.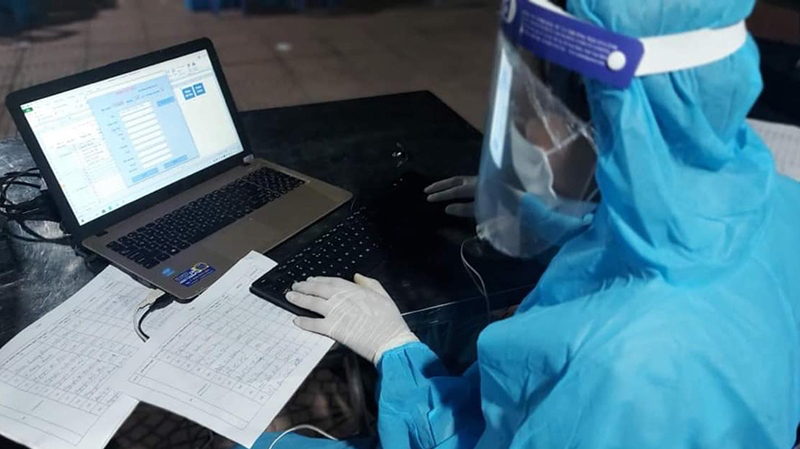 The application of information technology in taking samples for Covid-19 testing in Ve commune, Tien Du district, Bac Ninh. Photo: NhanDan
The messaging system was also built to quickly and promptly implement the instructions of the Provincial Steering Committee to members of the Covid-19 Community Support Team.
On the other hand, the province has also strengthened communicating and mobilizing people in the province to install and use electronic medical declarations such as the Vietnam Health Declaration, NCOVI and Bluezone applications; instructing agencies, units, People's Committees of districts, towns and cities to create and scan QR codes and medical declarations at offices, units, and public areas, NhanDan reported.
The Ministry of Health has issued a Decision to provide instructions for citizens, businesses, and facilities to utilize medical declaration apps in detecting transmission risks from close contacts. One of the important purposes of the decision is to support the implementation of medical declarations. Electronic devices help manage and monitor health, as well as detect early F0 cases, effectively serving the Covid-19 pandemic prevention and control fight.
Accordingly, individuals who own smartphone devices need to install these apps, file medical declarations, and generate a personal QR code to help with contact tracing in the future. It is necessary to open the contact detection app Bluezone and activate Bluetooth connection while individuals are in public spaces to detect the risk of transmission in their vicinity. People in quarantine or under health monitoring who own smartphone devices, after leaving quarantine are obliged to install medical declaration and contact tracing apps. When going to places where medical declaration is required, it is necessary to give the QR code to staff.
Hanoi's tourism prepares recovery plan after Covid-19
Although the Covid-19 pandemic has seen continuous complicated developments and caused negative impacts on tourist activities in Hanoi, the capital city's hospitality sector has prepared a recovery plan for as soon as the pandemic is under control.
Accordingly, in the second half of this year, the city's Tourism Department has asked tourism businesses, organisations and agencies in the city to strictly observe Covid-19 prevention and control.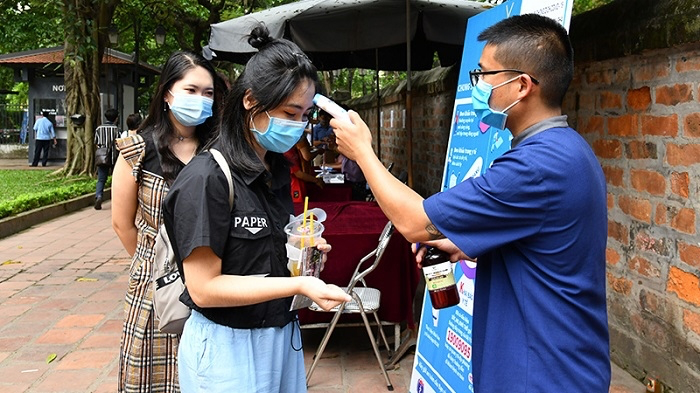 Photo: NhanDan
The Department will continue to advance the application of information technology in managing tourist activities and the supervision of travel agencies and tour operators who meet Covid-19 safety standards based on the Ministry of Culture, Sports and Tourism's set of evaluation indicators.
In addition, the department will take action to improve the quality of tourist products, increase the attractiveness of destinations, develop tours promoting the value of heritages, relic sites and craft villages in the city, cited NhanDan.
The department will also coordinate with the city's authorities in planning festivals and cultural events when the Covid-19 pandemic is brought under control.
In the first five months of this year, the city received 2.89 million domestic visitors, down 6.7% over the same period in 2020, and earned VND 8.1 trillion in tourism revenue, down 50.7% due to the impact of Covid-19. In May alone, domestic holiday-makers coming to the capital numbered 115,000, a steep decrease of 55.3% year-on-year.
Vietnamese film reachs US$ 1 million in US
A Vietnamese movie named "Bố Già" (Dad, I'm sorry) is successfully conquering the North American box office, earning US$820,000 in revenue (more than VND 18.8 billion). The film from Vietnam produced by Tran Thanh attracts the attention of a large number of overseas Vietnamese and international audiences.
The film is continuously expanding its distribution scale. At launch, the film was shown in 19 theaters then increased to 38 theaters in the second week and is expected to expand to 45 theaters by the end of this week.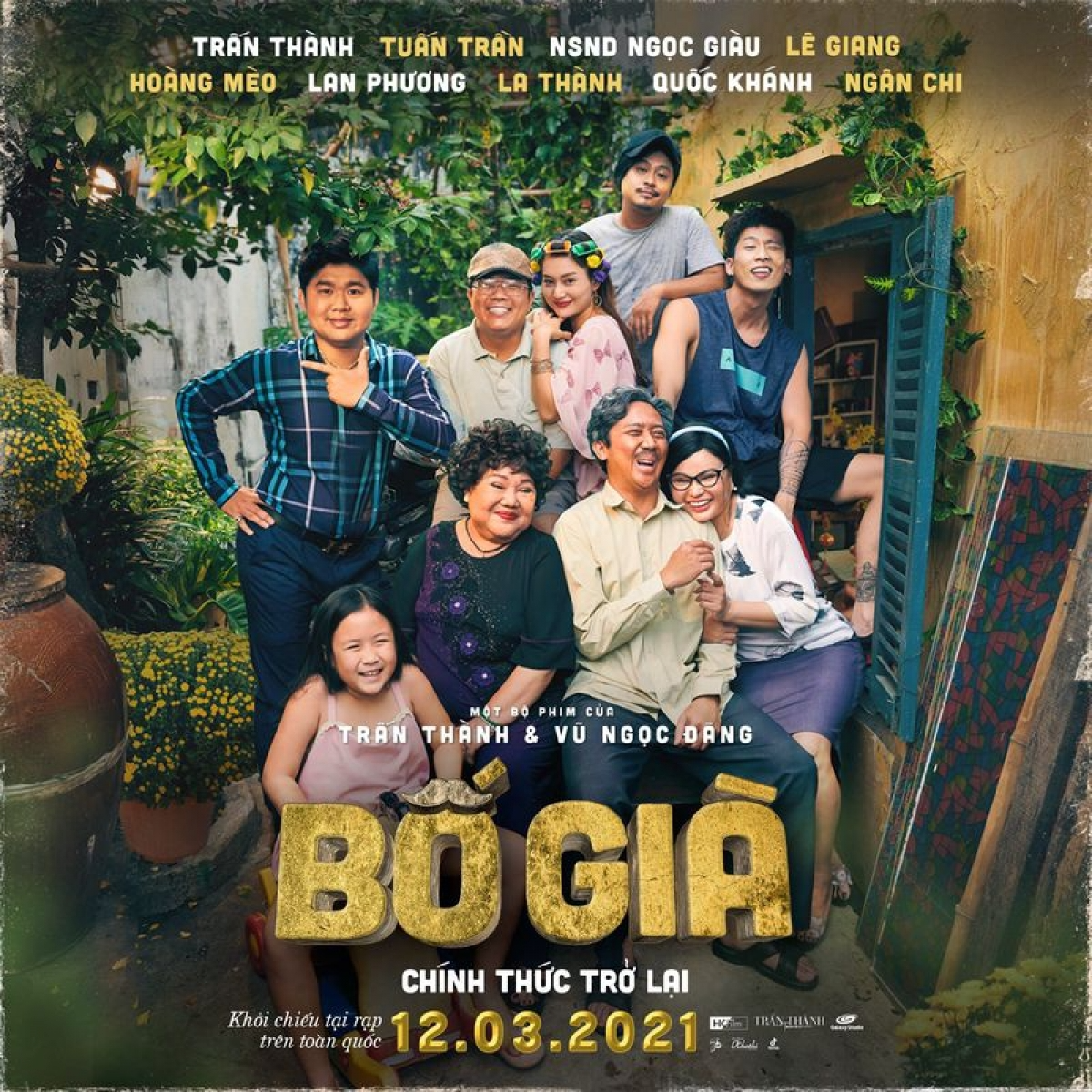 "Dad, I'm sorry" quickly impressed the international audience. Photo: VOV
The Deadline movie website gives comments on the movie "Dad, I'm sorry" as well as appreciates that Tran Thanh is the one in charge of writing the script, directing and the male lead "Father Sang." "If you compare Tran Thanh with any American comedian, it could be Rodney Dangerfield, not purely for looks or style but for his character - Father Sang, a person who is always looked down on and receives criticism from many other people," the author of the article compared the actor with an experienced American comedian.
"For a moment, it seemed like "Dad, I'm sorry" was being positioned as a modern take on the French films of the 1930s, where upheavals in a certain resident's life become everyone's concern," Deadline commented.
According to statistics of Box Office Mojo - the box office statistics unit in the US, as of June 3, 2021, "Bố già" (international name is Dad, I'm sorry) collected US$350,000 (more than VND 8 billion) in its opening week, ranked 10th on the list of the highest-grossing works of the North American box office that week, behind blockbusters such as "A quiet place 2" (US$47.5 million), "Cruella" (US$21.4 million).
Previously, at the domestic box office, "Dad, I'm sorry" set many box office records and quickly reached the revenue milestone of more than VND 400 billion (according to the publisher's announcement). This achievement helps Tran Thanh's debut film become the highest-grossing Vietnamese film of all time, surpassing "Avengers: Endgame" at the Vietnamese box office.
Not only a hit name at the US box office, "Dad, I'm sorry" also hit the big screens in Singapore, Malaysia, and Australia.
Vietjet to trial IATA Travel Pass for international flights
Vietjet will participate in trialling the International Air Transport Association (IATA) Travel Pass, a mobile app to manage digital health credentials in order to bring the best experiences to customers.
The IATA Travel Pass will help passengers manage their travel health credentials in line with the prevailing government requirements for Covid-19 tests or vaccination.
It consists of four modules – a global registry of health requirements, a global registry of testing centres, a lab app to securely share test and vaccination certificates with passengers, and a contactless travel app that enables passengers to create a digital passport and manage their travel documentation digitally.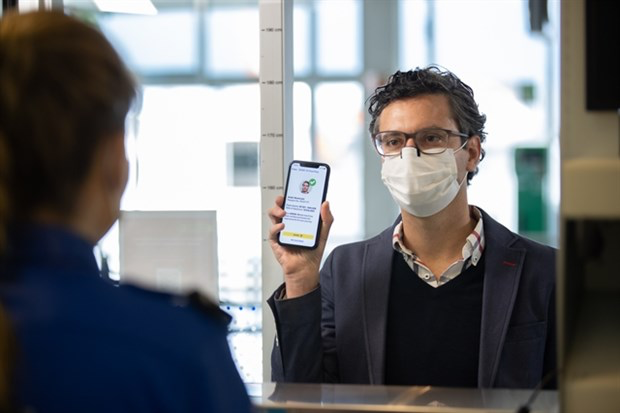 Photo: VNP
"Vietjet is one of the first airlines in the world to trial IATA Travel Pass. Vietjet strongly believes that with IATA Travel Pass, our passengers will get the best experience on their upcoming travels," said Vietjet Managing Director Dinh Viet Phuong, according to VNP.
"We look forward to working with Vietjet to trial IATA Travel Pass and demonstrate that digital health apps can securely, conveniently and efficiently help manage passenger travel health credentials. This is a positive step forward towards restarting international aviation," said Nick Careen, IATA's Senior Vice President for Airport, Passenger, Cargo, Security.
The IATA Travel Pass team has been working closely with Vietjet – an IATA member, and the relevant Vietnamese authorities, as well as with other IATA members and governments to ensure the product could support and facilitate safe international travel.
Before making a flight, passengers download the IATA Travel Pass application, fill in information, and take a Covid-19 test at designated facilities. They will receive an "OK to Travel" if their travel health credentials meet the destination's requirements.
Rosie Nguyen