Vietnam News Today (May 30): PM assigns new tasks of legal building for Ministry of Justice
Vietnam News Today (May 30) features headlines include PM assigns new tasks of legal building for Ministry of Justice, PM Chinh invited to attend COP26 in UK, PM Chinh invited to attend COP26 in UK and Covid-19 updates.
Vietnam News Today (May 30) notable headlines:
PM assigns new tasks of legal building for Ministry of Justice
PM Chinh invited to attend COP26 in UK
COVID-19 vaccine fund raises VND185 billion
Saturday's COVID-19 cases reach 286
Five-month CPI falls to five-year record low
New hot spell strikes northern Vietnam, temperatures rise to 38
HCM City Buddhist Sangha donates 33 ventilators to India
PM urges tackling difficulties for Bac Giang amid COVID-19
Viet Nam detects COVID-19 variant combining Indian, British mutations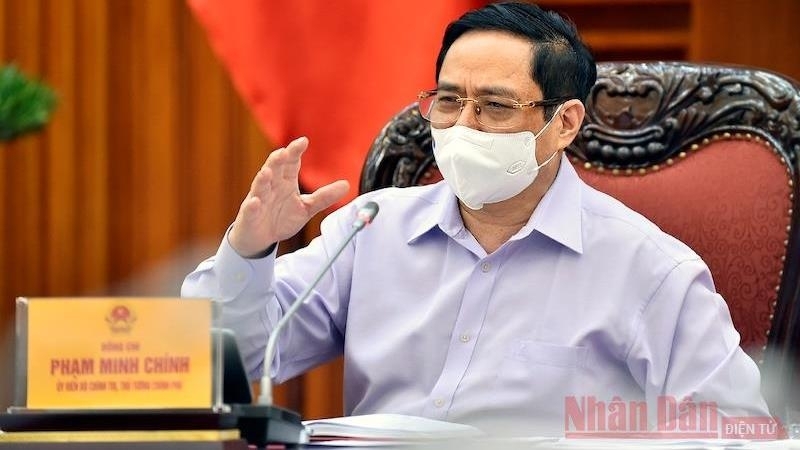 Prime Minister Pham Minh Chinh speaks at a working session with the Ministry of Justice on May 25, 2021. (Photo: NDO/Tran Hai)
PM assigns new tasks of legal building for Ministry of Justice
Prime Minister Pham Minh Chinh hosted a working session with the Ministry of Justice on May 25, discussing its implementation of tasks and some key and urgent projects for the near future.
Speaking at the meeting, held at Hanoi Government Headquarters, PM Chinh said that in the coming time it is key to raise awareness and unify actions to strengthen the leadership, direction and investment in material and human resources for its judicial activities.
Hailing the ministry and the judiciary for achieving significant results, he also pointed to some lessons learned, stressing the importance of closely following the guidelines of the Party and the Constitution in advising the Government and the PM on building mechanisms and policies, as well as removing difficulties and obstacles in practice.
Regarding the upcoming tasks, the PM emphasised that the biggest is to perfect the legal environment, build a socialist democracy and a state that follows the socialist rule of law, while focusing on implementing key tasks and breakthrough strategies for the sector.
He urged the promotion of results achieved while synchronously and comprehensively renovating law-making work on the basis of sticking to reality, taking practice as a measure to serve key and strategic tasks, as well as removing difficulties, obstacles and bottlenecks for ministries, sectors and localities in legal work, as reported by NDO.
PM Chinh invited to attend COP26 in UK
British Prime Minister Boris Johnson has invited Prime Minister Pham Minh Chinh to attend the 26th UN Climate Change Conference of the Parties (COP26) due to take place in Glasgow in November 2021.
Alok Sharma, British Cabinet Minister and COP26 President, who is on a visit to Vietnam, handed over Johnson's letter of invitation to PM Chinh at a meeting in Hanoi on May 28.
Chinh welcomed Sharma's visit and affirmed that Vietnam, a country heavily affected by climate change, always regards green growth as a key goal in its sustainable development strategy. It is transforming its economy into a green economy in a stable, harmonious and effective manner, taking into account employment and lives of workers in the transition.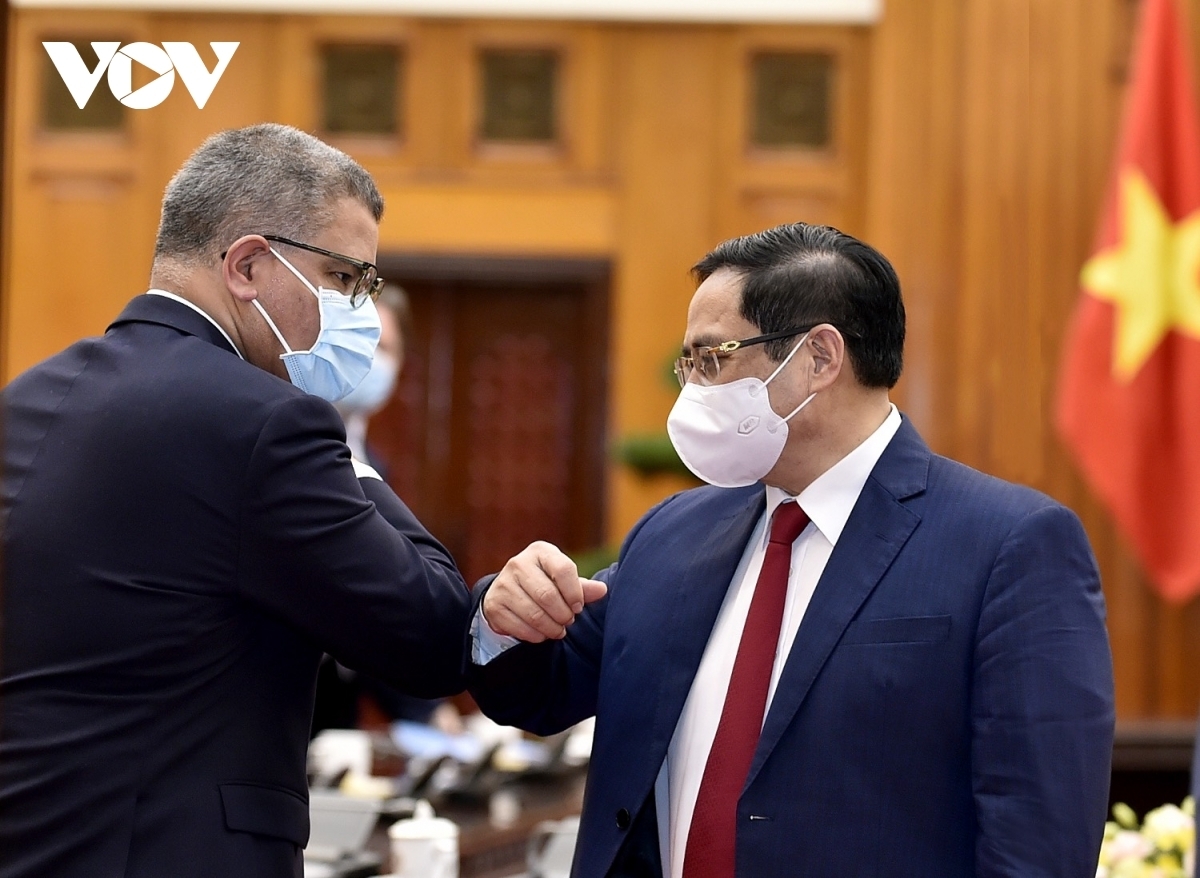 The PM proposed that the British Government continue providing Vietnam with finance, technology and expertise in its transition into a low-carbon economy, while improving its ability to adapt to climate change, especially in regions hit hard by climate change and sea level rise.
On the Vietnam-UK relations, Chinh requested Sharma to help promote the effective implementation of bilateral economic agreements, and encourage British businesses to invest in Vietnam, especially in areas of British strength like clean energy.
For his part, Alok Sharma noted Vietnam is one of the important working partners of the British Government in preparation for the COP26 Conference. He highly appreciated Vietnam's efforts to reduce greenhouse gas emissions, and affirmed that the UK will continue to support Vietnam in responding to climate change, including promoting the development of green energy, VOV reported.
COVID-19 vaccine fund raises VND185 billion
Minister of Heath Nguyen Thanh Long on May 28 received VND185 billion (US$8.01 million) in donations from businesses for Vietnam's COVID-19 vaccine fund, according to VOV.
The Vietnam Oil and Gas Group (PetroVietnam) contributed VND50 billion; the Vietnam Electrical Equipment Joint Stock Corporation, the BIM Group, and Vietnam Electricity VND30 billion each; and the Vietnam Maritime Commercial Joint Stock Bank VND20 billion. The Kosy Group and the DHG Pharmaceutical Joint Stock Company donated VND3 and 2 billion, respectively.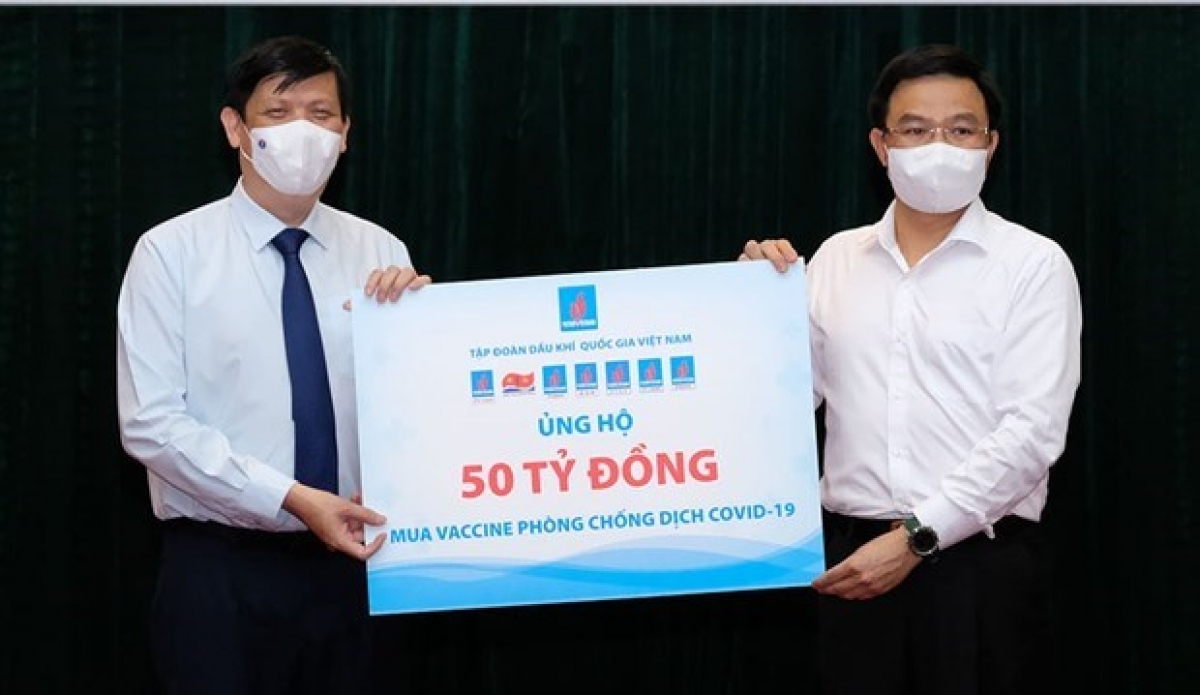 (Photo: VOV)
At the handover ceremony, Long highlighted the complex developments of the ongoing fourth wave of COVID-19 in Vietnam that began in late April.
A concerted effort by the entire country was key to success in fighting the previous three waves, he stressed, expressing a belief that with solidarity and efforts, success will come again.
Vaccinations are considered an effective solution and top priority in pandemic prevention and control, he affirmed.
The health sector aims to increase vaccine coverage and reach herd immunity, he said.
Saturday's COVID-19 cases reach 286
The Ministry of Health has just confirmed 143 new COVID-19 cases, taking the national patient tally to 6,856. The latest patients include two Vietnamese brought home from Japan on May 27.
All the others are domestic cases recorded in Bac Giang (67), Ho Chi Minh City (29), Bac Ninh (25), Ha Noi (seven), Lang Son (seven), Ha Nam (three), Hai Duong (two), and Long An (one).
Earlier the same day, the ministry reported 143 cases, including 136 local infections, VGP said.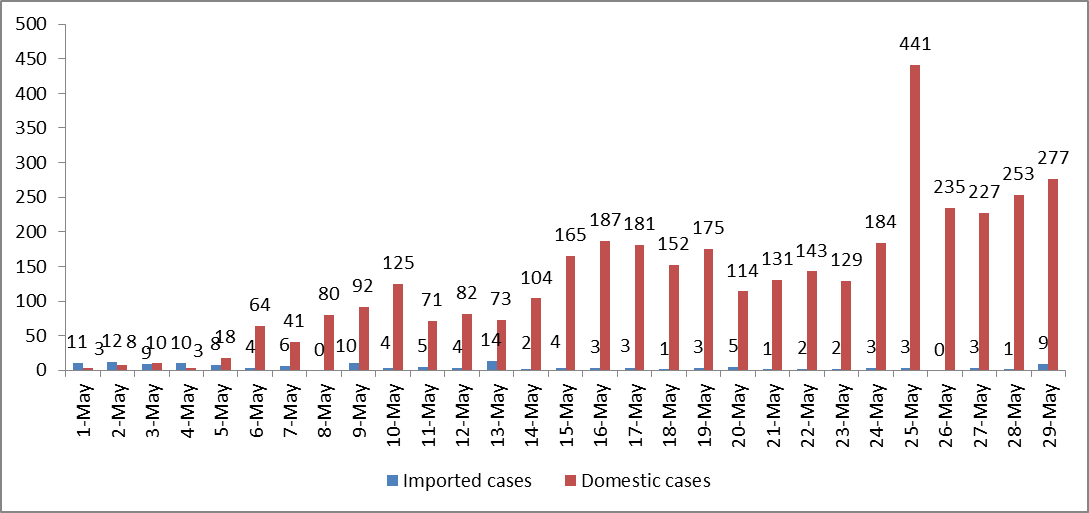 The number of daily new COVID-19 cases from May 1 to 7:11 pm on May 29 (Chart: VGP)
Five-month CPI falls to five-year record low
Vietnam's consumer price index (CPI) for the first five months of the year has increased 1.29% compared to the same period last year, a record low figure since 2016, according to the General Statistics Office (GSO).
Announcing major economic indicators in Hanoi on May 29, the GSO said the CPI for May rose 1.43% against December 2020 and 2.9% against May 2020.
But the overall five-month figure fell to as low as 1.29% compared to 1.59% in May 2016, 4.47% in May 2017, 3.01% in May 2018, 2.74% in May 2019 and 4.39% in May 2020.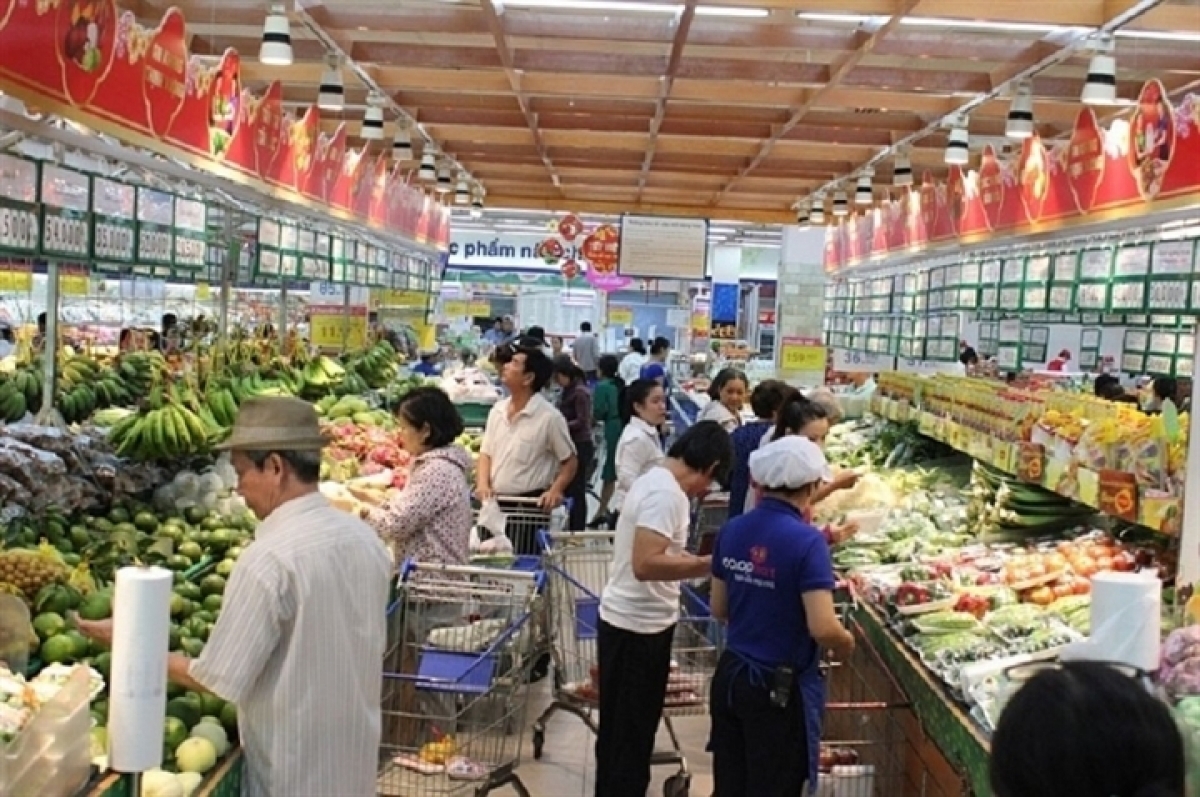 (Photo: VOV)
According to the GSO, the increase in the prices of raw materials, fuel and input materials affected production costs that prompted the prices of consumer goods and services to leap. In addition, an increasing demand for fuel, electricity and water also made a negative impact on the CPI for May.
The group of transportation-related commodities obtained the highest price rise of 0.76%, followed by the group of housing and building materials (0.4%), the group of beverage-tobacco, and the group of household utensils (0.09% each).
Meanwhile, the price of food and food services increased by 0.04%, of the education group by 0.03%, and of medicines and medical services by 0.01%.
In contrast, the price of culture, entertainment and tourism services decreased by 0.23%, due to the impact of the COVID-19 pandemic. Similarly, the group of post and telecommunications and garment and leather footwear dipped 0.15% and 0.01% respectively, VOV reported.