Vietnam News Today (Mar. 11): China's Reopening Good News for Vietnamese Exporters
Vietnam News Today (Mar. 11): Ha Long Bay among top 25 world's most beautiful places; Japan becomes largest ODA donor for Vietnam; China's reopening good news for Vietnamese exporters; German journal highlights Vietnam's economic achievements.
Vietnam News Today (Mar. 11) notable headlines
Ha Long Bay among top 25 world's most beautiful places
Japan becomes largest ODA donor for Vietnam
China's reopening good news for Vietnamese exporters
German journal highlights Vietnam's economic achievements
Experts warned for the high UV index in Southern Vietnam
Dak Lak exhibitions promote world, Vietnamese coffee
RoK Culture Day underway in Lao Cai
Vietnam working to expand eco-industrial parks
More than 1,600 cyber attacks handled in February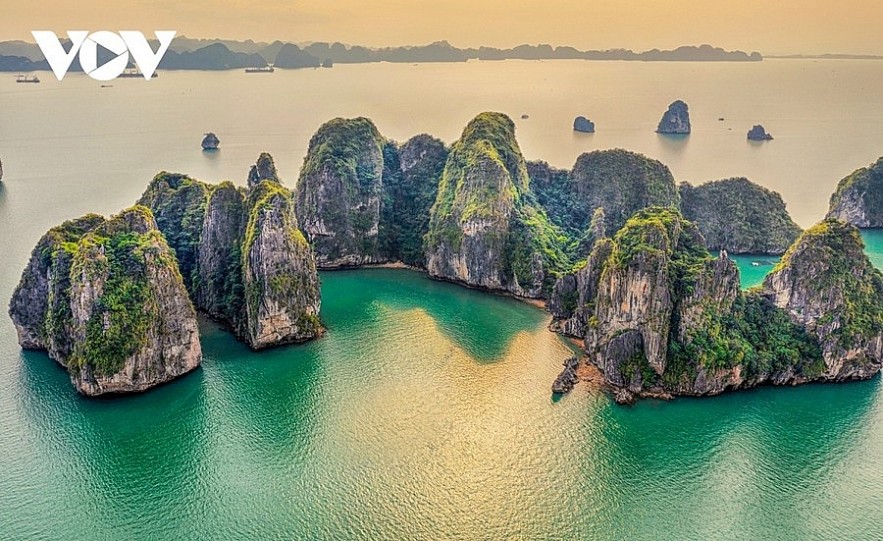 Ha Long Bay has been listed among top 25 world's most beautiful places by CNN.
Ha Long Bay among top 25 world's most beautiful places
Prestigious website CNN Travel of the United States has named Ha Long Bay in the northern province of Quang Ninh in its list of the top 25 most beautiful places worldwide.
According to CNN Travel, Ha Long Bay is one of the most popular natural attractions throughout all of Southeast Asia and is one of the most beautiful places in Vietnam.
"With 1,969 islets of hulking limestone and deep, green waters that are home to myriad floating villages, this is a place where time slows to a standstill," introduced CNN Travel.
It also suggested that visitors should sail on a junk boat, pick up a kayak, and enjoy time in the quieter reaches of this vast and fascinating corner of the South China Sea known as the East Sea locally.
The popular travel destination, just a two-hour drive from Hanoi, was named a UNESCO World Heritage Site in 1994. In addition, it was also recognised for its outstanding geological and geomorphological value by the World Heritage Committee in 2000.
Previously, a number of other prestigious foreign magazines and websites have also hailed the magnificent bay.
Fodor's Travel, a trusted resource offering expert travel advice for every stage of a traveler's trip for nearly eight decades, also listed the destination among the top 25 natural wonders in Southeast Asia.
Meanwhile, the South China Morning Post (SCMP) based in Hong Kong (China) named Ha Long Bay among one of the most popular attractions in all of Asia.
Furthermore, the UNESCO heritage site was featured as one of the most beautiful places in the world to add to any traveler's bucket list in 2022, according to Canadian travel publication The Travel.
Moreover, it also was named amongst the 50 most beautiful natural wonders on Earth, as selected by US-based magazine Insider.
Japan becomes largest ODA donor for Vietnam
After 30 years Japan has become Vietnam's biggest official development assistance (ODA) donor, with more than JPY2.7 trillion, approximately US$20 billion, in loans, nearly JPY100 billion in grant aid, and roughly JPY180 billion in support for technical cooperation.
According to Deputy Minister of Planning and Investment Tran Quoc Phuong, Japanese assistance has significantly contributed to developing large-scale infrastructure projects, creating a driving force for promoting socio-economic development in a sustainable manner.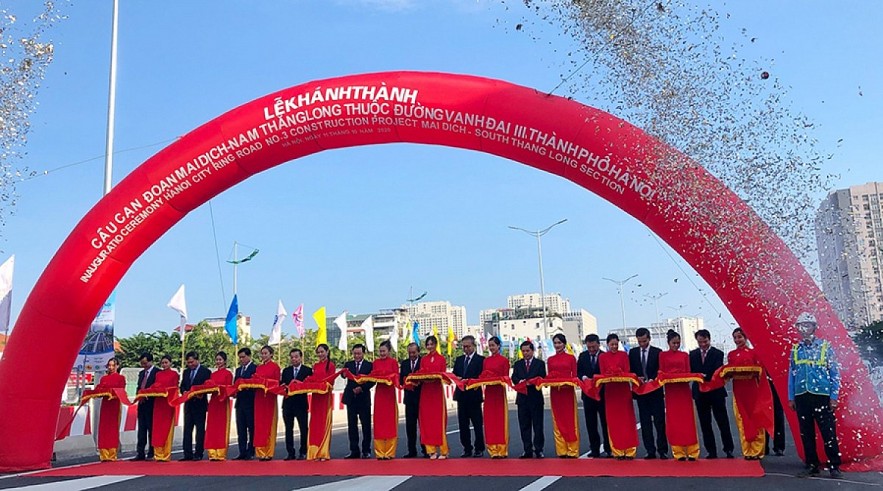 The Mai Dich - South Thang Long section of Hanoi's Ring Road No.3, funded by the Japan International Cooperation Agency (JICA)'s ODA loan, was officially opened to traffic on October 11, 2020. (Photo: JICA)
Japanese ODA has also helped with advanced technology transfer and human resource training for Vietnam, either directly or indirectly creating conditions in which to attract foreign investment, said Phuong.
Along with this help, Japanese ODA has also contributed to poverty reduction. Specifically, the indirect impact of ODA can be seen through projects which make use of ODA loans for large-scale economic infrastructure development, contributing to attracting investment and creating jobs for people in rural areas, cited VOV.
The Deputy Minister stressed that it has also helped to promote technical support assistance in the fields of health and education, as well as sending Japanese volunteers to work in localities throughout Vietnam in order to improve the capacity of local officials.
The Ministry of Planning and Investment has called on the Japanese side to continue to boost development cooperation moving forward, Phuong said.
China's reopening good news for Vietnamese exporters
China's reopening as COVID-19 restrictions have been lifted has strongly lifted Vietnamese agricultural and fishery exports to the country, according to Deputy Minister of Agriculture and Rural Development Tran Thanh Nam.
Speaking at a recent trade promotion forum, he opined that China's dismantling of its COVID-19 lockdowns had given a big push to bilateral trade, with Vietnamese exports to China in February rising by 33% month-on-month.
The Mong Cai-Dongxing Border Gate was immediately reopened after the good news came in, leading to scores of traders flocking to the gate to look for Chinese partners.
The gate plays a prominent role in bilateral trade because it commercially connects Quang Ninh province with China's Guangxi province. The latter is the third-largest importer of Vietnamese seafood, importing 75% of its annual fishery consumption.
Regarding processed agricultural products, he said Vietnamese exporters who want to enter the Chinese market must hand in two dossiers, one to a Vietnamese agency and the other to a Chinese agency.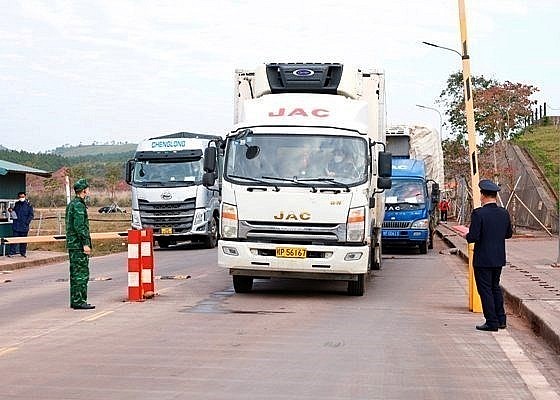 Trucks loaded with fruits and seafood moving to the borders to enter China. Vietnamese exports to China in February rose by 33% month-on-month (Photo: VNA)
However, some exporters have skipped steps by submitting their dossier to the Chinese agency only, leading to the situation that the Vietnamese side is unable to verify the submitted dossier at the request of its Chinese counterpart.
The deputy minister called on exporters to strictly follow the procedure to save themselves from redoing the process. He also suggested the formation of a team tasked with keeping agricultural producers well-informed about the Chinese market.
A representative of the Department of Quality Management, Processing, and Market Development under the Ministry of Agriculture and Rural Development described Quang Ninh as a commercial gateway to Asian markets for Chinese traders.
Guangxi is one of the major importers of Vietnamese agricultural and fishery products. The province alone accounts for 47.5% of China's total imports from Vietnam, according to VNA.
The representative urged Vietnamese producers to focus more on trade promotion to fully unlock the trade potential between the two countries.
To Van Quang, vice chairman of the Vietnam-China Business Association in Guangxi, mentioned his Dong Dang Industrial Investment Company, which was pushing hard for a Vietnamese seafood trading centre in Fangchenggang City.
He said its efforts have paid off as 600,000 tonnes of cold storeage warehouse are being built by the municipal authorities. Once finished, the warehouse would allow Vietnamese seafood to enter China in larger quantities and with lower lead times.
He also revealed that the company plans to import 35,000 tonnes of durians, 120,000 tonnes of purple sweet potatoes, and certain quantities of seafood to China this year.
Tran Thi Bich Ngoc, head of the Management Board, Mong Cai International Border Gate, estimated that Vietnamese agricultural and fishery exports to China via the gate grew by around 60% year by year.
From her perspective, Vietnamese producers should reshape their mindset to bring more changes to bilateral trade. She said they need to be more commercially cooperative to not lose out on trade opportunities.
She also underlined the importance of digital technologies, including e-commerce, in trade promotion. She said e-commerce would allow producers to market their products beyond borders.
Lastly, the head urged the producers to embrace novel production techniques and well-organised management to keep their products up to standard.
Under Order No.248, Vietnamese food producers are required to register with the CIFER system to be eligible for exports to China.
Some participants at the forum complained that China had changed the registration procedures in the system, resulting in longer times to have their codes approved.
However, Ngo Xuan Nam, deputy director of the Sanitary and Phytosanitary Notification Authority and Enquiry Point (SPS Office), claimed that China had not made any such changes to the system since the enactment of Order No.248.
Even if China had wanted to revise the procedures for business registration and food safety, the process would never be a mean feat as the country has to consult other WTO members to get the job done.
The deputy director said his office had held talks with Chinese authorities, requesting them to speed up the process of approving Vietnamese producers.
Deputy Minister Nam suggested Quang Ninh's authorities and their Chinese counterparts hold a live trade promotion forum in Dongxing city as soon as possible to enable bilateral discussion on business matching activities and supply chain development.
German journal highlights Vietnam's economic achievements
No other country of the same size in the world has achieved such great achievements on the Index of Economic Freedom as Vietnam since 1995, highlighted German economic and financial news website wallstreet-online.de in a recent article.
The Index of Economic Freedom is an annual index and ranking created in 1995 by the US-based The Heritage Foundation and The Wall Street Journal to measure the degree of economic freedom in the world's nations.
According to the article, in the Index of Economic Freedom rankings for 2023, Vietnam is in the 72nd position among the 176 countries and territories with 61.8 points, 1.2 points higher than that recorded last year.
Vietnam ranks 14th out of the 39 the Asia-Pacific region countries and territories. Especially Vietnam's total results are above the world and regional average, it said.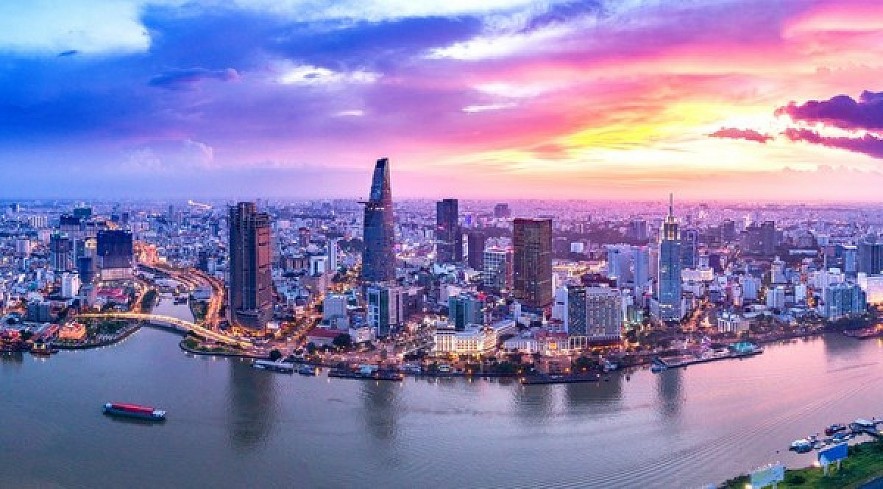 A view of Ho Chi Minh City (Photo: baodautu.vn)
However, the article underlined that Vietnam's ranking is not as important as the change of the country's economy. Compared to other countries with similar size, none in the world has enjoyed a good degree of economic freedom like Vietnam since 1995, it said. The country's economic freedom record rose 20 points from 41.7 points in 1995, it noted.
The Heritage Foundation commented that Vietnam's economy is becoming more and more market-oriented as it is gradually integrating into the global trade and investment system. Vietnam ranks high in "Fiscal Health" and "Government Spending", while posting average results in the field of "Business Freedom and Monetary Freedom", the article said.
According to the article, if Vietnam continues the "Doi Moi" (Renewal) initiated in 1986, the country will have a good chance to become one of the strong economies in the world.
Vietnam is currently one of the most dynamic countries in the world, with a vibrant economy offering great opportunities for hard workers and entrepreneurs. From a country that could not produce enough rice to supply its people before market reforms began, Vietnam has now become one of the world's largest rice exporters, as well as an exporter of important electronic products, the article underlined.
Experts warned for the high UV index in Southern Vietnam
Residents in some southern localities are being told to protect themselves after the UV Index hit "extremely high" levels.
Experts say this puts human health at risk, and warn that avoiding sunlight is not enough, as UV exists during rainy and cloudy days.
Data from the National Centre for Hydro-Meteorological Forecasting (NCHF) from March 6-8, 2023 showed HCM City, Nha Trang, Can Tho, Ca Mau saw UV Index levels rise to 10.
Level 10 shows the volume of UV that can impact detrimentally human skin can burn after just 25 minutes. Level 11 and above means a threatening volume of UV, which can damage human skin and burn eyes if outside for just 15 minutes without any protection.
UV exists around human life. Just 10 per cent of UV exists in sunlight, therefore avoiding UV is not simply just avoiding sunlight.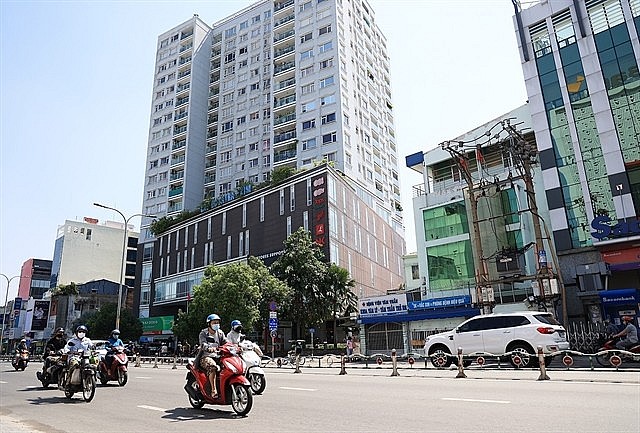 Locals driving in Phan Dang Luu Street, Ho Chi Minh City on March 6 as the UV Index hit high levels. Photo: VNS
High UV levels in southern Vietnam can be blamed for the weather condition. UV appears mostly during clear skies, in the middle of the dry season and in conjunction between dry and rainy seasons in southern Vietnam. Global warming which caused a hole in the ozone layer can also be a reason for why UV Index are higher recently.
Avoiding UV
Doctors recommended people should consider not going out when the UV Index is above seven. If it reaches 10, it is extremely harmful, and people should stay inside to avoid reacting directly to sunlight. Many prevention methods should be taken including covering yourself thoroughly during the sun, not going out when it is extremely sunny and using protection products, such as suncream, lotion, or sprays.
People are also told to stay away from glass buildings and glass and metal windows which also reflect UV. When swimming at the beach or outdoor pools, they need to wear sunscreen and sunglasses, since UV can go through water or be in the sand to affect their skin.
However, they should not worry much about the UV impact, experts said. People can continue their normal life activities with protection methods to avoid UV.
Dr Ngo Minh Vinh of Pham Ngoc Thach Medical University said UV can have many positive impacts on people's health, despite lots of detrimental effects. They can help synthesise vitamin D, kill bacteria as well as sterilise and treat psoriasis.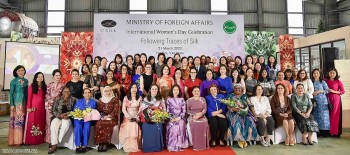 Friendship
Female ambassadors, representatives from diplomatic corps and international organizations, along with spouses of diplomats in Vietnam gathered together to find about more about silk weaving and silk products in Vietnam.