Vietnam News Today (Mar. 8): Free Entrance for Female Visitors to Hue Relics Wearing Ao Dai
Vietnam News Today (Mar. 8): Free entrance for female visitors to Hue relics wearing Ao dai; Vietnam actively discusses topics at IAEA Board of Governors' regular meeting; Vietnamese music crosses the border to go viral; Apple honours apps created by Vietnamese women.
Vietnam News Today (Mar. 8) notable headlines
Free entrance for female visitors to Hue relics wearing Ao dai
Vietnam actively discusses topics at IAEA Board of Governors' regular meeting
Vietnamese music crosses the border to go viral
Apple honours apps created by Vietnamese women
Vietnamese real estate remain attractive to foreign investors
Quang Ninh strives to complete procedures for 18 FDI projects in 2nd quarter
Vietnam - Russia Tropical Centre marks 35th anniversary of traditional day
Dak Lak province ready for 8th Buon Ma Thuot Coffee Festival
PM hosts delegation of Japanese economic organisations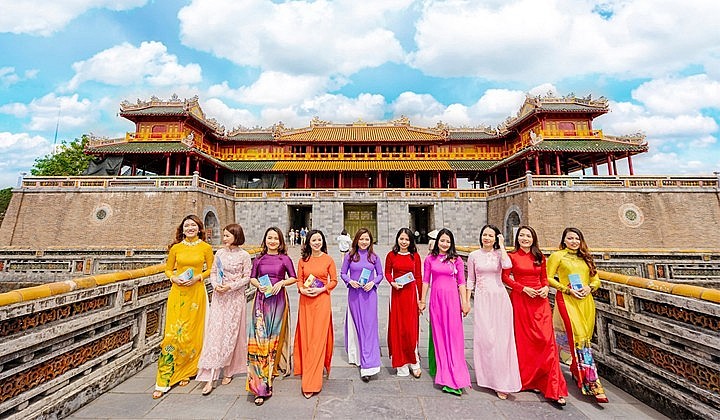 Free entrance for female visitors to Hue relics wearing Ao dai. Photo: Internet
Free entrance for female visitors to Hue relics wearing Ao dai
On March 8, Vietnamese and foreign female visitors wearing Ao dai and visiting relics under the management of Hue Monuments Conservation Center will be provided free entrance tickets.
Chairman of the Provincial People's Committee has issued the promotion of free entrance fee for female visitors wearing Ao dai to implement the project "Hue - the Capital of Ao dai" on the occasion of the 112th anniversary of International Women's Day (March 8).
Chairman of the Provincial People's Committee entrusts Hue Monuments Conservation Center to carry out this plan and widely call for the participation of officers and local people, cited CPV.
Currently, entrance tickets to relic sites in Hue apply to both Vietnamese and international tourists. Accordingly, entrance tickets are priced at VND150,000 each to the Hue Imperial Citadel (Dai Noi) and VND100,000 each to visit the royal tombs of King Minh Mang, Tu Duc, and Khai Dinh, as well as VND40,000 to visit the royal tombs of King Gia Long and Thieu Tri.
Previously, Phan Ngoc Tho, chairman of the Thua Thien Hue province People's Committee had sent a letter to schools in the city encouraging female students to wear an Ao Dai when visiting relic sites.
In September 2018, the central province of Thua Thien Hue issued regulations stipulating that all female staff at public administrative agencies in the city must wear Ao Dai costume on Monday each week.
Vietnam actively discusses topics at IAEA Board of Governors' regular meeting
Vietnamese representatives have actively participated in speeches and discussions covering many topics at a regular meeting of the Board of Governors of the International Atomic Energy Agency (IAEA), which is taking place from March 6 to March 10 in Vienna in Austria.
A Vietnamese delegation led by Ambassador Nguyen Trung Kien, governor and permanent representative of Vietnam to the International Atomic Energy Agency (IAEA), is currently attending the regular meeting of the agency's Board of Governors in Vienna.
The Vietnamese delegation participated in discussions relating to draft reports on security, safety, and the application of nuclear technology in the year ahead.
They also reiterated the nation's unwavering guidelines and policies aimed at supporting the IAEA's three pillars, including safety, security, and peaceful uses of nuclear science and technology.
The nation used the platform to hails the agency's various initiatives in promoting the application of nuclear technology in terms of service of civil activities for peaceful purposes, according to VOV.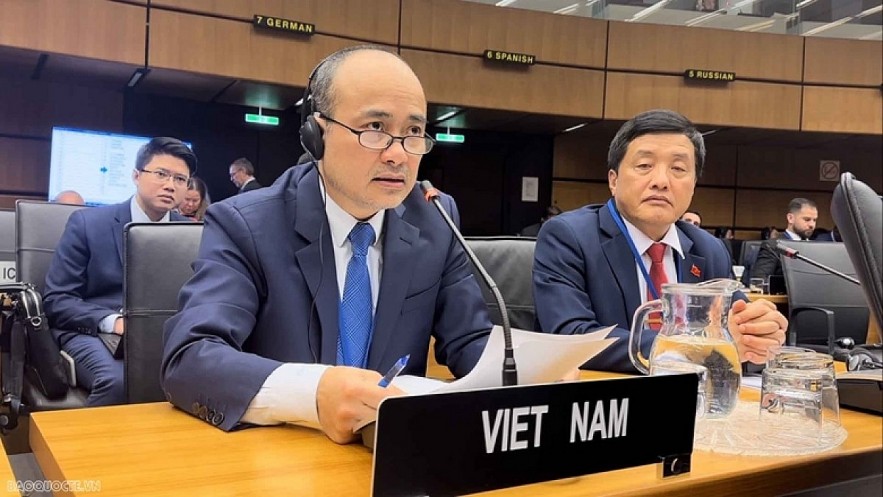 Ambassador Nguyen Trung Kien, Governor - Permanent Representative of Vietnam to the International Atomic Energy Agency speaks at the meeting (Photo: Baoquocte.vn)
It therefore supports a balanced approach to nuclear safety and security, whilst sharing valid concern about current complex developments occurring in security, as well as upholding the principle of dialogue and the settlement of disputes by peaceful means on the basis of the UN Charter and international law.
Participants have reviewed security, safety, and application of nuclear technology in 2022 and looked into the IAEA's priorities in this field for this, as well as the implementation of safeguards agreements between the agency and Iran, Syria, and the Democratic People's Republic of Korea (DPRK), among other issues.
In his remarks, Rafael Mariano Grossi, director general of the IAEA, affirmed that, "It is a central and unique strength of the agency that we facilitate and produce data that is usable, comparable and accessible to all states."
"Our scientific work, and our assistance to member states in designing their own studies and collecting, sharing and analysing data, advances global understanding on key issues and facilitates science-based policy decision with national, regional, and global impact," Grossi added.
The IAEA will therefore continue to support Turkey and Syria in their response efforts and provide significant additional assistance under its technical co-operation programme, the agency's leader pledged.
On the sidelines of the meeting, Vietnam's National Action Centre for Toxic Chemicals and Environmental Treatment (NACCET) will hold working sessions alongside representatives from international organisations and partners in a bid to enhance co-operation in nuclear technology application.
The IAEA Board of Governors convenes a series of meetings in March, June, September, and November each year.
Vietnam was elected as a member of the council in September, 2021, for a two-year tenure.
Vietnamese music crosses the border to go viral
Vietnamese pop star Hoang Thuy Linh song See Tinh (See Love) is proving hugely popular and been covered by many Asian celebrities.
The hit has been viewed 43 million times on YouTube and millions of other times on a variety of music platforms and social networks.
The song is also trending across many Asian countries like Japan, the Republic of Korea, Malaysia and Thailand. The video featuring Jolin Tsai, the most successful singer in Taiwan, dancing along to See Love with friends in early May was shared widely on social media and forums. Japanese singer Shayne Orok covered the song on YouTube and got more than a million views.
On January 31, a video by Korean volleyball athletes Lee Da-heyon and Kim Yeon-koung dancing to it during a game was watched 37 million times on TikTok.
See Love is the second single from Hoang Thuy Linh's fourth studio album LINK released in February 2022. The video has impressed viewers with its lively choreography and catchy melody inspired by the culture of the Mekong Delta region.
YouTube account holder Sharksarekiy0t said of the video: "Somehow this song is still trending. It shows how loved this song is and I honestly still love it just as much as when I first listened to it. Watching the MV makes me appreciate it even more because these visuals are an absolute treat to the eyes! The colours, the themes, the cultural aspects, set designs, costumes, everything is so beautiful."
Besides See Love, many Vietnamese songs have also gone viral globally, particularly in China and Thailand, such as Quang Hung MasterD's De Den De Di (Easy Come, Easy Go), Phong Max - Tang Duy Tan's Ngau Nhien (Random) or rapper Phao's Hai Phut Hon (Two Minutes More).
"When I heard these songs, I did not expect that the compositions by young Vietnamese songwriters would spread widely like that," composer and music researcher Nguyen Quang Long told Kinh Te Do Thi (Economy and Urban) newspaper.
"Young Vietnamese artists are increasingly catching up with the world and starting to create notable works. It is such happy news in today's entertainment and art life when young Vietnamese artists have gradually approached listeners from different countries."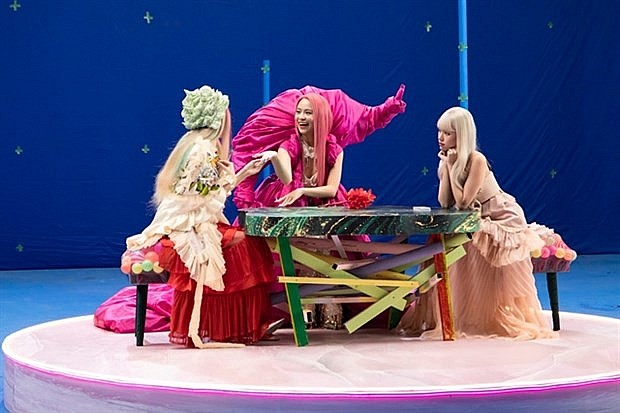 Hoang Thuy Linh has won international fame thanks to her viral hit See Tình (See Love).(Photo of The Leader Entertainment)
According to female singer Phao, who sung the of the hit Hai Phut Hon that has caused a fever internationally, half of the success of Vietnamese viral hits in the international market comes from the distinctiveness in the musical personality of each artist.
Unique colours featuring Vietnamese characters are new elements in the international market. The Vietnamese artists are also increasingly meticulous in building personal images and product quality to be on par with international counterparts, reported VNA.
The remaining 50% of success, she added, derives from the investment and professionalism of international brands and record labels. They have devoted much effort in promoting Vietnamese products on music listening platforms, thereby helping Vietnamese music reach a wider international audience.
Recent years have also seen the collaboration between Vietnamese and international artists to release viral songs, like Son Tung M-TP with rapper Snoop Dogg, K-ICM with Plastik Funk, Polmoya and 9tySlac, or Thanh Bui with Tata Young.
Most recently, winner of The Voice Vietnam 2015, Duc Phuc, paired with legendary English band 911 to release an MV of their hit – I Do, on Valentine's Day. The MV attracted more than 958,000 views only one day after its release on YouTube on February 9.
Vietnamese music tends to appear in the world market as a trend on social networks, a dance, a short piece of music for a few tens of seconds instead of the whole song.
According to musician Quoc Trung, it is still a long journey for Vietnamese songs to be appreciated and enjoyed by audiences around the world as a complete musical product. Expertise and skills are still the weakness of Vietnamese music makers.
"In order to firmly venture into the world, it demands meticulous planning and a rich Vietnamese music industry and music life," he said.
"It also needs a long-term strategy and vision of the management agencies, so that Vietnamese music really has a place on the global map instead of being just a trend that soon appears and fades."
Apple honours apps created by Vietnamese women
When accessing the App Store on March 6 local iPhone users were able to see a list of applications with the title of "Made by Vietnamese women".
The list featured a total of 18 applications made by Vietnamese women or of Vietnamese origin, such as Elsa Speak founded and operated by Van Dinh Hong Vu, Piktina made by Nguyen Hoang Phuong, Fonos co-founded by Xuan Nguyen, Taptap created by Lan Doan, and dating app Fika made by Swedish-Vietnamese woman Tran Thanh Huong, cited VOV.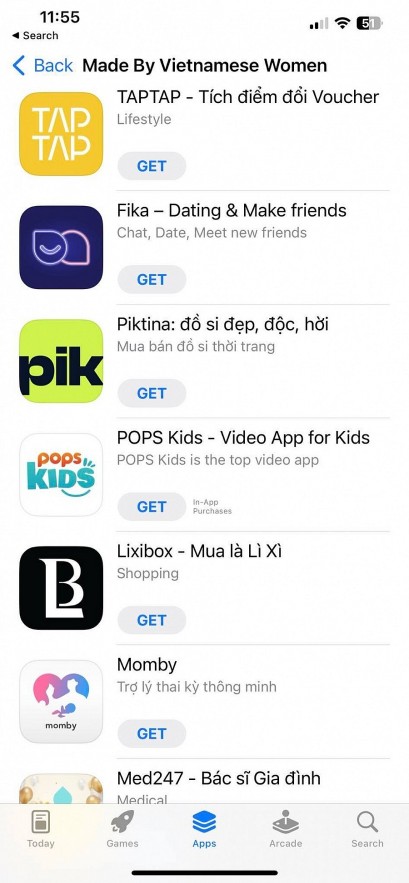 Apple honours 18 apps created by Vietnamese women.
According to reliable sources, this marks one of Apple's activities aimed at increasing localised contents for the Vietnamese market ahead of International Women's Day.
This comes after Apple previously made a number of similar lists, such as a Vietnamese version of entertainment applications and contents about Vietnamese culture. All of them were put on the App Store's "Today" section.
Vietnamese real estate remain attractive to foreign investors
The Vietnamese real estate market has remained attractive to foreign investors and investment funds despite difficulties countering domestic firms, according to insiders.
The 2023 Asia-Pacific Investor Intentions Survey released recently by CBRE Vietnam showed that Ho Chi Minh City and Hanoi are among top 10 most attractive destinations for trans-border investment. Particularly, for the first time, Ho Chi Minh City ranked third in the list, even above Australia.
Vietnam drew greatest attention from investors from Asian countries and territories, including Hong Kong, Singapore, China, the Republic of Korea and Japan.
With a forecast urbanisation rate of 42% in 2025, Vietnam has high potential in real estate market development. With more people rising to the middle class, the country has become a magnet for real estate investment.
At the beginning of 2023, Singaporean firms conducted a number of large-scale deals in Vietnam, VNA reported.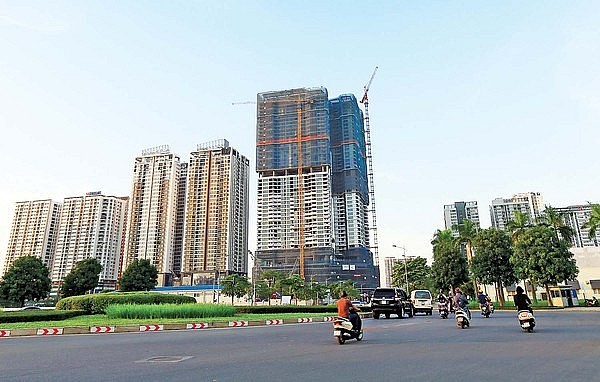 Vietnamese real estate remain attractive to foreign investors (Photo: baodautu.vn)
Keppel Land, a real estate developer that is running more than 20 projects worth 3.5 billion USD around the world, signed a memorandum of understanding with Khang Dien Group of Vietnam to cooperate in residential area building and sustainable urban development projects in Ho Chi Minh City in February.
Keppel Land CEO Louis Lim said that the firm is keen on strengthening its presence in Vietnam, one of its major markets with great long-term potential.
Meanwhile, Sembcorp Development has also reached a deal with Becamex IDC on partnership in developing five green, smart and sustainable industrial parks in Vietnam in the next three years with total investment of about 1 billion USD. These industrial parks will be built to meet green, smart and sustainable criteria, using high technologies in management.
The report "Vietnam Real Estate: Perspectives from China and Southeast Asian Countries" by PropertyGuru Group said Vietnam's open economic policy and integration into global supply chains have made growth possible. Therefore, a resilient supply chain is key to Vietnam's economic strength and increasing the attractiveness of real estate to foreign investors.
If Vietnam's transport infrastructure of seaports, highways, high-speed railways and airports is expanded and completed, real estate in Vietnam will be a more attractive destination for foreign capital, both direct and indirect investment, the report said.
According to the Foreign Investment Department under the Ministry of Industry and Trade, the real estate sector drew the second largest amount of foreign direct investment among all sectors in 2022, attracting more than 4.45 billion USD, accounting for 16.1% of the country's total.