Expats Actively Put Vietnamese Agricultural Products on World's Plate
Thanks to the enthusiastic support of overseas Vietnamese and businesses, Vietnamese agricultural products have been heavily promoted and distributed to assorted markets worldwide.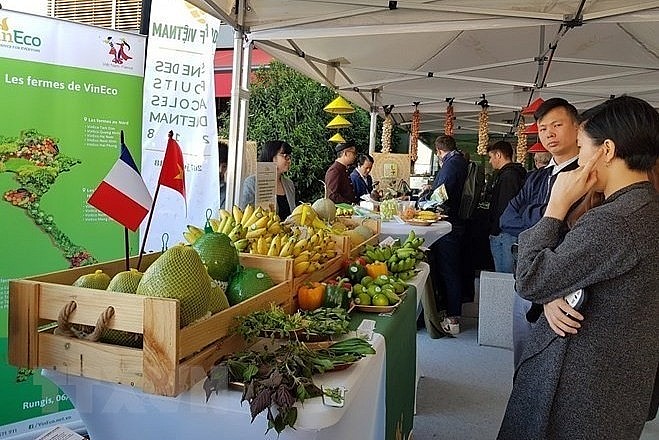 A booth showing farm produce from Vietnam at the Rungis International Market in Paris in 2018. Photo: VNA
In the Australian market, MCQ supermarket chain and AusViet Company are rolling out a programme entitled 'Vietnam, Land of the World's Best Rice' from August 18 to September 27, aiming to present 10,000 bags of Vietnam's Ban Mai Cung Dinh rice to consumers in Australia.
The rice will be distributed via the M-Import company and MCQ supermarket chain, Nhan dan (People) newspaper reported.
The AusViet company is also offering hundreds of promotional gifts of Vietnam's ST25 and Jasmine Vilaconic rice trademarks in Melbourne.
Established by a Vietnamese expat, the MCQ supermarket chain has launched a number of campaigns to promote Vietnamese agricultural products in Australia such as lychee, longan, dragon fruit, mango, and frozen durian.
In mid-June, the Vietnamese trade office in the Netherlands and the LTP Import Export BV company also organised a programme named 'Vietnam fresh golden lychees – Taste it, love it' at Thanh Hung Supermarket in Spijkenisse city, attracting crowds of visitors.
Van Anh, owner of the Thanh Hung supermarket, said her business is willing to support the consumption of lychees in the host country, adding that as Chinese lychees are priced at EUR 22-25 per kilo, Vietnamese lychee with the lower price of EUR18 per kilo will definitely attract more customers.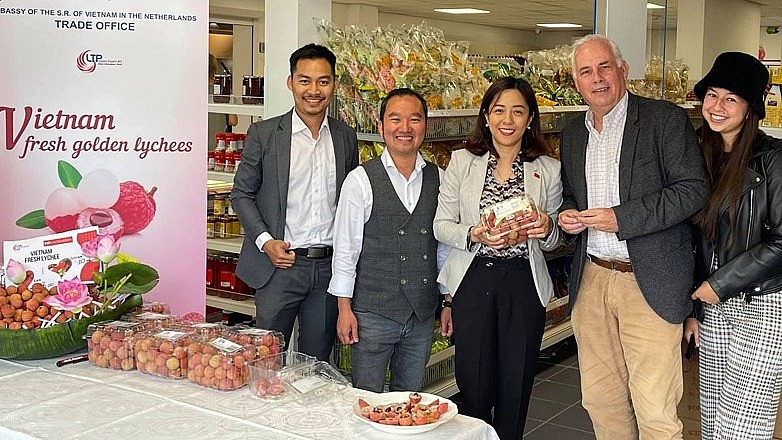 Fresh lychees from Vietnam hit the shelves of a supermarket in the Netherlands. Photo: Nhan dan newspaper
Overseas Vietnamese communities have provided strong support to bring Vietnamese goods to the world market, helping them be sold at supermarkets in their host countries.
Vietnamese supermarkets can be seen in most cities in France, including the Thanh Binh - Jeune supermarket in Paris or Tien Hung supermarket in Strasbourg. Vietnamese agricultural products and processed foods, such as rice, rice paper, and fish sauce, have also been put on the shelves of French supermarket chains like Auchan or Carrefour.
Dong Xuan market in Berlin, Germany and SAPA market in Praha, Czech are big commercial centers serving as gateways to bring Vietnamese goods to the German and Czech markets. Vietnamese products there are sold at cheaper prices than in other markets, making them popular shopping places among both overseas Vietnamese and locals.
President of the Union of Vietnamese Business Associations in Europe Hoang Manh Hue said that Vietnamese in the EU currently have very good facilities to develop the trading and consumption of domestic products. Moreover, Vietnamese enterprises abroad have a certain understanding of European customs and tastes after years living abroad.
"We are willing to act as sales agents and representatives of Vietnamese goods in Europe," Hue said.
In early August, the first batch of Vietnamese lychees was shipped to the Netherlands by sea by LTP Import Export B.V. The fruit still retained its original pink color and fragrant flavour after a five-week sea voyage, helping the lychee be sold at a price one-third lower than those shipped by air.
Pham Van Hien, Director of LTP Import Export B.V. said that in the coming time, his company will increase the import of goods from Vietnam. Currently, 50% of the company's imports are from Vietnam.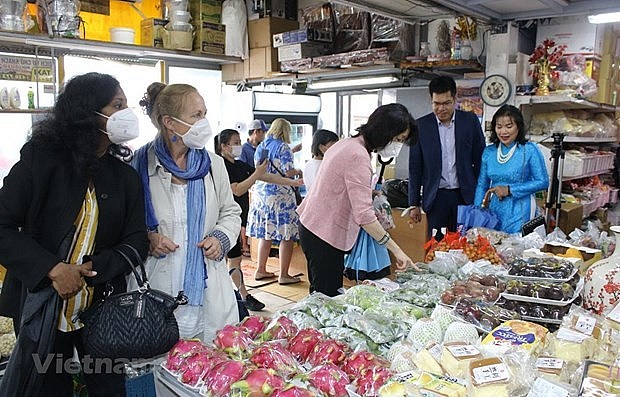 Visitors at a stall at the SAPA shopping centre in Prague, Czech. Photo: VNA
In order to further promote Vietnamese agricultural products in foreign markets, domestic businesses should boost efficiency in cooperation with overseas Vietnamese enterprises, which can help to reduce costs and increase the opportunity to penetrate foreign markets.
In addition, domestic businesses should also take measures to improve their product quality, maintain price stability, and upgrade the infrastructure serving exports.
Director of LTP Import Export B.V. Pham Van Hien said that in the long term, exporters and localities need to work together to improve their growing areas, particularly areas meeting VietGAP and GlobalGAP standards, in order to increase productivity and competitiveness.
Notably, businesses should make further investment in preservation technology so that fruits can be shipped abroad by sea, which can help reduce costs and increase competitiveness, he added.
The Ministry of Industry and Trade has initially built a database of Overseas Vietnamese entrepreneurs, creating conditions for domestic and Overseas Vietnamese enterprises to connect and establish business partnerships, contributing to supporting the consumption of Vietnamese goods abroad.
Winning favour of European consumers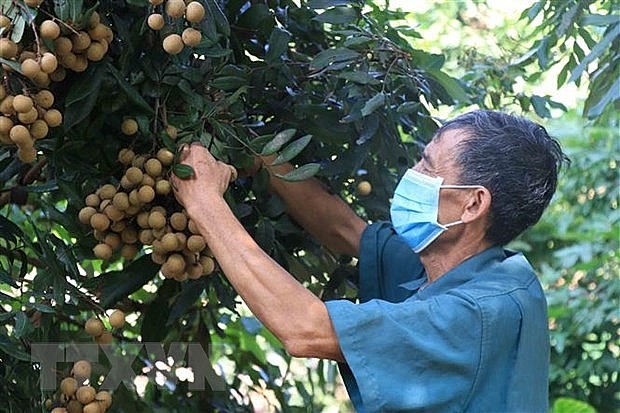 Vietnamese longan. Photo: VNA
Vietnam Plus said amidst difficulties caused by the Covid-19 pandemic, the export of agricultural and aquatic products to the EU still sees many bright signs as Vietnamese enterprises have directly exported fresh fruits to foreign partners.
According to the Ministry of Industry and Trade, in the first seven months of 2021, the EU was Vietnam's third biggest market after the US and China, with a total export turnover of US$22.6 billion, up 15.6 % year-on-year.
Of the $28.6 billion worth of export revenues of agro-fishery-forestry products, the EU market accounted for 11 %.
The year 2021 is considered an important milestone when fruits such as fresh lychee and longan are directly exported to Western European countries such as the Netherlands, Belgium, France, Germany, and the UK by Vietnamese companies. It is noteworthy that Vietnam's fresh lychee is sold not only in the Asian supermarket or stores but also European supermarket chains.
A representative of the Vietnam Trade Office in Belgium and the EU said that to help Vietnamese goods better access the EU market, it will coordinate with the Department of Agricultural Product Processing and Market Development under the Ministry of Agriculture and Rural Development to make a list of prestigious fruit processing and exporting enterprises across the country to connect with partners, and continue looking for new ones in the EU.
The office proposed localities pay more attention to calling on domestic exporters to closely link with households and businesses and cooperatives to promote production with Global GAP certification, and support exporters to ensure the smooth circulation of commodities.
Regarding the export of aquatic products to the EU market, a representative of the Vietnam Trade Office in Spain advised exporters to fully meet technical standards on food safety and hygiene from catching, preserving to processing and transporting so as not to violate current food safety regulations of the EU in general and Spain in particular.
The EU and Spain are increasingly interested in the social responsibility of enterprises in producing and exporting goods of the third countries.
The agriculture sector is set to earn %41 billion from export in 2021, according to Vu Ba Phu, head of the Vietnam Trade Promotion Agency under the Ministry of Industry and Trade (MoIT)./.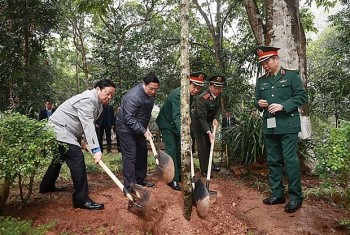 National
The Prime Minister launches a tree planting festival in Ba Vi on New Year of Cat.