Vietnam News Today (Mar. 10): Vietnamese Economy Sees Silver Linings Despite Challenging Start to 2023
Vietnam News Today (Mar. 10): Vietnamese economy sees silver linings despite challenging start to 2023: HSBC; HCM City removes hindrances to work permit issuance for foreigners; Vietnam well-positioned to reap benefits from AI; Can Tho, USAID foster collaboration to mitigate climate change effects.
Vietnam News Today (Mar. 10) notable headlines
Vietnamese economy sees silver linings despite challenging start to 2023: HSBC
HCM City removes hindrances to work permit issuance for foreigners
Vietnam well-positioned to reap benefits from AI
Can Tho, USAID foster collaboration to mitigate climate change effects
Female Vietnamese expatriates actively support Turkey's earthquake victims
Vietnam emerges as attractive market for Singapore firms
Domestic ICT firms well-positioned to reach out to the world
UK Embassy launches Vietnam- Scotland connecting event
China to reopen group tours to Vietnam from March 15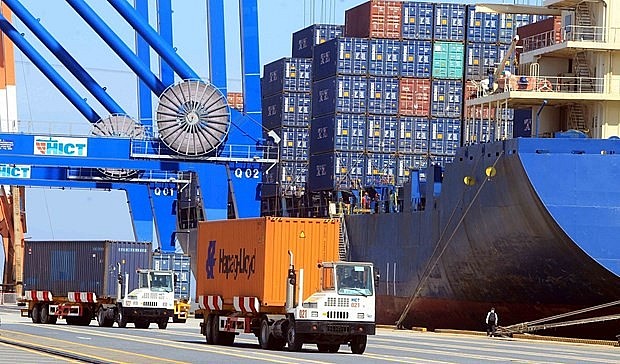 Photo: VNA
Vietnamese economy sees silver linings despite challenging start to 2023: HSBC
While external woes will likely continue over the near-term, some recovery in the tourism industry may partially cushion some headwinds faced by the national economy this year, according to HSBC experts.
This assessment was released in the report "Vietnam February data" by HSBC Vietnam on March 9.
Vietnam manufacturing PMI rebounds
Despite persistant external weakness, the first two months of data shows a less severe picture than initially feared as the manufacturing PMI returned to the expansionary territory for the first time in four months. Meanwhile, trade also delivered some better-than-expected results.
Specifically, PMI rose to 51.2 points in February compared to 47.4 points in January this year.
However, the overall picture was not rosy, particuarlly as exports fell 10.3% on-year in the reviewed period, with ongoing broad-based weaknesses across major categories.
HSBC experts assessed that the country has been on the frontline of suffering due to the economic slowdown in the United States, who has long remained as the nation's largest exporting destination. That said, the only exception was phones and related parts, which saw annual growth of almost 8%.
Considering Samsung's smartphone release cycle, this can be put down to its launch of the flagship Galaxy S23 Series from 17 February, which enjoyed stronger pre-orders than its previous Galaxy S22 series.
However, the HSBC think tanks outline that a degree of caution is warranted due to the nation's manufacturing base being notably import-intensive, meaning it is crucial to look at how imports fared.
On a positive side, imports fell at a pace faster than exports, of 16.1% on-year. This has led to a trade surplus of US$2.3 billion, a much needed boost amid the country recovering from two years of current account deficit. However, electronics imports continued to fall, with phones particularly slumping over 60% on-year. This suggests that the electronics cycle will unlikely stage a quick turnaround soon, although recent global PMIs have pointed to some initial stabilisation.
Tourism industry continues to grow
In terms of the domestic front, retail sales continued to register solid growth. While growth in goods was substantial, services, particularly tourism-related services, continued to grow thanks to booming international tourism.
In February alone the country welcomed around 933,000 foreign visitors, a record high since the start of COVID-19 pandemic. Among them those from mainland China edged substantially higher, reaching 55,000. While this was only 10% of the pre-pandemic average of Chinese tourists, it was against the backdrop of limited flight frequency and an absence of group tours from the northern neighbour.
In addition, it is not just mainland China to watch for, but tourists from the Republic of Korea, another key market which has also held up firmly, with its monthly inflows recovering to around 85% compared to its pre-pandemic level.
While global trade of goods has slowed significantly, international tourism represent a supportive growth pillar, providing that some bottlenecks can be eased. Nevertheless, the road back to 2019's level appears to be a lengthy one.
Inflation remains major obstacle
While headline inflation moderated to 4.3% on-year in February, below the State Bank of Vietnam's (SBV) 2023 inflation target of 4.5%, some caution is needed after looking at the details.
Inflation momentum remained strong, growing at 0.4% on-month. Despite global commodity prices easing from their peak last year, energy inflation remains elevated. For one, domestic oil prices continued to edge up higher, duly pushing up transport costs. In addition, housing and construction material costs also rose substantially, partly reflecting higher gas and electricity costs.
Following a VND31trillion loss by SOE Vietnam Electricity in 2022, the nation moved to raise its electricity price range from 3 February by between 13.7% and 28.2% for the first time since 2017, which are key inputs for the Ministry of Industry and Trade to determine its retail prices for the year. While inflation may have likely peaked in January, elevated imported price pressures must be watched closely.
HSBC experts outlined that external data held up much better-than-expected in February. However, lingering weakness in exports continued to weigh on Vietnamese growth.
Moreover, although international tourists have bounced back to a record high level since the pandemic, the recovery path back to its pre-pandemic level may take time.
While headline inflation was moderate, underlying price pressures have not yet dissipated due to persisting elevated energy inflation.
HCM City removes hindrances to work permit issuance for foreigners
Ho Chi Minh City has cut short the procedures for issuing work permits for foreigners and digitalised the application process to make it easy for enterprises to get work permits for their foreign staff.
At a dialogue held in the city on March 7 between the European Chamber of Commerce in Vietnam (EuroCham) and local authorities, foreign businesses said it took them a long time to obtain work permits for their foreign experts, reported The Saigon Times.
They also reported facing hindrances in explaining the demand for using foreign labour, including preparing documents indicating recruitment demands, training plan, recruitment notice and other foreign labour issues, from the certification of work experience and qualifications to visas and temporary residence cards.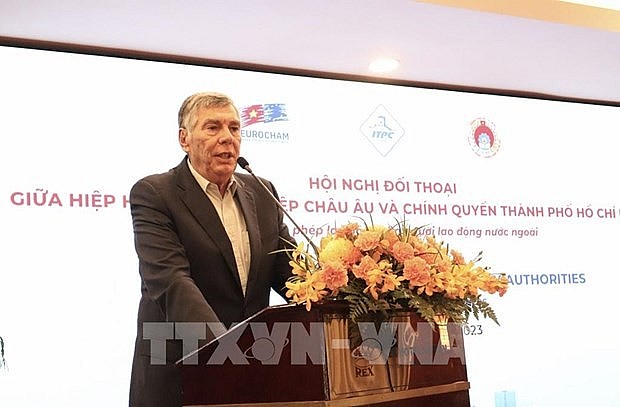 Alain Cany, Chairman of the European Chamber of Commerce in Vietnam (EuroCham) speaks at the event. (Photo: VNA)
According to Nguyen Van Lam, Vice Director of the municipal Department of Labour, Invalids and Social Affairs, the department has recently reduced the administrative procedure for issuance of work permits from 10 to 7 working days and the renewal of work permits from three to one working day.
In the coming time, the department will review and propose shortening the time limit for handling the extension of work permits and certification on the exemption from work permits from five to three working days.
The city launched a public service portal on dichvucong.hochiminhcity.gov.vnin October 2022. Thus enterprises can access the portal for information on the required documents and to file them.
Vietnam well-positioned to reap benefits from AI
Artificial intelligence (AI) is poised to revolutionise economies, with Vietnam being well-positioned to reap the benefits and emerge as a leader, both in development and application, according to an article run at intelligent global legal research platform Lexology.com.
According to the article, the Vietnamese Government is taking steps aimed at supporting the development of AI, with initiatives that foster innovation and entrepreneurship. The Government is also investing in research and development, providing tax incentives for companies that adopt AI technology, as wel las supporting the growth of the startup ecosystem, it noted.
One example is the Vietnam AI Grand Challenge, a programme launched back in 2019 in order to encourage the development of AI technology, it said, adding that it provides funding, support, and resources to AI startups and researchers, thereby helping them to develop and commercialise their AI solutions.
Vietnam has also set up several AI Centres of Excellence in universities and research institutions in a bid to encourage the development of AI technology. The centres provide support and resources to researchers, whilst collaborating with industry partners as part of efforts to develop AI solutions for various sectors.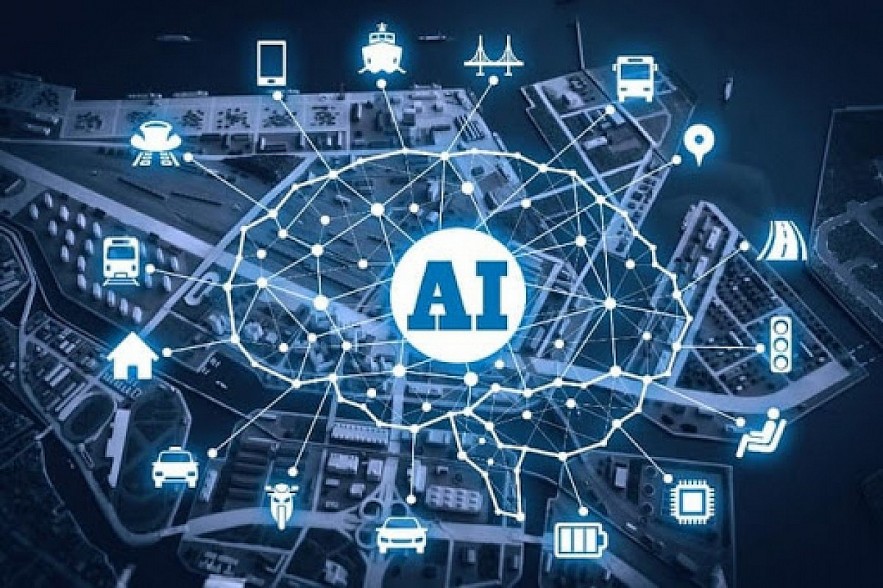 Photo: VOV
The article also underscored the impact of AI on health care and agriculture in the nation.
However, it stated that AI will pose challenges to the Vietnamese labour market. While AI will create new and more dynamic job opportunities moving forward, it is also likely to disrupt existing employment. For example, the use of robots is growing, meaning it will become possible for robots and machines to perform many tasks that are now being performed by humans. This will ultimately result in job losses, it explained.
The article stressed that there will need to be appropriate regulations and policies put in place in order to ensure that AI is used ethically and responsibly, while suggesting some issues need tackling, including privacy and data protection, intellectual property, liability, and accountability.
Can Tho, USAID foster collaboration to mitigate climate change effects
Leaders of the Mekong Delta city of Can Tho on March 9 had a working session with a delegation from the United States Agency for International Development (USAID) led by its Administrator Samantha Power, during which the two sides discussed collaboration in climate change response and how to support people affected by the natural phenomenon.
According to Tran Viet Truong, chairman of municipal People's Committee, a range of hydroelectric dams in many countries that are upstream of the Mekong Delta have changed the flow and greatly affected the lives of people in the downstream areas. The rise in sea level is the most obvious evidence.
Scientists have predicted that the Mekong Delta may be deeply flooded in the next few decades.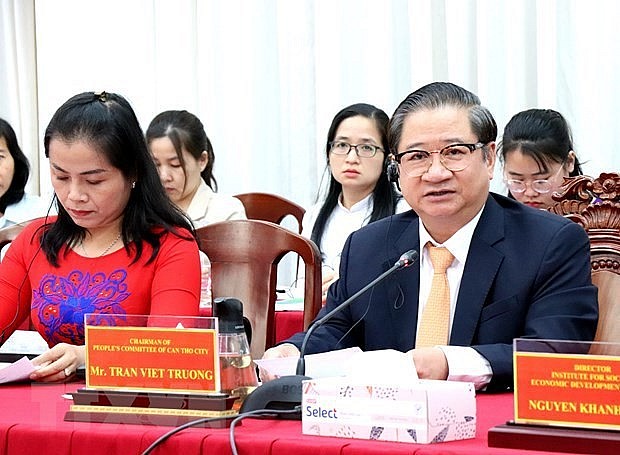 Tran Viet Truong, chairman of Can Tho city People's Committee, speaks at the event. (Photo: VNA)
Can Tho and the Mekong Delta provinces are looking for ways to restructure crops and livestock as a response to saline water intrusion, therefore the city hopes that USAID will pay attention to research and support so localities in the Mekong Delta can adapt to climate change, he said.
The official said Can Tho still faces difficulties in terms of transport infrastructure. It is the only locality in the Mekong Delta that has an international airport, but the facility mainly serves the travel needs of people, leading to limitations in transporting agricultural products in the Delta,
The city wishes to receive support from USAID to facilitate farmers and businesses engaging in agricultural production, Truong said, adding it will help promote the sale of farm produce of the whole region, reported VNA.
For her part, Samantha Power said that the organisation pays attention to enhance support for people to adapt to changing climate change to secure their livelihoods.
The official also expressed her interest in cooperating with Can Tho city in other activities to strengthen action against plastic pollution, assist those affected by climate change as well as take care of their health.
Female Vietnamese expatriates actively support Turkey's earthquake victims
A group of female Vietnamese expatriates in Turkey have been active in supporting earthquake victims in Istanbul.
Over the past week, Nguyen Ngoc Nga, who is member of the Provisional Committee of the Vietnamese People's Association in Turkey, has joined seven Vietnamese brides to travel across the city to provide helping hands to Turkish people who lost their homes after the recent earthquake.
Nga said that soon after the earthquakes happened, the Association coordinated with the Vietnamese Embassy in Turkey to plan fund-raising events and visit and present gifts Overseas Vietnamese people and Turks living in the earthquake-stricken areas.
Every day, the group members visit and deliver gifts to 4 to 6 families, all of whom are living in extremely difficult circumstances.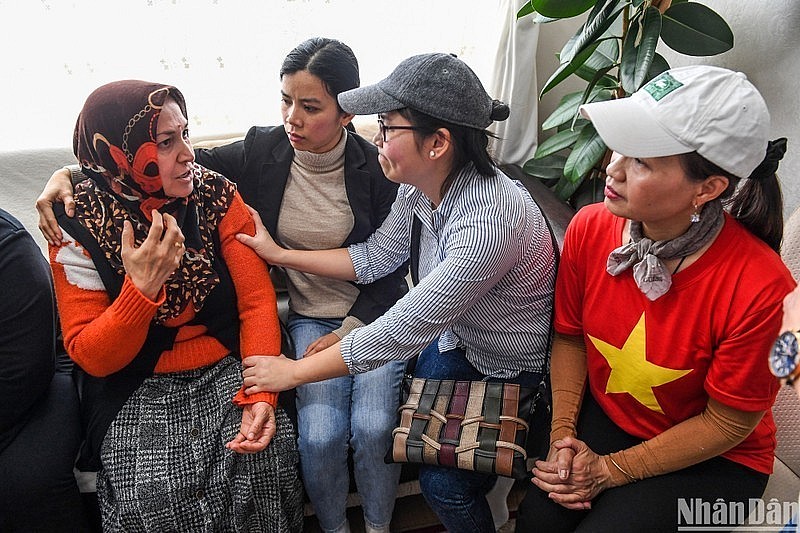 Female Vietnamese expatriates actively support Turkey's earthquake victims (Photo: NDO)
Tran Thi Kieu Hanh, a member of the group, shared that she was born and raised in a Vietnam's central locality, where floods occur regularly every year. Therefore, she understands the pain and loss of victims of natural disasters.
She stressed that no matter Vietnamese or Turkish and what skin colours are, she and other members just want to share the difficulties with needy people.
One of the earthquake victims they visited included the family of Baran, whose house in Adiyaman was destroyed by the earthquake, reported NDO.
"The earthquakes claimed 14 relatives and our house. Everything is very difficult for us now," Baran said.
In the small space where his family is temporarily living in Istanbul, Baran was very touched to receive the words of encouragement from the Vietnamese women.
"We are very touched, and we have been fuelled with a source of encouragement. We feel like we have new relatives," the 32-year-old man shared.
Nguyen Ngoc Nga expressed her hope that the word "Vietnam" will be remembered by international friends not only as a country with a heroic past but also as a nation that is ready to extend sympathy and help in times of trouble and difficulty.
The group has provided cash support to five Vietnamese families and two individuals living in the earthquake-hit areas.
In addition, they also visited and presented cash to 14 Turkish families, with a total of 57 members, and donated textbooks to help children who have been orphaned by the earthquake return to school.