Vietnam News Today (Mar. 12): 8th Buon Ma Thuot Coffee Festival in Full Swing
Vietnam News Today (Mar. 12): Vietnam proposes China speed up market opening for farm products; 8th Buon Ma Thuot Coffee Festival in full swing; Vietnam among top five destinations for Singaporean real estate investors; Vietnamese cuisine making a name for itself with int'l friends.
Vietnam News Today (Mar. 12) notable headlines
Vietnam proposes China speed up market opening for farm products
8th Buon Ma Thuot Coffee Festival in full swing
Vietnam among top five destinations for Singaporean real estate investors
Vietnamese cuisine making a name for itself with int'l friends
Hollywood stars visit historic relic Hoa Lo Prison in Hanoi
Removing visa bottlenecks to boost national tourism recovery
Vietnam, US see huge potential for stronger cooperation
Super Junior back to Vietnam for Super Show 9 in HCM City
Vietnam to welcome 100 millionth citizen in mid-April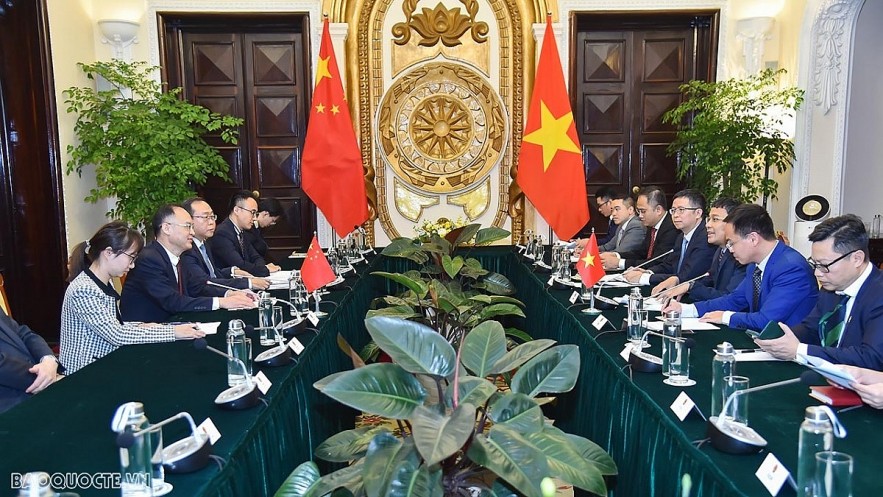 An overview of the talks in Hanoi on March 10 between Deputy Minister of Foreign Affairs Nguyen Minh Vu made and Chinese Assistant Minister of Foreign Affairs Nong Rong. (Photo: baoquocte.vn)
Vietnam proposes China speed up market opening for farm products
Vietnam expects China will accelerate the opening of its market for farm produce and resume seafood imports, making it easier for Vietnamese products to reach out to Chinese consumers.
Deputy Minister of Foreign Affairs Nguyen Minh Vu made the proposal during his talks with Chinese Assistant Minister of Foreign Affairs Nong Rong in Hanoi on March 10.
Vu also proposed China create conditions for Vietnam to establish more trade promotion offices in the country and increase the quotas for Vietnamese goods in transit by Chinese railway to a third country.
He also put forward measures to promote bilateral cooperation in the fields of investment, finance, transport infrastructure connection, education, and culture – sport.
He welcomed China's recent decision to add Vietnam to the list of countries for pilot group tours from March 15 and suggested the two sides soon resume flight routes, and well deploy group tours, to bring tourism cooperation back to normal soon.
Nong, for his part, affirmed that China acknowledges Vietnam's cooperation proposals and will continue to expand the import of goods, including promoting the licensing of more Vietnamese agricultural products.
China will encourage its businesses to expand investment, and work closely with relevant Vietnamese agencies to remove obstacles in several cooperation projects, he said.
The Chinese official proposed both sides accelerate the disbursement of Chinese aid funds to Vietnam in the fields of health care, education and improving people's livelihoods, and continue coordination in multilateral mechanisms, according to VOV.
The two sides agreed to continue fully implementing the high-level perceptions and thoroughly prepare for the 15th meeting of the Steering Committee for Vietnam-China Bilateral Cooperation and step up bilateral cooperation in different areas.
They agreed to increase cooperation between the two foreign ministries, by maintaining regular meetings and exchanges between their leaders, as well as between their agencies to share experience in economic diplomacy.
With regard to border and territorial issues, the two sides agreed to continue coordination in managing and protecting the shared border in accordance with the three legal documents on the land border and related agreements. The two countries will accelerate the upgrading and opening of several pairs of border gates, seriously implement high-level common perceptions; well control disagreements, and maintain peace and stability at sea.
Vu affirmed that Vietnam consistently pursues the mechanism of negotiations and exchanges between the two countries regarding maritime issues, and satisfactory settlement of disagreements and disputes in the East Sea through peaceful measures in line with international law, including the 1982 United Nations Convention on the Law of the Sea (UNCLOS).
He suggested the two sides maintain a regular mechanism of negotiation and exchange to address arising issues, providing humanitarian treatment for fishing vessels and fishermen at sea.
The same day, Minister of Foreign Affairs Bui Thanh Son met with the Chinese official.
8th Buon Ma Thuot Coffee Festival in full swing
The opening ceremony of the 8th Buon Ma Thuot Coffee Festival took place in the Central Highlands province of Dak Lak – dubbed 'Vietnam's coffee capital' – on March 10 evening.
Addressing the event, Deputy Prime Minister Tran Luu Quang pointed to both achievements and shortcomings of the coffee sector. In 2022, Vietnam's coffee exports neared 1.8 million tonnes worth about 4 billion USD, hence a second place in the world ranking, only after Brazil. However, challenges remain, including the exports' low value and raw form, small production scale, and restricted deep processing, according to VNA.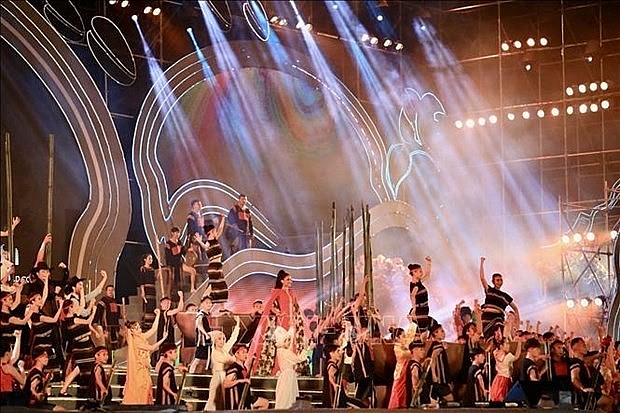 At the opening ceremony of the 8th Buon Ma Thuot Coffee Festival (Photo: VNA)
He stressed that in order to raise the value and characteristics of Vietnamese agricultural products and improve the lives of farmers, it requires the consensus and involvement of the entire political system, business community and people.
Noticing localities' initiative and creativity to refresh farming methods, product advertisement, and trade promotion, Quang expressed his belief that Vietnamese farm produce in general and Vietnamese coffee in particular will increasingly assert their quality, prestige, and brand, obtaining a strong position in the domestic and international markets.
Pham Ngoc Nghi, Chairman of the provincial People's Committee, said the biennial national festival is a place to converge and honour coffee growers, producers, processors and traders from across the nation.
The event is set to feature myriad trade promotion, cultural, and art activities, the official added.
Earlier on the same day, the Dak Lak authorities held a ceremony to welcome foreign diplomatic corps and delegations from Mongolia, Morocco, Saudi Arabia, Armenia, Angola, Cambodia, Cuba, Laos, and Russia.
At the reception, Vice Chairman of the provincial People's Committee Nguyen Tuan Ha hoped the foreign diplomats and and businesses will further promote the cooperation with Dak Lak, introduce the locality to potential investors, and help popularise the Buon Ma Thuot coffee brand in particular and Vietnam's specialty coffee in general to international friends.
Armenian Ambassador to Vietnam Vahram Kazhoyan said this is the first time he has come to Dak Lak and is very pleased to witness and listen to stories from producers, growers, processors and producers in the coffee industry.
Saying the province possesses lots of potential for cooperation in various fields, he affirmed that his embassy will work to step up join works between Armenia and Vietnam, especially Dak Lak, in the near future.
Vietnam among top five destinations for Singaporean real estate investors
Vietnam is among the top five destinations selected by Ultra High Net Worth Individuals (UHNWI) in Singapore for their real estate investment plans, according to the Wealth Report 2023 released by Knight Frank.
With its rapid growth, Vietnam is seen as one of the prominent investment destinations of UHNWI in the region. Cities, and coastal and rural areas in Vietnam always remain highly potential for real estate investors.
According to Alex Crane, Knight Frank Vietnam's Managing Director, Vietnam's real estate market still offers opportunities for investors to tap.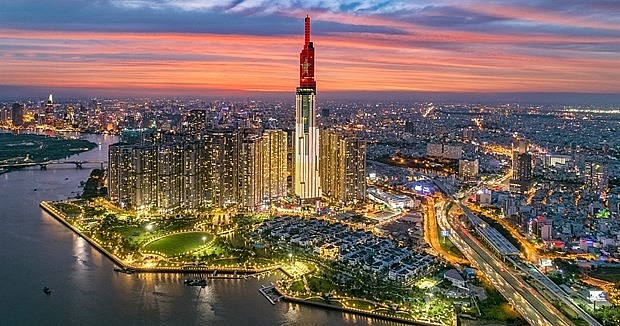 A view of Ho Chi Minh City from above (Photo: VNA)
Addressing a business briefing held by the Canadian Chamber of Commerce last month, Crane said he saw opportunities from property developers' shake-up that has followed the turbulence of 2022, despite woes in the Vietnamese real estate market and global economic headwinds.
He said he remains optimistic about Vietnam's overall industrial property sector, adding that foreign investors have been interested in the commercial real estate market in Vietnam.
Most of the investments poured into Vietnam's real estate industry have come from individuals, including transactions promoted by Knight Frank in 2022, he said.
Vietnamese cuisine making a name for itself with int'l friends
The diverse and attractive cuisine of Vietnam is increasingly becoming known to international friends, with not only pho and spring rolls but also many other dishes catching the attention of food connoisseurs around the world.
In late 2022, the World Culinary Awards listed Vietnam as the "Best Culinary Destination in Asia in 2022", surpassing other well-known names in the region such as China, Malaysia, Singapore, the Republic of Korea and Thailand. As part of the World Travel Awards, this prestigious annual award aims to honour and reward excellence in the culinary industry.
Moreover, many famous travel and culinary magazines have published articles praising Vietnamese cuisine and its culinary destinations.
Most recently in late January 2023, the US travel magazine Travel and Leisure named Vietnam as the top culinary destination in Asia in their Bucket List Places in Asia 2023, especially for street food. The magazine also suggested the best places for tourists to explore Vietnamese cuisine, including Hanoi, Da Nang, and Ho Chi Minh City. Must-try dishes include pho, banh mi (baguette), and banh cuon (steamed rice rolls). It stated that if there is any culinary culture with an irresistible, rich and flavorful taste, it is definitely Vietnamese cuisine. In addition to the beautiful natural landscapes, historical and cultural sites, Vietnam is also known for its unique, appealing and delicious cuisine.
The famous Canadian travel magazine, The Travel, also announced the top 10 countries globally with the most appealing culinary cultures, in which Vietnam placed fifth in the reader's choice. Apart from pho, it also recommended other dishes such as nem ran (fried spring rolls), banh mi, com rang (fried rice), and com tam (broken rice) for tourists to try.
The Australian travel magazine, Traveller, has proposed that banh cuon of Vietnam is one of the top 10 delicious dishes that tourists should enjoy in 2023. It described how each layer of banh cuon is made from rice flour, thinly spread, steamed, and rolled with various fillings, commonly with wood ear mushrooms and minced meat. Banh cuon is served with fragrant dried shallots, various herbs, and a dipping sauce distinctive for each region. The magazine affirmed that the Vietnamese cuisine is truly amazing, from pho, noodles to grilled meats, salads, and crispy golden pancakes.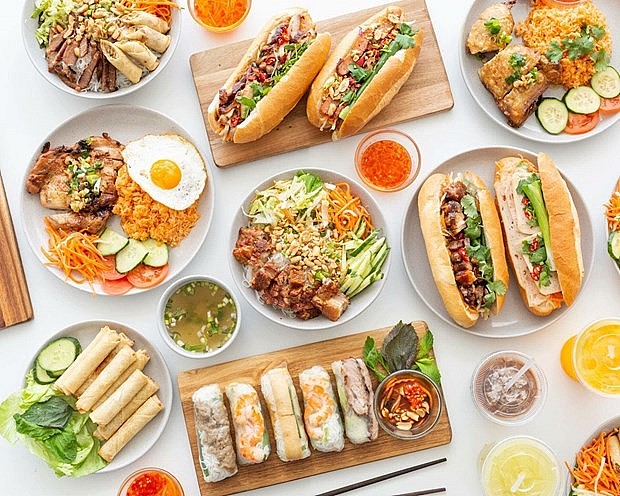 Illustrative image (Photo: cafef.vn)
TasteAtlas, a famous world cuisine website, announced the 2023 culinary awards and the rankings of Asian cuisines, in which Vietnam ranked sixth. The website also listed the top five typical dishes of Vietnam, including banh mi, pho, cha gio (spring rolls), bo kho (beef stew), and bun bo Hue (Hue-styled beef noodles), as well as the top five signature culinary products, including iced coffee, Phu Quoc fish sauce, Vietnamese coffee, egg coffee, and cha lua (pork roll). Earlier in December 2022, TasteAtlas announced that the Vietnamese cuisine ranked 20th among the top 100 in the world.
Among the three Vietnamese common words that were included in the Oxford English Dictionary, two of them are related to food. They are "pho" and "banh mi." This not only makes the Vietnamese people proud but also popularises Vietnamese culture, especially its cuisine to the world, reported VNA.
Many heads of state from around the world chose Vietnamese cuisine as a highlight of their visits to Vietnam. Former US President Barack Obama chose to try "bun cha" (rice noodles with Vietnamese grilled pork) during his 2016 visit. Canadian Prime Minister Justin Trudeau enjoyed Vietnamese street coffee when he visited Ho Chi Minh City in 2017. Former Australian Prime Minister Malcolm Turnbull tasted banh mi from a street vendor in Da Nang during the APEC Summit in 2017.
Nguyen Trung Khanh, General Director of the Ministry of Culture, Sports and Tourism's Vietnam National Administration of Tourism (VNAT), believes that the Vietnamese cuisine is gradually making a name for itself on the world culinary map. This is a great potential to attract tourists, especially foreigners.
According to the VNAT, it is not by chance that Vietnamese cuisine is considered the quintessence of the nation's culture and highly praised by international friends. This is because Vietnamese cuisine is diverse in ingredients and delicate in preparation. Each region has its own unique flavour, and trying them once will make visitors remember forever.
Vietnamese culinary culture is rich, diverse, and sophisticated, so it is not surprising that the Vietnamese dishes are highly regarded by international diners. Among them, pho is considered the "culinary ambassador", contributing to honouring Vietnamese culture among international friends.
Recently, pho - considered the quintessence of Vietnamese cuisine - was included in the list of 100 delicious and famous dishes in the world by the famous food website TasteAtlas.
Hollywood stars visit historic relic Hoa Lo Prison in Hanoi
Hollywood stars such as Matthew McConaughey, Woodrow Tracy Harrelson, and David Duchovny made a sudden visit to Hoa Lo Prison, aka Maison Centrale, a tourist attraction, in Hanoi on March 10, cited VOV.
The stars in casual outfit visited the site along with a delegation of US Congressmen, according to a leader of the management board of the Hoa Lo Prison Relic.
The actors made the trip on their own programme without contacting the management board in advance, said Dang Van Bieu, deputy head of the management board of the relic.
They toured around the site and talked openly with a group of young people present at the relic, he added.
Pictures of the Hollywood stars quickly attracted attention on the fanpage of the Hoa Lo Prison Relic, and they quickly went viral.
Hollywood stars such as Matthew McConaughey, Woodrow Tracy Harrelson, and David Duchovny visit Hoa Lo Prison, a tourist attraction in Hanoi on March 10. (Photo: Hoa Lo Prison relic).
Some fans said they saw the actors at Noi Bai International Airport in Hanoi a few days ago. The actors were wear casual clothes such as T-shirts and shorts.
Located in the center of the capital, Hoa Lo Prison, aka Maison Centrale or Hanoi Hilton, is well-known as one of the most inhumane prisons with terrifying punishment in the past.
Built by French colonists in 1896, the prison was used to house and torture revolutionary Vietnamese leaders. Under the name "Maison Centrale", Hoa Lo became one of the largest and the most brutal prison complexes in Indochina.
Later, Hoa Lo was used to keep US prisoners of war (POW), who referred to it as the "Hanoi Hilton". During the 1990s, most of the prison was demolished, but a part has been kept and transformed into a museum, as one of top Hanoi attractions today.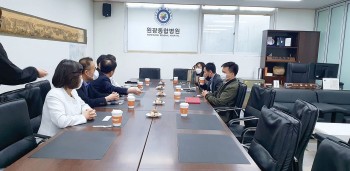 Overseas Vietnamese
A meeting was organized at the Wonkwang Hospital on the provision of medical support for the Vietnamese community in Korea in accordance with the signed cooperation agreement.