Vietnam News Today (Mar. 29): Vietnam Strives to Complete Final Preparations for Successful Hosting of SEA Games 31
Vietnam News Today (Mar. 29): Covid-19 infections on downward trajectory in Vietnam; Vietnam strives to complete final preparations for successful hosting of SEA Games 31; Vietnam to play Uzbekistan at U23 Dubai Cup 2022; Vietnam resumes flights to 20 countries, territories.
Vietnam News Today (Mar. 29) notable headlines
Covid-19 infections on downward trajectory in Vietnam
Vietnam strives to complete final preparations for successful hosting of SEA Games 31
Vietnam to play Uzbekistan at U23 Dubai Cup 2022
Vietnam resumes flights to 20 countries, territories
Vietnam gains significant outcomes in developing market economy: Study
Vietnam joins Australia's Agriculture Visa Programme
Vietnam values Cuba's construction strength: minister
HCM City Economic Forum to take place next month
No limits of Internet, social network use in Vietnam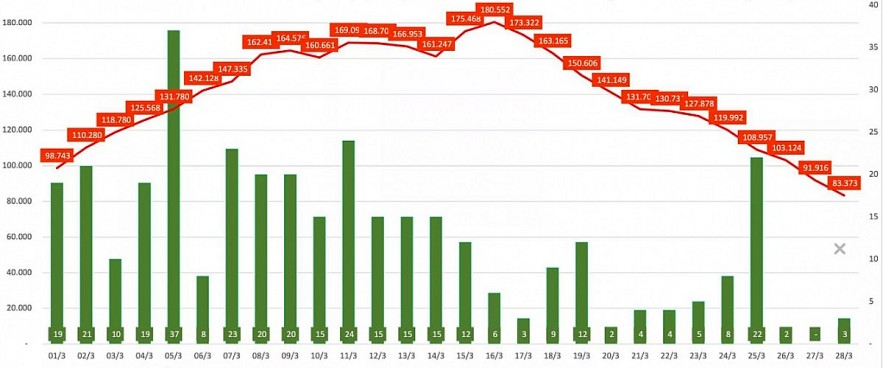 The column chart shows the number of imported cases, and the line chart shows the number of locally acquired infections. Photo: MoH
Covid-19 infections on downward trajectory in Vietnam
Vietnam has passed the peak of the ongoing coronavirus outbreak with daily infections decreasing considerably during the past days.
Official data from the Ministry of Health show after peaking at more than 180,000 cases on March 13, daily infections have gradually tumbled to fewer than 100,000 for the past two days.
March 28 saw 83,376 cases detected in 62 out of 63 cities and provinces across the country, a fall of 8,453 cases compared to the previous day.
Hanoi capital that has topped localities in infection number for few weeks also recorded 9,326 cases on March 28, down nearly 1,000 cases, cited VOV.
On average the daily number of fresh infections recorded in Vietnam in the past seven days remains high at 109,424 cases.
Almost all daily routines and activities return to normal. Many localities have resumed face-to-face learning and non-essential services such as karaoke and dancing.
As of 06pm on March 28, Vietnam has detected 9,274,849 Covid-19 cases since the start of the outbreak, ranking 14th out of 225 countries and territories worldwide.
Of the infected patients, 5,474,708 have been discharged from hospital after making a full recovery from the disease, and 42,358 patients have died of the virus.
More than 205 million vaccine doses have been administered nationwide.
Vietnam strives to complete final preparations for successful hosting of SEA Games 31
Only less than 50 days left, the 31st Southeast Asian Games (SEA Games 31) will officially take place. At present, Vietnam is urgently making efforts to complete the final preparations for the safe and successful organization of the region's biggest sport event.Due to the impact of the Covid-19 pandemic, SEA Games 31 could not take place as planned in November 2021, and was postponed to May 2022. The organizing committee encountered many difficulties in preparations, while athletes did not have opportunities to compete regularly and have training abroad.
The goal of successfully holding the Games is an important task. Thanks to the close direction of the Government, the companionship and coordination between the concerned ministries and sectors, the preparations are on the right track, with the progress ensured. At a recent field trip by Southeast Asian sport delegations, the delegation heads appreciated the host country's preparations.
"Since Vietnam announced SEA Games 31's official date in late 2021, the country has exerted tremendous efforts, and preparations are in full swing to meet the deadlines," said Director (Projects) of the Singapore National Olympic Council Anthony Lee.
He believed that the regional sporting event this year will be smooth-sailing and organized efficiently, according to VNA.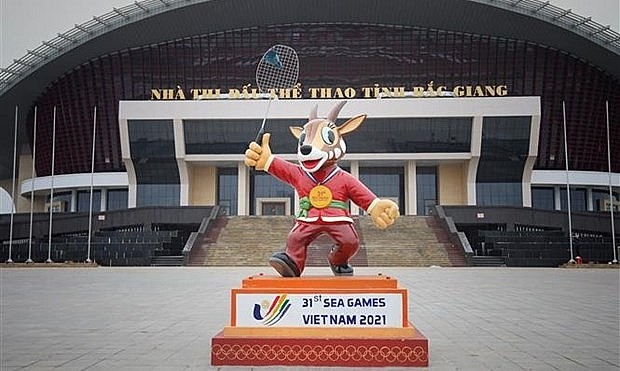 Saola - The mascot of SEA Games 31 in front of Bac Giang province's sports gymnasium. Photo: VNA
The renovation of My Dinh National Stadium, which is to host football and track and field, has been fundamentally completed while the Water Sports Stadium is also being renovated to meet international standards, ready to host the Games.
For his part, Vice President of the Olympic Council of Malaysia Paduka Nur Azmi Ahmad spoke highly of progress made in the preparations at the My Dinh Stadium and the National Sports Training Centre, despite various challenges facing Vietnam, especially the Covid-19 pandemic.
Underlining the significance of the facilities serving the Games, he added that Vietnamese agencies need to speed up the remaining tasks and make sure that deadlines will be met.
Deputy Secretary General for Administration of the Philippine Olympic Committee Carl Sambrano highly valued Quang Ninh province's preparations, particularly at the 5,000-seat gymnasium which will host indoor volleyball matches.
He added that the expressway linking Hanoi and Quang Ninh facilitates the travel of participating teams between the two localities.
Chong Fui Kim from the Singapore National Olympic Council said although the Covid-19 pandemic delivered a heavy blow to Vietnam's preparations for SEA Games 31, most of the competition venues in Quang Ninh stand ready to host the regional event.
He spoke highly of efforts and determination of the organizing committee and Vietnamese people in preparing for the Games despite the complex developments of Covid-19, believing that the event will be successful.
The Games, themed "For a stronger South East Asia", will run in Hanoi and 11 neighboring provinces and cities from May 12 to 23. It will feature 40 sports with 526 events and expect to attract around 10,000 participants.
For the successful organization of the event, these localities are continuing to upgrade the remaining infrastructure and facilities to meet requirements.
The event is expected to create a fair playing ground towards a stronger Southeast Asia, and offer a good chance for Vietnam to promote the beauty of its nation, people and culture.
Vietnam to play Uzbekistan at U23 Dubai Cup 2022
The Vietnam U23 national team are due to take on Uzbekistan in their final match of the ongoing international friendly tournament the U23 Dubai Cup 2022 in the United Arab Emirates.
Vietnam earned only one point in their two previous matches, after holding Iraq to a 0-0 draw and losing 1-0 to Croatia.
The team are placed eighth in the rankings, and should have played Iraq who are placed just above them in the third, final match, according to the tournament's regulations.
Midfielder Quang Hai scores a goal for Vietnam in the match against Uzbekistan in the U23 Asian Cup final in 2018. Photo laodong.com
However, both teams already played in their first match, and the organising board decided to select the Uzbekistan side as Vietnam's opponents in their final clash slated for March 29 at 7pm (Vietnam time).
The two sides do have a history of competing against each other, with Vietnam enduring heartbreak from a 2-1 loss to Uzbekistan in the U23 Asian Cup final in 2018, reported VOV.
March 29 will also see other fixtures take place, including the Thailand vs Iraq match.
The Dubai Cup 2022 has attracted the participation of 10 football teams from throughout Asia and Europe, including Uzbekistan, China, Saudi Arabia, Japan, and hosts the United Arab Emirates.
The friendly tournament is a big test for Vietnam ahead of the 31st Southeast Asian Games (SEA Games 31) in May and the 2022 AFC U23 Asian Cup in June.
Vietnam resumes flights to 20 countries, territories
Twenty-three airlines, including three domestic carriers (Vietnam Airlines, Vietjet Air and Bamboo Airways) have resumed flights between Vietnam and 20 countries and territories, according to the Civil Aviation Authority of Vietnam (CAAV).
Almost all international flights to Vietnam mainly landed at Hanoi-based Noi Bai International Airport and Ho Chi Minh City-based Tan Son Nhat International Airport.
It is expected that there will be flights from Taiwan and the Republic of Korea to the central city of Da Nang, added the CAAV.
Eight countries and territories, namely India, Indonesia, Myanmar, Macau, Finland, Italy and Switzerland have yet resumed regular air routes to Vietnam.
The Government decided to fully reopen borders to foreign tourists since March 15, 2022 after allowing foreign tourists to enter the country under a trial program that started in November last year.
Singapore Airlines was the first foreign airline to resume regular commercial flights to the central city of Da Nang this month after two years of suspension due to Covid-19 outbreaks.
It is also the foreign airline that has operated the most flights to Vietnam, with 45 return flights per week, representing 36 percent compared to the pre-COVID pandemic level, cited VGP.
Thanks to the reopening policy, foreign arrivals to Vietnam reached 141,600 between January and March, up 441 percent on year, official statistics show.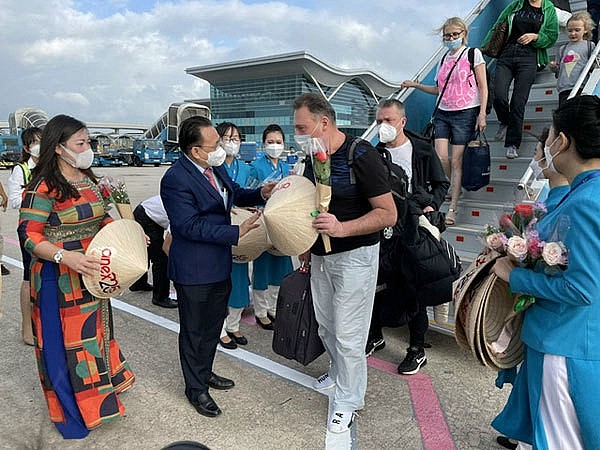 Foreign tourists arrive in Hanoi-based Noi Bai International Airport on the first international commercial flight on March 15, 2022 when Vietnam fully reopens international tourism.
Meanwhile, international cargo transportation hit 38,000 tons, an increase of 113.9 percent against the same period last year.
The CAAV estimated that Vietnamese airlines accounted for 44 percent of the market share in international passenger transport and 13 percent in international cargo transportation.
Passengers on int'l flights required to take Covid-19 test
Under the latest regulations, foreign arrivals traveling to Vietnam by air shall be required to take a RT-PCR or RT-LAMP Covid-19 test within 72 hours or a rapid test within 24 hours before departure. This requirement is not applicable to children under two years of age.
The above requirement shall also applied to those who wish to enter Vietnam by road or by sea, or they can take a Covid-19 test at the port of entry.
Incoming air passengers shall no longer be obliged to take a Covid-19 or follow mandatory quarantine requirement after arriving in Vietnam.
All incoming entrants shall be required to fill health declaration form at the website tokhaiyte.vn prior to their departure and download PC-COVID app.
Within 10 days since the date of entry, entrants shall self-monitor their health and immediately notify the nearest medical facilities if they experience such symptoms like fever, cough, throat pain, runny nose, chills, headaches.
Entrants have to regularly wear masks and disinfect hands.
Insurance and Covid-19 treatment
Mandatory insurance coverage amount for Covid-19 treatment shall be at least US$10,000.
Incoming travelers shall have to pay for Covid-19 test and treatment and related costs (if any).
Domestic travel
All six Vietnamese airlines are now operating 55-60 air routes connecting Hanoi, Da Nang, and Ho Chi Minh City to 19 airports in other localities nationwide.
In the first quarter this year, the domestic airlines handled 6.5 million passengers and 48,400 tons of cargo, down 12.5 percent and 8.8 against the same period last year.
Vietnam gains significant outcomes in developing market economy: Study
A recent study found that Vietnam has obtained many significant outcomes in developing a market-oriented economy over the past 35 years.Findings of the study, conducted by the Central Institute for Economic Management (CIEM), were released at a workshop held on March 28 as part of the Macro-economic Reforms/Green Growth Program in Vietnam implemented by the German Agency for International Cooperation (GIZ).
In her opening remarks, CIEM Director Tran Thi Hong Minh said from a centralized, bureaucratic, and subsidized economy, a market economy has gradually come into being and been developing in Vietnam. Reforming the mindset and awareness of the market economy is an important milestone creating the foundation for building and completing the market economy in the country.
The role, functions, and tasks of the State, along with relations among the State, the market, and society, have been better aligned with the market mechanism. Besides, fundamental factors for the market mechanism's operations have taken shape and become clearer, she said, noting that market opening and international integration are critical catalysts for the country to press on with developing and perfecting its market economy in the recent past.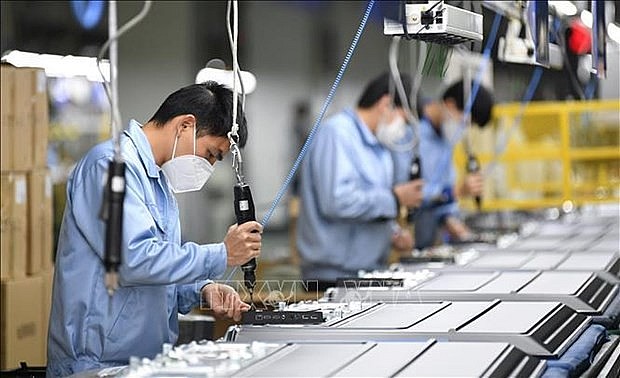 Illustrative image. Photo: VNA
The 13th National Party Congress set a target that Vietnam will establish itself as a developing country with modern industry and upper-middle income by 2030, and a developed and high-income country by 2045. To that end, it needs to make strong, intensive, and extensive reforms to substantively transform into a fuller market economy with social and environmental responsibility, according to Minh.
The study found that working towards a market-oriented economy for over the past 35 years, Vietnam has seen a leaner, and more efficient and effective State apparatus, an improved business climate, and an economy with increased size and quality. From a poor and underdeveloped country, it has become a developing country with lower-middle income since 2008, VNA reported.
However, the study also pointed out many shortcomings and challenges during that process.
Nguyen Thi Luyen, deputy head of the board for enterprise reform and development studies at CIEM, cited the study as saying that it is necessary to continue reforming the mindset, define the country's market economy model more clearly, clarify the relationship between the market economy development and the socialist orientation, ensure equal and orderly competition, and guarantee social, environmental, and ecological issues.
At the workshop, participants discussed the basic reforms during the transition to a market economy, shortcomings and lessons, the main challenges to the market economy completion, and orientations for continued reforms.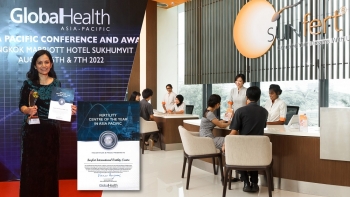 Economy
Sunfert International Fertility Centre (Sunfert) garnered the 'Fertility Centre of the Year in Asia Pacific title at the recent GlobalHealth Asia-Pacific Awards 2022.