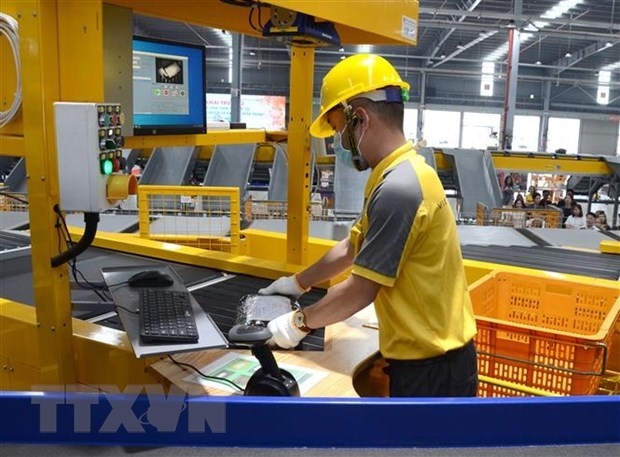 The council is tasked with studying, collecting information, and analysing the wage situation, the minimum living standards of workers. (Photo: VNA)
National Wage Council established
Prime Minister Nguyen Xuan Phuc has recently signed a decision on the establishment of the National Wage Council.
Under Decision No 449/QD-TTg, the council will be headed by Deputy Minister of Labour, Invalids and Social Affairs Le Van Thanh, as reported by Bao anh Vietnam.
The three Vice-Chairpersons are Vice Chairman of the Vietnam General Confederation of Labour (VGCL) Ngo Duy Hieu, Vice Chairman of the Vietnam Chamber of Commerce and Industry Hoang Quang Phong, and Vice-Chairman of the Vietnam Cooperative Alliance Nguyen Van Thinh.
Council members include representatives from the Ministry of Labour, Invalids and Social Affairs, the VGCL and the Vietnam Association of Small and Medium Enterprises, along with experts and scientists.
The Minister of Labour, Invalids and Social Affairs has been authorized by the PM to appoint and dismiss council members.
The council's Chairperson, Vice-Chairpersons, and members will have a working term of no more than five years.
The council is tasked with studying, collecting information, and analysing the wage situation, the minimum living standards of workers, the production and business of enterprises and employment, and other factors that will be used to determine the minimum wage.
It will make reports on the minimum wage of workers and organise annual negotiations to propose Government plans adjusting region-based minimum wages and certain wage policies in line with the Labour Code.
Deputy FM attends 2021 India Economic Conclave
According to NDO, Deputy Foreign Minister and head of the Vietnam ASEAN SOM Nguyen Quoc Dung recently attended the 2021 India Economic Conclave (IEC), themed "India's Decade: Reform. Perform. Transform".
As the seventh edition held by the Times Network, the IEC 2021 featured 33 reports by 10 key ministers, two army commanders, four leaders of Indian localities, corporate executives, economists and senior officials in the region.
The event held significance to promoting a common vision among Indian politicians, authorities and businesses about the country's post-COVID-19 strong development.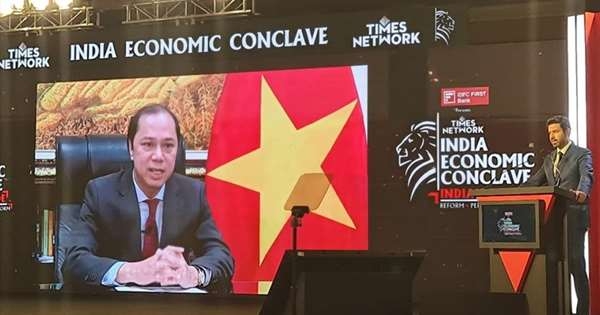 Deputy Foreign Minister Nguyen Quoc Dung (Photo: VNA)
As a keynote guest speaker, Dung said amid the complicated developments of the world economy, countries need to reform and transform themselves towards sustainable and mutually beneficial development. Countries, including Vietnam, consider win-win growth as an important content in their development orientations. Accordingly, one country's growth is by no means destructive to another's but pushes other countries and regions forward.
He stressed that with strong and long-standing cultural and historical bonds with Southeast Asia, India, a strong economy and advanced science, has been a responsible country for promoting sustainable economic growth. Its growth is making positive contributions to mutually beneficial development for peace and prosperity in the region. On the contrary, Southeast Asia's vibrant development is attributable to India's growth.
Highlighting Vietnam's successes in surviving COVID-19 to devise its development strategy for 2021-2030, Dung suggested that Vietnam and India further enhance cooperation in supply chain connectivity, including chains of India's medical supplies, pharmaceuticals and vaccines.
He proposed facilitating access to each other's market, strengthening cooperation of stances on World Trade Organisation reform, shaping rules on digital trade governance, digital economy, promoting innovation, building research and development centres in Vietnam, accelerating projects related to climate change response within the Ganga - Mekong Cooperation framework.
VN calls for U.S. to support for construction of central-level CDCs
Minister of Health Nguyen Thanh Long had a working session with John MacArthur, Southeast Asia Regional Director of the U.S. Centers for Disease Control (U.S. CDC), in Ha Noi on March 29. Speaking at the meeting, John MacArthur congratulated Viet Nam's health sector for its initial success in containing the COVID-19 pandemic, stating that the country has gained a lot of experience in combating emerging epidemics, from the SARS in 2003, the avian flu to the novel coronavirus disease.
The U.S. CDC Office in Southeast Asia wishes to have closer cooperation with Viet Nam in pandemic prevention and control in the region, he emphasized.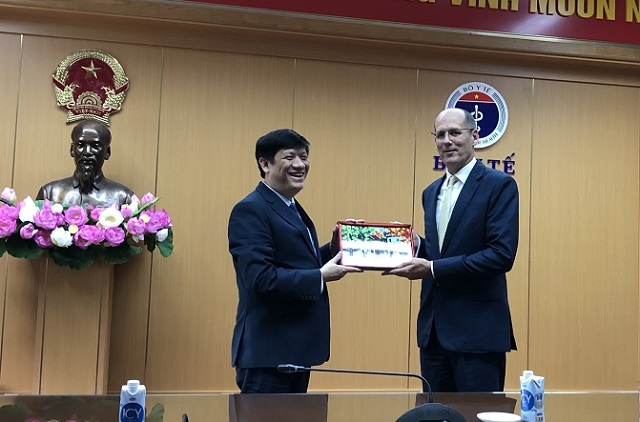 Health Minister Nguyen Thanh Long (left) presents a souvenir to Southeast Asia Regional Director of the U.S. CDC, John MacArthur (Photo: VGP)
The guest said the US is accelerating the production of one billion doses of COVID-19 vaccine (in India) to provide vaccines worldwide aiming to achieve global immunity, adding that the U.S. has also pledged US$4 billion in support of the COVAX program.
For his part, Long stressed that the Vietnamese Health Ministry backs the issues raised by the U.S. CDC Office in Southeast Asia, especially the health security issue, which, he said, is also a priority issue of Viet Nam's health sector.
Minister Long said Viet Nam will set up two central-level CDCs, one in the northern region and one in the southern region, calling for the U.S. support for the construction of these CDCs, according to VGP.
WB Country Director: Gov't has done "good job" on several fronts
World Bank Country Director for Viet Nam Carolyn Turk said the Government has done a good job on several fronts, including effective management of the COVID-19 pandemic, during the past tenure.
In a recent interview with the Viet Nam Government Portal, Carolyn Turk said she would want to congratulate the Government on its performance over the past five years, particularly on the following aspects.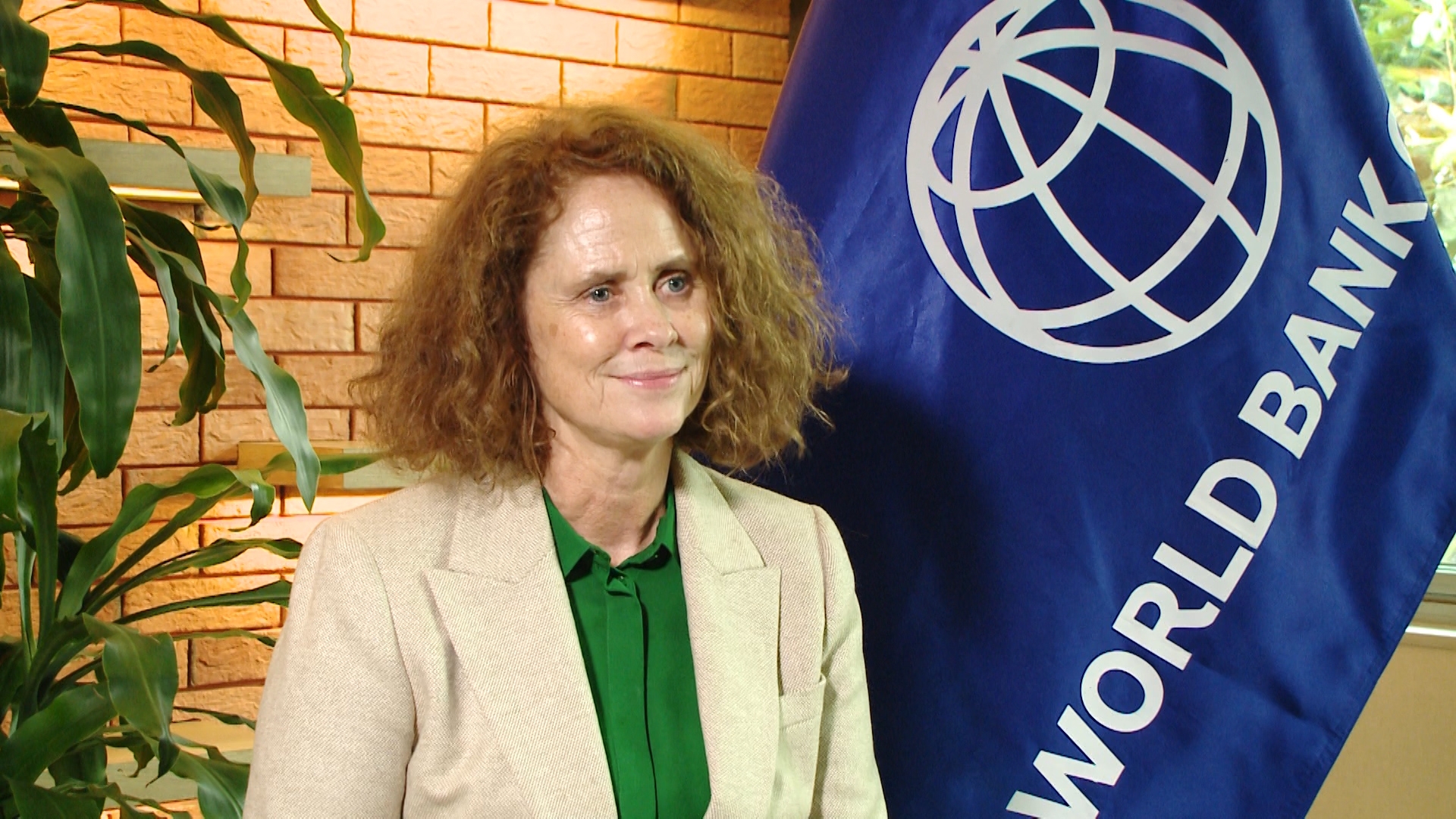 World Bank Country Director for Viet Nam Carolyn Turk (Photo: VGP)
(1) Enabling the business environment and administrative reforms: In addition to investing in reforms aimed at opening up to trade and FDI, Viet Nam also implemented a series of reforms aimed at reducing the cost of doing business by streamlining bureaucracy for businesses over the past few years.
(2) Macroeconomic management: Public debt fell to by 55.3% in 2020 from 63.7% in 2016 – more than 8% in 4 years. This reduction is unprecedented across the world and should be commended.
(3) Effective management of COVID-19 pandemic. The pandemic is unprecedented and many countries across the world are still struggling to contain it.
36 volunteers get first jab of Covivac vaccine, recoveries total 2,359
A further 36 volunteers participating in human trials for Covivac, the second locally-produced COVID-19 vaccine, have been given the first shot, according to Vu Dinh Thiem, director of the Center for Clinical Trials under the National Institute of Hygiene and Epidemiology.
They only underwent mild side effects such as pain at the injection site, headache, muscle pain, and fatigue. However, these side effects last only around a day, Thiem stated.
An additional 15 volunteers are due to be given Covivac vaccine on March 31 and the next injection is set to be conducted on April 2, with a further 15 volunteers.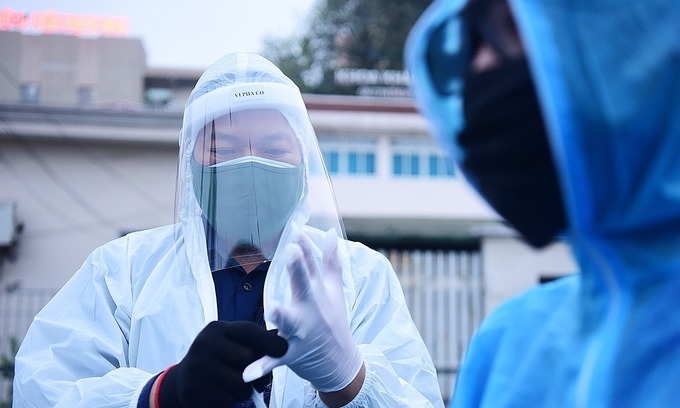 (Photo: VNE)
A midterm report on the first phase of the experimental injection is due for finalization in July.
If the vaccine shows that the standards of safety are met and the immunization is capable of disease prevention based on the approval of the Ministry of Health, the second phase of clinical trials on the Covivac vaccine will be carried out at the Health Center of Vu Thu district, Thai Binh province.
On March 31 morning, Vietnam recorded no new COVID-19 cases, keeping the national infection tally at 2,594, including 1,603 cases of local transmission and 991 imported ones.
One day earlier, 51 further coronavirus patients were declared free from the SARS-CoV-2 virus, taking the total number of recoveries in the country to 2,359, VOV reported.
Jasmine Le