Vietnam News Today (May 25) notable headlines:
State President pushes for stronger Vietnam-China relations
High rates of turnout seen in May 23 elections: NEC
Vietnam condemns targeted attacks on UN peacekeepers
PM orders comprehensive strategy for COVID-19 prevention at industrial parks
Health ministry confirms 96 new COVID-19 cases
Vietnam's general elections grab international media's attention
Solidarity, national pride, people's trust enhanced after elections: NEC official
RoK opens new container shipping route to Vietnam
First shipment of Vietnamese fresh lychees arrives in Japan
Hanoi to soon suspend catering services as COVID-19 cases rise
A Hosiden Vietnam worker dies of COVID-19 in Bac Giang hotspot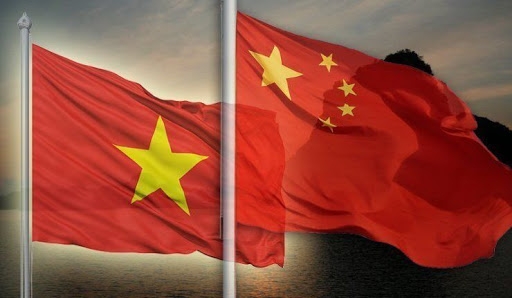 (Photo: Hanoi Times)
State President pushes for stronger Vietnam-China relations
In its foreign policy, Vietnam attaches great importance to developing the friendly neighborliness and comprehensive strategic cooperation partnership with China, State President Nguyen Xuan Phuc has said.
Phuc made the affirmation during his phone talks on May 24 with Chinese Party General Secretary and State President Xi Jinping.
He congratulated the Communist Party of China on its upcoming 100th anniversary celebrations as well as the tremendous achievements China has recorded over the years, including building a moderately prosperous society. He expressed his belief under the leadership of the Communist Party of China, the Chinese people will reap greater successes in the party's second 100-year anniversary.
He proposed that the two countries strengthen bilateral cooperation in COVID-19 prevention and control, improve the quality and efficiency of economic, trade and investment cooperation, and increase local cooperation and people-to-people exchanges.
The two countries should make efforts to maintain a peaceful and stable environment, jointly handle sea-related issues in accordance with high-level common consensus as well as international law, including the 1982 United Nations Convention on the Law of the Sea, while continuing to strengthen coordination at multilateral forums, Phuc said.
He sincerely invited Party leader and State President Xi and other senior Chinese leaders to visit Vietnam.
For his part, Party General Secretary and President Xi Jinping expressed his belief that under the clear-sighted leadership of the Communist Party of Vietnam (CPV), the Vietnamese people will successfully realize the goals and tasks set out by the 13th CPV Congress held earlier this year.
He affirmed the Chinese Party, State and people's desires to continue strengthening the friendship and cooperation with their Vietnamese counterparts, vowing to take the comprehensive strategic cooperation partnership between Vietnam and China to new heights.
He acknowledged Vietnam's interest in bilateral cooperation projects, and suggested that the ministries, agencies and localities of the two countries should increase exchanges to create a platform for mutually beneficial cooperation, while managing differences and strengthening cooperation on maritime issues, VOV reported.
High rates of turnout seen in May 23 elections: NEC
Most cities and provinces reported high rates of turnout of over 90 percent in the May 23 elections exceeded, with some recording a rate of as high as 99.99 percent as of 10pm the same day, reported the National Election Council (NEC).
In almost all electoral units, the voting finished on time in line with the regulations, according to the NEC.
The council reported that voters nationwide eagerly participated in the elections, showing a high sense of responsibility to the country.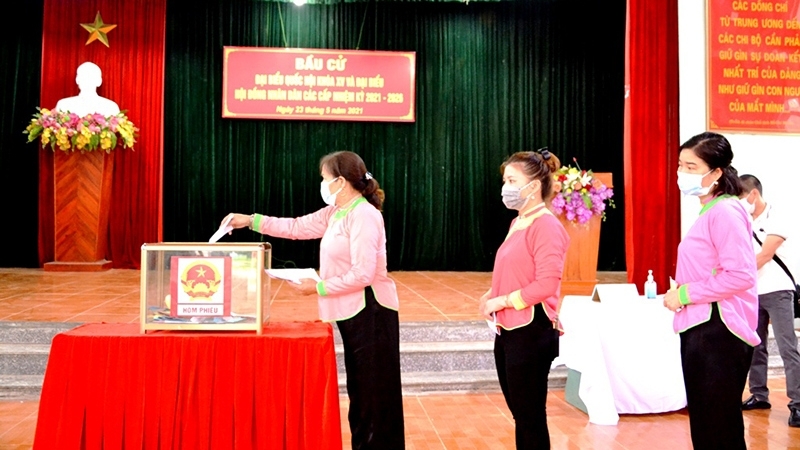 Voters cast their ballots in Lao Cai Province. (Photo: NDO)
Thanks to careful preparations and strong communications, the elections were conducted in a democratic manner, allowing the people to fully exercise their right to mastery.
Election committees in all localities kept close supervision of the voting process to ensure its safety and compliance with the law.
According to the NEC, the security and social safety and order were ensured in all localities without any abnormal circumstances.
In areas with mistakes in ballots, the NEC gave timely instruction so that the elections were carried out in line with the regulations, NDO reported.
Vietnam condemns targeted attacks on UN peacekeepers
The nation condemned targeted attacks on UN peacekeepers at an open debate of the United Nations Security Council (UNSC) on May 24 on intensifying the safety for UN peacekeeping forces, said Ambassador Dang Dinh Quy, head of the Vietnam's Permanent Mission to the UN, according to VOV.
In his speech, Ambassador Dang Dinh Quy, head of the Vietnam's Permanent Mission to the UN highlighted the UN peacekeeping forces' important role in helping to de-escalate and end conflicts, carrying out ceasefire and political agreements, protecting civilians as well as facilitating humanitarian assistance, thereby ensuring the fulfillment of the mission's task and the Security Council's responsibilities in maintaining international peace and security.
However, peacekeepers currently face many dangers from attacks and accidents while performing their duties, he said, while calling parties to respect international law and relevant UNSC resolutions to enhance the safety and security for peacekeepers.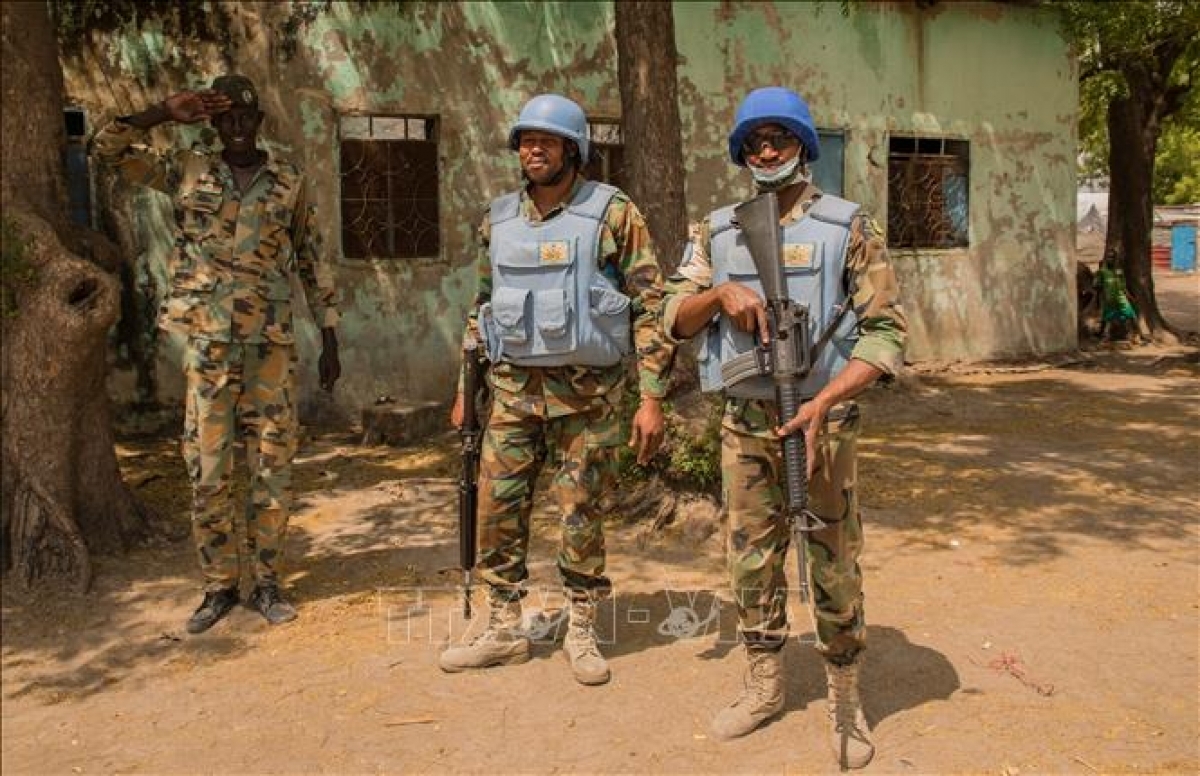 The local diplomat suggested that the UN and countries redouble efforts to ensure the readiness of peacekeepers through training before and during the deployment, reporting after the end of the mission, updating training programmes, while ensuring they are adequately equipped with both material, information and resources, to protect themselves against new risks such as COVID-19 and improvised explosive devices, and giving special attention and protection for female peacekeepers.
The Ambassador also affirmed that Vietnam always supports UN peacekeeping operations and attaches great importance to ensuring safety and security for peacekeepers.
PM orders comprehensive strategy for COVID-19 prevention at industrial parks
Prime Minister Pham Minh Chinh on Monday ordered subordinate levels to expeditiously work out a strategy for COVID-19 prevention at industrial parks.
The strategy aims to better control COVID-19 pandemic situation at industrial parks and ensure supply chain and business operation would not be disrupted.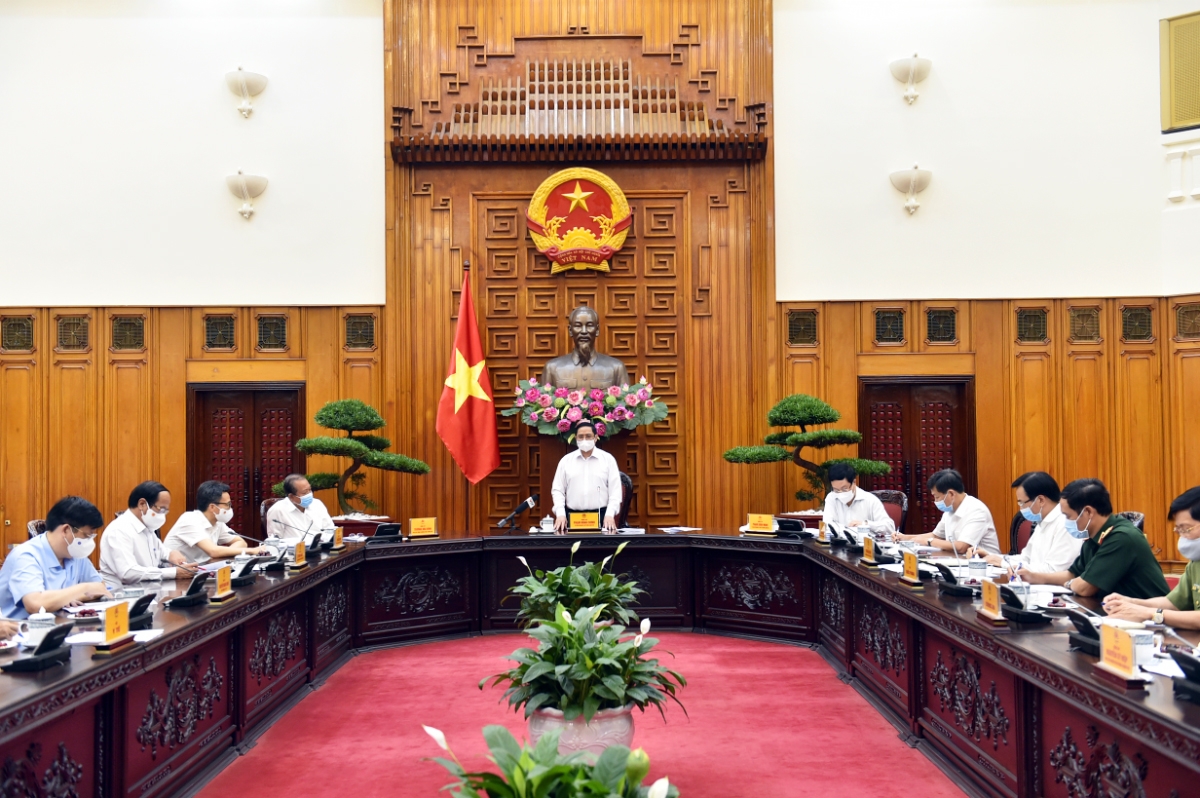 Prime Minister Pham Minh Chinh (standing) presides over a meeting on COVID-19 response, Ha Noi, May 24, 2021. Photo: VGP
The Government chief also demanded inferior levels scramble to successfully realize the country's vaccine strategy by expanding access to vaccine supply sources, designing mechanisms and policies to encourage vaccine research, development and manufacturing as well as proper vaccination plan.
A part from diversifying access to external vaccine sources, Viet Nam is also seeking to boost domestic vaccine research and development, acquire patients of vaccine makers, and set up partnership in vaccine production, according to Minister of Health Nguyen Thanh Long.
Nguyen said vaccines are the "effective weapon" against infectious diseases, including COVID-19, as reported by VGP.
Health ministry confirms 96 new COVID-19 cases
The Ministry of Health confirmed 96 new COVID-19 cases on Monday evening, raising the national caseload to 5,404.
The latest patients include a 45-year-old Chinese national who entered Viet Nam on April 24.
All the others are local infections recorded in Bac Giang (44), Bac Ninh (31), Ha Noi (13), Lang Son (six), and Ho Chi Minh City (one).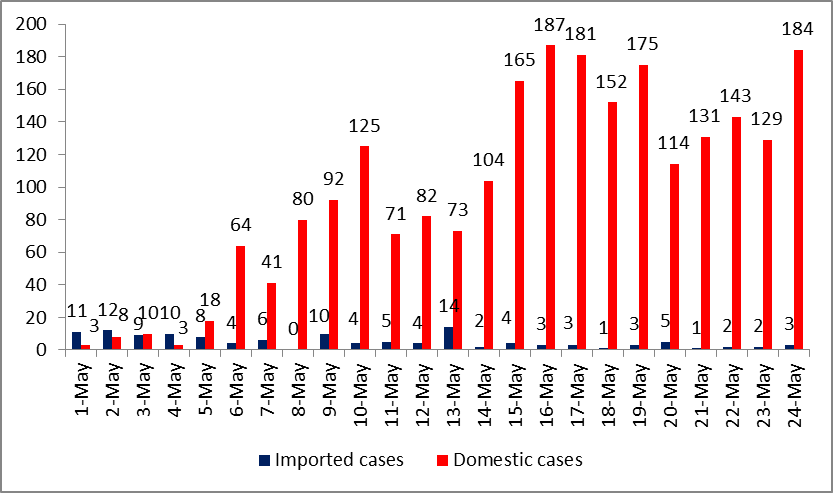 The number of daily new COVID-19 cases from May 1 to May 24 (Chart: VGP)
The same day, the ministry reported that 73 patients have recovered and exited hospitals, bringing the total recoveries to 2,794.
With two new COVID-19 related deaths confirmed on Monday, the total fatalities rose to 44, according to VGP.
Jasmine Le