Vietnam News Today (May 25): Level-2 Field Hospital No. 4 Staff Depart for UN Peacekeeping Missions
Vietnam News Today (May 25): Covid-19: New cases total 1,323 on May 24; Level-2 Field Hospital No. 4 staff depart for UN peacekeeping missions; Hanoi greets nearly 31,500 foreign tourists during SEA Games 31; Vietnam represents bright spot in FDI attraction.
Vietnam News Today (May 25) notable headlines
Covid-19: New cases total 1,323 on May 24
Level-2 Field Hospital No. 4 staff depart for UN peacekeeping missions
Hanoi greets nearly 31,500 foreign tourists during SEA Games 31
Vietnam represents bright spot in FDI attraction
France-Vietnam job fair held in Hanoi, Ho Chi Minh City
Vietnamese economy facing new challenges amid global uncertainties
Vietnam to host ASEAN Film Week 2022
Vietnam puts forward numerous important proposals at WEF Davos 2022
Burial service held for Vietnamese volunteer soldiers in Cambodia
Illustrative image. Photo: VNA
Covid-19: New cases total 1,323 on May 24
A total 1,323 new cases of Covid-19, including 1 imported case, were recorded in the past 24 hours from 4pm May 23 to 4pm May 24, according to the Ministry of Health.
Hanoi still reported the highest number of infections on the day with 321 cases, followed by Vinh Phuc with 98 and Phu Tho with 94.
The national tally reached 10,711,389, cited VNA.
A total 6,495 Covid-19 patients were given the all clear on May 24, bringing the number of recoveries so far to 9,412,403.
There are 216 patients needing breathing support, while no death was recorded in the past 24 hours. The total fatalities stood at 43,076.
By May 23, the country had injected 219,250,009 doses of Covid-19 vaccines, including 3,447,331 first doses and 47,024 second doses for children from five to under-12 years old.
Level-2 Field Hospital No. 4 staff depart for UN peacekeeping missions
A farewell ceremony for the 2nd detachment of Level-2 Field Hospital No. 4 to carry out duties in the UN peacekeeping missions in South Sudan was held by the Ministry of National Defense on May 24 in the military airfield of Division 371 of the Air Defense – Air Force Service.
A total of 30 staff members were transported by military aircraft C17 of the Australian Department of Defense, all of whom expressed their delight and pride when performing the mission.
The Level-2 field hospital No. 4 was first launched on November 17, 2021, with 63 official members, including 12 female soldiers, according to VOV.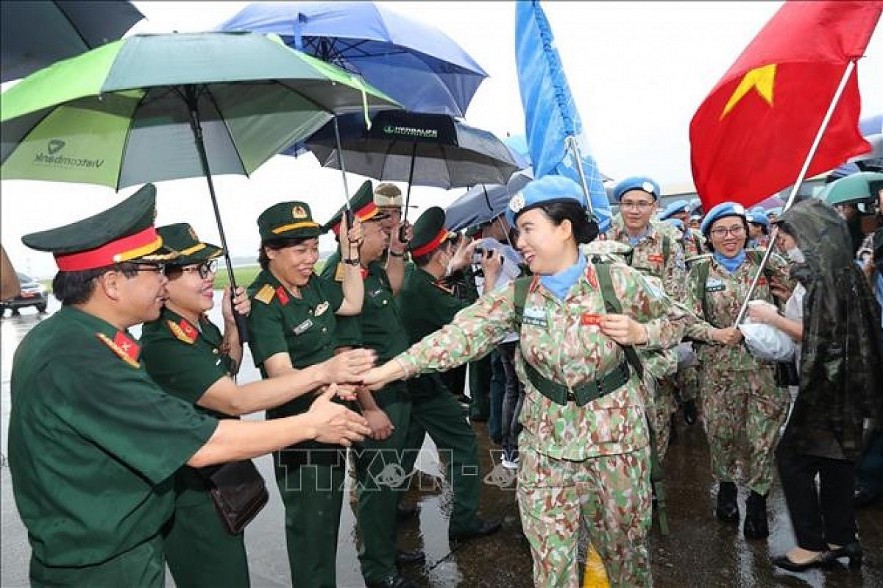 At the send-off ceremony. Photo: VNA
During the course of the mission in South Sudan, the Level-2 Field Hospital No. 4 will focus on applying technology in medical examination and treatment, with this being the premise for them to conduct scientific research,
The hospital will also continue working on public communication and disease prevention efforts in the harsh local environment.
Before departure, staff had to undergo several technical training courses.
Earlier the Ministry of National Defense also held a ceremony to deploy officers and soldiers of Military Engineering Unit No.1 and first group of the Level-2 Field Hospital No.4 on a UN peacekeeping mission to Abyei and South Sudan on April 27.
Hanoi greets nearly 31,500 foreign tourists during SEA Games 31
Hanoi welcomed 700,000 domestic tourists and 31,448 foreigners who visited or participated in events of the recently concluded SEA Games 31, the municipal Department of Tourism announced on May 24.
As of May 23, 18 hotels in Hanoi had accommodated more than 5,600 Vietnamese and foreign delegates, referees, athletes and reporters. In addition, other accommodation facilities stood ready to welcome tourists traveling to Hanoi during the Games.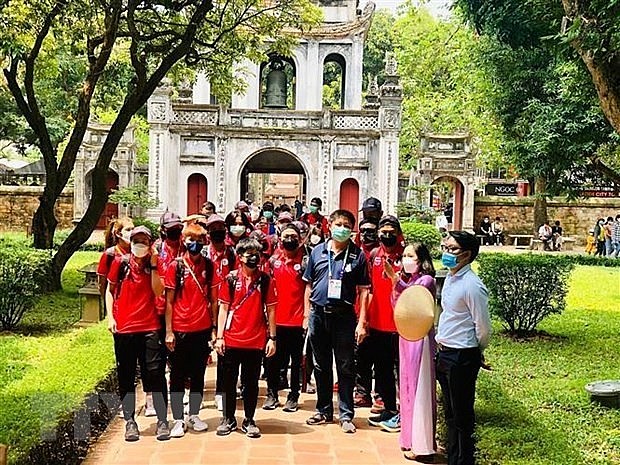 Thai athletes competing at SEA Games 31 tour the Temple of Literature in Hanoi. Photo: VNA
The Department of Tourism asked relevant agencies to roll out new tourism products at the capital city's famous attractions such as the Hoan Kiem Lake pedestrian zone, Thang Long Imperial Citadel and Bat Trang pottery village.
Images of Hanoi and preparations for SEA Games 31 were promoted on the department's portal and websites on Hanoi tourism as well as TV channels and social media, cited VNA.
Director of the department Dang Huong Giang said it has organized numerous events and festivals for SEA Games 31, namely Hanoi gift festival and Son Tay - Xu Doai Tourism Year.
She affirmed that the capital's tourism sector has fulfilled assigned tasks for hosting the regional sporting event, which contributed to attracting foreign tourists and investors to Vietnam and Hanoi in particular.
With 40 sports, SEA Games 31 took place in Hanoi and 11 nearby localities from May 12-23. The biennial event was initially slated for late 2021 but delayed due to the Covid-19 pandemic.
Vietnam ranked first in the medal standings with 205 gold, 125 silver and 116 bronze medals. Thailand came second with 92 golds, 103 silvers, 136 bronzes and Indonesia finished third with 69 golds, 91 silvers, 81 bronzes.
France-Vietnam job fair held in Hanoi, Ho Chi Minh City
The seventh France-Vietnam Job Fair (FVJF) has been held in Hanoi, serving as a bridge connecting Vietnamese, French and international companies based in Vietnam to graduates with international profiles.
The fair will move to Ho Chi Minh City in the next few days.
FVJF is an annual event that CCIFV has organized for over 10 years. It is an opportunity for international companies to promote activities in the local market and showcase their recruitment offers to qualified candidates in Hanoi and Ho Chi Minh City.
About 40 big names participated in the sixth job fair in 2019, offering nearly 500 jobs. Due to the pandemic it was postponed in the two following years and was rebooted in 2022, thanks to the country's reopening, NDO reported.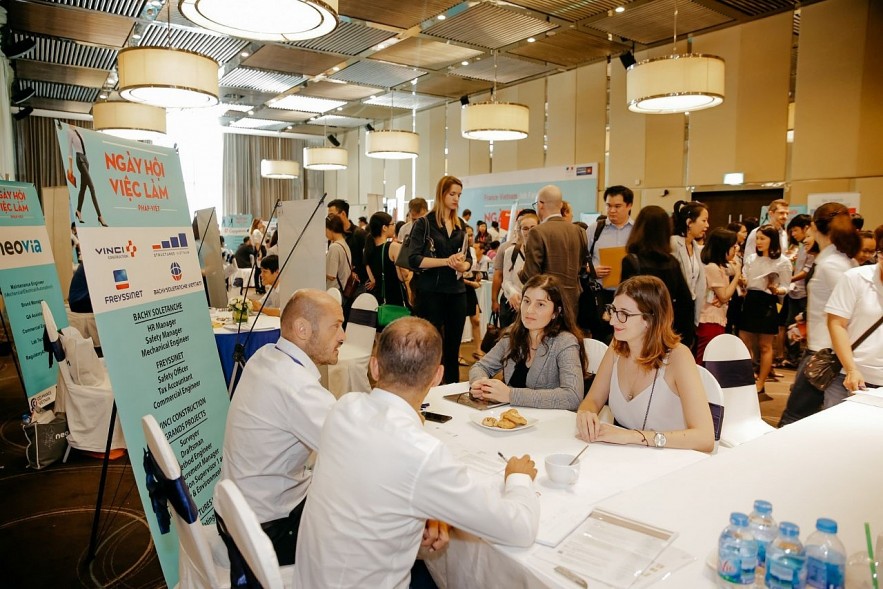 The job fair attracts a large number of candidates. Photo: CCIFV
"Vietnam's population is young, educated, and eager to succeed. These highly appealing demographics are attractive to a growing number of international companies moving to the country," Vice President of the French Chamber of Commerce and Industry (CCIFV) Legrand Perruchot at the Hanoi event on May 22.
Around 40 companies participated in the FVJF 2022 in Hanoi, offering 450 vacancies to job-seekers. The FVJF 2022 in Ho Chi Minh City is slated for May 28.
Vietnam represents bright spot in FDI attraction
Vietnam remains a bright spot in terms of foreign direct investment (FDI) attraction, despite the negative impacts of geopolitical factors globally and the Covid-19 pandemic, according to insiders.
Experts made this assessment at the Vietnam Industrial Property Forum 2022 which is being co-organized by Dau Tu (Investment) newspaper and the BW Industrial JSC on May 24.
At the event, Deputy Minister of Planning and Investment Tran Duy Dong emphasized that although the pandemic has disrupted the global supply chain and the flow of goods, investors from Asia, Europe, the US, and ASEAN have continued injecting money into the Vietnamese market.
Last year saw FDI inflows into the country surge by 9.2% to US$31.15 billion compared to 2020, while financers also injected US$10.8 billion into the nation during the four-month period, with the additional investment capital soaring by 92% to reach US$5.29 billion against the same period from last year.
These positive figures have highlighted investors' confidence in the business climate and the Government's policies regarding economic recovery moving into the post-Covid-19 period.
Deputy Minister Dong pointed out that Vietnam is becoming an attractive destination for foreign investors, proving the Government's effective solutions for Covid-19 containment in order to restore production activities and reboot the local economy.
Overview of the forum. Photo: baodautu.vn
Furthermore, these positive signs can also be attributed to rapid vaccination coverage and the Government's bailout packages for socio-economic recovery and development, he noted.
Through consistent political stability and the Government's determination to carry out these drastic measures, Vietnamese GDP in the first quarter of the year grew by 5.03% on-year, higher than last year's growth rate of 4.7%.
Most notably, the country's total trade turnover throughout the reviewed period edged up 15.9% to reach US$242.43 billion, of which FDI-invested firms continued making significant contributions, with import and export value increasing by 14.9% to US$168.37 billion, cited VOV.
Experts analyzed that new-generation free trade agreements (FTAs) such as the Comprehensive and Progressive Agreement for Trans-Pacific Partnership (CPTPP) and the EU-Vietnam Free Trade Agreement (EVFTA) have become a driving force behind economic growth, as well as the country's international trade activities in the post-pandemic period.
Ramping up export activities amid global rising demand for goods will therefore further affirm the country's position as an attractive destination for manufacturers as more local firms are getting involved in the global supply chain, they stressed.
Economists underlined the necessity of developing service industries in an in-depth manner, improving the quality of the infrastructure at industrial parks, training high-quality human resources, and devising additional policies for the development of the supporting industry in order to attract high-quality FDI inflows in the future.
Think tanks also underscored the importance of e-commerce development in pushing up the demand for warehouse real estate and logistics services, assessing that there should be further policies and mechanisms for the logistics and warehousing industry as it becomes a crucial part in the industrial property sector.
Deputy Minister Dong also pointed out that Vietnam has been preparing for a new wave of investment and aiming to become an important global production base by revamping the legal system and improving the local investment climate to prioritize FDI projects that employ modern and eco-technologies.