Vietnam News Today (May 7): Vietnam treasures traditional relations with Cuba: Party leader
Vietnam News Today (May 7) features headlines include Vietnam treasures traditional relations with Cuba: Party leader, Vietnam sends condolences to Mexico over subway overpass collapse, Vietnamese, Canadian and Lao defence ministers hold phone talks.
Vietnam News Today (May 7) notable headlines:
Vietnam treasures traditional relations with Cuba: Party leader
Vietnam sends condolences to Mexico over subway overpass collapse
Vietnamese, Canadian defence ministers hold phone talks
Vietnamese, Lao defence chiefs hold online talks
Vietnam, Cambodia agree upon a range of trade promotion measures
Lao newspaper lauds Vietnam's invaluable assistance in COVID-19 fight
Top legislator inspects Tuyen Quang's preparations for elections
Top Thai Brands 2021 exhibition gets underway in HCM City
Japanese newspaper reviews Vietnam's first unicorn firm
Vietnamese rice exports to China skyrocket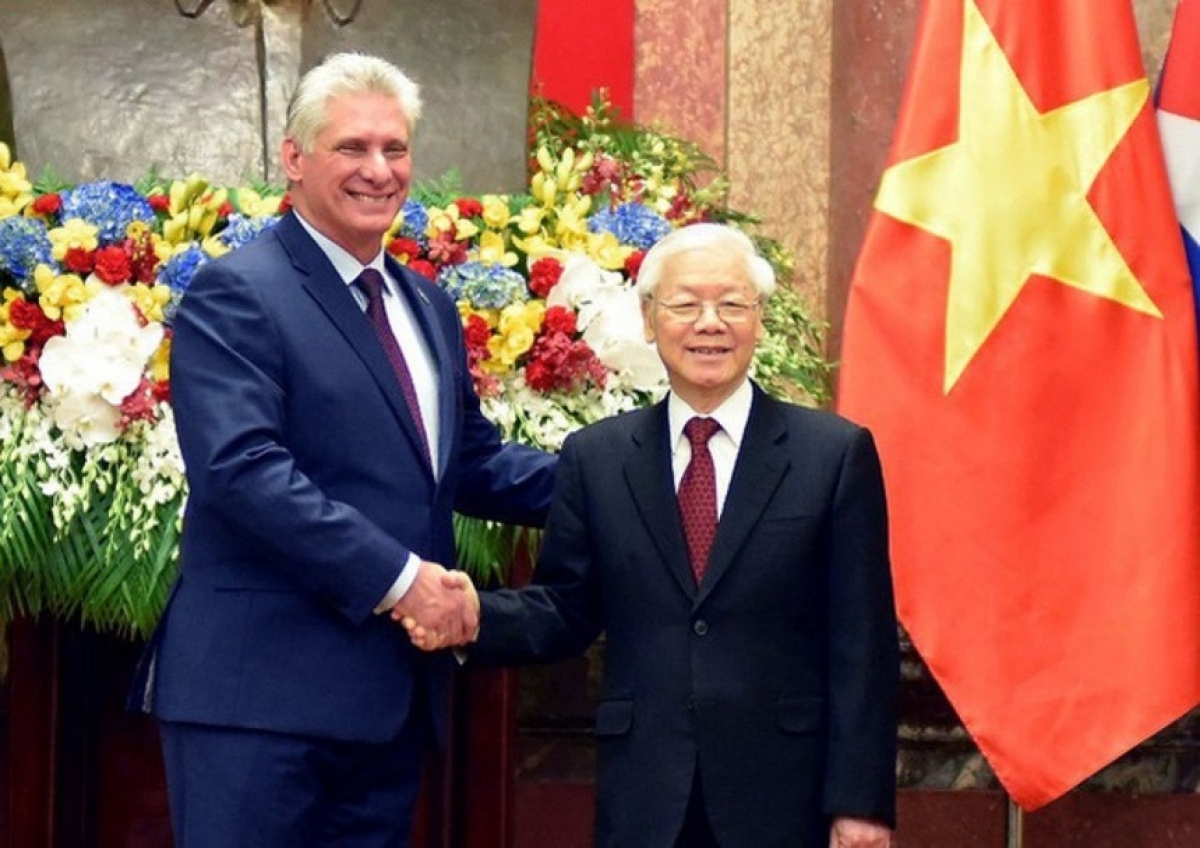 Vietnam treasures traditional relations with Cuba: Party leader
Vietnam attaches great importance to and wishes to further deepen the special friendship and cooperative relations between the two Parties and States of Vietnam and Cuba.
According to VOV, Party General Secretary Nguyen Phu Trong made the statement during phone talks late on May 5 with Miguel Díaz-Canel Bermudez, First Secretary of the Central Committee of the Communist Party of Cuba, and President of the Republic of Cuba.
Trong warmly congratulated the Cuban Communist Party on successfully organizing its eighth National Congress, and Miguel Díaz-Canel Bermudez on his election as first Secretary by the Party Central Committee.
He expressed his belief that the Communist Party of Cuba, headed by Miguel Díaz-Canel Bermudez, will continue to lead the Cuban people to overcome all difficulties and challenges, while realizing goals and guidelines set out by the recent Party Congress, in order to build a prosperous and sustainable socialist country.
The Cuban leader congratulated Vietnam on its achievements in recent times and expressed his belief that under the leadership of the Communist Party of Vietnam and Party General Nguyen Phu Trong himself, the Vietnamese people will successfully implement the Resolution adopted at the recent 13th National Party Congress, in order to build a strong and prosperous Vietnamese nation.
Meanwhile, Party leader Nguyen Phu Trong reiterated Vietnam's unswerving policy of strengthening solidarity with Cuba and opposing embargo and hostility against the Caribbean nation.
Trong suggested that the two sides should continue to coordinate closely to effectively implement bilateral agreements, so as to develop the Vietnam-Cuba relations in a deep, substantial and sustainable manner.
Vietnam sends condolences to Mexico over subway overpass collapse
President Nguyen Xuan Phuc on May 5 sent a message of condolences to his Mexican President Andrés Manuel López Obrador over the deadly metro train line collapse.
The same day, Minister of Foreign Affairs Bui Thanh Son extended his condolences to his Mexican counterpart Marcelo Ebrard Casaubón.
Foreign media reported that a subway overpass collapsed on May 3 in the Mexican capital, sending a train plunging to the ground, killing at least 24 people and injuring dozens more, as reported by VOV.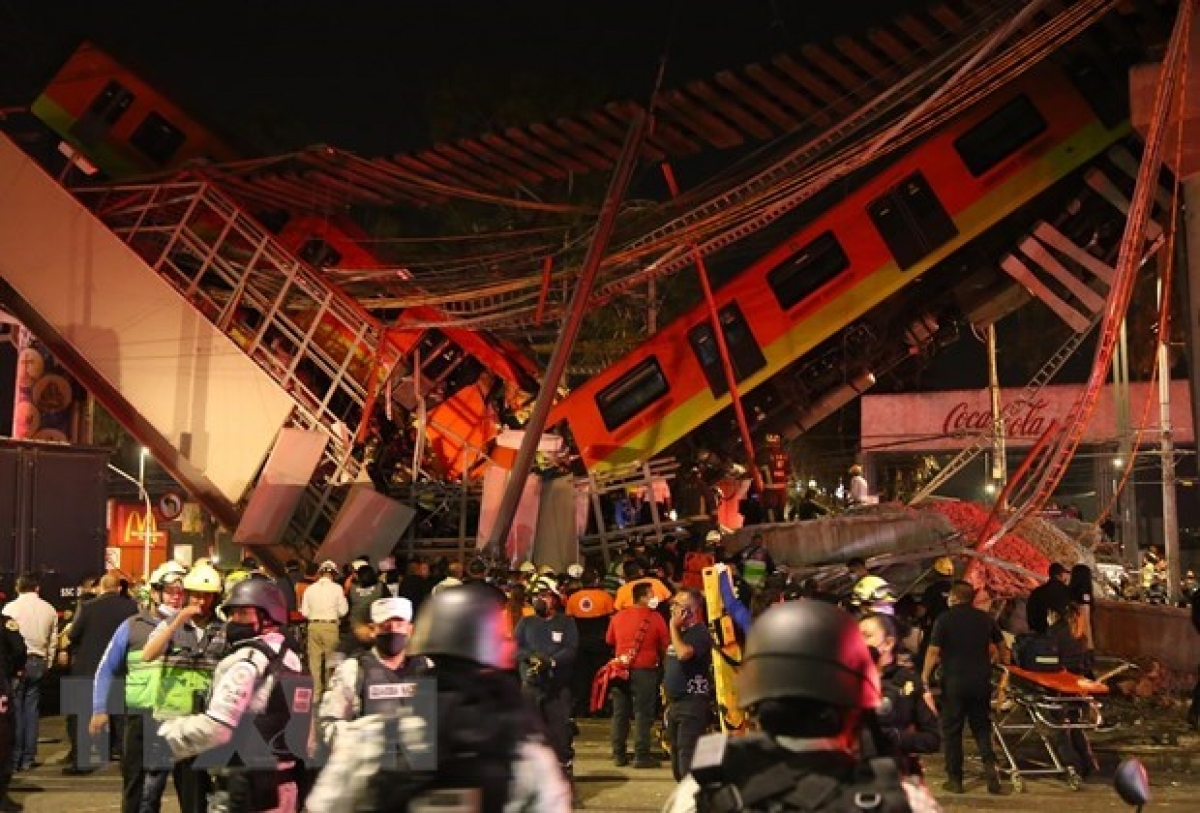 Vietnamese, Canadian defence ministers hold phone talks
Minister of National Defence Sen. Lt. Gen. Phan Van Giang talked over phone with his Canadian Defence Minister Harjit Singh Sajjan on May 6.
Discussing the growth of the Vietnam – Canada diplomatic relations since it was established in 1973, they said the ties have thrived on par with the nations' comprehensive partnership across economy, trade, investment, and education. The bilateral defence cooperation, meanwhile, has grown toward effectiveness, with the sides implementing their memorandum of understanding (MoU) on the collaboration and achieving encouraging outcomes in training, peacekeeping and maritime security.
Sajjan congratulated Giang on his new post as defence minister of Vietnam, and lauded the country's role in ASEAN, as well as the bloc's role in leading and fostering the establishment of multilateral security cooperation mechanisms like the ASEAN Defence Ministers' Meeting Plus (ADMM Plus). The ADMM-Plus is a platform for the bloc and its eight dialogue partners – Australia, China, India, Japan, New Zealand, the Republic of Korea, Russia and the United States - to strengthen security and defence cooperation.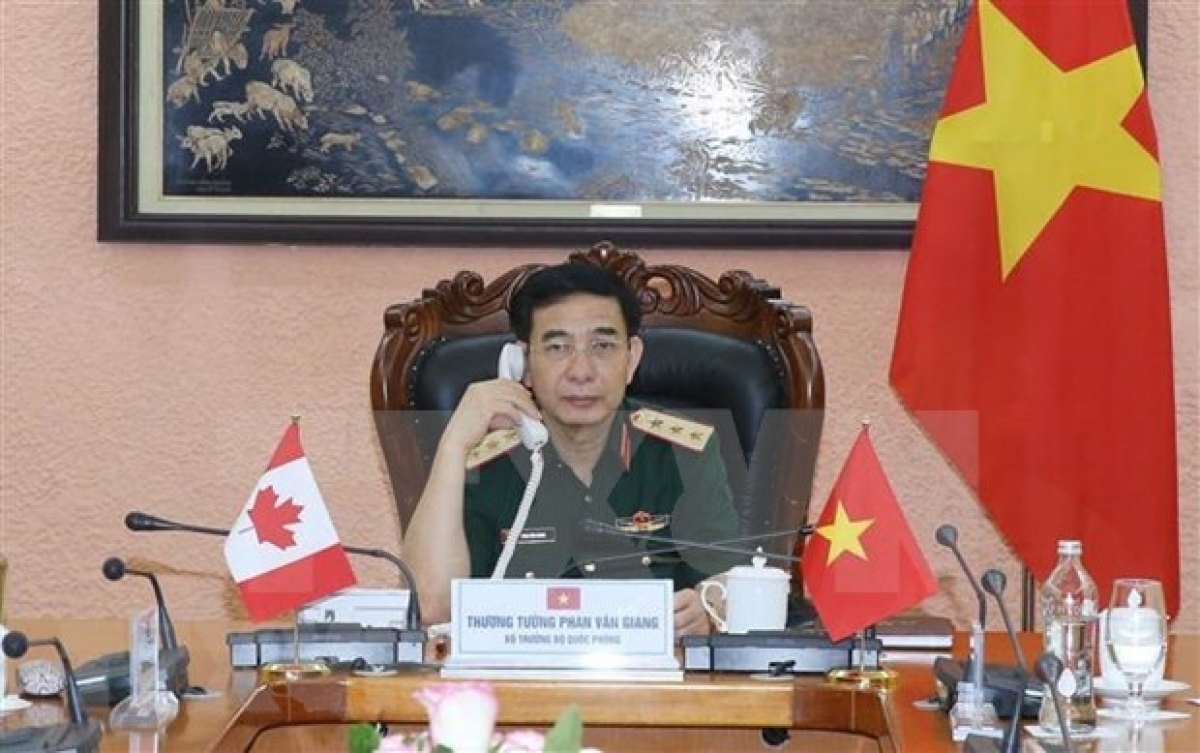 The Canadian official hoped the Vietnamese Ministry of National Defence to back Canada's efforts in joining the ADMM Plus.
For his part, Giang affirmed the new leaders of Vietnam continue consistently pressing ahead with the nation's foreign policy of independence, self-reliance, multilateralisation and diversification as well as defence policy of peace and self-defence, contributing to the regional and global peace.
Both ministers agreed to further bilateral defence engagements in existing areas in line with the MoU with a focus on delegation exchange, dialogue, consultation, training, defence industry, peacekeeping, and marine security. They also mentioned joint research regarding possibilities for the sides to cooperate in military medicine against COVID-19, VOV reported.
Vietnamese, Lao defence chiefs hold online talks
Defence Minister Sen. Lieut. Gen Phan Van Giang held a video call on May 6 with his Lao counterpart, General Chansamon Chanyalat, to discuss measures to boost defence cooperation suitable to the new circumstances.
The two ministers briefed each other on the socio-economic development and defence-security situation in their countries.
They agreed that amid the substantial opportunities and challenges, the Parties, States, militaries, and people of both sides should continue to maintain and reinforce their traditional friendship and special solidarity, especially defence cooperation.
Despite the complex developments surrounding COVID-19, the defence partnership between the two countries has been thriving, focusing on areas such as border management, COVID-19 prevention and control, personnel training, and health care, they noted.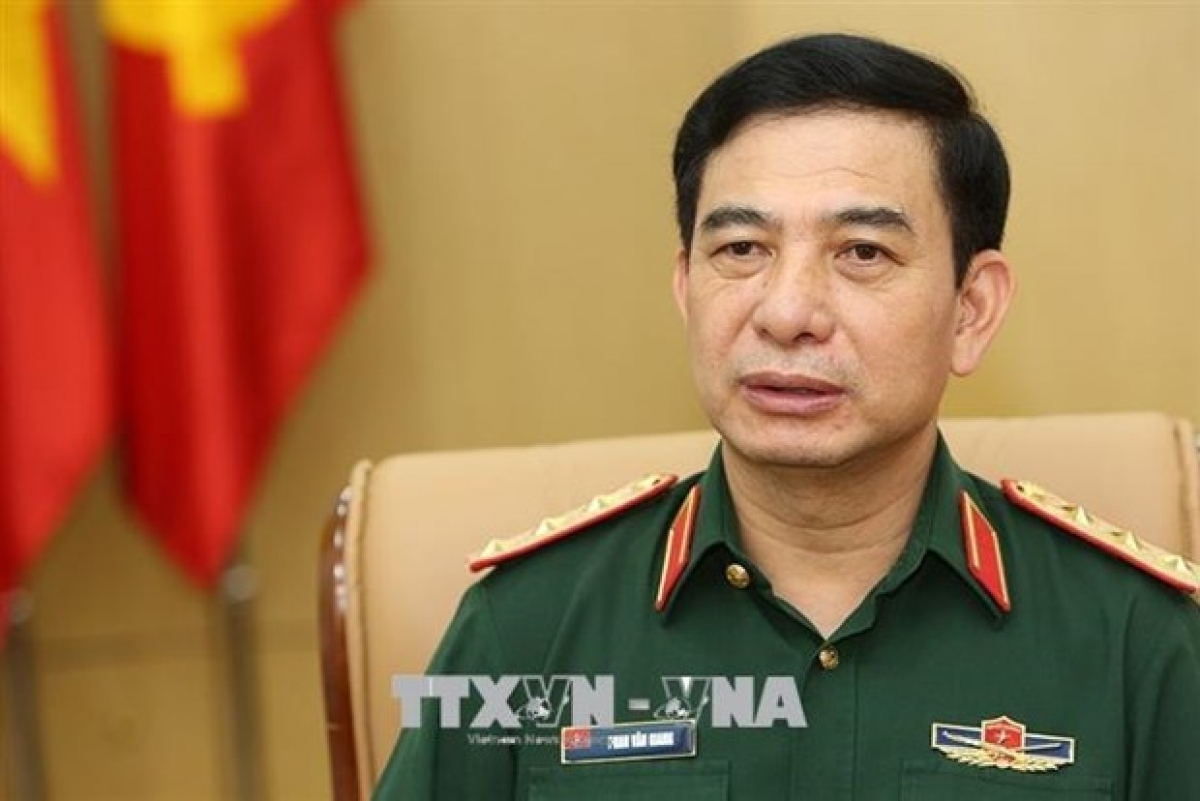 Chanyalat congratulated Giang on his appointment as Defence Minister and thanked the Vietnamese Defence Ministry for providing timely support for the Lao counterpart in COVID-19 prevention and control by sending experts and medical supplies to the country.
For his part, Giang expressed his sympathy towards the Lao people over the difficulties they are currently facing due to COVID-19, and lauded the efforts of the Lao army and people in assisting the Lao Government in overcoming these difficult times to quickly stabilise people's lives.
The two ministers concurred that in the future, as COVID-19 is forecast to remain a complex issue that will affect the implementation of the signed cooperation plan for 2021, both sides should seek cooperation methods suitable to the circumstances, focusing on a number of areas, such as Party-political affairs, personnel training, border management, combating trans-national crime, smuggling and trade fraud, and preventing illegal exit and entry, VOV said.
Vietnam, Cambodia agree upon a range of trade promotion measures
Minister of Industry and Trade Nguyen Hong Dien and Cambodian Ambassador to Vietnam Chay Navuth discussed a wide range of measures to bolster bilateral ties across trade, industry and energy during a recent working session in Hanoi.
The measures will be focused on maintaining and renovating customs clearance model at border gates on roads and waterways, while ensuring that the supply chain will not be disrupted, especially for necessities such as medical and food supplies, amid the COVID-19 pandemic.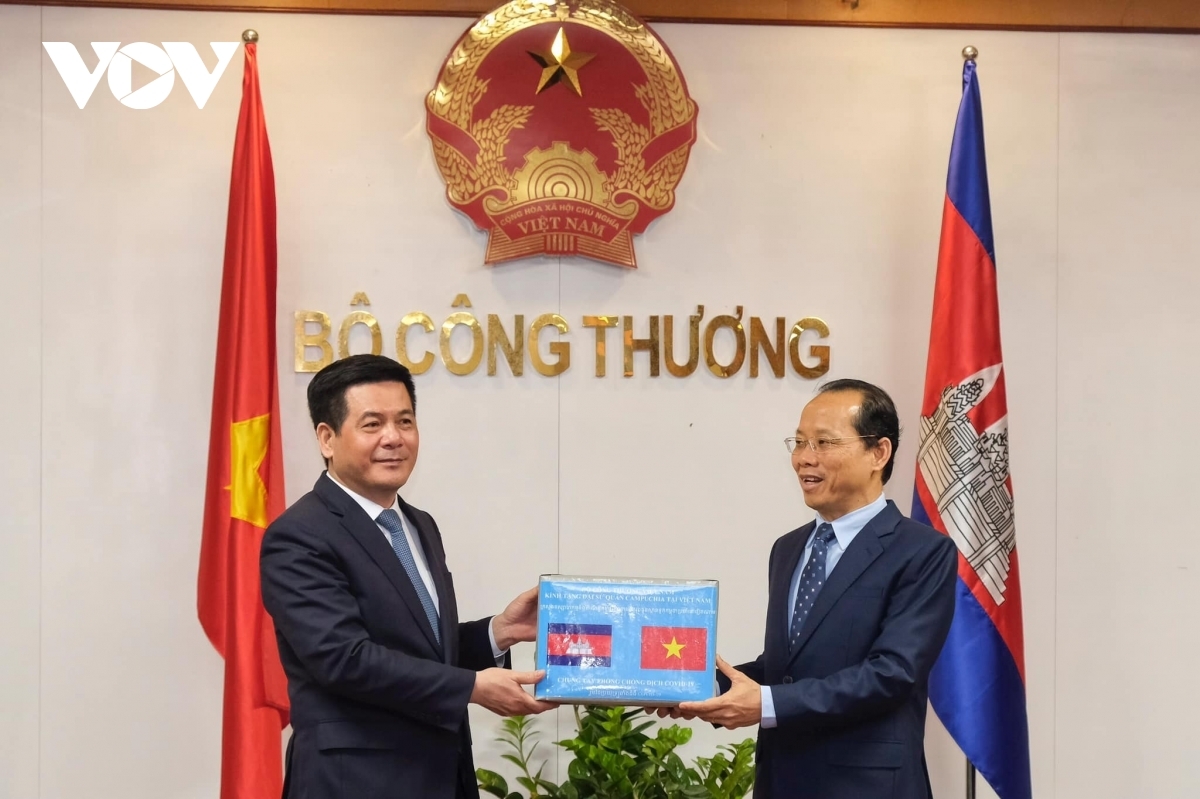 In addition, both sides consented to review, revise and sign legal frameworks related to trade, especially an agreement between the two governments to enhance bilateral trade for the 2022-2023 period.
They pledged to fast-track the implementation of a master plan to realize a memorandum of understanding on connectivity and development of border trade infrastructure between the two governments.
Further support will be given to enterprises to promote trade, build trademarks and distribution channels, enhance information sharing, fight against smuggling across the border, step up power purchase partnership, and ensure the stability and safety of each nation's electricity system, according to VOV.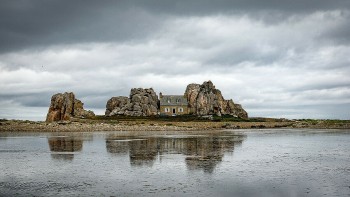 Travel
In a quiet little village of Plougrescant, France, tourists can visit this quirky and extraodrinary Castel Meur, also known as "The House Between The Rocks", which has become an attraction for many years.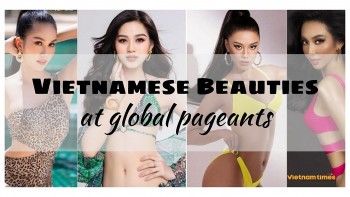 Handbook
Do Thi Ha, Pham Ngoc Phuong Anh, Nguyen Thuc Thuy Tien and Nguyen Huynh Kim Duyen set to vie for global beauty pageants.
World
In the outskirt of Poland, there is a pretty rural village that is called "The painted village" for its amazing and unique tradition of painting their homes inside and out with colorful floral patterns, making this place the most photogenic spot.