Vietnam News Today (Nov. 18): President Attends High-level Seminar with US-APEC Business Coalition
Vietnam News Today (Nov. 18): President attends high-level seminar with US-APEC Business Coalition; Vietnam advocates cooperating with foreign investors: President; Vietnam earns international plaudits for its anti-inflation efforts; Strong purchasing power, demand drive Vietnam's economic growth: expert.
Vietnam News Today (Nov. 18) notable headlines
President attends high-level seminar with US-APEC Business Coalition
Vietnam advocates cooperating with foreign investors: President
Vietnam earns international plaudits for its anti-inflation efforts
Strong purchasing power, demand drive Vietnam's economic growth: expert
Three Vietnamese among top 1,000 global scientists
President Phuc emphasizes ensuring fair, transparent and efficient international trading system
Vietnam enjoys impressive growth in aquatic exports to China
President highlights requirements of future trade, investment at APEC CEO Summit
Vietnam Digital Finance Conference & Expo 2022 held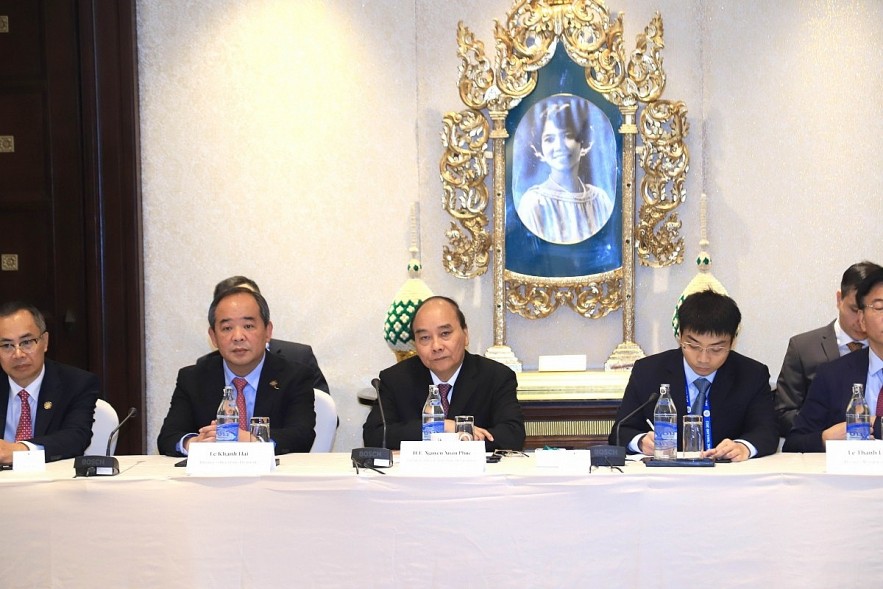 State President Nguyen Xuan Phuc attends the event. Photo: VOV
President attends high-level seminar with US-APEC Business Coalition
President Nguyen Xuan Phuc has emphasized that the country's comprehensive co-operative partnership with the United States will continue to develop once effective and successful links between firms of both sides are achieved.
This comes as the Vietnamese President attended a high-level seminar on November 17 with the US-APEC Business Coalition, with the event featuring the participation of a number of major US groups and enterprises running business investment activities in the nation.
In his speech to welcome representatives of major US groups, important investors, and close friends of the country over the years, the Vietnamese State leader stated that through the positive development momentum of the joint comprehensive co-operative partnership, the seminar will be a platform for participants. Indeed, it will give them a chance to exchange, propose, and raise new ideas and new opportunities for business investment in the Vietnamese market in the near future.
Informing investors about the main highlights of the Vietnamese economy over recent years, President Phuc, in the context of many fluctuations occurring in the world, such as the Covid-19 pandemic, as well as opportunities, noted that Vietnam is focused on promoting internal resources to ensure pandemic control, economic recovery, and development which have achieved positive results.
The macro-economy remains stable with controlled inflation, with the country being among the top 20 in the world in terms of trade scale, GDP in the first nine months of the year increased by 8.83%, and international organisations such as the World Bank and the IMF have given optimistic forecast about GDP growth of about 7.5% to 8.2% this year. In addition, the UN Conference on Trade and Development (UNCTAD) has put Vietnam in the top 20 countries attracting FDI in the world.
The nation therefore advocates shifting from "attracting" FDI to "co-operating" with foreign investors in the spirit of equality, mutual development, mutual benefits, environmental protection, and prioritising projects that apply high technology, which has made active contributions to the country's sustainable development o.
In recent years, the nation has been a destination for many large US technology groups, such as Apple, Dell, Intel, and Nike, cited VOV.
President Phuc asked US businesses to strengthen links and offer the right conditions for Vietnamese firms as they become more involved in the production supply chain, thereby making Vietnam a hub in the regional and global value chain.
Expressing their respect and welcome for President Phuc's participation in the seminar, representatives of US businesses and economic groups all hailed Vietnamese economic growth achievements recorded over recent times. Many noted that it has always been at a high level compared to other economic regions throughout the world, especially policies on foreign investment attraction, Covid-19 pandemic response, as well as political and macroeconomic stability.
Michael Michalak, senior vice president and regional managing director of the US-ASEAN Business Council and former US Ambassador to Vietnam, shared experience of his many years of working in Vietnam. Accordingly, US businesses and investors continue to receive support through President Phuc and Vietnamese relevant agencies in various positions.
Quint Simon, representative of Amazon web service, said that the company has invested in Hanoi and Ho Chi Minh City for the past few years. He expressed his desire to see Vietnam implement more favourable policies for the development of digital economic services, such as cloud computing, ensuring network security, and pledging to accompany the country in the digital transformation process.
Speaking on behalf of Google, Quynh Do thanked relevant Vietnamese agencies for their positive support for Google's business activities over the years, adding that Google desires to continue to participate more deeply in the e-commerce development and digital transformation in Vietnam in the near future.
Representatives of large US enterprises and groups also noted that they would continue to expand their investment in Vietnam and introduce fresh products and modern technologies into the Vietnamese market. This will be in areas such as health, population, digital transformation in finance and banking, smart agriculture, renewal energy, construction of infrastructure, high technology, information technology, and research and development activities.
The Vietnamese leader stressed that the country will strive to step up green growth, digital economy, sci-tech, innovation and deeply join the global investment structure, trade order, and supply chain.
Furthermore, the country will continue to open its economy, switch to quality and focused FDI co-operation, and help domestic enterprises improve production capacity to join the supply chains of foreign-invested firms, he said. The President added that the country will also strive to create a transparent and favourable business environment in line with new-generation free trade agreements and toward practices of the Organisation for Economic Cooperation and Development (OECD).
These include maintaining socio-political and macroeconomic stability; removing economic bottlenecks related to legal institutions, infrastructure and human resources; developing supply chains and reducing transaction costs, especially logistics and administrative costs; as well as building an environment with stable policies, transparency, and accountability.
He stated his wish that with their pioneering roles, US firms will expand their operations in Vietnam in order to contribute to its socio-economic development moving forward.
President meets President of Thai National Assembly Chuan Leekpai
On November 17, President Nguyen Xuan Phuc met President of the Thai National Assembly Chuan Leekpai in Bangkok within the framework of his official visit to Thailand.
Congratulating Vietnam on its economic recovery and growth post Covid-19, President of the Thai National Assembly Chuan Leekpai affirmed that the country is an important partner of Thailand in Asia.
President Phuc expressed his delight at the close cooperation of the two National Assemblies, including the outcomes of the talks between Vietnamese National Assembly Chairman Vuong Dinh Hue and his Thai counterpart in August 2021, and appreciated the Thai leader's contributions to the two countries' friendship and cooperation.
The two sides agreed to intensify high-level and all-level contacts and exchanges, continue promoting the role of the legislative bodies in boosting the bilateral relations and supervising the implementation of the signed agreements, and share experience in the building and perfection of policies and laws to facilitate bilateral collaboration.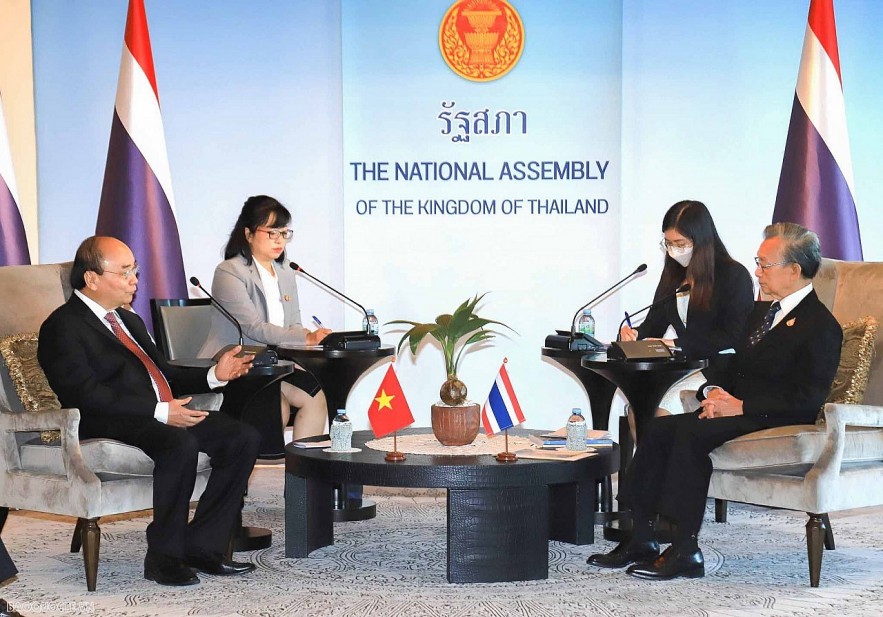 President Nguyen Xuan Phuc meets President of Thai National Assembly Chuan Leekpai on November 17, 2022. Photo: WVR/Nguyen Hong
President of the Thai National Assembly Chuan Leekpai affirmed to coordinate closely with the Vietnamese side in carrying out the agreement on mutual legal assistance in civil matters freshly signed between the two nations.
Speaking highly of the quality of Vietnamese education, he stressed the need to expand bilateral cooperation in education and training, and intensify the teaching of the Vietnamese language in Thailand and vice versa.
He also asserted that the Thai National Assembly will continue supporting and creating more favourable conditions for the Vietnamese community and Vietnamese associations in his country.
The Vietnamese President proposed the Thai Parliament back the opening of the Thai market for more Vietnamese goods, and speed up the signing and ratification of new agreements to better meet diverse collaboration needs between the two sides.
Regarding the international and regional situations, President Phuc suggested the Thai National Assembly continue to back the maintenance of ASEAN's common stance on keeping peace and stability; ensuring security, safety and freedom of navigation and aviation in the South China Sea; and settling disputes by peaceful means, on the basis of international law, including the 1982 United Nations Convention on the Law of the Sea (UNCLOS), fully implementing the Declaration on the Conduct of Parties in the South China Sea (DOC), and soon achieving a substantive and effective Code of Conduct in the South China Sea (COC) in accordance with international law.
Vietnam earns international plaudits for its anti-inflation efforts
Inflation is currently being well controlled in Vietnam thanks to an active and flexible monetary policy, coupled with self-control in the supply of basic necessities in the country, according to foreign experts.
Supply chain disruption globally caused by the Covid-19 pandemic and the subsequent conflict between Russia and Ukraine has sent energy and food prices skyrocketing around the world.
Starting from developed economies, inflation has become a common story among many countries globally. However, for Vietnam, inflation has been kept under control thanks to an active and flexible monetary policy with self-control shown in the supply of basic necessities in the country.
Pemba Tshering Sherpa, communications officer of the International Monetary Fund (IMF), assessed that Vietnamese inflation was lower than that of most countries in the region.
Until recently, inflation has been mostly limited to certain goods such as fuel and fuel-intensive services such as transportation.
Sherpa said that consumers had largely been unaffected by the rise in global food prices due to ample domestic supply, lower pork prices from last year's peak, and the focus on consuming rice, a habit which is still cheaper than wheat and other grains.
According to Sherpa, the reduction of environmental tax and other taxes and fees on petroleum products, such as preferential import tax and special consumption tax, helps to reduce the impact of rising world oil prices on Vietnamese households and businesses.
Furthermore, the freezing of prices for some services, including electricity, healthcare, and education, has also contributed to keeping inflation under control so far, VOV reported.
Meanwhile, Nguyen Minh Cuong, chief economist of the Asian Development Bank (ADB) office in Vietnam, stated that the State Bank of Vietnam (SBV) raising the deposit interest rate ceiling and the lending rate ceiling, as well as widening the exchange rate band from ±3% to ±5%, are completely appropriate steps. Indeed, these are being taken as a means of stabilising macro conditions to ensure medium and long-term growth.
According to the assessment of Andreas Hauskrecht, Clinical Professor of Business Economics at the Kelly School of Business under the US's Indiana University, the country has done a good job in curbing inflation, expressing his appreciation for the decisions of the SBV in this regard. Inflation, especially core inflation, in Vietnam is both low and stable, he added.
Prof. Hauskrecht said that Vietnamese management agencies have responded well to the impacts of Covid-19 as a way of keeping inflation in check.
Sherpa went on to note that Vietnamese policies have been well-functioning as they support recovery efforts in the post-Covid-19 transition.
However, risks remain amid a significant slowdown in global demand, thereby increasing domestic inflationary pressures and growing pressure on the Vietnamese currency.
These challenges therefore require a shift from a more favourable policy stance to a more cautious one, with a particular focus on maintaining macroeconomic and financial sector stability.
Sherpa also made recommendations on policies and measures for the Vietnamese economy, emphasising that in the short term, monetary and fiscal policies must be carefully communicated.
In terms of currency, the SBV should continue to focus on price stability, particularly after the decision to widen the exchange rate band.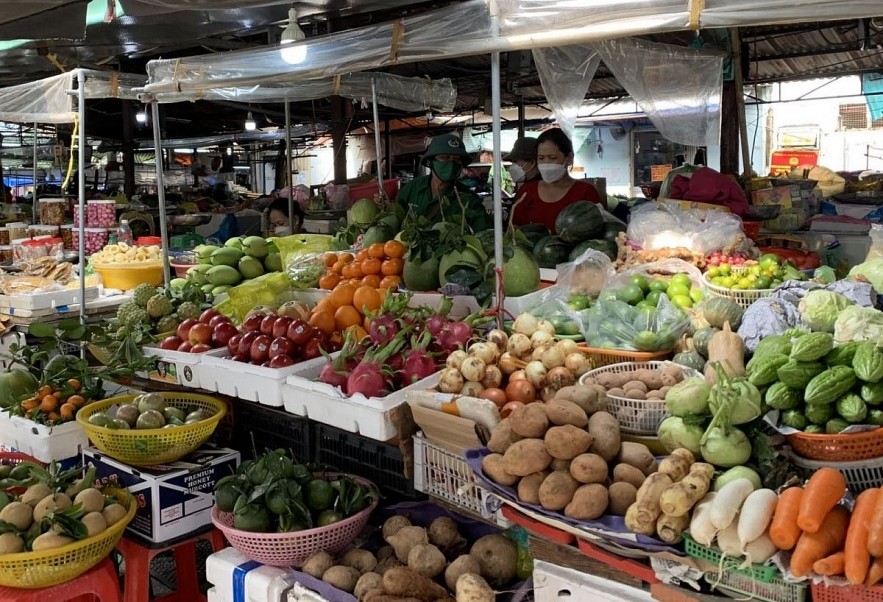 Photo: VOV
Foreign exchange reserves should also be preserved in response to market turmoil that may worsen in the future.
The SBV should primarily rely on raising domestic interest rates and lowering the ceiling on credit rates in a bid to curb inflation, even if it means somewhat lower growth.
The IMF also encouraged the nation to maintain its inflation target at 4% by 2023 to demonstrate its strong commitments to ensuring price stability.
Fiscal policy must be flexible in the face of growing uncertainty, Sherpa said, adding that the country should rely on targeted transfers to the most vulnerable households and businesses, as opposed to deploying additional broad-based fiscal stimulus measures that would boost inflation. In addition, protecting the stability of the financial system must also be regarded as vital, she added.
Furthermore, the unusually high levels of inflation in many advanced economies could prompt many central banks to continue to raise interest rates in an aggressive manner.
In response, the SBV may face pressure to continue raising the domestic exchange rate.
Cuong assessed that the nation needs to be flexible, continue to adjust the exchange rate band, and raise interest rates at an appropriate level. The problem is which tool will be used in the near future, he emphazised.
Measures aimed at reducing lending interest rates in the 2022 to 2023 period in the economic recovery package will be difficult to implement, although other measures such as tax reduction and extension remain effective. The nation also needs to consider the objectives of its fiscal policies, Cuong stated.
Moving forward, the country needs to manage the foreign exchange and banking markets, learning the lessons of the 2008 to 2010 financial crisis in order to avoid putting too much pressure on monetary policy.
However, the most important thing is that the confidence of foreign investors and people continues to increase and the measures that Vietnam takes are still effective.
Prof. Hauskrecht said that, until the time when the US Federal Reserve (Fed) starts to change the monetary policy and lower interest rates, the nation will have more room to introduce additional stimulus measures.
According to him, the country needs to maintain stable interest rates, reasonable fiscal policy, and prudent monetary policy in the immediate future.
Strong purchasing power, demand drive Vietnam's economic growth: expert
Strong purchasing power and demand have created a fast and strong locomotive for economic growth, and Vietnam is forecast to record a GDP growth rate of over 8% this year, said Executive Chairman of Dragon Capital Dominic Scriven.
This is a rare high amid the context that 2022 is a year full of difficulties for not only Vietnam but also the whole world, he told the Vietnam News Agency.
He held that this growth is driven by a purchasing power rebound after the COVID-19 pandemic, as well as the strength of the Vietnamese economy, especially political and social stability, the stability of economic and investment policies, and its openness and integration into the global economy.
Scriven noted the economy's internal driving forces are relatively balanced and strong, from people's demand, enterprises' strength, and foreign investment attraction to Vietnam's competitiveness thanks to free trade agreements, which have helped open up new markets.
Vietnam is assessed as a new and strong economy with an internationally recognised stature. It is a rare example of stability among Southeast Asian nations, the Dragon Capital leader went on, adding that while global uncertainties this year are mainly caused by food and energy crises, it seems to haven't suffered from too big impacts.
Echoing the view, Dr. Ho Quoc Tuan, senior lecturer in finance and accounting at the UK-based University of Bristol, said since the year's beginning, Vietnam has succeeded in sustaining high economic growth and low inflation, about 3% - lower than other Asian countries like Japan, Indonesia, the Republic of Korea, and many European countries, which have neared an inflation rate of over 10%.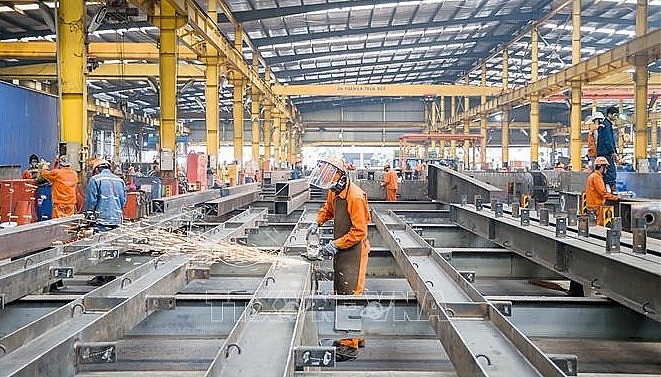 Illustrative image. Photo: VNA
However, he noted, it is hard for Vietnam to maintain a high growth rate amid prolonged difficulties predicted for the global economy for many months to come. In particular, its exports will be affected by a slowdown in global export growth.
It will also be difficult for enterprises to maintain growth and capital accessibility since the country is facing increasing production costs while interest rates are surging, causing pressure on foreign exchange rates and general interest rates in the economy.
Tuan recommended that to keep economic growth, Vietnam should use fiscal tools, including boosting public spending, especially on infrastructure development, power generation, and climate change fight, to support the economy and enterprises. It is also important to step up market reforms and create opportunities for businesses to develop further.
Scriven said Vietnam should not lower vigilance but continue reforming the labour market, the real estate market, trade and visa regulations, and accounting standards.
The British expert also pointed out chances for Vietnam as global supply chains are being restructured, and many foreign firms are paying attention to the country, which is currently viewed as a manufacturing hub for the Asian market.
Three Vietnamese among top 1,000 global scientists
Three Vietnamese have been named in a list of 1,000 leading global scientists in terms of research publications over the last 13 years.
The rankings were released by Research.com, a reputable academic research portal.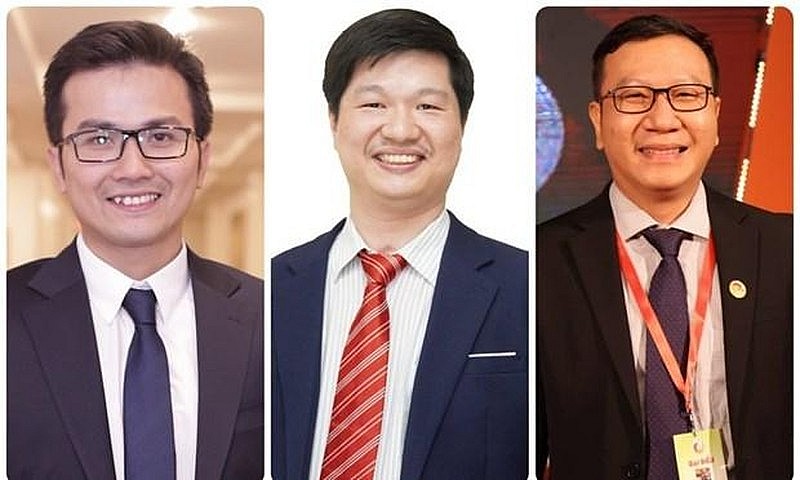 From left: Assoc. Prof. Tran Xuan Bach, Assoc. Prof. Dr. Le Hoang Son, and Assoc. Prof. Dr. Phung Van Phuc. Photo: NDO
Among the honourees, Assoc. Prof. Tran Xuan Bach from the Hanoi Medical University, with his publications on community health, ranks third and is the only Vietnamese to be present in the top 10. He was also the youngest to be granted the Associate Professor title in Vietnam – at the age of 32 in 2016.
Specialised in mechanical engineering and aerospace, Assoc. Prof. Dr. Phung Van Phuc from the Ho Chi Minh City University of Technology ranks 958th. He used to be named among the world's 100,000 most influential scientists for four consecutive years, VNA reported.
Meanwhile, Assoc. Prof. Dr. Le Hoang Son from the Vietnam National University - Hanoi ranks 190th. Working in computer science, he was also among the world's best 10,000 scientists for three straight years, in 2019, 2020, and 2021.
Recently, a group of professors from the US-based Stanford University also published a list of the world's 10,000 most influential scientists, including 37 Vietnamese. Of the 100,000 most influential in terms of lifetime achievement, there are seven Vietnamese, namely Prof. Nguyen Minh Tho (Ton Duc Thang University), Tran Tinh Hien (clinical research unit at the Oxford University), Prof. Nguyen Xuan Hung (HCM City University of Technology), Prof. Nguyen Dinh Duc (Vietnam National University - Hanoi), Assoc. Prof. Le Hoang Son (Vietnam National University - Hanoi), late Prof. Hoang Tuy (Institute of Mathematics), and Prof. Nguyen Ba An (Institute of Physics and Electronics under the Vietnam Academy of Science and Technology).