Vietnam News Today (Nov. 21): Vietnam-Canada Relations Boast Huge Potential For Stronger Development
Vietnam News Today (Nov. 21): Vietnam commits cooperation with IOM; Vietnam-Canada relations boast huge potential for stronger development; HCM City exploits waterway tourism potential; Vietnamese Teachers' Day marked in Russia, Germany.
Vietnam News Today (Nov. 21) notable headlines
Vietnam commits cooperation with IOM
Vietnam-Canada relations boast huge potential for stronger development
HCM City exploits waterway tourism potential
Vietnamese Teachers' Day marked in Russia, Germany
Fansipan peak covered in frost as temperatures plunge to zero
Hai Phong eyes stronger trade cooperation with India
Da Lat aims to attract 190,000 tourists during 23rd Vietnam Film Festival
Domestic market should be promoted to maintain economic growth: Expert
Fansipan – endless source of inspiration for photographers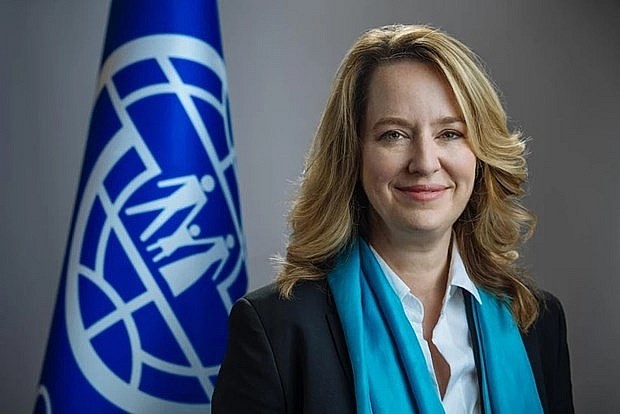 IOM General Director Amy Pope (Photo: IOM)
Vietnam commits cooperation with IOM: Ambassador
Vietnam has supported and committed to boosting cooperation with the International Organisation for Migration (IOM) to carry out the Global Compact for Migration (GCM), a high-ranking official has said.
At a recent working session with IOM General Director Amy Pope, Ambassador Le Thi Tuyet Mai, Head of the Permanent Mission of Vietnam to the United Nations (UN), World Trade Organisation (WTO) and other international organizations in Geneva, highlighted that the Vietnamese ministries, sectors and branches have prioritized and worked together to ensure multi-sectoral approach in handling migration challenges.
She pointed to several cooperation fields such as protecting rights for migrant workers, ensuring health and medical access for migrants, and improving locals' ability to adapt and respond to climate change.
Vietnam has proactively engaged in international cooperation mechanisms on migration within the framework of ASEAN, ASEM and APEC, she added.
Welcoming Vietnam's efforts and achievements in migration and the realization of the GCM, Pope said enhancing migrants' response and resilience to climate change and natural disasters will be a top priority of IOM's activities in the coming time, according to VNA.
Vietnam and the IOM also hold great potential to boost cooperation at international mechanisms, especially those on migrant workers, the settlement of migration challenges in tandem with the realization of development goals, and improvement of climate change response capacity, she said.
Pope assumed the post of the IMO General Director on October 1, 2023, becoming the first woman to lead the UN migration agency. Her priorities include promoting the participation of member states and the private sectors in response to migration challenges, encouraging rational policies for member states, capitalizing on the IOM's database, and continuing to reform the IOM's budget programs.
Vietnam-Canada relations boast huge potential for stronger development
Vietnam always views Canada as one of its most important partners, particularly as it is the second largest partner behind the United States in the Americas, while Canada regards Vietnam to be its largest trading partner in ASEAN, as well as a gateway to help Canadian firms make inroad into the region.
The 50th anniversary of diplomatic ties between both sides was recently celebrated by the Canada-ASEAN Business Council (CABC) in Montreal with a view of continuing to promoting the friendly and co-operative relationship that exists between the two nations.
In his speech at the ceremony, Vietnamese Ambassador to Canada Pham Vinh Quang emphasized that the Vietnamese side always considers Canada to be a true friend and partner. After half a century, the two sides have witnessed positive changes in their relationships, especially since the establishment of a Comprehensive Partnership in 2017.
Mutual relations have contributed to realizing Canada's Indo-Pacific Strategy and Canada's strategic partnership within the ASEAN region, Ambassador Quang added.
Ghislain Robichaud, regional director for Québec & Nunavut at Global Affairs Canada, said that Vietnam remains the focus in terms of the priorities in the Indo-Pacific Strategy that Canada is currently implementing.
The future of the relationship is therefore promising, especially in the field of trade thanks to the Comprehensive and Progressive Agreement for Trans-Pacific Partnership (CPTPP), according to VOV.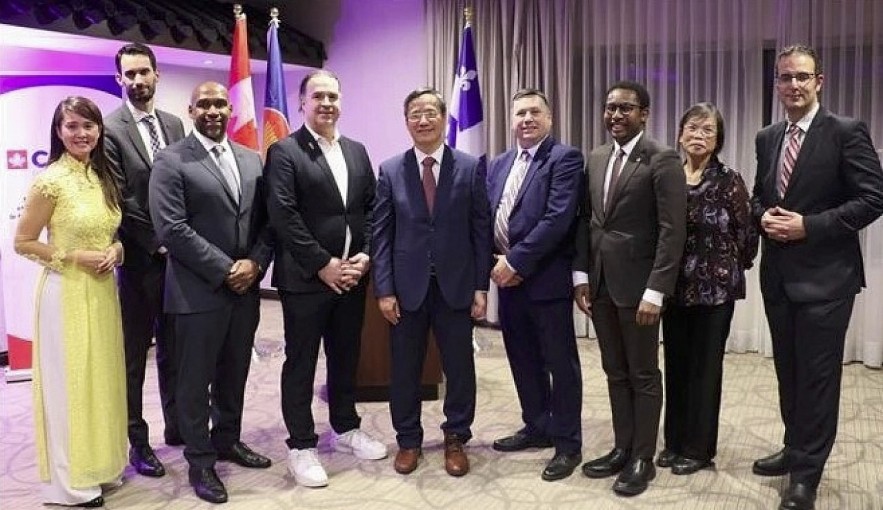 Vietnamese Ambassador to Canada Pham Vinh Quang (C) and representatives of the Canadian Government, Quebec province, Montreal city and CABC. (Photo: VNA)
At present, the Indo-Pacific region is the second largest international export market for the province of Quebec and is also one of the Canadian markets that has boasted the strongest growth rate over recent years.
Since 2018, when the CPTPP was carried out, the Quebec government supported more than 250 provincial businesses in expanding operations to the country.
This year has seen CABC launch a broad array of activities in a bid to boost Canadian trade and investment in ASEAN, with a particular focus on the Vietnamese market amid the occasion of the 50th anniversary of both nations' diplomatic relations.
Most recently, CABC co-ordinated with the Canadian Consulate General in Ho Chi Minh City to hold the Clean Energy Conference under a programme aimed at supporting the Vietnamese Government and businesses in energy conversion and climate change adaptation to ensure energy security.
CABC Executive Director TB Nguyen said Vietnam plays an important role among the Asian countries that the council is targeting, especially in the context that the two countries are celebrating half a century of diplomatic ties.
The celebration ceremony is taking place as part of a series of events that CABC has been organizing in both Canada and Vietnam as a means of contributing to enhancing this relationship and creating an economic corridor between the two sides, he added.
Together with Canada, the Quebec government has made the Vietnamese side its priority and considers the country to be a new intersection in the global value chain because of great potential in a number of key fields that Quebec is interested in.
Quebec currently enjoys a dynamic and innovative economy in sectors such as aerospace, information technology, artificial intelligence, biotechnology, and renewable energy.
Director General of the Indo-Pacific Region Gabriel Chartier of the Quebec Ministry of International Relations and Francophonie shared that Quebec and Vietnam share similarities because they both have the same Francophone cultural background.
In fact, the two sides have had close co-operative ties for a long period of time and since the co-operation agreement signed in 1992, both parties have signed 125 bilateral co-operation projects.
​Bilateral trade relations have recently reached more than CAD2 billion, equal to US$1.5 billion, of which the nation primarily imports from Quebec electronic equipment, agricultural and medical products, while exporting electronics, footwear, and clothes to Quebec.
The two sides are also poised to implement new collaboration projects as a mean of diversifying ties, including in culture, sustainable development, and technology research.
Canada, alongside G7 countries, have pledged to support the country in mobilizing US$15.5 billion to achieve the goal of reaching zero emissions by 2050. CABC has also set similar goals and will work with other parties to realise this plan.
CABC was established in 2012 by Canadian companies operating in ASEAN. The organization is responsible for strengthening trade relations between Canada and ASEAN, with CABC currently headquartered in Singapore with an office in Montreal.
HCM City exploits waterway tourism potential
Ho Chi Minh City has been holding various activities this year to promote waterway tourism, including the first-ever river festival and new waterway tours, aiming to better exploit its advantages with a dense river and canal network and rich riverside culture.
The first river festival in the city was held in August this year, providing tourists and residents with new inspiring experiences about the city's culture throughout periods.
Director of the city's Tourism Department Nguyen Thi Anh Hoa said the festival also helped State management agencies to better identify the city's potential for waterway tourism and step by step build its brand as a riverside city.
At the recommendation of the city's Department of Tourism, the municipal People's Committee has issued a plan on developing waterway tourism products in the city in the 2023-2025 period.
Under the city's Tourism Development Strategy until 2030, waterway tourism products are identified as one of the tourism products that make a difference for the city, satisfying international and domestic tourists' needs for exploring cultural values.
The city has opened many waterway routes in the inner city, facilitating both passenger transportation and river tourism, cited VNA.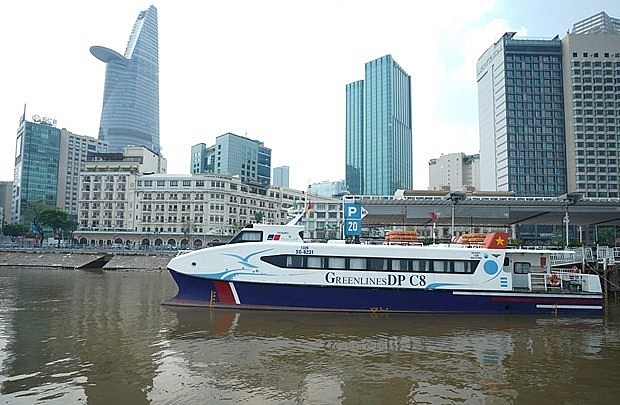 Ho Chi Minh City aims to better exploit its advantages with a dense river and canal network and rich riverside culture. (Photo: VNA)
According to preliminary statistics of the tourism department, 123 waterway vessels are operating including 43 restaurant boats, accommodation ships, yachts and 80 canoes and small wooden boats.
In 2018, the city served 845,400 waterway tourists including 805,400 on river tours and 40,000 on sea tours. The figure in 2019 was 786,700, with 745,500 on river tours and 41,200 on sea tours.
To date, over 100 enterprises in the city are offering 150 waterway tours which are more and more diversified.
Deputy Director of the Department of Tourism Bui Thi Ngoc Hieu said that by 2025, the city's tourism industry aims to offer waterway tourism services on all Saigon River system (Nha Be, Soai Rap, Long Tau) with linkages to those in neighboring localities of Dong Nai, Binh Duong, Tien Giang, Long An, and Ben Tre, and create more tours connecting seaports with river routes.
The city looks to turn waterway tourism into a distinctive tourism product by 2030.
Hieu said that to achieve the goal, the city needs qualified wharves and ports to serve tourism. It also needs mechanisms and policies to attract businesses to invest in facilities like wharves, waiting areas, or public restrooms to serve tourists.
For cruise tourism, the city needs to have a policy on allowing large ships to dock in ports in the city center to effectively exploit Saigon port, she said.
Moreover, the city calls on businesses to invest in developing passenger transport routes between the city and Con Dao (an island in Ba Ria-Vung Tau province) to promote the development of inland waterway transport and coastal transport.
According to Nguyen Thi Hau, General Secretary of the Ho Chi Minh City Association of History, as a riverside city, Ho Chi Minh City needs to design its river banks to beautify the landscape and optimize the values of the Saigon river. In particular, Saigon Port should be converted into a tourist port to facilitate the development of waterway tourism, she said.
Vietnamese Teachers' Day marked in Russia, Germany
On November 19, a ceremony was held at the Hanoi-Moscow Trade Center (Incentre) to celebrate the 41st Vietnamese Teachers' Day (November 20).
Speaking at the event to celebrate the 41st Vietnamese Teachers' Day, Nguyen Khanh Duy, vice secretary of the Ho Chi Minh Communist Youth Union in Russia, said that the event aimed to honor teachers who have a very important role and position in society.
He expressed his hope that more Vietnamese-language classes will be opened to maintain the language's vitality in the community and help Vietnamese children living in Russia become ambassadors contributing to boosting Vietnam-Russia relations.
On the same day, the AWO Vietnamese-language school in Berline held a ceremony to mark its 15th founding anniversary and the41st Vietnamese Teachers' Day, WVR reported.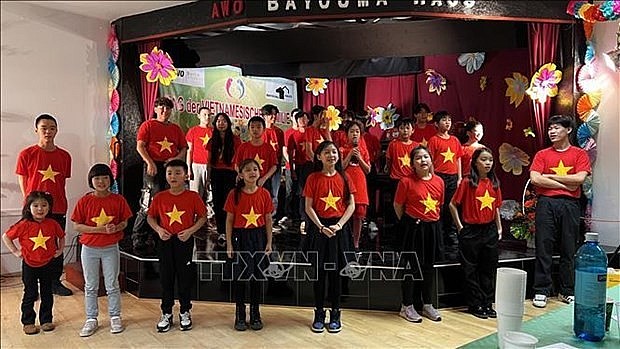 A ceremony was held at the Hanoi-Moscow Trade Center (Incentre) on November 19 to celebrate the 41st Vietnamese Teachers' Day (November 20).
Phan Quang Van, First Secretary in charge of education at the Vietnamese Embassy in Germany, said that in the context of economic integration, learning the Vietnamese language and Vietnamese culture become more important than ever because it enables Vietnamese people to introduce their culture to international friends.
Oliver Nöll, Deputy Mayor of Friedrichshain-Kreuzberg District, appreciated contributions made by the Vietnamese community to the district.
The school was established in 2008 by teacher Nguyen Thu Loan who teaches teaching Vietnamese language to people every Sunday.
Fansipan peak covered in frost as temperatures plunge to zero
A thin layer of frost could be seen covering the peak of Fansipan in Sa Pa in the northern province of Lao Cai on November 20 amid the outdoor temperature dropping to below zero degrees Celsius.
According to details provided by the Lao Cai Hydrometeorological Station, the natural phenomenon tends to be caused by the extreme cold spell that has spread throughout northern and northcentral regions over recent days.
The station noted that when the sun came up and the temperature duly increased, the frost layer gradually melted away, cited VOV.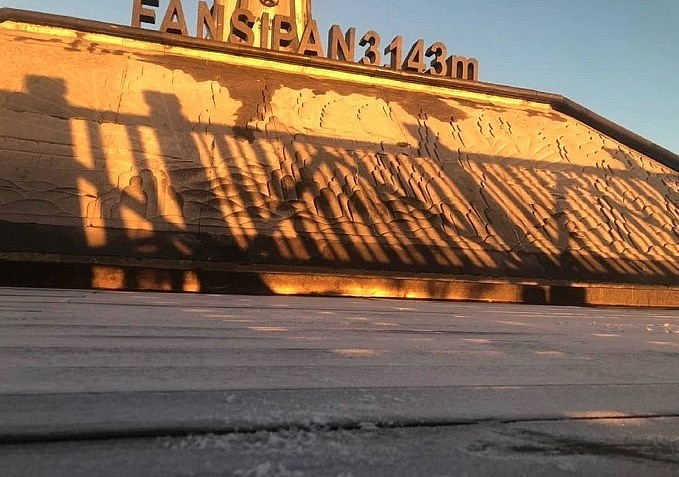 Fansipan peak is covered in frost as temperatures plunge to zero (Photo: baolaocai.vn)
Meteorologists added that temperatures would likely continue to drop on November 21, with the phenomenon continuing to appear at the peak of Fansipan.