Vietnam News Today (Sep. 20): Vietnam Elevates its Role in UN After 45 Years of Membership
Vietnam News Today (Sep. 20): Vietnam elevates its role in UN after 45 years of membership; Vietnamese fruits successfully enter challenging markets; KOTRA to connect Vietnam, RoK business via trade event; Vietnamese economy requires new momentum from business environment.
Vietnam News Today (Sep. 20) notable headlines
Vietnam elevates its role in UN after 45 years of membership
Vietnamese fruits successfully enter challenging markets
KOTRA to connect Vietnam, RoK business via trade event
Vietnamese economy requires new momentum from business environment
Charitable houses presented to poor households along Vietnam-Cambodia border
Four great passes in Vietnam's northern mountainous region
Top legislator stresses importance of macro-economic stability at socio-economic forum
Measures suggested to boost labour market sustainability
Hanoi to start Ring Road No. 4 project in June, 2023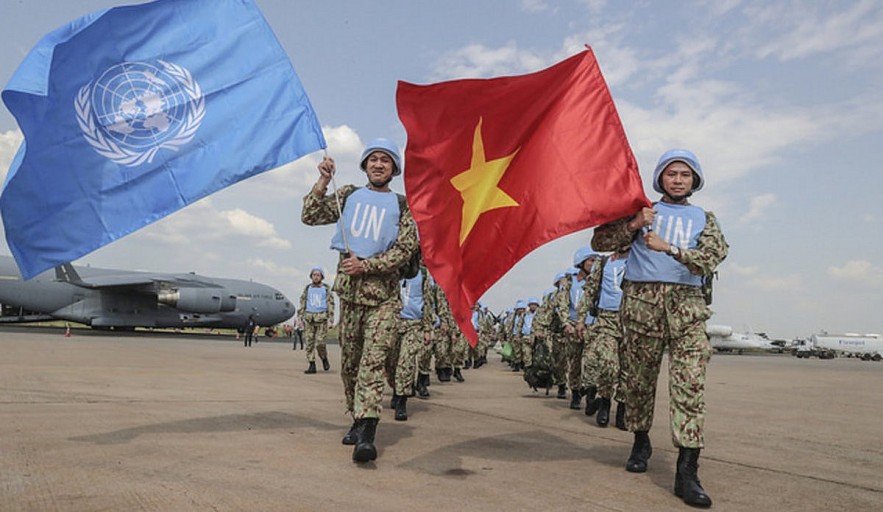 Vietnam actively and responsibly engages in UN activities. Photo: VNA
Vietnam elevates its role in UN after 45 years of membership
45 years ago on September 20 Vietnam joined the United Nations, opening a new chapter in its relations with the world and creating conditions for the country to garner international support for its development and increasingly participate and contribute more deeply to global affairs.
The country was admitted to the UN five months after it achieved national reunification following victory in the historic Ho Chi Minh campaign on April 30, 1975. The UN shortly issued a resolution, calling for international support and assistance to be given to the country's post-war reconstruction and poverty reduction.
From 1977 until the end of the 1980s when Vietnam faced an embargo imposed by the United States, the UN provided the most assistance to the Southeast Asian nation, ranging from overcoming war consequences to reducing poverty and boosting development. In the 1990s, the UN represented one of the leading organizations helping Vietnam to design policies and action programs on economic and legal reforms, as well as supporting its further development and international integration.
In response, the country gradually joined and increasingly promoted its role as part of UN agencies. Since the second half of the 1990s it has participated in a number of leading bodies of the UN, such as the UN Development Program (UNDP), UN Children's Fund (UNICEF), the UN Educational, Scientific and Cultural Organization (UNESCO), the International Atomic Energy Agency (IAEA), and the Human Rights Council. It has been twice elected as a non-permanent member of the UN Security Council in both the 2008 - 2009 and 2020 - 2021 periods.
Along with its various achievements in the Doi Moi (Renewal) process and international integration, Vietnam has accompanied and contributed effectively to the common work of the UN and the wider world. It is noteworthy that it engaged in the planning and implementation of the UN's Millennium Development Goals and Sustainable Development Goals to 2030, becoming an exemplary role model in implementing various programs.
Furthermore, Vietnam actively participates in UN co-operation programs on climate change response, disease prevention and control, hunger eradication and poverty reduction, and assistance to disadvantaged people. It also co-ordinates with the UN in carrying out trilateral co-operation initiatives to help African countries in agriculture, food, education, health, and poverty reduction, cited VOV.
When joining the UN Security Council, the country launched a range of important initiatives such as upholding the UN Charter and multilateralism, removing landmines, protecting women and children, as well as essential civilian facilities in war, a move which received strong support and consensus among UN members. It sent a total of 493 military officers and soldiers to UN peacekeeping forces and deployed four level-2 field hospitals in South Sudan and Abyei from 2017 to 2021.
Moreover, Vietnam actively promotes co-operation between the UN and ASEAN, in areas ranging from peace - security and development to responding to global challenges such as environmental protection, climate change, and pandemics. With regard to the Bien Dong Sea, it continues to emphasise respect for international law, including the 1982 UN Convention on the Law of the Sea (UNCLOS), in order to ensure peace, stability, security, safety, freedom of navigation, as well as the legitimate rights and interests of coastal countries, while simultaneously promoting the peaceful settlement of disputes without further complicating the situation.
Over the past 45 years, the country has significantly contributed to the common work of the UN with a high sense of responsibility by engaging in planning international agendas based on national interests and the principles of international law, in order to create a level playing field for both large and small countries, for the cause of peace, security, and development.
A changing world requires Vietnam to continue to bring into full play its consistent foreign policy to garner greater international support and assistance for its development goals up to 2030 and 2045. This should be done whilst further promoting its proactive role in the common affairs of the world, for peace, security, development co-operation, and in addressing global challenges. Moving forward, it is expected to contribute more to the noble goals of the UN, i.e. to resolve conflicts, maintain peace, and enjoy stability for the sake of all people around the world.
Vietnamese fruits successfully enter challenging markets: Malaysian news agency
The Malaysian National News Agency (Bernama) said in a recent article that a number of fruits grown in Vietnam have successfully entered high value and challenging markets.
It noted apart from China - Vietnam's largest importer for years, Vietnamese fruit and vegetables enjoyed strong growth in other major markets such as the US, the Republic of Korea, Japan, and Australia.
Many exporters are turning their eyes to European markets where their products enjoy zero-percent tax rate under the EU-Vietnam Free Trade Agreement (EVFTA), and these markets are seeing increasing demand for tropical fruit and vegetables.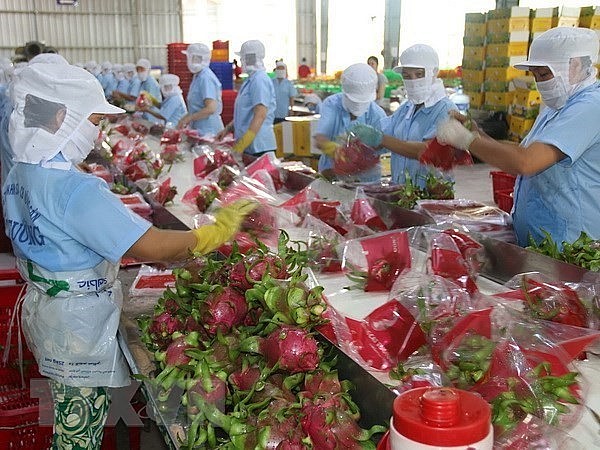 Packaging dragon fruit for export in Tien Giang province. Photo: VNA
The article cited data from Vietnam's General Department of Customs as showing that the country's fruit and vegetable exports to Europe in 2021 hit US$303 million, up 17.4% year-on-year.
Negotiations are also underway for other fresh fruits to enter new markets.
In order to seize opportunities, many localities are preparing growing areas and material sources, according to Bernama.
The Mekong Delta province of Tien Giang, Vietnam's largest fruit-growing province, is seeking to expand plantations to help increase farmers' incomes and exports. Similarly, the Central Highlands province of Gia Lai plans to increase its passion fruit plantations to 20,000ha by 2025, surging five-fold from the current area.
To ensure the sustainability of fruit exports and further make inroads into traditional markets and even high-end ones, safe production will be a vital factor, which will amplifying the country's agricultural strengths so as to reinforce its position as one of the world's major fresh fruit exporters, the article added.
KOTRA to connect Vietnam, RoK business via trade event
The Korea Trade and Investment Promotion Agency (KOTRA Hanoi) plans to organise a business-to-business (B2B) trade event on September 21 between enterprises from the Republic of Korea's Incheon city and Vietnamese importers.
The event will draw the participation of 25 Korean manufacturers/suppliers with typical products including cosmetics, instant food; smart home appliances and medical equipment, among others.
These high-quality products have been widely sold in the RoK and exported to many countries around the world, according to KOTRA Hanoi, reported VNA
Incheon is a central-run city and also an important trading port of the RoK. It became Korea's first free economic zone in 2003 and is one of the largest export hubs with 11 key industrial production complexes.
The event is expected to provide Vietnamese enterprises with opportunities to cooperate with potential partners from Incheon city.
Vietnamese economy requires new momentum from business environment
A business cycle is beginning with a great deal of efforts to overcome the unprecedented difficulties caused by the Covid-19 pandemic. It is now time for enterprises and investors to return to the track, so it is necessary to create an open and conducive business environment to facilitate rapid recovery and growth.
In implementing the Government's resolution on measures to improve the business environment and enhance national competitiveness, the first half of 2022 saw the reduction and simplification of 641 regulations. However, the process was uneven across ministries and localities.
Those that have done a good job include the Ministry of Labour, Invalids and Social Affairs, the Ministry of Health, the Ministry of Planning and Investment, the Ministry of Information and Communication, the Ministry of Finance, and the State Bank of Vietnam.
In the meantime, the reductions recorded by many ministries and sectors were only mechanical processes without much substance, cited NDO.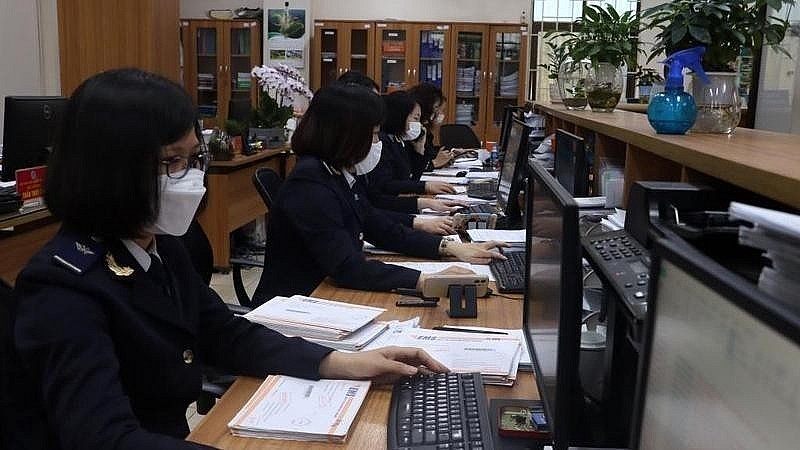 Officers at the Hai Phong Customs Department. Photo: NDO
That is why, although reports on the implementation results of the Government resolution are encouraging, the actual effect did not live up to expectations. The effect of the efforts to improve the business environment has not been felt clearly by enterprises and investors although the task is still carried out constantly every year. According to economists, the issue lies in the approach of ministries and sectors to reducing and simplifying business regulations.
What the business community expects is the removal of prohibitory regulations so as to open more business opportunities, encourage more enterprises to join the market, and create more jobs and wealth.
Improving the business environment and enhancing national competitiveness at this special time are not only intended to reduce administrative procedures and save time and costs for enterprises. More importantly, the task should target the obstacles that are preventing the recovery process so as to create new momentum for enterprises to grow.
To that end, it is necessary to strongly reduce the list of conditional businesses and reform business requirements while removing the hurdles from conflicting and overlapping regulations.
Charitable houses presented to poor households along Vietnam-Cambodia border
A delegation of the Vietnam Fatherland Front Central Committee and National Council of the Solidarity Front for Development of the Cambodia on September 19 handed over 10 charitable houses and 300 packages of gifts to households living in extremely difficult circumstances along the Vietnam-Cambodia border.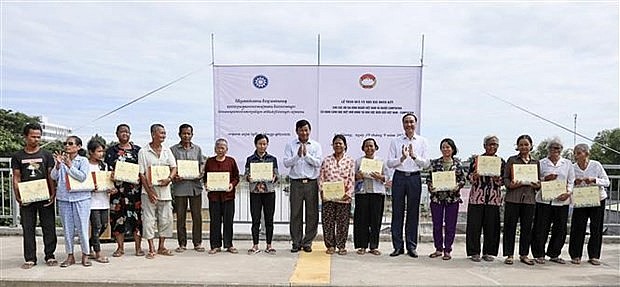 At the event. Photo: VNA
This activity is part of the sixth international conference on building a Vietnam-Cambodia border of peace, friendship, cooperation and development, which is scheduled to take place in Vietnam's Mekong Delta province of An Giang on September 20.
Vietnam and Cambodia are two neighbouring countries, having a long-standing traditional relationship, special solidarity and comprehensive cooperation. The two countries share 1,137 km of land border that runs across 10 provinces of Vietnam and nine provinces of Cambodia, VNA reported.
Over the past years, the two countries have actively implemented contents of the Joint Communiqué on building a Vietnam-Cambodia border of peace, friendship, cooperation and development and achieved practical results.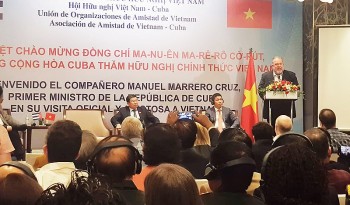 Friendship
Cuban Prime Minister Manuel Marrero Cruz met representatives from the Vietnam-Cuba Friendship Association in Hanoi on September 30, as part of his visit to Vietnam from September 28 to October 2.