Vietnam News Today (Sep. 24): Vietnam, UK Enhance Cooperation in Law Enforcement
Vietnam News Today (Sep. 23): Vietnamese FM meets with Iranian, Mexican counterparts in New York; Vietnam proposes solutions to global crises at UNGA 78; Vietnam, UK enhance cooperation in law enforcement; Vietnamese PM begins official visit to Brazil.
Vietnam News Today (Sep. 24) notable headlines
Vietnamese FM meets with Iranian, Mexican counterparts in New York
Vietnam proposes solutions to global crises at UNGA 78
Vietnam, UK enhance cooperation in law enforcement
Vietnamese PM begins official visit to Brazil
Numerous foreign corporations land in Vietnam
NA Chairman's visit to open up new chapter in Vietnam-Bulgaria ties: Ambassador
Paintings of King Ham Nghi auctioned in France
Vietnam boasts nine UNESCO natural and cultural heritage sites
Veggie, fruit exports to China enjoy double-digit growth rate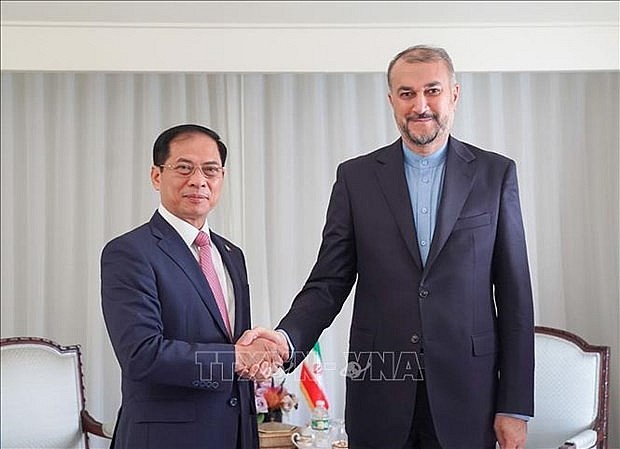 Vietnamese Minister of Foreign Affairs Bui Thanh Son (L) meets with his Iranian counterpart Hossein Amir Abdollahian. (Photo: VNA)
Vietnamese FM meets with Iranian, Mexican counterparts in New York
Vietnamese Minister of Foreign Affairs Bui Thanh Son had separate meetings with his Iranian and Mexican counterparts in New York on September 22 on the sidelines of the General Debate of the 78th session of the United Nations General Assembly.
At his meeting with Iranian FM Hossein Amir Abdollahian, the two ministers agreed to make greater efforts to implement specific agreements reached during Vietnamese National Assembly Chairman Vuong Dinh Hue's official visit to Iran in August, especially improving the effectiveness of economic and trade cooperation as a priority in the bilateral relations to soon increase two-way trade to US$2 billion.
Hossein Amir Abdollahian affirmed Vietnam is an important partner of Iran in Southeast Asia, hoping that the two countries will strengthen coordination and mutual support at multilateral forums.
He also proposed measures to promote bilateral trade cooperation in the coming time, including the effective implementation of periodic consultation mechanisms between the two sides.
At the meeting between the Vietnamese and Mexican ministers, the two sides expressed their delight at the positive development of the bilateral relations in recent years on both bilateral and multilateral aspects, cited VNA.
Son proposed the two countries continue promoting economic and trade collaboration to a new height, and showed his hope to continue fostering multi-faceted cooperation with Mexico.
Mexican Secretary of Foreign Affairs Alicia Barcena affirmed that Mexico attaches special importance to its friendship and cooperation with Vietnam. She said that the two sides need to maintain close coordination at international and regional mechanisms, including the United Nations and the Asia-Pacific Economic Cooperation (APEC) Forum.
The two sides also discussed preparations for delegation exchange activities at all levels, especially high-level ones, in the coming time.
At these meetings, Son affirmed the common stance of the Association of Southeast Asian Nations (ASEAN) and Vietnam on the peaceful settlement of disputes on the basis of international law, including the 1982 United Nations Convention on the Law of the Sea (UNCLOS), and ensuring safety and security of navigation and aviation in the East Sea.
Vietnam proposes solutions to global crises at UNGA 78
Vietnamese Prime Minister Pham Minh Chinh, while addressing the general debate of the 78th session of the UN General Assembly in New York on September 22, pointed out major crises the world is facing and put forward solutions to tackle them.
The world, according to Chinh, is going through serious crises in trust, multilateral cooperation, principles, and resources that need to be resolved to support the implementation of development goals.
To this end, he stressed the need for countries, especially major powers, to show sincerity, strengthen strategic trust, and raise responsibility towards the world, reported VOV.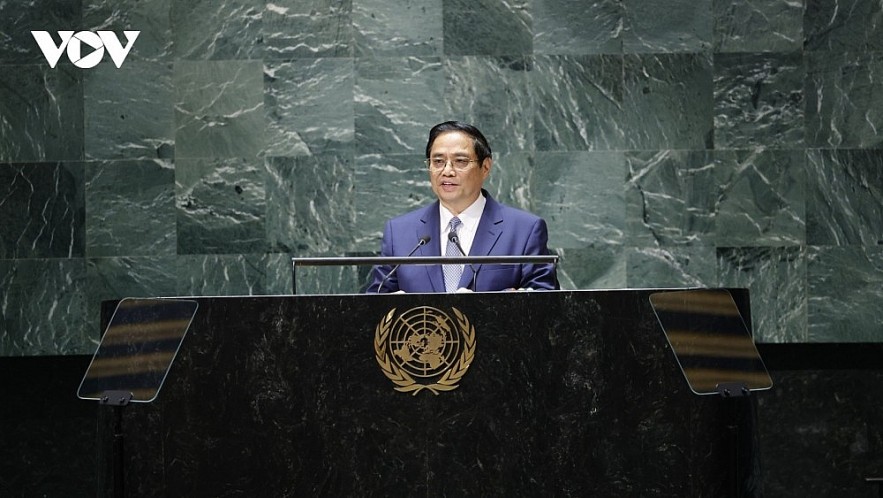 Vietnamese Prime Minister Pham Minh Chinh addresses the general debate of the 78th session of the UN General Assembly in New York on September 22,
An important solution globally is to promote solidarity, international cooperation, and multilateralism, with the United Nations forming the core, and to support the implementation of the Sustainable Development Goals, he said.
He highlighted the position and role of people as the goals, subjects, driving forces and resources of sustainable development, suggesting that people-centered policies should be promoted in all policy-making processes and actions to ensure no one is left behind.
The Vietnamese leader underlined the importance of introducing comprehensive solutions economically, politically and socially to ensure stability, security, and safety.
In line with this, it's imperative to build and transform green economic models, digital economy, circular economy, sharing economy, knowledge economy, while promoting innovation and startups, reducing trade and investment barriers, strengthening free trade agreements, and reforming international financial and monetary institutions.
Vietnam, UK enhance cooperation in law enforcement
A high-ranking delegation of the Ministry of Public Security led by its Deputy Minister Lieutenant General Le Quoc Hung paid a working visit to the United Kingdom from September 16-21 to strengthen bilateral cooperation in law enforcement.
The delegation held talks with Minister of State (Minister for Immigration) at the Home Office Robert Jenrick, visited the UK's National Crime Agency (NCA), worked with the Metropolitan Police (Met) and visited several Met units.
In the talks with Jenrick, the two sides appreciated close cooperation in crime prevention and control, contributing to ensuring national security, social order and safety in each country.
Some areas of cooperation are becoming the key to law enforcement cooperation between the two countries, including in immigration management, and prevention and control of crimes related to human trafficking and illegal immigration.
The two sides agreed to boost cooperation in an extensive, effective and practical manner, helping to build political trust and deepen the strategic partnership between Vietnam and the UK, according to VNA.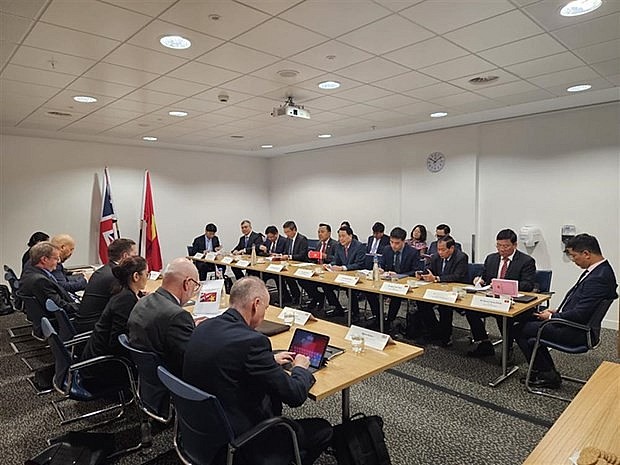 An overview of the talks between Deputy Minister of Public Security Lieutenant General Le Quoc Hung and Minister of State (Minister for Immigration) at the Home Office Robert Jenrick. (Photo: VNA)
They pledged to maintain and promote the exchange of delegations at all levels; share experience and information in immigration, repatriation and entrance-exit; and coordinate in investigations into cases related to human trafficking, illegal immigration, use of high technology, fraudulent appropriation of property, financial crimes, and money laundering.
Hung suggested the two sides soon negotiate and sign an agreement on the extradition of criminals to complete the legal corridor and create favorable conditions for future cooperation activities.
After the talks, the two sides conducted expert-level discussion sessions on several cooperation areas of mutual interest, including the issue of receiving citizens, fighting falsification of visa application documents, communications about safe migration, and the organisation the 2nd Vietnam - UK Migration Dialogue in London, and the consideration of organising an online appeal hearing for Vietnamese citizens whose asylum requests denied by the British side, and the fight against human trafficking.
To increase the effectiveness of information exchange and serve investigation and verification, the UK's Home Office proposed the two sides research, build, negotiate and sign an agreement on the sharing of criminal records in the near future.
Visiting the NCA, Deputy Minister Le Quoc Hung and Rob Jones, Director General for Operations at the NCA, committed to working closely to exchange and share experiences and information in the fields of crime prevention and control, especially those related to illegal migration, cybercrimes, and those using high technology, and money laundering; and coordinating in holding seminars, and capacity building training courses.
Working with the Metropolitan Police, the Vietnamese officer suggested the two sides promote coordination and share experiences in ensuring security and order, especially for high-level delegations, special events, and important and key targets of each country.
He proposed the British side organise training courses to improve the capacity of officers and soldiers of the Ministry of Public Security, and share experiences in building criminal databases, and consider the possibility of establishing cooperative relations between Met and the Hanoi Department of Public Security.
On this occasion, the Ministry of Public Security'S delegation also visited the Vietnamese Embassy in the UK.
Vietnamese PM begins official visit to Brazil
Vietnamese Prime Minister Pham Minh Chinh left New York on September 23 (local time) for Brasilia, beginning an official visit to Brazil at the invitation of President Lula da Silva.
The Sept. 23-25 trip is of great significance in promoting Vietnam – Brazil cooperation in the future.
Vietnam and Brazil established diplomatic relations in 1989. The two countries lifted their ties to a comprehensive partnership in May 2007 during a Brazil visit by Vietnamese Party General Secretary Nong Duc Manh.
Brazil is Vietnam's largest trading partner in Latin America and the second largest in the Americas after the United States. Law year saw two-way trade turnover record a year-on-year rise of 6.6% to US$6.78 billion, cited VOV.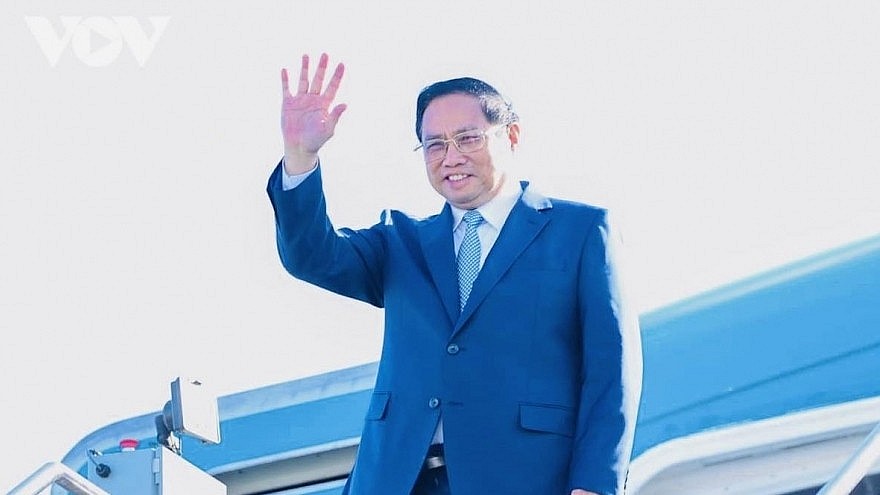 Vietnamese Prime Minister Pham Minh Chinh leaves New York on September 23 (local time) for Brasilia, beginning an official visit to Brazil
Major Vietnamese export items are phones and components, computers, electronic products and components, machinery, equipment, other tools and spare parts, means of transport and spare parts, iron and steel, shoes, textile fibers, and aquatic products.
The main import items are ores and other minerals, cotton of all kinds, animal feed and raw materials, soybeans, corn, wood and wood products.
Vietnam is lobbying Brazil to speed up negotiations of a free trade agreement between Vietnam and the Southern Common Market (MERCOSUR) that is comprised of Argentina, Brazil, Paraguay and Uruguay. Brazil is the incumbent president of MERCOSUR.
Brazil currently has six investment projects in Vietnam with a total registered capital of US$3.83 million, mainly in the fields of processing and manufacturing, retail services.
Vietnam has two investment projects in Brazil valued at US$300,000.
Numerous foreign corporations land in Vietnam
Lately, numerous major foreign corporations have been actively seeking investment and collaboration opportunities in Vietnam, such as Boeing, Walmart, and Central Retail.
From the start of September to now, nearly 1,000 enterprises from 28 different countries and territories have visited Vietnam to explore potential investment prospects.
Unlimited demand for goods
Avaneesh Gupta, Senior Vice President, General Merchandise & Apparel Sourcing for Walmart, highlighted that Vietnam currently ranks in the top five countries for wood and agricultural product exports and holds the 10th position globally for textile, leather, and footwear exports. Notably, Vietnamese products are increasingly gaining popularity among consumers worldwide.
"As part of our 2024 supplemental sourcing strategy for the Walmart network, we have deployed our procurement team to Vietnam to collaborate with numerous manufacturers and explore sourcing opportunities within the country. Our sought-after product categories encompass seafood, cashews, soy milk, coffee, fresh fruits, and fruit-based snacks," remarked Avaneesh Gupta.
In early September, Lionel Adenot, Director of Decathlon Vietnam Group, was present in Ho Chi Minh City and mentioned that the company is expanding its textile product supply with unlimited production capacity. However, for Vietnamese businesses to become suppliers to the company, they must meet specific conditions. These conditions include ensuring that factories do not use coal and have a plan to eliminate the use of fossil fuels by 2025, achieving self-sufficiency in raw material supply, favoring environmentally friendly, on-site material usage, and implementing digital transformation in their production processes. In addition, Decathlon Vietnam Group will give priority to businesses that fulfill criteria related to labor and community responsibility.
Moreover, agriculture represents an enticing sector for foreign investors. To illustrate, the Central Retail Group has offered technical guidance and methodologies for cultivating organic honeydew melons to Danny Green Agriculture Company. In the immediate future, Danny Green Agriculture Company has successfully established and currently manages a 120-hectare organic honeydew melon farm in Binh Thuan Province. This guarantees a consistent supply of organic honeydew melons, not only catering to domestic distribution in Vietnam but also enabling proactive exports to markets in Japan, South Korea, and Singapore.
According to experts, there's a notable shift from the past, where foreign corporations primarily looked for existing sources of supply in Vietnam. Nowadays, they are willing to collaborate with Vietnamese businesses to standardize cultivation and production processes, ultimately boosting the capacity of their supply partners. This endeavor, in turn, ensures a steady flow of goods within the supply chain.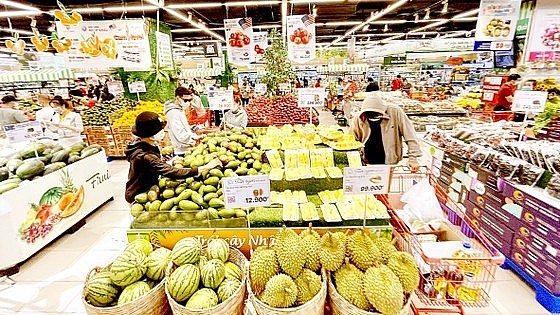 Photo: VNN
To ensure positive year-on-year growth in the production of Vietnamese goods within the supply chain, numerous foreign corporations collaborate with domestic businesses to create and publish a handbook of product quality standards. They also enlist experts to assist Vietnamese companies in refining everything from product quality to packaging to align with global customer preferences.
Abundant opportunities for direct investment
Besides their quest for reliable supply sources, numerous businesses from South Korea, the US, and Europe are keen on direct investments in Vietnam. Mr. Jean Jacques Bouflet, Vice Chairman of EuroCham, emphasized that Vietnam is emerging as a significant destination within the global supply chain, attributed to its strategically advantageous geographical location, stable economy, youthful workforce, and well-founded policies. Since the signing of the EU-Vietnam Free Trade Agreement (EVFTA) in 2019, there have been 2,250 projects, amounting to a total investment of $26 billion by European enterprises in Vietnam.
Furthermore, the race for investment in Vietnam has attracted numerous leading American corporations such as Apple, Qualcomm, Nike, Morgan Stanley, Intel, GE, ACORN International, General Dynamics, and Google. Recently, Boeing Group also visited Ho Chi Minh City to explore opportunities for expanding investments in material supply facilities and establishing technical centers, SGGP reported.
Maxime Dourdan, Director of Supply Chain Development for Boeing in the Southeast Asia, Japan, and South Korea region, noted that, at present, Boeing's tier 1 suppliers are primarily businesses in Japan and South Korea. Compared to these two countries, Vietnam has a significant cost advantage in manufacturing. Additionally, the manufacturing capabilities of Vietnamese enterprises in supporting industry products have greatly improved in recent years.
Evidence of this is the presence of many Vietnamese companies in the global supply chains of major corporations like Samsung, Sanyo, and Intel. It will be a foundation for Boeing Group to consider collaboration and further investment in expanding its supply chain in Vietnam, he added.
According to data from the Ministry of Planning and Investment, the total foreign direct investment (FDI) in Vietnam during the first eight months of this year reached $18.15 billion, an 8.2 percent increase compared to the same period last year. This underscores the significant appreciation of the investment potential and appeal of Vietnam's investment environment by foreign investors.
Nonetheless, in order to attract more robust and enduring investments, Mr. Hong Sun, Chairman of the Korean Chamber of Commerce and Industry in Vietnam, proposes the need for consistency in investment incentives policies to ensure that investors can confidently engage in long-term business ventures.
Nguyen Tien Truong, Vice Chairman of the Vietnam Textile and Apparel Association, recommends, "at the macroeconomic level, the government should strive for a balanced approach to interest rates, exchange rates, and capital accessibility that benefits businesses. This also presents an opportunity for domestic enterprises to swiftly embark on green and digital transformations in their production processes, enabling them to collaborate with foreign direct investors, who are pouring investments heavily in Vietnam."