Vietnam News Today (Sep. 26): Vietnam to Host Fourth P4G Summit in 2025
Vietnam News Today (Sep. 26): Vietnam to host fourth P4G Summit in 2025; Vietnam-Netherlands diplomatic ties anniversary celebrated in Can Tho; Vietnam represented at quarterly meeting of ASEAN Committee in Geneva; Vietnam makes efforts to develop domestic carbon market.
Vietnam News Today (Sep. 26) notable headlines
Vietnam to host fourth P4G Summit in 2025
Vietnam-Netherlands diplomatic ties anniversary celebrated in Can Tho
Vietnam represented at quarterly meeting of ASEAN Committee in Geneva
Vietnam makes efforts to develop domestic carbon market
Huge capital poured into big ports in Vietnam
Vietnam to host EC inspection team for anti-IUU fishing in October
Defense Minister receives outgoing Lao ambassador
Vietnam secures medals at ASIAD 2023
Vietnam treasures traditional friendship with Bulgaria: top legislator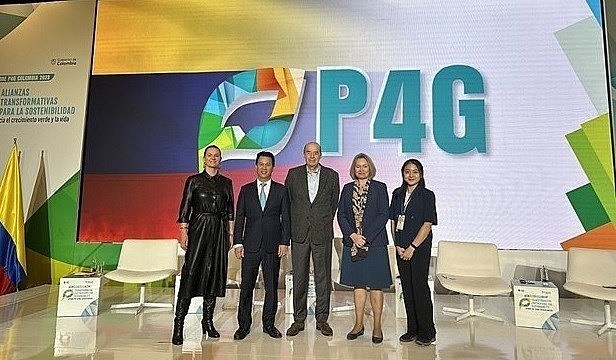 Vietnamese Minister of Natural Resources and Environment Dang Quoc Khanh (second from left) and other delegates to the third P4G Summit in Bogota, Colombia. (Source: Ministry of Natural Resources and Environment)
Vietnam to host fourth P4G Summit in 2025
Vietnam has attended the third Partnering for Green Growth and the Global Goals 2030 (P4G) Summit in Bogota, Colombia, and received the right to host the fourth summit ahead in 2025.
Upon addressing the third summit which was held from September 22 to September 23, Minister of Natural Resources and Environment Dang Quoc Khanh thanked the other P4G members for supporting Vietnam to host the next event, cited VOV.
He affirmed that the country will exert every effort and hopes to receive experience and assistance from Colombia and other partners so that it can fulfill its role.
Vietnam will therefore work hard to ensure that next summit's agenda matches the P4G countries' priorities and global concerns, including food security and poverty reduction, management and sustainable use of cross-border water resources, the building and operation of early warning systems and the monitoring of climate change impacts, finance for efforts towards net zero emissions and just energy transition, carbon smart agriculture, and a circular economy for plastics, the official noted.
During the third P4G Summit, Minister Khanh had bilateral meetings with a Deputy Minister for development co-operation and global climate policy of Denmark, a Deputy Minister of environment of the Republic of Korea (RoK), the president and CEO of the World Resources Institute, and the P4G executive director.
The partners highly value Vietnamese proactiveness and sense of responsibility when it proposed Vietnam as the venue of the fourth P4G Summit in 2025. They also pledged to co-ordinate alongside the country to successfully organise the event while improving the effectiveness and maximise the role of P4G in helping countries to carry out climate actions and targets.
Members of the Vietnamese delegation also took part in the summit's group discussions of energy transition and sustainable cities. They held working sessions alongside the P4G Secretariat and P4G co-ordinators of Colombia and the RoK to share experience in holding P4G events.
The third P4G Summit was held by the Colombian Government and witnessed the presence of about 500 delegates from 12 countries and partner organizations. Opening with the theme of "Transformative Alliances for Sustainability: Actions towards green growth and life", it focused on biodiversity, energy transition, and sustainable cities.
The event reaffirmed the role of green growth in economic recovery and the realisation of the Sustainable Development Goals (SDGs). It also called on all countries to offer conditions for the private sector to further bring into play their role in promoting technological solutions, innovation, finance for green transition and sustainable development, and creating new jobs in green industries.
P4G, whose predecessor is the Global Green Growth Forum (3GF), took shape in 2017 at the initiative of the Danish Government. It currently boasts 12 member countries, namely Denmark, Chile, Mexico, Vietnam, the RoK, Ethiopia, Kenya, Colombia, the Netherlands, Bangladesh, Indonesia, and South Africa. It also involves the participation of over 90 other countries, international organizations, and businesses.
Vietnam represents one of the seven founding members and is an official partner of P4G.
P4G is widely considered to be a leading forum in the world in terms of promoting public - private partnership and connecting governments, businesses, and socio-political organizations in devising breakthrough solutions about green growth to help achieve the SDGs, with its summits being held biennially.
Vietnam-Netherlands diplomatic ties anniversary celebrated in Can Tho
The Union of Friendship Organisations in the Mekong Delta city of Can Tho and the Dutch Consulate General in Ho Chi Minh City jointly organized a ceremony on September 25 to mark the 50th anniversary of the diplomatic ties between Vietnam and the Netherlands (1973-2023).
Addressing the function, Vice Chairman of the municipal People's Committee Nguyen Thuc Hien reviewed developments of the bilateral relations over the past 50 years, saying Can Tho has organised diverse activities to celebrate the anniversary.
The comprehensive partnership between Vietnam and the Netherlands as well as cooperation between Can Tho and Dutch localities will grow further for the sake of the two countries, and for peace, stability and prosperity in the region and the world at large, he said.
Professor Ha Thanh Toan, Rector of Can Tho University, highlighted cooperation between the university and the Netherlands, thus contributing to the bilateral friendship, according to VNA.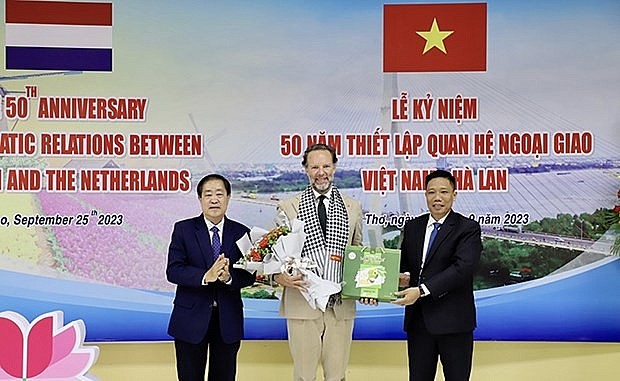 Vietnam-Netherlands diplomatic ties anniversary celebrated in Can Tho. (Photo: VNA)
The university and its Dutch partners have conducted 15 joint projects with total funding of EUR395,030 (US$420,225), and signed six memoranda of understanding and agreements on collaboration in education and training, and scientific research, he added.
Dutch Consul General in Ho Chi Minh City Daniel Stork said he is proud of the close solidarity and friendship between the two countries, noting both nations have been aware of upgrading their relationship, and working together to address global challenges such as climate change and those regarding sustainable agriculture and water resources management.
The diplomat expressed his belief that the cooperation between the Netherlands and Vietnam in general and Can Tho particular will grow more fruitfully and intensively in the time ahead.
Vietnam represented at quarterly meeting of ASEAN Committee in Geneva
Ambassador Le Thi Tuyet Mai, permanent representative of Vietnam to the UN, the World Trade Organisation (WTO), and other international organizations in Geneva, attended a quarterly meeting of the ASEAN Committee in Geneva on September 23.
Indonesian Ambassador Febrian A. Ruddyard, permanent representative of Indonesia to the UN, briefed participants of the outcomes of the 43rd ASEAN Summit and Related Summit which were organized from September 4 to September 7 in Jakarta by Indonesia as ASEAN Chair in 2023.
The summits featured the participation of around 2,500 delegates from 10 ASEAN member states, 12 partner countries, and nine international organizations.
As many as 90 documents were adopted, including several important ones such as the Chairman's Statement of the 43rd ASEAN Summit, ASEAN Community Vision 2045 and ASEAN Leaders' Declaration on the ASEAN Human Rights Dialogue. In line with this, Indonesia handed the ASEAN chairmanship in 2024 to Laos, reported VOV.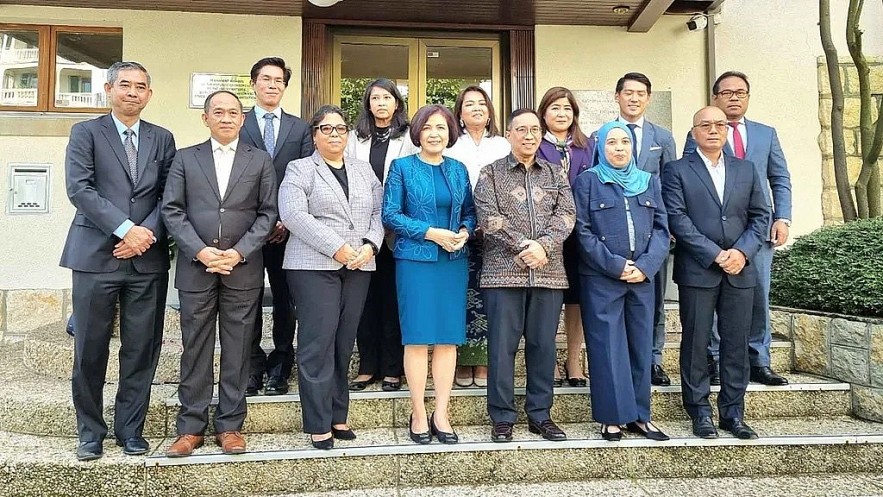 ASEAN ambassadors to the United Nations in Geneva.
At the meeting, Ambassador Mai and the representatives of the missions of ASEAN member states discussed and agreed on the common activities and initiatives of the bloc and shared ideas of both the nation and other ASEAN member states at the UN Human Rights Council (UNHRC), the UN Conference on Trade and Development (UNCTAD), the World Intellectual Property Organisation (WIPO), the WTO, and other multilateral forums in Geneva.
Ambassador Mai also informed the participants about the Vietnamese decision to run for seats at a number of forums and proposed ASEAN member states and Timor Leste support the Vietnamese candidacy.
The participants consented to enhance ties, as well as cultural, sporting, and culinary exchanges to enhance understanding and solidarity of the ASEAN community in Geneva, thereby helping to popularize the regional bloc's identity in the international arena.
Vietnam makes efforts to develop domestic carbon market
In the context that about 70 countries and territories have applied carbon pricing instruments, experts held that Vietnam should also apply such tools, especially by developing the domestic carbon market, in order to support the realization of the country's greenhouse gas (GHG) emissions reduction target.
Following the Paris Climate Accords, Vietnam must fulfill its mandatory obligation to reduce greenhouse gas emissions from 2021 according to the Nationally Determined Contribution (NDC). The country also needs to make efforts to reduce GHG emissions towards the goal of net-zero emissions by 2050.
Statistics show that carbon pricing tools control about 23% of total global emissions in 2023, cited VNA.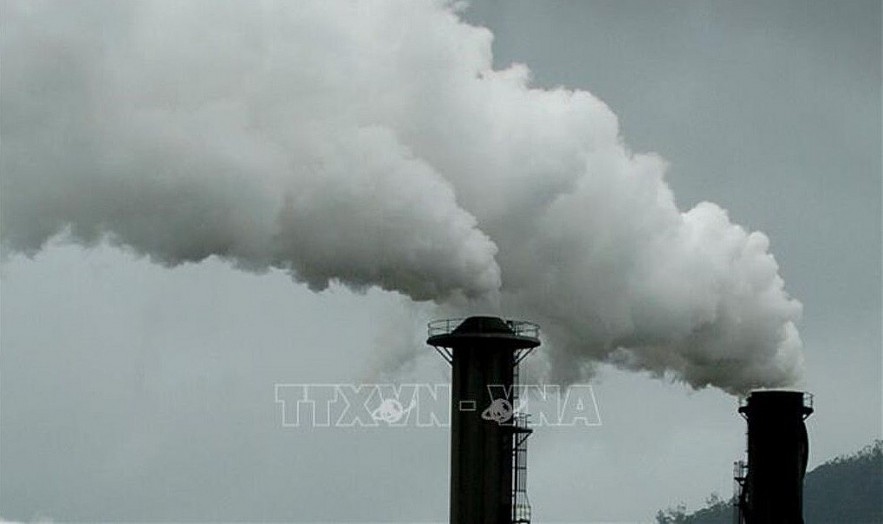 Illustrative image (Source: AFP/VNA)
In Vietnam, the voluntary exchange of carbon credits with the world has been carried out by businesses since the mid-2000s in projects and programmes under the Clean Development Mechanism (CDM) - a United Nations-run carbon offset scheme allowing countries to fund GHG emissions-reducing projects in other countries and claim the saved emissions as part of their own efforts to meet international emissions targets.
Data from the Department of Climate Change (DCC) under the Ministry of Natural Resources and Environment show that to date, more than 300 programmes and projects have registered to be implemented with carbon credit mechanisms. Of these, about 150 programmes and projects were granted more than 40.2 million carbon credits which have been exchanged on the world carbon market.
According to the Government's Decree 06/2022/ND-CP on the roadmap for the domestic carbon market development, until 2027, Vietnam will implement a number of activities such as developing regulations for carbon credit management, exchanging greenhouse gas emission quotas and carbon credits, building regulations for operating the carbon credit exchange, and piloting the carbon credit exchange and offset mechanism in potential areas and guiding the implementation of the domestic and international carbon credit exchange and offset mechanism in accordance with the provisions of law international treaty to which Vietnam is a member.
At the same time, Vietnam will pilot a carbon credit exchange from 2025, and implement capacity building activities and raise public awareness of carbon market development.
DCC Vice Director Mai Kim Lien said that along with coordinating with relevant agencies to build policies in the field, the department has worked with specialized agencies to collect data on GHG emissions serving the allocation of GHG emission quota, while holding activities to raise awareness of the carbon market among officials, public workers and businesses in many localities across the country. A national registration system will be set up to manage all carbon credits generated in the territory of Vietnam, she added.
Huge capital poured into big ports in Vietnam
Seaports in Vietnam are expected to receive a huge amount of foreign capital in the time to come as some leading maritime corporations have stated they want to join hands with domestic companies to develop super-ports in Vietnam.
The White House has recently announced that SSA Marine in Seattle and Vietnam's Gemadept are considering joining forces to develop strategic seaports in the south of Vietnam, including a joint interest in developing Cai Mep Ha Logistics Center worth $6.7 billion.
Once completed, Cai Mep Ha super-port would become Vietnam's largest logistics center. This is just one of a series of super-ports worth more than one billion dollars being proposed in Vietnam.
Cai Mep Ha, or Cai Mep – Thi Vai Port is located at the Cai Mep and Thi Vai river mouth in Ba Ria - Vung Tau. Despite great advantages, the port is yet to become an international transshipment port.
Under the first plan, the port development project would cover an area of 1,800 hectares and comprise two parts – the logistics center and Cai Mep Ha Downstream Harbor. Later, the project was adjusted and the total area of the port has been raised to 2,200 hectares to receive large-tonnage vessels, turning it into a transshipment port of regional and international stature.
With the large scale and the important strategic position on Vietnam's maritime map, Cai Mep Ha Super-port is also being eyed by many other big players, such as Geleximco-ITC, Besix-Boskalis-Hateco, IMG Innovations, Tan Dai Duong International Import-Export, Sun Group, Saigontel and Tan Cang Sai Gon Corporations, cited VNN.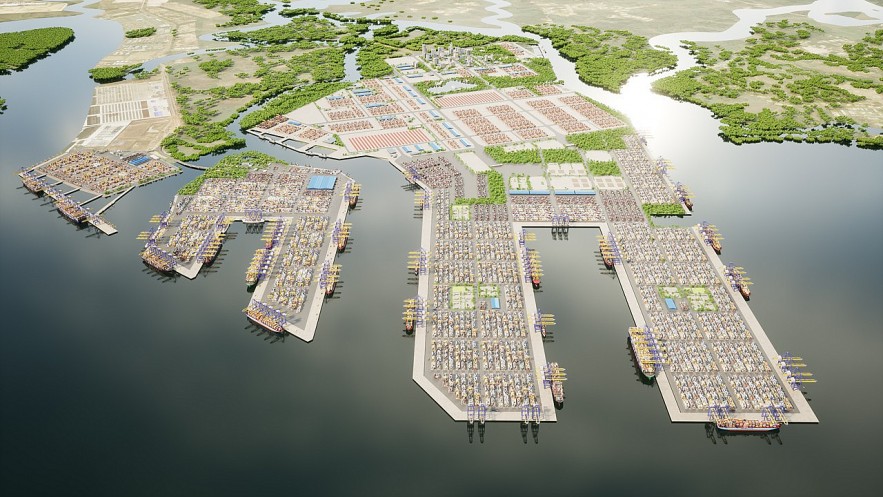 Photo: VNN
Meanwhile, the HCM City People's Committee has called for investment in Can Gio international transshipment port. It is located at the Cai Mep estuary, surrounded by Thi Vai and Thue Rivers. The port is designed to receive mother vessels of up to 250,000 tons and capacity of 16.9 million TEU.
The total investment capital of the project is estimated at $5.45 billion, while the total harbor area is 571 hectares and surface water area 478 hectares. The project will be implemented in seven phases, with the first phase expected to be put into operation in 2027. The project would be completed by 2045.
Can Gio Port is near international maritime routes across the East Sea and Southeast Asian goods, if going through the area, could shorten the distance by 30-70 percent compared with going through Singapore, while the loading cost could also be cut by 40-54 percent.
MSC, the world's largest shipping firm, is working with the Vietnam Maritime Corporation on a plan to invest in the port.
Meanwhile, Soc Trang province wants to develop Tran De Port. Covering an area of 5,400 hectares, the project is expected to have investment of VND51.320 trillion by 2030 and VND145.283 trillion by 2050.
The port is designed to be able to receive container ships of over 100,000 tons and become the gateway of Mekong River Delta. Currently, the majority of goods from Mekong River Delta have to be carried to ports in HCM City, thus causing high costs to enterprises. Tran De Port will help solve the problem.
Indian Adani Group is carrying out the study and considering injecting money into the ports in Lien Chieu in Da Nang City. With expected capital of $2 billion and big investment in technical infrastructure, the port would be able to handle general cargo, bulk cargo, liquid/gas cargo and containers.
In mid-2022, Xuan Thien Nam Dinh JSC proposed the development of a port in Nam Dinh. Sources said that the project, capitalized at VND35 trillion (US$1.5 billion) is being considered by the Vietnam Maritime Bureau.
The Ministry of Transport, (MOT) in its report on completing the detailed planning of seaports, harbor, quay, floating wharf and water area for 2021-2030, with a vision towards 2050, estimated that total investment capital for the seaport system to 2030 is VND312.625 trillion. Of this, the capital for public maritime infrastructure is VND70 trillion, and the capital for habors is VND242 trillion.
Investment has also been called for the harbors at potential seaports in Van Phong and Tran De. It is expected by 2030.
According to MOT, as of October 2022, 296 harbors with 107 kilometers of wharf, five times higher than in 2000, were operating.
DP World from UAE has shown attention to SPCT (port in HCMC), SSA Marine to SSIT Harbor (HCM City), Denmark's APMT to CMIT (Ba Ria - Vung Tau), and MOL, NYK to Lach Huyen Harbor (Hai Phong).