Vietnam News Today (Sep. 28): Vietnamese Economy Remains Resilient Amid Weakening Global Demand
Vietnam News Today (Sep. 28): Vietnam – second biggest exporter of Cambodia; Vietnamese economy remains resilient amid weakening global demand; Mexico praises Vietnam's economic growth rate, achievements; Vietnam attracts over US$20 billion in FDI over nine-month period.
Vietnam News Today (Sep. 28) notable headlines
Vietnam – second biggest exporter of Cambodia
Vietnamese economy remains resilient amid weakening global demand
Mexico praises Vietnam's economic growth rate, achievements
Vietnam attracts over US$20 billion in FDI over nine-month period
MoH proposes amendments to COVID-19 regulations
Vietnam records over 38,000 valid foreign-invested projects: FIA
ASIAD 2023: Wushu, taekwondo athletes bring home bronze medals
Vietnamese leaders send sympathy to Iraqi counterparts over devastating fire
PM arrives in Hanoi, wrapping up working trips to US, Brazil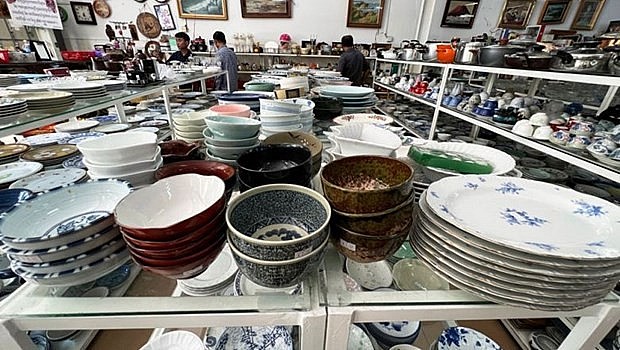 Imported second-hand goods on sale at a shop in Phnom Penh. (Photo: phnompenhpost.com)
Vietnam – second biggest exporter of Cambodia
China, Vietnam and Thailand shipped more than 11.5 billion USD worth of goods to Cambodia, making up around 70.8% of the country's total imports of US$16.3 billion in the first eight months of 2023, according to the General Department of Customs and Excise (GDCE) of Cambodia.
China topped the list with US$7.2 billion worth of exports to Cambodia or 43.9% of the total shipment, down 0.6% year-on-year. Imports from Vietnam, which fell 11.7% to US$2.5 billion, represented 15% of the total imports, whereas shipments from Thailand shrank 25.8% to US$1.9 billion or 11.9% of the share.
In the period, Cambodia reduced its spending on imports by 25.2%, the GDCE said, adding that Cambodia also imported products from Singapore, Indonesia, Japan, Taiwan (China), Malaysia, and the Republic of Korea, cited VNA.
Vice President of the Cambodia Chamber of Commerce Lim Heng said that the imports from China, Vietnam, and Thailand meet almost all of Cambodia's needs, from food and daily necessities to electronics and large machinery, although the country also exports a lot of goods to those countries.
In the first eight months of 2023, the GDCE showed that Cambodia sold US$3.4 billion worth of goods to China, Vietnam, and Thailand, accounting for 21.9% of the total export value of US$15.7 billion.
Vietnamese economy remains resilient amid weakening global demand: ADB
Vietnamese economy remains resilient, and recovery is expected to pick up in the near term, driven by strong domestic consumption, which is supported by moderate inflation, an acceleration of public investment, and improved trade activities, said the Asian Development Bank (ADB)'s Country Director for Vietnam Shantanu Chakraborty.
He made this assessment at a press conference held on September 27 in Hanoi to release the Asian Development Outlook (ADO) September 2023 report, according to VOV.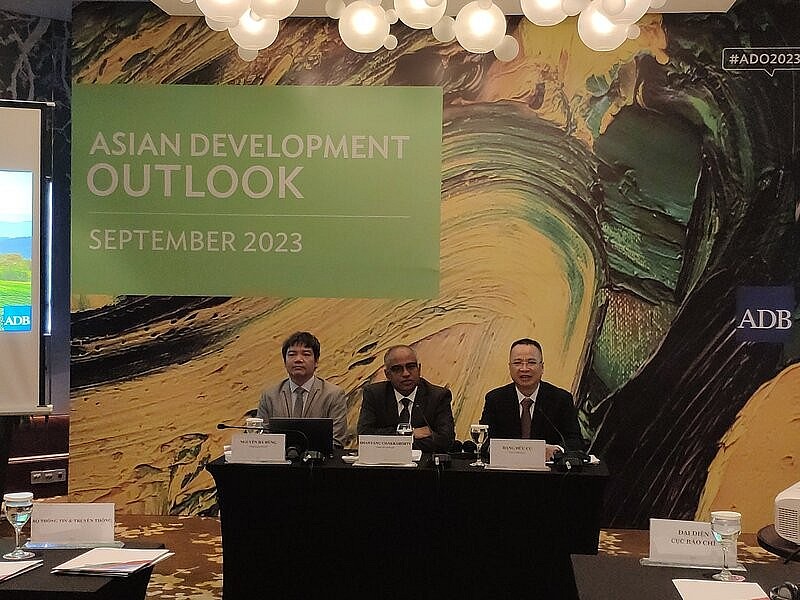 Overview of the launch. Photo: The Hanoi Times
"Weak external environment, including from a subdued recovery in China, has hampered export-led manufacturing, thus shrinking industrial production in Vietnam," he noted.
According to details set out in the report, Vietnamese economic growth is expected to slow down to 5.8% this year and 6.0% in 2024, compared to the forecast in April of 6.5% and 6.8%, respectively, mainly due to weak external demand.
The ADO September 2023 report noted that the main forces impacting the economy have been the global economic slowdown, monetary tightening occuring in some advanced countries, and the disruption caused by exacerbated geopolitical tensions. Inflation forecasts have been revised down to 3.8% from 4.5% for 2023 and to 4.0% from 4.2% for 2024.
While Vietnamese industrial production is in the process of shrinking due to falling global demand, other sectors are forecast to display healthy growth. Services are therefore expected to continue expanding, supported by a revival in tourism coupled with the recovery of associated services. Along with this, agriculture will benefit from rising food prices, with it expected to expand by 3.2% in 2023 and ahead into the next year.
According to ADB experts, falling growth and slightly moderating inflation has caused the Government to pursue a more pro-growth monetary policy. In June, the State Bank of Vietnam (SBV), the nation's central bank, cut its key policy interest rate by 50 basis points, its fourth policy rate adjustment this year.
The refinance rate was cut to 4.5%, the discount rate to 3.0%, whilst the average lending interest rates of commercial banks was brought down by 1.0% accordingly.
To help distressed clients, on 23 April, the central bank allowed banks to restructure business and consumer loans without downgrading the loan category until 30 June, 2024. Nevertheless, credit demand remained weak, thereby reflecting difficulties in the real economy.
The report also highlighted significant risks to the outlook. Internally, slow disbursements of public investment and structural weaknesses in the real economy can be viewed as the main downside risks to the economy.
Externally, a substantial slowdown in global growth coupled with weak recovery in China remain risks to the economic outlook. Elsewhere, sustained high interest rates in the United States and Europe, along with a stronger US$, may lead to further challenges to the recovery of external demand, in addition to weaknesses in the VND exchange rate.
In response to reporters' queries about the recent increase in exchange rates, Nguyen Ba Hung, chief economist of the ADB, assessed that the SBV recently adjusted the operating exchange rate in a flexible manner, with exchange rate fluctuations being within a pre-set range. Through this policy, the SBV has not encountered any policy difficulties regarding exchange rates, Hung noted.
A flexible monetary policy with accommodative policy interest rate changes coupled with a stable foreign exchange rate has helped the economy to recover moving forward, according to information given by think tanks.
Mexico praises Vietnam's economic growth rate, achievements
Vietnam is one of the few countries that continue to achieve high economic growth despite the volatile global situation from the COVID-19 pandemic, global supply chain disruptions, and armed conflicts, a Mexican official has said.
Director General for Asia-Pacific at the Mexican Foreign Ministry Fernando Gonzalez Saiffe made the remarks at a ceremony marking Vietnam's 78th National Day (September 2, 1945-2023) on September 26 in Mexico City.
In his speech, the Mexican diplomat stated that late Vietnamese President Ho Chi Minh's thoughts regarding international solidarity have been the foundation for building a strong friendship between Vietnam and Mexico over the past 48 years since the establishment of their official diplomatic relations in 1975. Although the two countries are geographically distant, they share core values, which cover international solidarity, national independence, freedom, and the happiness of their people.
Alfredo Femat Bañuelos, Chair of the Mexican Chamber of Deputies' Foreign Affairs Committee, noted that over the past two decades, hundreds of thousands of Mexican citizens have been treated by Vietnamese doctors at acupuncture centres named after Ho Chi Minh in Mexico.
The lawmaker, also Chairman of the Mexico-Vietnam friendship parliamentary group, underscored that apart from health care, the Mexico-Vietnam relations are progressing well across all aspects, with a strong focus on party, parliamentary, trade, and education-training cooperation, reported VNA.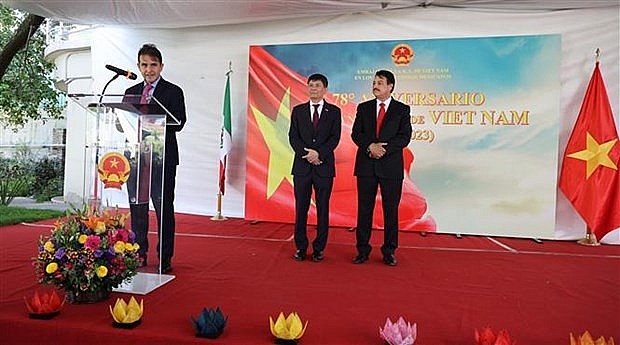 Director General for Asia-Pacific at the Mexican Foreign Ministry Fernando Gonzalez Saiffe speaks at the event (Photo: VNA)
Vietnamese Ambassador Nguyen Hoanh Nam stated that Mexico is one of Vietnam's most important markets in the Latin American region. He called on Vietnamese and Mexican businesses to strengthen connections and leverage the advantages brought about by the Comprehensive and Progressive Agreement for Trans-Pacific Partnership (CPTPP), of which both countries are members.
Although bilateral trade reached over US$10 billion in 2022, the two nations need to make further efforts to increase trade volume to match their potential and excellent political relationship, he went on.
The diplomat said as active and responsible members of the international community, Vietnam and Mexico, based on their reliable partnership, share many core values, common interests, and strategic concerns in the regional and global context towards cooperation, stability, peace, and development.
Vietnam attracts over US$20 billion in FDI over nine-month period
Vietnam attracted US$20.21 billion in foreign direct investment (FDI) during the past nine months of the year, representing a rise of 7.7% against the same period from last year, according to statistics released by the Foreign Investment Agency.
Of the figures, there were 2,254 newly-registered projects capitalized at more than US$10.23 billion, a rise of 66.3% in terms of the number of projects and 43.6% in capital.
In addition, more than US$5.15 billion was added to 934 existing projects, representing a rise of 21.5% in relation to the number of products but a fall of 37.3% in capital on-year.
Furthermore, the value of capital contributions and share purchase deals reached more than US$4.82 billion, down 5.9% in number but up 47% in capital from the previous year, cited VOV.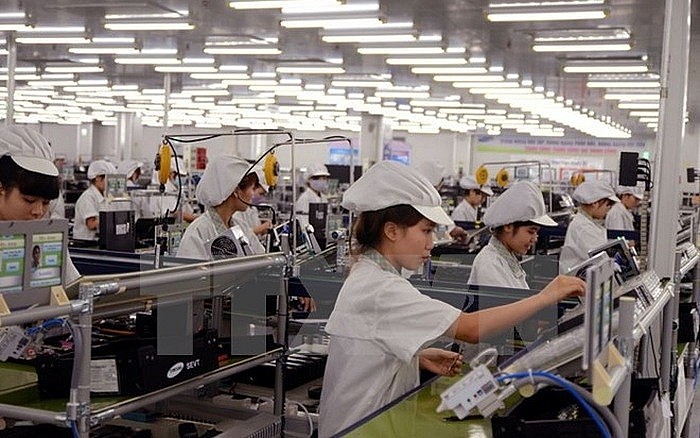 Photo: VNA
According to experts, FDI inflows to the country continue to increase, although the growth rate has decreased slightly by 0.5 percentage points compared to the figure of 8.2% recorded in the initial eight months of the year.
However, FDI disbursement saw positive signs, reaching more than US$15.9 billion, up 2.2% on-year, an increase of 0.5 percentage points compared to the first eight months of the year.
Insiders have attributed the positive signs to the Government's drastic and effective solutions in terms of both supporting enterprises and removing their difficulties in a bid to facilitate further FDI disbursement.
Most notably, the number of projects registering to adjust their investment capital has seen a steady increase compared to last year, thereby affirming foreign investors' trust in the country's investment climate and their decisions to expand existing projects locally.
Foreign investors have injected their money into 18 industries out of 21 national economic sectors in the reviewed period with the processing and manufacturing industry taking the lead with total investment capital reaching more than US$14 billion.
The real estate sector ranked second with nearly US$1.94 billion, followed by the finance - banking sector with roughly US$1.54 billion, along with the wholesale and retail industries at nearly US$734 million
Singapore topped the list of countries investing in the Vietnamese market with a total investment capital of more than US$3.98 billion. They were followed by China with US$2.92 billion, Japan with US$2.9 billion, and other investors such as are the Republic of Korea, Hong Kong (China), and Taiwan (China).
MoH proposes amendments to COVID-19 regulations
The Ministry of Health (MoH) has proposed amending the regulations related to COVID-19 as the number of new cases has consistently remained low in recent weeks.
In the draft proposal submitted to the government, the ministry suggested shortening the average incubation period to four days and the time without detecting new cases to eight days.
These changes could serve as a basis for declaring the end of the infectious disease outbreak earlier than the current regulations, which stipulate that the average incubation period is 14 days and the time without detecting new cases is 28 days.
According to MoH, this amendment is based on scientific evidence, the current situation of the COVID-19 pandemic, and recommendations from the World Health Organization and the Centers for Disease Control and Prevention in the United States.
Additionally, in the proposal, the ministry highlighted a comparison between the regulations in the Law on Prevention and Control of Infectious Diseases and the actual pandemic situation in Vietnam. This comparison indicates that COVID-19 no longer meets the criteria for an infectious disease in group A, VNS reported.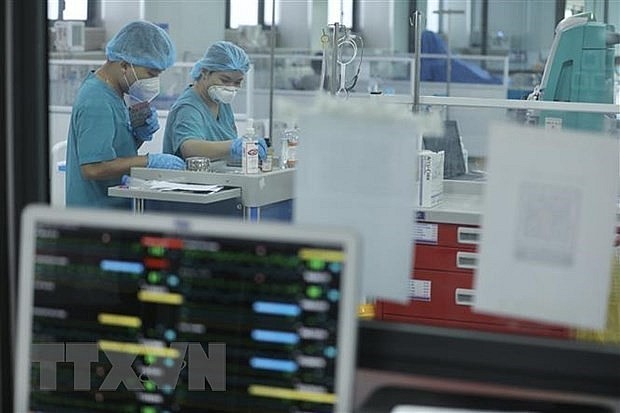 Healthcare workers in a COVID-19 patient care unit. Photo: VNA
Specifically, from the beginning of the year to 31 August, Vietnam recorded 97,628 cases of COVID-19, with an average of approximately 12,000 cases per month. The monthly average cases have decreased 12 times compared to 2021 (around 144,000 cases per month) and 68 times compared to 2022 (about 816,000 cases per month).
The death rate due to COVID-19 reduced from 1.86 per cent in 2021 to 0.1 per cent in 2022 and currently stands at 0.02 per cent in 2023. This is equivalent to or lower than the mortality rates of some common infectious diseases in group B recorded in Vietnam over the past five years, such as dengue fever, malaria, diphtheria, and whooping cough.
The causative agent of COVID-19 has been identified as the SARS-CoV-2 virus.
According to MoH, since the beginning of the pandemic, Vietnam has recorded 11,623,605 cases, ranking 13th out of 231 countries and territories.
Vietnam ranks 120th out of 231 countries and territories in terms of the infection rate per one million people.
The total number of deaths due to COVID-19 to date is 43,206, or 0.4 per cent of the total infections.