Overseas Entrepreneurs Contribute to Vietnam's Global Economic Integration
Here are some business associations established by overseas Vietnamese communities who have actively engaged and promoted the economic growth of Vietnam in 2022.
Vietnam - International Entrepreneur Networking Club (VIENC)
Since the establishment on Feb 9, VIENC (an affiliate of Vietnam-Asean Entrepreneurs Development Research Institute VEDRI) has completed the mission of connecting Vietnamese and international entrepreneurs, creating business opportunities and cooperation for further development. Now, there are 300 active members at VIENC, including the overseas Vietnamese cntrepreneurs community and their foreign peers, inside of outside of Vietnam.
VIENC President - Dinh Vinh Cuong, a Vietnamese expat in Japan, spoke about the recent challanges and triumphs in the buisness world.
"The COVID-19 pandemic has severely impacted hundreds of thousands of SMEs enterprises across the country. In 2021 alone, more than 100 thousands of enterprises exited the markets due to numerous difficulties. Since the beginning of 2022, there were many positive signs of economic recovery in Vietnam. However, businesses still face difficulties due to a sharp increase in materials and logistics costs. Therefore, the launch of VIENC is a practical step for all Vietnamese entrepreneurs at home and abroad to connect and support each other during difficult times as well as to accelerate development in the future."
A year after the establishment, VIENC has achieved many impressive results. The club has successfully created linkages between domestic and foreign businesses. VIENC also held a night party for members to meet, socialize and network. Members can also online group for communication and updates. In such group, VIENC posts information about opportunities, contacts and international customers' requirements for Vietnamese enterprises.
The club also organizes seminars, with the participation of experts and members of the Government's advisory group to for in-depth discussion.
Regarding cooperation, VIENC signed many cooperation agreements with international partners in 2022 such as Asia Africa Chamber of Commerce and Industry - Ghana Branch; with Philippine Chamber of Commerce & Industry - Quezon City (PCCI Quezon City), American International School Vietnam (AISVN) to promote bilateral trades.
Regarding social responsibility, VIENC had many charity activities, making money and gift donation in Thua Thien Hue, building charity houses in Tien Giang, Ben Tre. The club also made money and milk donation to disabled orphans at Mai An Shelter, Go Vap district.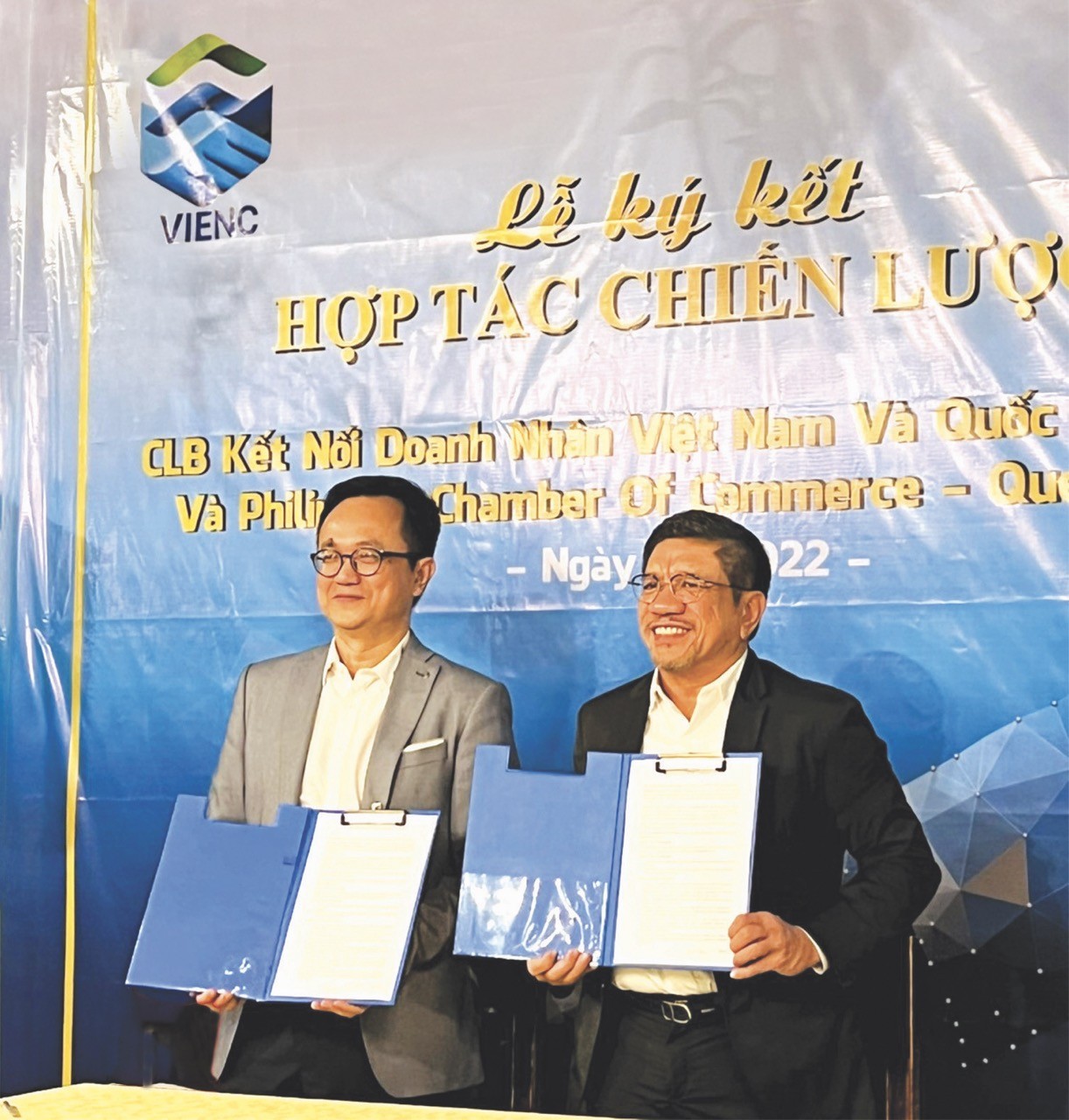 The Memorandum of Understanding signing event on strategic cooperation to expand cooperation and trade promotion for the business community between Vietnam and the Philippines
In the future, VIENC plans to coordinate with Chambers of Commerce and Industry's representatives from many countries, such as India, Canada, Malaysia, Hong Kong, Taiwan (China), Italy, to organize business networking nights. They will be the opportunities for its members to network and promote Vietnamese brands to other countries.
"There are many enterprises facing difficulties and workers are negatively affected. In 2023, we are hoping for the government's policies on capital to help enterprises to have the fund resources to develop," said VIENC President - Dinh Vinh Cuong.
Vietnam-Canada Business Association (VCBA)
After more than a year of discussion and careful preparation, under the direction and cooperation of the Consulate General of Vietnam in Vancouver (Canada), the Vietnam - Canada Business Association held the establishment ceremony on October 1, 2022.
The ceremony marked the milestone of the 5th year anniversary of establishing the Comprehensive Partnership between Vietnam and Canada. The two countries also look forward to the 50th anniversary of establishing diplomatic relations in 2023. Besides connecting Vietnamese businesses in Canada, VCBA also welcomes businessmen in Vietnam and in Canada who wants to do business and invest in Vietnam and other countries to create a powerful, diversified organization with rich economic, culture, and laws know-how.
According to VCBA President Dan On, the establishment of VCBA created a premise for Vietnamese's collaboration. VCBA is a diverse forum which connects and expands cooperation with Vietnamese enterprises, especially in import-expert and investment to promote two-way trade turnover between Canada and Vietnam. Dan On hoped that VCBA would result in many collaborations, benefits, and developing opportunities.
"VCB Association was established recently. The business community's strong support for us was very important. At the establishment ceremony, there were 500 people who attended and wanted to become a member in the Founder Board. Two months later, there were 700 entrepreneurs and guests, including the Minister of the British Columbia Government, George Chow, who attended and registered as members.
In 2023, VCBA will hold many activities. Notably, it will coordinate with the Consulate General of Vietnam in Vancouver and the provincial government of British Columbia to organize business and investment promotion activities from both sides. This practical activity aims to celebrate the 50th anniversary of Vietnam - Canada diplomatic relations. VCBA will also send a delegation of Canadian businessmen to Vietnam to explore investment and business opportunities and vice versa (business delegation from Vietnam to Canada). There will be seminars, roundtable discussions, networking and sports, cultural activities, community actitvities and so on."
US - Vietnam Business Council (UVBC)
At the end of October 2022, a delegation of the US - Vietnam Business Council (UVBC), led by UVBC President Trinh Trung made the very first business trip to Vietnam. The mission of the trip was to introduce UVBC to the business community in Hanoi and Ho Chi Minh City. It also aimed to form a support network with various Vietnamese partners for future business development.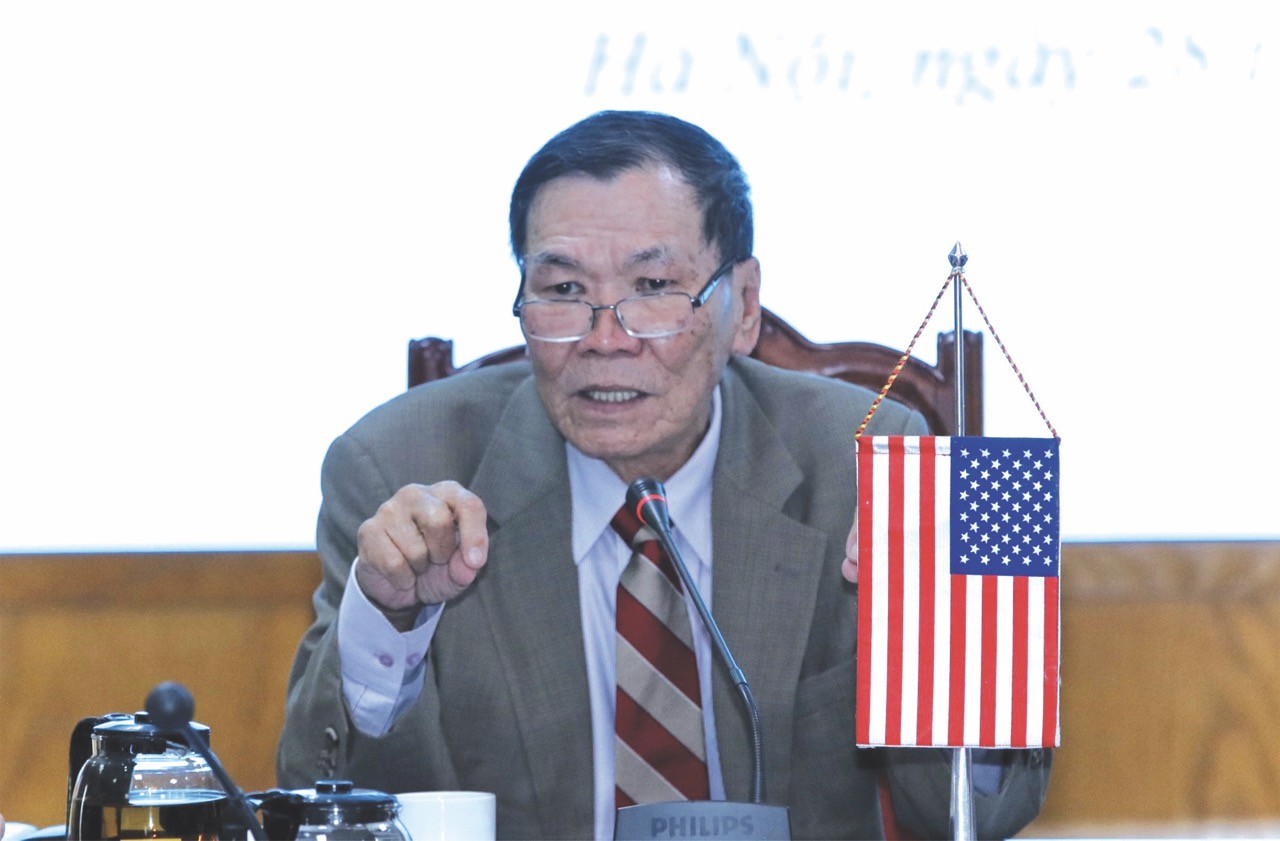 UVBC President Trinh Trung (Photo: Thu Ha)
The trip began with a roundtable discussion on Vietnamese - American businesses organized by the Vietnam - US Association in Hanoi on October 28, 2022. At th event, the UVBC delegation met with many Vietnamese businesses to exchange business information and to gain understanding about the demands fro Vietnamese small and medium enterprises.
According to Trinh Trung, UVBC was established in June 2022 by a team of experienced professionals with deep, integrated networks in many different industries in Vietnam and the United States since 1995, as soon as the US lifted the embargo on Vietnam. As a non-profit organization, UVBC is specifically focused on helping small and medium enterprises in the US and Vietnam to explore, identify and develop potential business projects. On the other hand, UVBC strives to promote mutual understanding and cooperation between the Vietnamese and American people through various art, educational, and cultural projects.
"We want to help small and medium-sized enterprises in the US and Vietnam understand each other's cultures, to gain business and investment experiences in the US market and vice versa," said Trung.
Notably, there are two areas UVBC is focusing on: high-tech agriculture and information technology.
The President added that UVBC will collaborate with the Vietnam - US Association particularly the Vietnam - US Business Association to build a database of its members and their specific needs of import and export, quantity, items, and so on. The UVBC also organizes training courses on food hygiene safety, traceability of food according to the requirements of the US, or application of current agricultural technologies such as post-harvest preservation technology, processing technology, and production of high-quality products for export.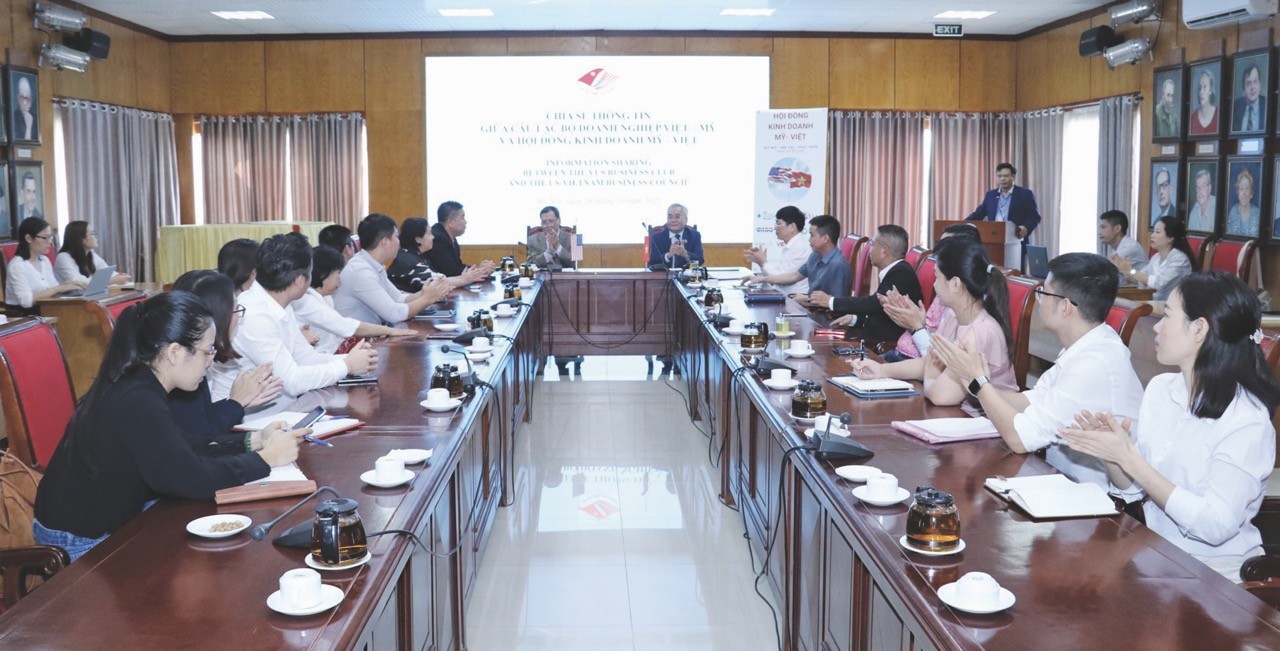 Information session between Vietnam - US Business Association and the UVBC l in Hanoi, October, 2022 (Photo: Thu Ha).
In March 2023, UVBC will send another business delegations to Vietnam, with a focus on providing small and medium enterprises in the US the opportunity to research and develop business projects in Vietnam, especially those in the sectors of high-tech agriculture sector and information technology.