Vietnam News Today: Vietnam approves e-visa application from 80 countries as of July
Vietnam approves E-visa application from 80 countries from July and the government also revealed a list of border gates and airports that will accept an electronic entry, shrimp exports expected to pick up in May, a tree falling at school in HCMC leading to the death of 1 student ... are making the headlines of May 26.
E-visa application from 80 countries approved in Vietnam as of July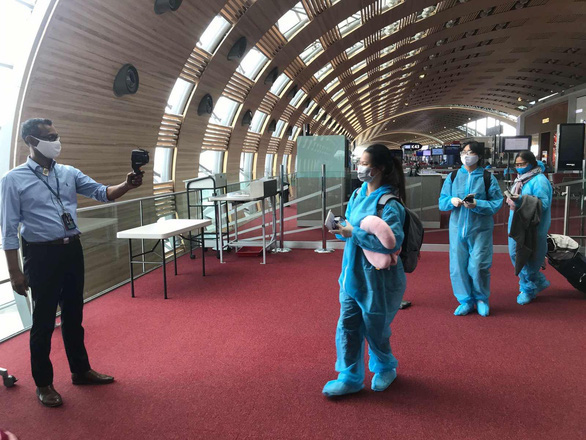 Passengers have their body temperature checked at an airport in Vietnam. Photo: VNA.
According to VNA, residents from a number of countries worldwide will be allowed to enter Vietnam using e-visas from the beginning of July. The government also revealed a list of border gates and airports that will accept an electronic entry.
Visitors with e-visas can enter Viet Nam at eight international airports, or arrive via land at 16 international border gates and via sea at 13 ports across the country.
Vietnam started a two-year e-visa pilot program for foreigners from 40 countries on February 1, 2017. The pilot scheme did not require foreigners to be sponsored or invited by organizations or individuals in Vietnam to be applicable for the e-visas, as long as they have valid passports and are citizens of one of the 40 listed countries.
Foreigners are not required to be present at representative agencies of Việt Nam in their countries, get interviewed, or scan their fingers to apply for e-visas.
Vietnamese shrimp exports expected to pick up in May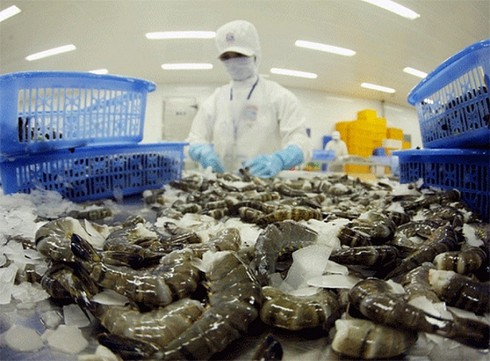 Vietnamese shrimp exports is expected to pick up in May
The country's shrimp exports during April enjoyed an increase of 5.8% to US$244.2 million, boosting the total export turnover during the opening four months of the year by 2.9% on-year to US$872.8 million, whilst shrimp exports are expected to continue their growth into May, Custom News reported.
Japan remains the largest consumer of Vietnamese shrimp, accounting for 20.7% of the overall shrimp export value. After enduring a slight decrease in March, Vietnamese shrimp exports to Japan rose by 19% in April to a figure of US$48.6 million, representing an annual surge of 11% to US$180.5 million against the same period from last year.
One student killed, 12 injured as tree falls at school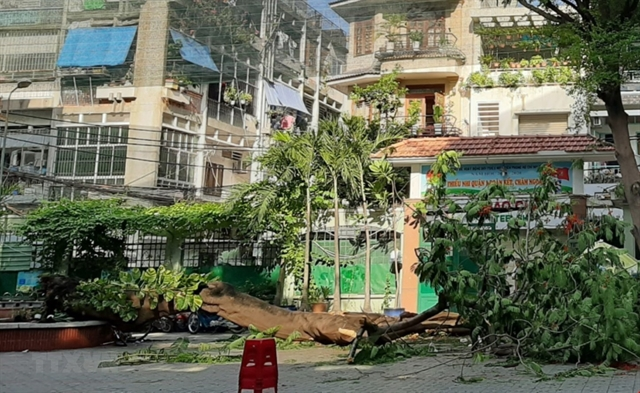 The scene of the accident where a tree fell on students at a school in HCM City. — VNA/VNS Photos
The accident happened on Tuesday morning when an old flamboyant tree 10m in height suddenly fell on the students who were reportedly queuing in the schoolyard of Bach Dang Secondary School in Ho Chi Minh City's District 3, Vnexpress reported.
All students were in grades six and eight.
Three ambulances were immediately sent to the scene and took the injured students to the hospital.
After a prolonged break since the Lunar New Year festival in late January due to the Covid-19 pandemic, over 22 million students only returned to school this month. Sixth graders came back to school two weeks ago.
Vietcombank among Forbes' top 1,000 listed companies worldwide
The Joint Stock Commercial Bank for Foreign Trade of Vietnam (Vietcombank) has been nominated byForbes in the list of 1,000 largest companies in "The World's Largest Public Companies 2020" report,v VNA reported.
The bank, the only concern from Vietnam to be ranked among the largest 1,000, was listed 937th, up 159 places from 2019. Its ranking in 2015 was 1,985.
Vietcombank posted strong profit growth last year, with profit before tax reaching 23.16 trillion VND (994 million USD), up 24 percent year-on-year and surpassing the targeted 12 percent. The result put it among the top 200 banking institutions in the world in terms of profit.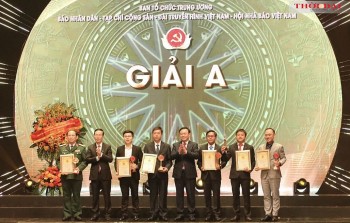 Viet's Home
The 7th National Press Prize on Party Building (named Golden Hammer and Sickle) - 2022 has been bountiful with thousands of entries on a variety of topics, rich in genres, closely following hot topics, outstanding events, key tasks of the political system and the country. Content relating to party building process was clarified and further exploited compared to previous years.