Vietnamese PM cuts ribbon to launch temple dedicated to late President's ancestors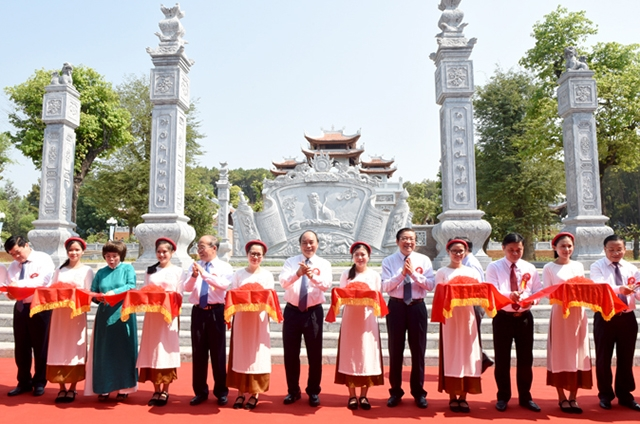 PM Nguyen Xuan Phuc (C) cuts the ribbon to inaugurate a temple dedicated to the ancestors of President Ho Chi Minh in Kim Lien Commune, Nam Dan District, in the central province of Nghe An, on May 16, 2020. (Photo: NDO/Thanh Chau).
On May 16, Prime Minister Nguyen Xuan Phuc cut the ribbon to inaugurate a temple dedicated to the ancestors of President Ho Chi Minh in Kim Lien Commune, Nam Dan District, in the central province of Nghe An, where the president was born, VNA reported.
Located to the south of Chung Mountain, the ancestral temple is constructed on a ground of 83.63 hectares.
The temple symbolizes a popular Vietnamese saying "When you drink water, remember the source," Phuc said in his remarks at the launching ceremony, adding that it will serve as a historical place for people to pay tribute and show gratitude towards President Ho Chi Minh and his ancestors for their contributions to the nation.
On the same day, PM Phuc attended the unveiling of a monument built by cooperatives and cooperative alliance across Vietnam to show respect for President Ho Chi Minh.
Construction of the monument began at Kim Lien special national relic site in Lang Sen 3 Village, Kim Lien Commune, in August last year, aiming to mark the late president's 130th birthday (May 19, 1890-2020). It received total investment of VND8 billion (US$343,000).
COVID-19 situation in Vietnam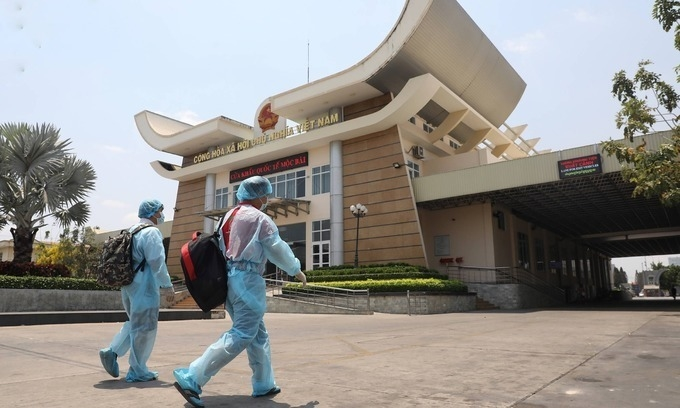 Medical staff outside a quarantine area in Tay Ninh Province near the Cambodian border, March 2020. Photo by VnExpress/Huu Khoa.
Vietnam has confirmed five COVID-19 new cases this Saturday who are all returnees from abroad. Of those, three were quarantined on arrival.
Today marks one month that Vietnam has gone with no COVID-19 transmission cases in the community.
Among the new COVID-19 cases today, there were two returnees from Russia on Vietnam Airlines flight VN0062 that landed Wednesday in the northern province of Quang Ninh, VNexpress reported.
Their samples were taken the same day for testing and they were confirmed positive Friday. They are now undergoing treatment at the Thai Binh General Hospital.
The repatriation flight had carried 345 Vietnamese home from Russia. Twenty-five others on that flight have already tested Covid-19 positive.
Saturday marks the 30th day that Vietnam has gone without recording any Covid-19 infection caused by community transmission.
CNN: Life in Vietnam gradually returns to normal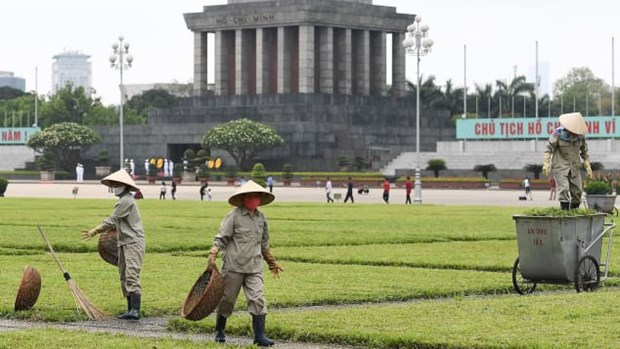 Hanoi workers tend to the grass outside the Ho Chi Minh Mausoleum in Hanoi on May 13 as tourist spots began reopening (Photo: AFP)
The US-based news channel CNN on May 15 has released an article on how's life of Vietnamese people going after lifting social distancing measures.
"After a week with no new COVID-19 cases, Vietnam's government had just eased its 22-day social distancing initiative, allowing some businesses to reopen on April 23", wrote Katie Lockhart, a tourist staying in the country since January.
Signs of life had already begun to emerge the prior day and streets were filled with people riding their motorbikes - all good signs the city was poised to reopen as planned, the author noted.
She added that domestic tourism is resuming as well, as airlines increase flight schedules and hotels re-open throughout the country.
Though some restrictions remain in place, the southern hub Ho Chi Minh City recently lifted the ban on certain entertainment facilities and non-essential businesses, including pubs, cinemas and spas. Meanwhile, Hanoi this week also reopened its historical attractions to visitors, Lockhart continued.
"For now, recovery is focused on domestic tourism. On April 23, the Ministry of Transport started to increase domestic flights and trains to major destinations with limited passenger capacity".
The writer added that the country has bolstered communication work to raise public awareness of the disease, as people receive daily updates from loudspeakers on vehicles making their way through the streets.
Singapore rose to become the biggest investor to Vietnam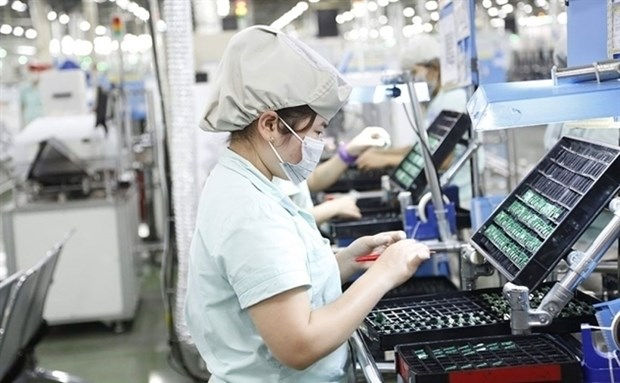 With 5.07 billion USD, Singapore becomes the biggest foreign investor in Vietnam in the first four months of 2020 - Illustrative image (Source: nhipcaudautu.vn)
With 5.07 billion USD, accounting for41 percent of the total FDI in the first four months of 2020, Singapore rose to become the biggest foreign investor in Vietnam, Vietnam Insider reported.
It was followed by Thailand and Japan, with 1.46 billion USD and 1.16 billion USD, respectively, according the Ministry of Planning and Investment's Foreign Investment Agency (FIA).
Foreign investors poured 12.33 billion USD in total into Vietnam during January-April, a year-on-year decrease of 15.5 percent due to the impact of the COVID-19 pandemic.
The period saw 984 new foreign-invested projects licensed with a total registered capital of 6.78 billion USD, down 9.1 percent in term of number of projects but up 26.9 percent in value year-on-year.
Meanwhile, 335 existing projects were allowed to raise their investments by more than 3.07 billion USD, surging 45.6 percent over the same period last year.
Vietnam Airlines, VITA launch domestic tourism stimulus programme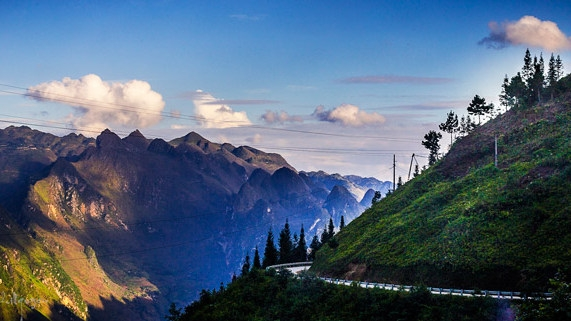 The programme is expected to create an opportunity for tourists to newly experience all the regions of the country. (Illustrative image)
Vietnam Airlines and the Vietnam Tourism Association (VITA), on May 16, launched a programme to stimulate domestic tourism until the end of 2020, Nhandan reported.
The programme calls for tourism enterprises to build new and unique tourism products and services at affordable and discounted prices while ensuring the quality of services.
Permanent Vice Chairman of VITA Vu The Binh said that more than 150 enterprises representing Vietnamese tourism in all three regions of the country are determined to restore tourism activities and gradually bring Vietnam's tourism sector back to the growth rate of the past four years.
Under the "Vietnam Tourism - Bright Destination" programme, Vietnam Airlines in coordination with the VITA and prestigious travel companies, including HanoiTourist, Saigontourist, Vietrans Tour, Vietravel, and Redtour, will build tours with discounts of up to 40% applied for groups of tourists with at least six people.
The programme will be applied to all domestic routes operated by Vietnam Airlines with departure dates from May 15 to December 31, 2020.
The programme is expected to create an opportunity for tourists to newly experience all the regions of the country and visit their famous and safe destinations.
Vietnam Airlines in partnership with other travel agencies have implemented various tourism stimulus programmes, promising lots of attractive options for visitors.
Lyan Vu