Vietnam, Northern Ireland Strengthen Educational Cooperation
Within the framework of the activity program of the Vietnam - UK Friendship Year 2023, celebrating 50 years of diplomatic relations, the Vietnamese Ambassador to the UK paid a working visit to Belfast city in Northern Ireland.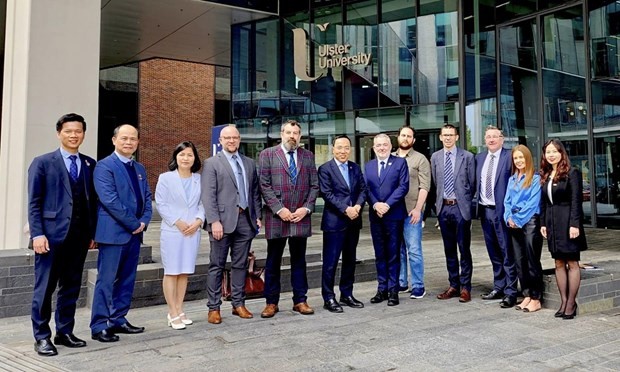 Ambassador Nguyen Hoang Long (6th from left) and lecturers of the Ulster University. Photo: VNA
Vietnamese Ambassador to the UK Nguyen Hoang Long has made a working trip to Belfast city in Northern Ireland to foster bilateral connections and cooperation, especially in education and trade, VNA reported Saturday.
During the trip from May 9-11, Long visited two leading universities in Northern Ireland - Ulster University and Queen's University Belfast - to discuss cooperation in research, training, student exchange and English teacher training.
At the Ulster University, which has announced nine MA scholarships on Teaching English to Speakers of Other Languages (TESOL) for English language teachers from Vietnam, Long was welcomed by Deputy Vice-Chancellor Professor Paul Seawright who expressed his hope that the project will contribute to fostering the effective partnership between Northern Ireland and Vietnam.
Long said that the scholarships, part of the British Council's UK/Vietnam Season, aims to honour the sound relations between the UK and Vietnam, and strengthen the connections between the two countries' people.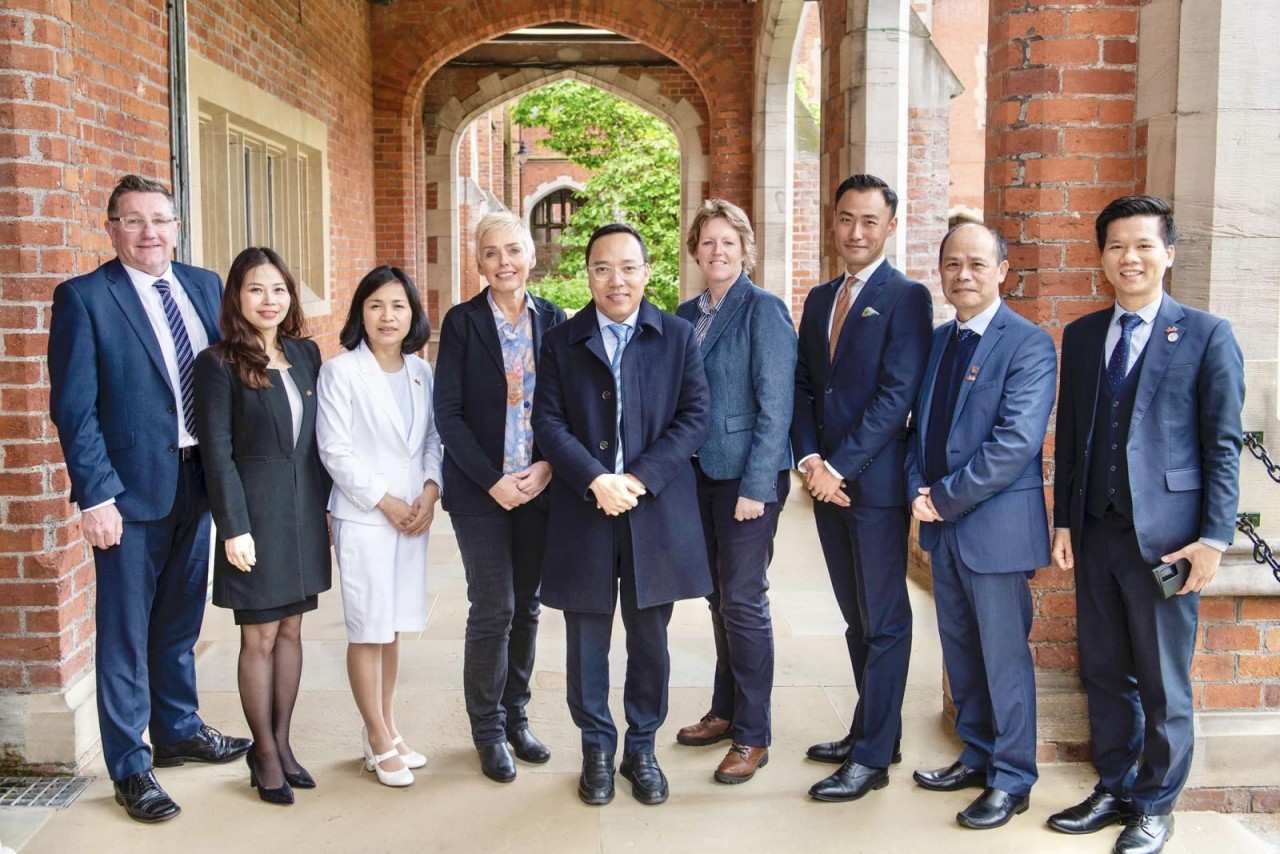 Ambassador Nguyen Hoang Long with Queen's University Belfast Vice-Chancellor Helen McCarthy (4th from left) and professors and lecturers at Queen's Belfast. Photo: VNA
British Council Director for Northern Ireland Jonathan Stewart said that the British Council is committed to providing English language teachers with access to world-leading professional development opportunities and reaching their full potential.
At the Queen's University Belfast, Long attended a roundtable discussion with representatives from Ulster University, the Queen's University Belfast, and the British Council in Belfast.
He thanked the leaders of Queen's University Belfast for many educational cooperation activities with Vietnamese universities in recent years, including granting many PhD scholarships to Vietnamese researchers.
Participants agreed to find solutions to strengthen cooperation in priority areas such as higher education, scientific research, and innovation; medical and life sciences; computer science, network security, network technology, creative industries, and agriculture, while promoting trade exchanges and business collaboration and fostering partnership at the local level between Vietnam and Northern Ireland.
Long expressed his hope that the Queen's University Belfast and the Belfast administration will design policies to strengthen support for Vietnam, including providing accommodation, tuition fees, and scholarships for talented Vietnamese students.
Delegation of the Vietnamese Embassy in the UK took commemorative photos with Vietnamese professors, lecturers and doctoral students at Queen's University Belfast. Photo: VNA
Queen's University Belfast currently has five professors and lecturers from Vietnam, together with about 10 Vietnamese postgraduates and 60 students in technology, telecommunications, healthcare, and English language teaching.
British Impressions of Vietnamese Durian

On May 4, Vietnam's Ri6 durian was first introduced to the UK market. Many British friends expressed their excitement toward this event, suggested ways for ...