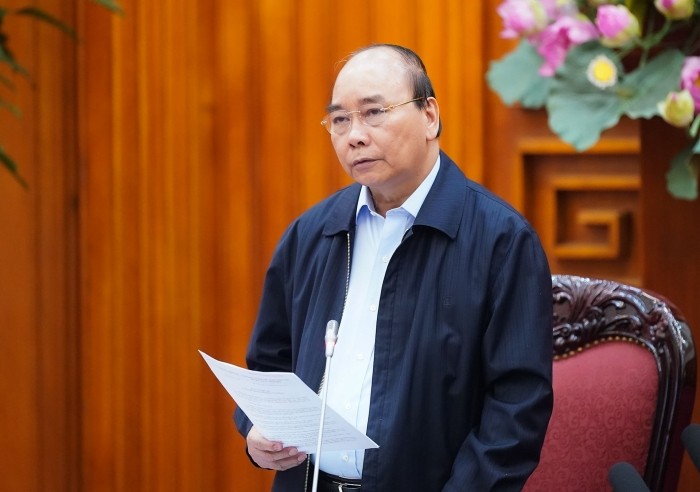 PM issues social distancing order on national scale for 15 days
Accordingly, the new measures will see isolation carried out on a national scale for families, villages, communes, districts, and provinces, as well as in workshops and production plants, in an attempt to ensure that people remain a safe distance away from each other, in addition to other regulations relating to wearing masks and spraying disinfectant.
From 00:00 hours on April 1, every citizen will be required to stay indoors and will only be allowed to go out for necessities such as purchasing food or medicine. Alternatively, people can still leave their homes in the event of an emergency, if they work at factories, manufacturing facilities, or other business and service establishments which provide essential goods and have not been closed.
It is necessary for all people to strictly keep a minimum distance of two metres apart when communicating, whilst also not congregating in groups over two people in workplaces, schools, hospitals, and in public places.
PM Phuc requested ministries, ministerial-level agencies, government agencies, and the various People's Committees of centrally-run provinces and cities to focus on implementing the proposed epidemic prevention measures, with a particular focus on Directive No. 15 which was issued on March 27. This should be done in compliance with the instructions issued by the National Steering Committee for COVID-19 Prevention and Control.
Ministries, sectors, localities, and media agencies have been requested to continue to step up communication in order to ensure that anti-epidemic measures to protect people's health are implemented in an effective manner, the PM stressed.
To declare COVID-19 outbreak as nationwide pandemic
Prime Minister Nguyen Xuan Phuc agreed to declare the COVID-19 outbreak as nationwide pandemic while presiding over a meeting on Monday afternoon (Marth 30).
"We are not allowed to be subjective and negligent", stressed Phuc, adding that a series of drastic measures have been taken but many people still took to streets or beaches.
He called on citizens not to move away from their home, villages, communes, districts, or provinces for at least 15 days in order to avoid contracting the virus.
As of Monday afternoon, the Ministry of Health reported 203 infection cases, of whom 187 have been confirmed since March 6.
Of the total infection cases, 55 have recovered while the rest are being treated at 22 medical facilities across the nation, according to the ministry.
VOV