Vietnam presents medical supplies to support Cambodia's Covid-19 fight
The country is continuing to present medical equipment and supplies to Cambodia to help the neighboring country in fighting against the novel coronavirus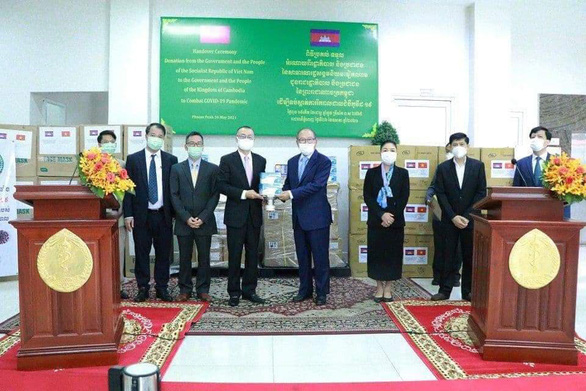 Vietnamese Ambassador to Cambodia Vu Quang Minh hands over medical equipment and supplies to Cambodian Minister of Health Mam Bunheng. Photo courtesy of the Vietnamese Embassy in Cambodia.
The Vietnamese Ambassador to Cambodia Vu Quang Minh on May 26 handed over medical equipment and supplies to Cambodian Minister of Health Mam Bunheng to help the country in its Covid-19 battle.
The donation comprised of supplies including 800 ventilators, 2 million face masks and 300,000 N95 masks.
At the handover ceremony, Ambassador Vu Quang Minh said he appreciated Cambodia's achievements in Covid-19 prevention and control. The diplomat took this occasion to extend thanks to the Cambodian Government for treating and taking care of Covid-infected Vietnamese citizens in the country.
The Cambodian Minister of Health Mam Bunheng expressed his deep gratitude to Ambassador Minh as well as the Vietnamese government for their timely and valuable assistance.
He said that that the aid demonstrated the special solidarity and great friendship between the two countries.
Previously, Vietnam gifted Cambodia a variety of medical equipment and supplies including protective clothes, face masks, Covid-19 testing systems and 200,000 U.S. dollars.
In addition, through the Vietnamese Embassy and Khmer - Vietnam Association in Cambodia, organizations and individuals in Vietnam and Vietnamese organizations, individuals and businesses in Cambodia have provided financial aid to the government and people of Cambodia.
The Cambodian Health Ministry on May 25 reported 568 more Covid-19 cases, raising the total count to more than 26,000. Of the new cases, 540 were community transmissions and 28 were imported.
As many as 663 patients recovered and four have died, raising the total number of fatalities to 183.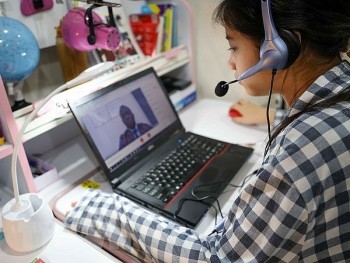 Friendship
The Dariu Foundation and Blancco Technology Group signed a cooperation agreement to provide used computers for students and pupils in difficult circumstances.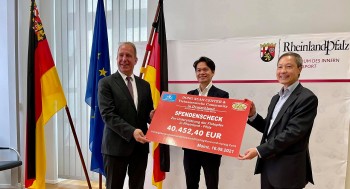 Friendship
The Vietnamese community living and working in Germany have donated EUR 40,452 to help people in the flood-affected Rhineland-Palatinate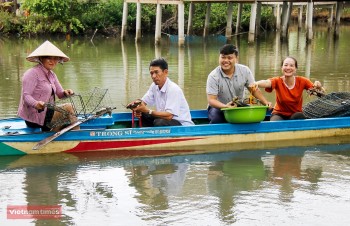 Viet's Home
Ca Mau has just issued a plan to restart tourism development after the Covid-19 pandemic, with many events and attractive destinations to serve tourists.