Vietnam Proposes Measures to Forge Mekong – Lancang Cooperation
Vietnamese Foreign Minister Bui Thanh Son suggested four major measures to make the Mekong-Lancang Cooperation (MLC) more effective.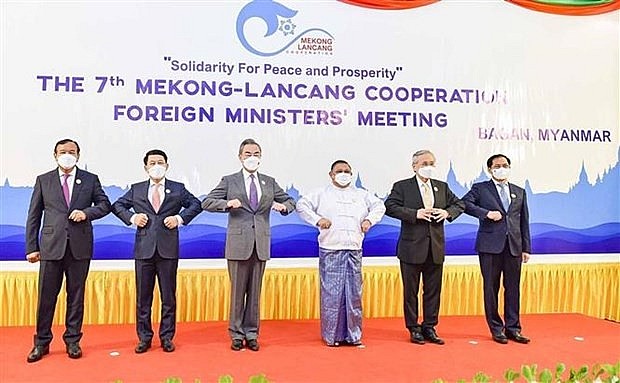 MLC Foreign Ministers at the meeting. Photo: VNA
Addressing the seventh MLC Foreign Ministers' Meeting that opened in Bagan, Myanmar, on July 4, Son placed strong emphasis on speeding up economic recovery, enhancing the economy's resilience, and strengthening customs cooperation and trade facilitation in order to address goods congestion and ensure the circulation of goods and services.
Son suggested supporting member countries to adapt to climate change and transition to a green economic model, including improving production and storage capacity of clean energy, and applying high technology to smart agriculture and climate adaptation, VOV reported.
It's imperative to promote cooperation in the management and sustainable use of water resources, including speeding up the development of an MLC Water Resources Cooperation Action Plan for 2023-2027, said the diplomat.
He said the MLC should encourage consultation and dialogue on water resource development plans among member countries, increase the sharing of hydro-meteorological data and operation of hydroelectric dams, and strengthen coordination between the MLC and the Mekong River Commission.
Vietnamese Foreign Minister Bui Thanh Son attends and delivers a speech at the meeting. Photo: baoquocte.vn
Son also suggested that the MLC promote people-to-people exchanges through revitalizing and expanding tourism activities, cooperation between local governments and cultural, sports, youth and women's empowerment programmes.
Vietnam attaches importance to the MLC and wishes to make a practical contribution to the mechanism to bring real benefits to the people, Son affirmed.
Despite the impact of the Covid-19 pandemic two-way trade turnover between Mekong River basin countries and China reached nearly US$400 billion last year, up 23% compared to 2020. Many large infrastructure projects have been completed, while hundreds of technical assistance projects have been implemented.
The ministers highlighted the achievements in the management and use of water resources of the Mekong River and pledged to obtain substantive results at the second Ministerial Meeting of the Mekong-Lancang Water Resources Cooperation to be held in Vietnam in 2022.
The participating ministers emphasised the principles of consensus, equality, mutual consultation and coordination, common contribution and shared benefits, with respect for the United Nations Charter and international laws.
They agreed to promote MLC cooperation by consolidating the friendly neighbourly relationship, making positive contributions to socio-economic development of the member countries, building the ASEAN Community, and realizing the sustainable development goals 2030.
They adopted a Joint Press Communique and four joint statements on strengthening agricultural cooperation, disaster prevention, customs and trade facilitation, and exchanges between MLC civilisations.
Founded in 2016, the MLC consists of six member countries, namely Thailand, China, Cambodia, Laos, Myanmar, and Vietnam.
FM Son meets Chinese official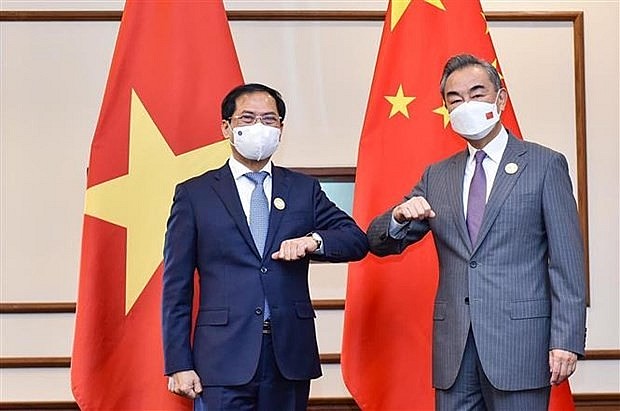 FM Son (L) meets Chinese State Councilor and Foreign Minister Wang Yi. Photo: VNA
The same day, FM Son had a meeting with Chinese State Councilor and Foreign Minister Wang Yi, during which both sides highly valued the progress of the Vietnam-China relations over the years with regular high-level meetings and stably growing trade partnership, according to VietnamPlus.
Son affirmed that the Party and State of Vietnam always attaches great importance to the friendship and cooperation with China, and hope to promote the relations between the two Parties and countries in healthy, sustainable and long-term manner with increasing political trust and effective collaboration.
He proposed that both sides actively increase visits and meetings at all levels, and China continue to create more favourable conditions for Vietnamese products, especially farm produce and seafood, to be exported to China and to a third country through China.
Both sides should coordinate closely in Covid-19 control, resuming commercial flights between the two countries and strengthening transport infrastructure connections, making it easier for people of both sides to travel between the two countries, said Son.
For his part, Wang affirmed that the Party and State of China pay great attention to reinforcing and developing the comprehensive strategic cooperative partnership with Vietnam, and hope to work with Vietnam to strengthen mutual political trust and deepen their win-win partnership, satisfactorily settling disagreements, and making the relationship between the two Parties and countries further develop in a healthy and stable manner for the interests of both sides.
He affirmed that China is willing to coordinate with Vietnam to increase exchanges and meetings at all levels through many flexible methods. China aims to open its market for high-quality products from regional countries, especially ASEAN nations, he said, adding that China highly values the role of Vietnam in the global supply chain and hopes to work closely with the country in economy, trade and investment to ensure the stability of the global supply chain.
Regarding the Bien Dong Sea (South China Sea) issue, FM Son suggested that both sides continue to effectively implement their high-level agreements and common perspectives; respect each other's legitimate interests in line with international law, including the 1982 UN Convention on the Law of the Sea (UNCLOS); fully and effectively carry out the Declaration on the Conduct of Parties in the South China Sea (DOC) towards a practical and effective Code of Conduct (COC) on the waters with conformity to international law, thus together maintaining peace and stability in the waters.
He affirmed that China hopes to deal with disagreements through dialogue and negotiation, and is willing to work with ASEAN to implement the DOC and soon finalise the COC for peace, stability and maritime freedom.
Both sides also discussed a number of international and regional issues of shared concern./.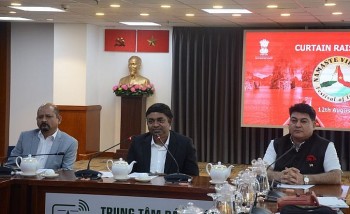 Handbook
The First Namaste Vietnam Fest will be held to mark 75 years of Indian Independence and the 50th anniversary of the establishment of Vietnam-India diplomatic ties (1972 – 2022).