Vietnam ranks top 10 Asia-Pacific in high-quality published researches
Vietnam has made a list of ten countries in the Asia-Pacific region for the highest number of research articles published on high-quality science journals in 2019 by Nature Index - a global indicator of high-quality research.
According to Vnexpress, the 2020 Nature Index by Germany-based Nature Research adopts two major metrics to track research output and collaboration including the article count, or simply count, and the fractional count, or share.
Photo: Vnexpress
The 2020 index rank countries/territories and institutions based on the share, with data collected from January 1 to December 31 of 2019. It tracks by institution research published in 82 natural science journals, selected on the reputation by an independent panel of leading scientists in their fields.
For this year, Vietnam's share is 16.35, and its count is 79.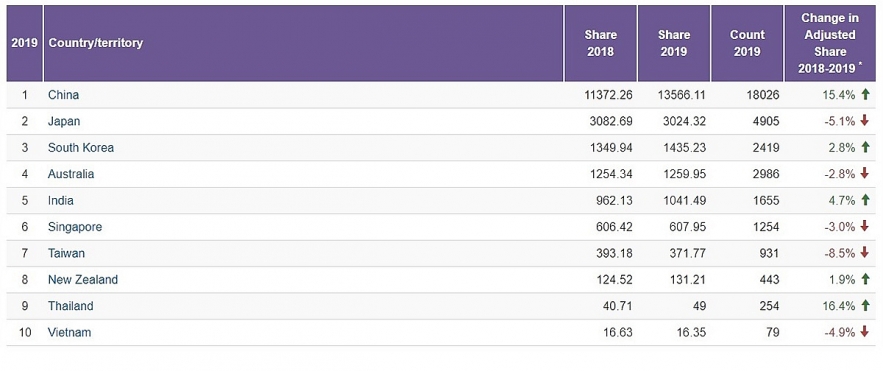 Asia-Pacific top 10 in the 2020 Nature Index. Photo by Nature Research.
Though having its share dropped 4.9 percent against the same period in 2018, Vietnam has maintained at the tenth place, a position it has secured since 2017.
Compared to its Southeast Asian peers, Vietnam stands only behind Singapore and Thailand on the ranking.
Thailand is the only Southeast Asian that has made it to the top 10 rising countries/territories, which are ranked by change in adjusted share from 2015 to 2019, and led by China and Russia in the first and second spots.
China tops the Asia-Pacific region with 13,566 in share and 18,026 in the count.
On a global scale, the U.S. takes the lead with a share of 20,152 and a count of 28,403. It is followed by China. Germany arrived third with 4,585 in share and 4,545 in the count.
Counts of all research outputs for Vietnam published between 1 March 2019 - 29 February 2020 which are tracked by the Nature Index are 79, and its share is 15.37.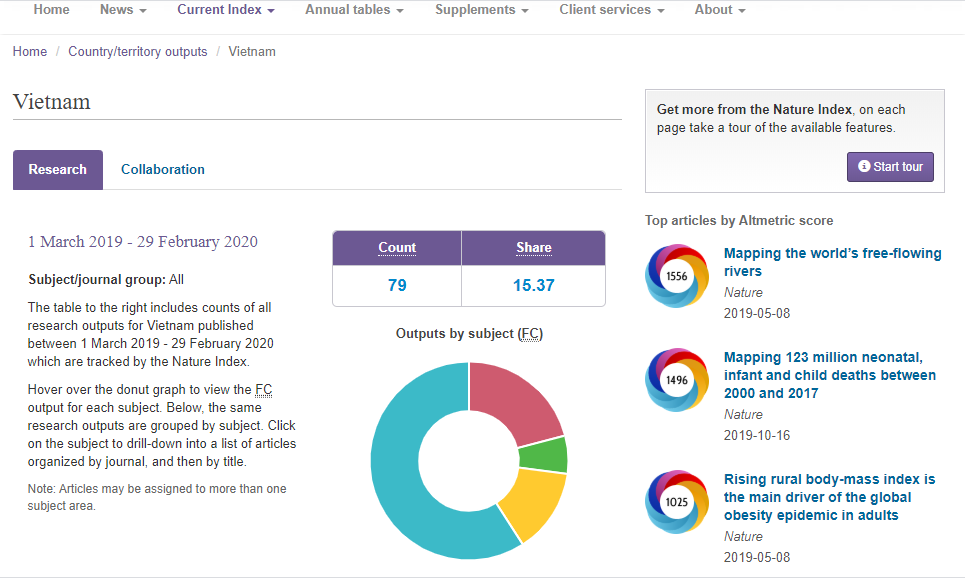 Source: Nature Index
Subjects published by Vietnam include Physical Sciences with 38 in the count, Life Sciences with 25 in the count, Chemistry with 13 in the count, and Earth and Environmental Sciences with 7.
Vietnam Academy of Science and Technology is the leading institution with the highest number of articles published in high-quality science journals. Vietnam National University, Hanoi (VNU) ranks second place in the top 10 institutions from Vietnam with 16 in the count.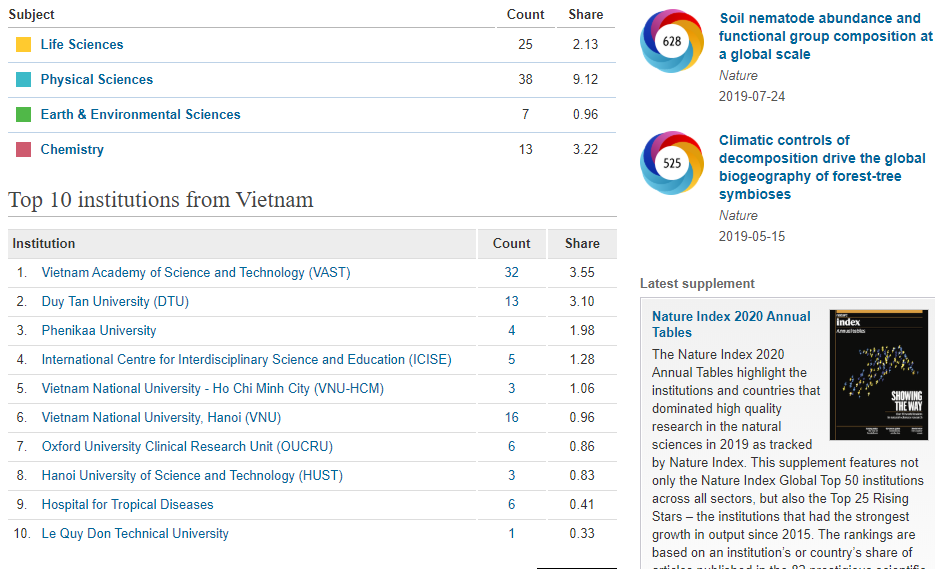 Source: Nature Index
Nature Research is a division of the international scientific publishing company Springer Nature that publishes academic journals, magazines, online databases, and services in science and medicine.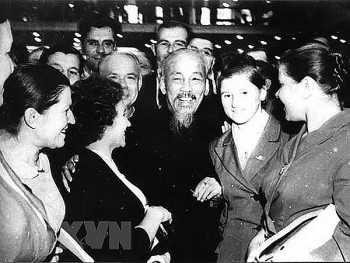 National
Throughout its history Vietnam has come into contact and exchanged with many cultures and civilizations.