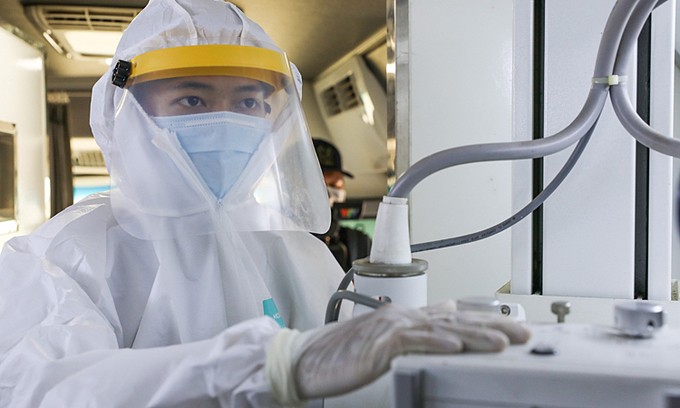 A doctor at Cu Chi Field Hospital for novel coronavirus patients and suspects in Ho Chi Minh City, February 10, 2020. Photo by VnExpress/Quynh Tran.
Of the new cases, four were people had arrived from overseas, while other cases are those that worked closely with previous confirmed cases.
The 62nd patient is a 18-year-old student in the UK who came back through Quang Ninh province's Van Don International Airport on March 16 and her sample turned out to be positive for SARS-CoV-2 that causes COVID-19.
The 63rd patient is also a student in the UK who came back through Hanoi's Noi Bai International Airport on March 15's flight TG564.
The 64th patient is a 36-year-old woman living at Ho Chi Minh City, who flew with her boyfriend to Dubai from Switzerland and and returned to Vietnam on March 12 on Flight EK392 to HCM City-based Tan Son Nhat Airport. Her boyfriend had travelled to Hong Kong (China).
The 65th patient is a 28-year-old woman working in Ho Chi Minh city and had close contact with cases 45 and 48 on March 7 and 10.
Meanwhile, the 66th patient is a 21-year-old woman who traveled from US (Pennsylvania - Philadelphia) to Toronto (Canada), transited in Taiwan (China) and arrived in Vietnam on March 16 on Eva Air airline Flight BR395, seat number 6G.
Weeks after declaring the recovery of all 16 of its virus sufferers, Vietnam has confirmed 66 infections, but no deaths, after authorities announced a surge in infections from overseas. The other cases are all in stable condition.
Schools stayed shut nationwide. Authorities have ordered the closure of cinemas, clubs and bars, massage parlours, karaoke lounges and online game centres in urban areas until the end of March.
The government has advised Vietnamese to call off large gatherings and ordered all Vietnamese and foreign nationals to wear masks crowded public places, including supermarkets, airport terminals, train stations, coach stations, and public transport vehicles.
The country also has decided to temporarily halt visa issuance to foreigners for 30 days, applicable since March 18./.
Hannah Nguyen