Accordingly, each participant will receive two injections about a month apart in varying doses. The volunteers who were selected were screened by Kaiser to not be sick nor have underlying health conditions. Participants cannot become infected from the shots because they do not contain the virus – or even an attenuated version of it in the way traditional vaccines such as MMR do.
Some of the participants may get a higher dosage of the vaccine, to see what dosage is most effective. Volunteers will be given two doses. The second dose will be administered a month after the first.

Pharmacist Michael Witte wears heavy gloves as he opens a frozen package of the potential vaccine for COVID-19. (Photo: AP)
This potential vaccine was developed by the National Institute of Health and the private biotech company Moderna. The vaccine uses clever genetic engineering to harness the body's cells to produce little pieces of virus that are then recognised by the immune system. The shot carries a specific stretch of messenger RNA that contains the instructions to build the receptor on the virus' surface that allows the immune system to target it.
In theory, if this synthetic RNA is injected into a person, it should enter their cells and programme their inner machinery to churn out proteins that look exactly like the receptor on the surface of the virus. These floating receptors would then trigger the immune system without causing illness.
Even if initial safety tests go well, "you're talking about a year to a year and a half" before any vaccine could be ready for widespread use, according to Anthony Fauci, the director of NIH's National Institute of Allergy and Infectious Diseases.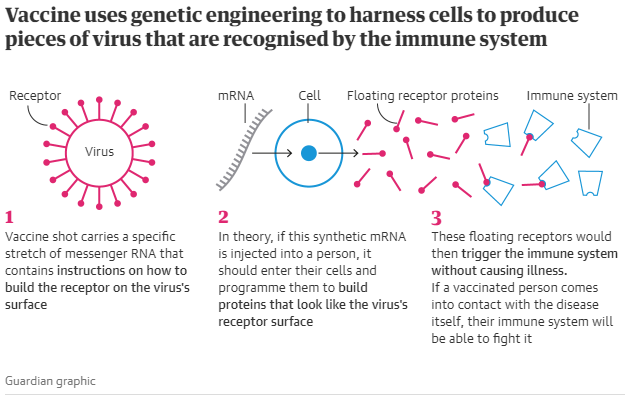 (Graphic courtesy of The Gurdian)
Even though participants don't risk getting the virus, the safety of the vaccine is still unknown. Scientists don't know what the immune response to the test will be yet.
While this is the first potential vaccine to make it into a clinical human trial, other vaccines are also underway. Before any vaccine becomes available to the general public, researchers have to be sure it is safe and effective.
Vietnam retail industry amid COVID-19

A latest research by Kantar Worldpanel Vietnam shows that online shopping prevails and booms significantly despite the COVID-19 epidemic escalating globally.
The Gurdian/ Business Insider/ CNN