Trained dogs used to prevent illegal entry to Vietnam from China amid COVID-19 combat
Thirty-nine dogs will assist troops in stopping people trying to enter illegally from China by eluding border medical checks for Covid-19.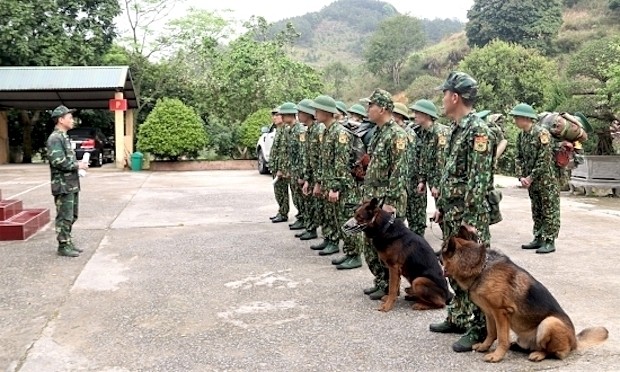 Border guards in northern Vietnam and their service dogs prepare for a mission. Photo by Bien Phong (border guard) Newspaper.
The trained dogs and 325 officials and students of two border defense colleges in Hanoi have been sent to the far north to Vietnam's border with China.
The personnel and the dogs will ensure no one enters Vietnam through the small unmarked roads that crisscross the border bypassing medical checks that have been mandated for entry into Vietnam from areas hit by the epidemic.
Authorities have shut down 63 of 65 sub border gates on the China border and banned entry for foreigners suspected to carry the novel coronavirus - those coming from the virus-hit areas or showing symptoms like cough and fever, according to the High Command of the Vietnam Border Defense Force.
They have also set up 260 fixed and 275 mobile checkpoints to tighten control.
More than 3,000 personnel are on duty at these checkpoints, including 1,700 border officials and guards.
VnExpress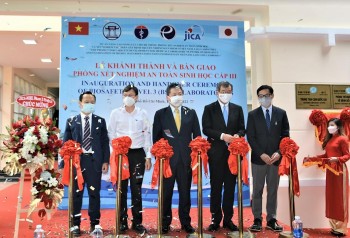 Friendship
The Pasteur Institute in Ho Chi Minh City (PI HCMC) hold an inauguration of its new Biosafety Level-3 Laboratory (BSL-3) on January 17th, 2022. For this new laboratory, the Japan International Cooperation Agency (JICA) has supported the main materials and equipment such as the air conditioning system, the wastewater treatment system, and the two-door autoclave, with a total value of 200 million yen (nearly 40 billion VND).