Vietnam exports COVID-19 test kit to Ukraine, Finland, Iran...
Vietnam is ready to officially export a batch of 7,500 novel coronavirus (COVID-19) test kits to Ukraine, Iran and Finland over the coming week. In addition, 20 countries, territories order Covid-19 test kits made in Vietnam.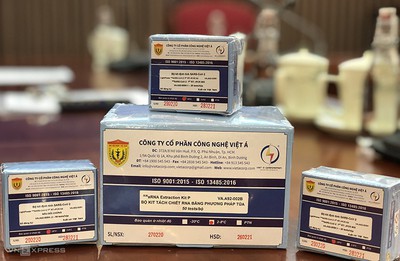 The new coronavirus test kit developed by the Vietnam Military Medical University and Viet A Corporation.
In a bid to deal with the impact of the COVID-19 epidemic, the country has been researching a variety of suitable test kits. Of the tests, the real-time RT-PCR bio-kit conducted by the Vietnam Military Medical University (VMMU) in collaboration with Viet A Technology Joint Stock Company has been successfully granted a license by the Ministry of Health for mass production.
According to Phan Quoc Viet, director of Viet A Technology Joint Stock Company, over the past week the firm has been able to mass produce 5,000 test kits for the COVID-19 which are to be used at testing facilities in tandem with the biological kit produced by the US Centre for Disease Control and Prevention (CDC) and the World Health Organization (WHO).
Although the company has recently begun to put the product into mass production, it has so far received plenty of positive feedback from users regarding its high accuracy. Indeed, the company is capable of producing approximately 10,000 test kits each day, with a maximum capacity of 30,000 items per day depending on future demand, he said.
Following the official announcement regarding the new test kit, over 20 countries and territories including Belgium, Australia, Poland, Ukraine, Finland, Nigeria, South Africa, Cambodia, Turkey, and Ireland have gone on to express a desire to purchase them.
Starting from this week, the company is about to post its first shipment of 50 kits, capable of performing 2,500 tests, to Ukraine, whilst a further 100 sets, capable of performing 5,000 tests, will be sent to Finland.
The past few days have seen Hanoi order 4,000 tests, with a capacity of 200,000 tests, for use in the capital and to be donated to hospitals in Italy - the European country hardest hit by the COVID-19.
The testing kit has been validated independently by the National Institute of Hygiene and Epidemiology (NIHE) and produces reliable results, said VMMU Director Do Quyet.
He added that the accuracy of the test kit, which was developed in just one month, is similar to those produced by the WHO and the CDC.
Each kit consists of 50 tests with each test being used for one person while the duration should last for a total of two hours, similar to those developed by the WHO and CDC, but its price is just one third of theirs, at VND400,000-600,000 (USD17-26).
The manufacturer has the capacity of supplying 200 kits each day, equivalent to 10,000 tests, while over 40 hospitals and disease control centres nationally have registered to purchase them.
The successful development of the new coronavirus test kit is particularly important as the COVID-19 outbreak is now a global concern and it undoubtedly reaffirms the capability of Vietnamese scientists.
Phan Quoc Viet, director of the Viet A firm, said 20 countries and territories are currently negotiating purchase of the kits from Vietnam. They would export kits to Iran, Finland, Malaysia and Ukraine first, he said.

Hanoi is also ordering 400 kits for its own use and to gift them to Italy, now the second-worst Covid-19 hit country after China, said Viet.

Viet had said earlier that his company could make 10,000 kits a day, and triple the capacity if needed.

The Vietnamese test kits provide quicker results and are easier to use than those used by the U.S. Center for Disease Control and the World Health Organization, according to the science ministry.

The country currently has 30 facilities capable of doing the Covid-19 test, three of them approved by the World Health Organization: the National Institute Of Hygiene And Epidemiology in Hanoi, the Pasteur Institute in Saigon and the Pasteur Institute in south central Nha Trang.
Vietnam reports 61st COVID-19 case

The Ministry of Health on March 16 evening announced four new cases of COVID-19, including one French national and three Vietnamese citizens who had arrived ...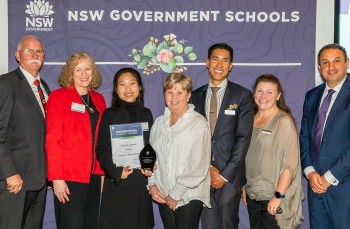 Overseas Vietnamese
The award for international students studying at New South Wales state schools (Australia) honors excellent ones from many countries, including a Vietnamese female student.