Vietnam, Russia Agree to Facilitate Bilateral Trade
President Nguyen Xuan Phuc and Russian Prime Minister Mikhail Mishustin consented to facilitate bilateral trade during their meeting on December 1, as part of the former's official visit to Russia.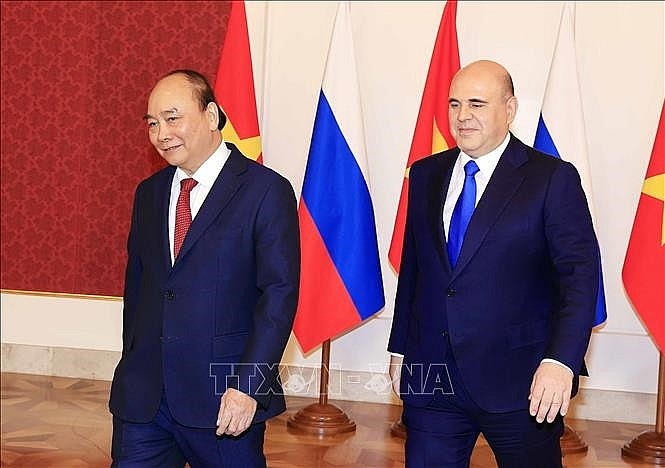 President Nguyen Xuan Phuc (L) and Russian Prime Minister Mikhail Mishustin during their meeting in Moscow on December 1 as part of the former's official visit to Russia. Photo: VNA
President Phuc affirmed the Party and State of Vietnam always keep in mind Russia's assistance for Vietnam in the past and at present, and attach importance to the comprehensive strategic partnership with Russia.
Vietnam considers Russia a leading priority partner in its foreign policy, while expressing his delight at achievements Russia has obtained in recent times, he said as cited by VietnamPlus.
Host and guest focused their discussion on cooperation between the two countries in areas, especially economy, while expressing their pleasure with the continued expansion in bilateral trade and investment cooperation despite impacts of Covid-19.
They spoke highly of outcomes of the 23rd meeting of the Vietnam-Russia Inter-governmental Committee on Economic-Trade and Scientific-Technological Cooperation that took place in October.
The two sides agreed to facilitate bilateral trade, including making the most of preferences of the Vietnam and the Asia-Europe Economic Union free trade agreement, and encouraging the implementation of large investment projects in such areas as industry, agriculture and infrastructure.
They affirmed determination to maintain and expand cooperation in energy and oil and gas in Vietnam and Russia – one of the key pillars in the two countries' comprehensive strategic partnership.
President Phuc and PM Mishustin reached consensus on orientations and measures to boost collaboration in the fields of education-training, science-technology, culture, tourism and people-to-people exchange.
They agreed to enhance cooperation in Covid-19 vaccine and drug production.
PM Mishustin affirmed the Russian Government's treasures and wishes to strengthen cooperation with Vietnam and will closely coordinate with the Vietnamese Government, particularly within the framework of the Vietnam-Russia Intergovernmental Committee on Economic-Trade and Scientific-Technological Cooperation, to carry out effectively agreements reached between Presidents Nguyen Xuan Phuc and Vladimir Putin.
President Phuc wished that the Russian Government continues to create favorable conditions for the Vietnamese community to live and work in Russia.
On the occasion, the President conveyed the invitation to visit Vietnam from Prime Minister Pham Minh Chinh to PM Mishustin.
Russia – a priority, reliable partner of Vietnam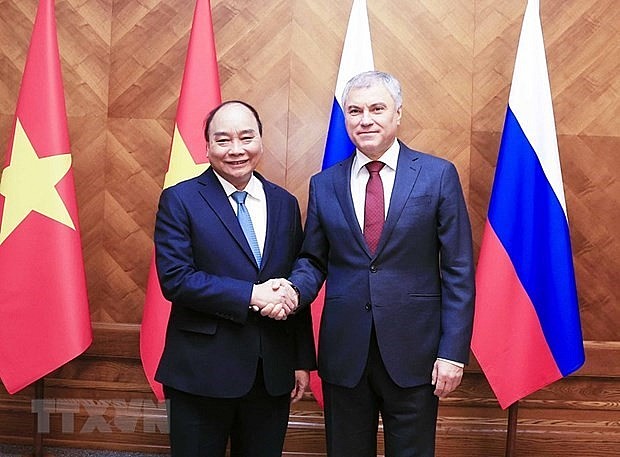 President Nguyen Xuan Phuc (L) and Chairman of the State Duma of Russia Vyacheslav Volodin. Photo: VNA
The same day, President Phuc met with Chairman of the State Duma (Lower House) Vyacheslav Volodin, during which the Vietnamese leader affirmed that Russia is always the first priority, reliable and traditional partner of Vietnam.
President Phuc congratulated the Russian Federation on successfully holding the election of the State Duma in September 2021 and Volodin personally on his reelection as Chairman of the State Duma, according to VOV.
For his part, Chairman Volodin warmly welcomed President Phuc's visit which he believed would add fresh impetus to bilateral cooperation. He also spoke highly of Vietnam's development achievements over the years despite the impact of the Covid-19 pandemic.
Both sides noted with satisfaction at the results of bilateral cooperation in the fields of politics, diplomacy, economy, education, science, as well as in Covid-19 prevention and control. They especially highly valued the effective cooperation in trade, investment, oil and gas amid the Covid-19 pandemic, bringing practical benefits to the two countries.
Phuc expressed his delight at the close cooperation between the National Assembly of Vietnam and the Russian State Duma over the past time, including the establishment of a high-level inter-parliamentary cooperation committee between the two legislative bodies.
"I hope the two legislative bodies will further promote the Committee's role in strengthening inter-parliamentary cooperation in particular and the Vietnam - Russia Comprehensive Strategic Partnership in general," said Phuc.
Meanwhile, Volodin affirmed that the Russian State Duma attaches importance to and wishes to promote cooperation with the National Assembly of Vietnam.
"Deputies to the State Duma, despite representing different political parties, always support efforts to strengthen cooperation with Vietnam," he said.
The two leaders underlined the need for the two legislative bodies to enhance the exchange of lawmaking and supervisory experiences in order to complete a favorable legal corridor for bilateral cooperation, as well as to maintain close cooperation at multilateral parliamentary mechanisms.
President Phuc thanked the Russian State Duma for supporting the Vietnamese community in Russia; and at the same time conveyed National Assembly Chairman Vuong Dinh Hue's invitation to Chairman Volodin to visit Vietnam at an appropriate time.
More room for Vietnam – Russia trade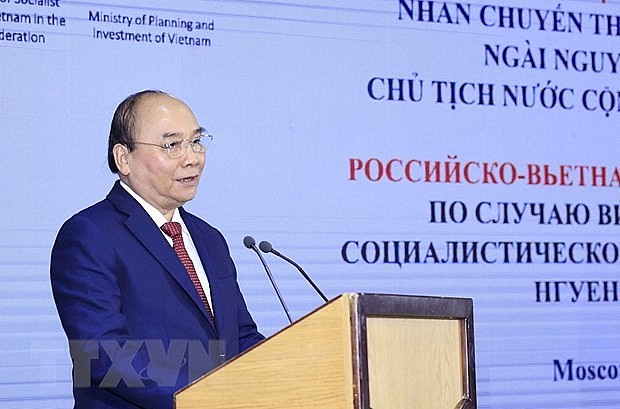 President Nguyen Xuan Phuc speaks at the ietnam – Russia business forum. Photo: VNA
While in Moscow, President Phuc attended a Vietnam – Russia business forum on December 1, where he suggested both sides should seize opportunities to fully tap into their cooperation potential.
He noted that the two-way trade value between Vietnam and Russia currently stands at US$5 billion – a rather modest figure compared to the two countries' potential. In addition, there are 150 joint investment projects valued at just US$1 billion which is incommensurate with their fine political relations.
He suggested that ministries, agencies and businesses of the two countries promptly remove difficulties and create the best possible conditions for their trade and investment to increase 15fold and 3fold respectively in the coming time.
"During earlier talks, President Vladimir Putin and I discussed orientations for strategic cooperation between the two countries, especially in the areas of trade and investment, as well as joint venture development," Phuc told the forum, as cited by VOV.
According to the President, despite the negative impact of the prolonged Covid-19 outbreak, Vietnam has retained positive economic growth this year. In Southeast Asia, he said Vietnam is the third-largest economy and an attractive investment destination for foreign businesses. It is also considered as one of the 20 economies that have successfully attracted investment.
The President expected that Russian businesses would visit and study the Vietnamese market more frequently to find opportunities for cooperation.
"Vietnam develops stable, highly predictable policies and a transparent, attractive business climate to help Russian companies feel secure when doing business in the country," said the Vietnamese State leader.
"We not only consider Russian businesses as foreign investors but as our close friends. Your success is also our desire and pride," he stressed.
At the forum, businessmen of the two countries expressed their desires to invest in each other's markets on the back of the Vietnam – Russia traditional relationship and their investment incentives.
Alexander Shokhin, President of the Russian Union of Industrialists and Entrepreneurs, suggested Russian and Vietnamese businesses make the most of the free trade agreement – the first trade deal that the Eurasian Economic Union has already signed with a non-member like Vietnam.
"Cooperation between the two countries remains modest. Russia has invested US$1 billion in Vietnam, and Vietnam has invested about US$3 billion in Russia. We have had meetings with Eurasian Economic Union member countries and expect to deploy new investment projects in Vietnam in the coming time," said Shokhin.
Later President Phuc witnessed the signing of a number of cooperation in various areas, including banking and finance, energy, and health care between Vietnamese and Russian businesses./.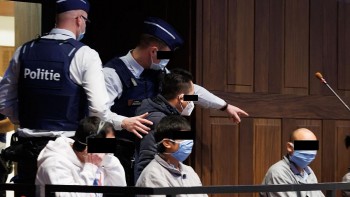 Overseas Vietnamese
Belgian court sentenced smuggler organization over 39 Vietnamese victims found dead in sealed lorry container in Essex.