Vietnam, Russia to Step up Cooperation at UN Forums
Deputy Foreign Minister Dang Hoang Giang and Russian Ambassador to Vietnam Gennady S. Bezdetko discussed bilateral cooperation at United Nations forums during their meeting in Hanoi on December 9.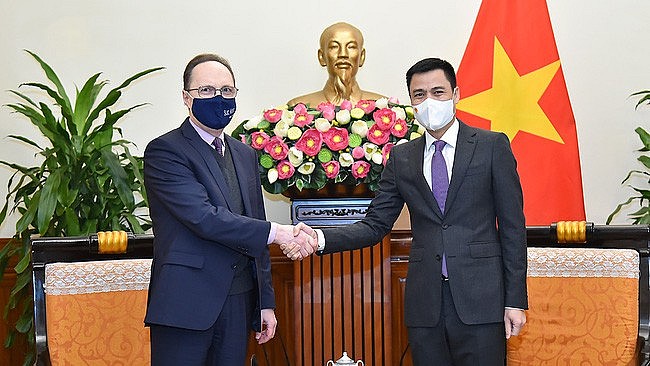 Deputy Foreign Minister Dang Hoang Giang (R) meets with Russian Ambassador to Vietnam Gennady S. Bezdetko. Photo: VTV
Both expressed their delight at the development of the comprehensive strategic partnership between Vietnam and Russia in all fields as well as the close and effective coordination with goodwill between the two sides at multilateral forums, especially the UN, VietnamPlus reported.
They said the regular exchange and coordination in viewpoint between the two countries over various regional and international issues in an open, transparent spirit and mutual trust, contributing to deepening the bilateral ties.
Giang highly valued the cooperation between the two countries at multilateral forums, especially the UN Security Council, which he said has helped Vietnam complete its tasks as a non-permanent member of the council over the past two years.
He suggested that the two sides continue to promote this spirit, thus together making contributions to the settlement of common issues of the international community, especially those related to international peace and security, and promoting the implementation of UN Charter and principles of international law.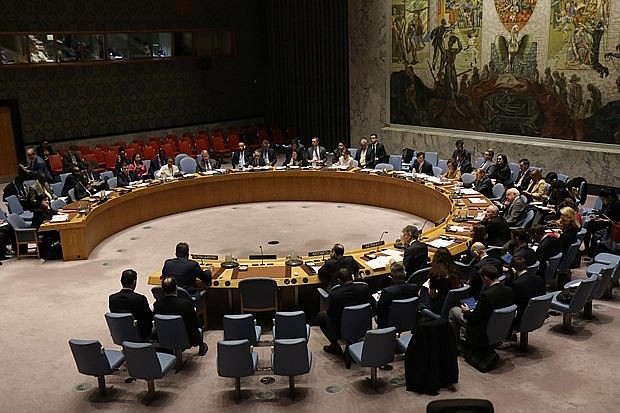 A working session of the UN Security Council. Photo: VNA
Echoing Giang's views, the Russian diplomat highly valued the similarities in viewpoints and policies of Vietnam and Russia as well as the trustful, straightforward and transparent spirit shown by both countries while discussing matters regarding human rights and other important issues within the UN system.
The ambassador thanked Vietnam for supporting many initiatives of Russia at multilateral forums, and welcomed the two sides' exchanges and dialogues at all levels, including the annual consultations between the two Foreign Ministries on cooperation within the framework of UN agencies and on issues related to human rights.
Both sides agreed to continue with discussions and dialogues to enhance mutual understanding on issues of shared concern as well as cooperation on other areas.
New impulse for bilateral comprehensive strategic partnership
Earlier, President Nguyen Xuan Phuc paid an official visit to Russia from November 29 to December 2, at the invitation of President Vladimir Putin.
During his stay, President Phuc and his Russian counterpart Putin spent nearly four hours discussing 20 important issues aimed at promoting cooperation between the two countries, according to VOV.
They agreed to expand economic, trade and investment cooperation and effectively implement the free trade agreement between Vietnam and the Eurasian Economic Union of which Russia is a member.
They issued a joint statement on the Vision of the Comprehensive Strategic Partnership between Vietnam and Russia until 2030 that charts a development and cooperation course for the two countries in the coming years.
President Phuc also met with Prime Minister Mikhail Vladimirovich Mishustin, Russian State Duma Chairman Vyacheslav Volodin, Federation Council Chairwoman Valentina Ivanovna Matviyenko, and other senior Russian officials. He also delivered a speech at a Vietnam-Russia business forum, witnessed the signing of several cooperation agreements and met representatives of the Vietnamese community in Russia.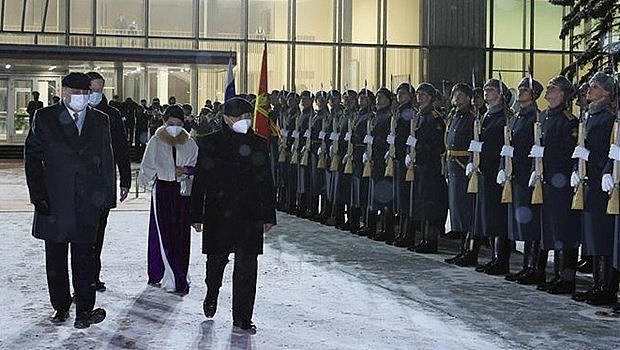 President Nguyen Xuan Phuc paid an official visit to Russia from November 29 to December 2, at the invitation of President Vladimir Putin. Photo: VNA
Researchers and scholars at a roundtable marking the 20th anniversary of Vietnam-Russia strategic partnership shared the view that the visit to Russia by President Phuc has created a new impulse for the two countries' all-round strategic partnership.
At the event, Russian scholars stressed the significance of the joint statement on the vision of Vietnam-Russia comprehensive strategic partnership by 2030 adopted during this visit, saying that this is a highlight in 20 years of the bilateral strategic partnership that helps open up a specific action programme in all fields from politics, diplomacy, to defence security and economics.
They affirmed that Vietnam and Russia have necessary capabilities and resources to play more active roles in the forming security structure in the region.
Scholars all showed their expectations that the joint statement will serve as a driving force for the bilateral relations, thus contributing to bringing the ties to a new height, VietnamPlus said./.