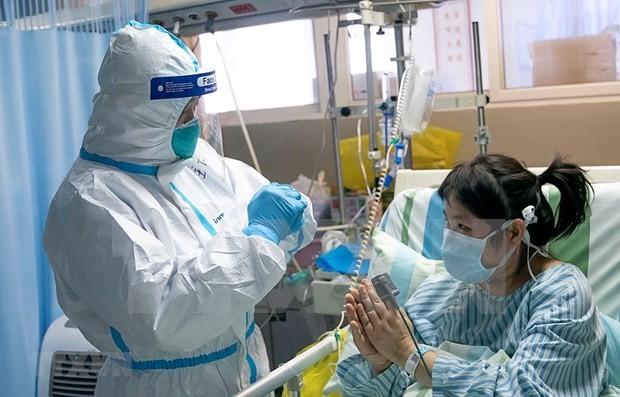 A medical worker treats a coronavirus patient at Wuhan hospital in Hubei province, China. (Photo: Xinhua/VNA)
Prime Minister Nguyen Xuan Phuc and the Government Standing Committee decided to provide aid with medical goods worth about USD 500,000 to support the Government and people of China in a battle to halt the spread of the novel coronavirus (nCoV).
At the same time, the Vietnam Red Cross has mobilized aid worth USD 100,000 and the seven northern border provinces also have appropriate measures to support the Chinese people, especially in the border provinces.
PM Phuc on January 27 extended message of sympathy to Chinese Premier Li Keqiang over the acute respiratory disease caused by the nCoV that is raging in the country. The PM affirmed Vietnam, in its capacity, is willing to cooperate with China in the fight against the disease.
He also expressed his belief that under the leadership of the Communist Party of China and with the country's experience in successfully preventing the SARS outbreak in 2003, the Chinese government will lead their people to surmount the challenge and prevent the disease soon, contributing to protecting the health of people in China as well as in the region and the world.
Earlier, a UNICEF shipment of respiratory masks and protective suits for health workers landed in Shanghai (China), on January 29 to support China's response to 2019-nCoV outbreak.
According to WHO, coronaviruses are transmitted through direct contact, respiratory droplets like coughing and sneezing, and touching surfaces contaminated with the virus. Symptoms include fever, cough, shortness of breath and breathing difficulties. In more severe cases, infection can cause pneumonia, severe acute respiratory syndrome, kidney failure and even death.
To avoid the risk of transmission, people should:
Wash their hands frequently using alcohol-based hand rub or soap and water;
Cover their mouth and nose when coughing or sneezing;
Avoid close contact with anyone who has a fever and cough;
Seek medical care early if they have fever, cough and difficulty breathing, and share previous travel history with their health care provider;
Avoid direct unprotected contact with live animals and surfaces in contact with animals.
VNF