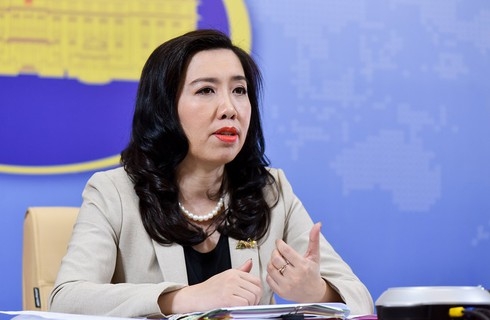 Foreign Ministry spokeswoman Le Thi Thu Hang. Source: VOV
Vietnam's submissions of diplomatic notes protesting China's illegal claims over East Sea is a normal action to express the country's standpoint and protect its legitimate rights and interests.
The comment was made by foreign ministry affairs' spokeswoman Le Thi Thu Hang during the regular press briefing held online on April 9, in response to questions over whether the move signifies that Vietnam might step up its legal actions against China's aggression and claims in the East Sea, especially amidst the backdrop of growing tensions over China's sinking of Vietnamese fishermen's boat with eight crew members onboard on April 4 off the waters of Hoang Sa (Paracel) islands.
The incident not only drew sharp criticism from Vietnam, but also earned condemnation from the US and the Philippines, who is also a territory claimant in the resource-rich seas, as well as international experts.
"Vietnam's consistent position is to resolve the ongoing disputes in the East Sea through peaceful means on the basis of international law as defined in the 1982 United Nations Convention on the Law of the Sea (UNCLOS 1982)," Hang said.
She stressed that Vietnam asserts its sovereignty over the Hoang Sa (Paracel) and Truong Sa (Spratly) archipelagos in the East Sea in accordance with international law. In addition, the country also affirms its sovereignty, sovereign rights and jurisdiction over the waters stipulated in the 1982 UNCLOS.
"The viewpoint of Vietnam has been stated clearly in the diplomatic note," Hang added.
Regarding reports of China's intention of deploying AVIC AG600, which it claimed to be the world's largest amphibious aircraft whose purpose is for research and survey, to the East Sea, the Vietnamese foreign ministry's official said that the maintenance of peace and security, freedom of navigation – be it air or maritime – in the area is in the interests and responsibilities of all countries in and outside the region.
"We hope that all countries would strive to enhance cooperation and have meaningful contributions to peace and order in the region, for the common good," Hang stressed.
The Vietnamese vessel, coded QNg 90617 TS, with eight fishermen on board, was fishing near Phu Lam island of Vietnam's Hoang Sa (Paracel) archipelago on April 2 when a Chinese coast guard ship hit and sank it.
Two Vietnamese fishing boats QNg - 90045 TS and QNg - 90399 TS attempted to rescue the eight fishermen, but they were also detained with their ships on the island, Vietnam Fisheries Society wrote in a document issued to the Government Office, the Ministry of Foreign Affairs and other governmental institutions, quoting Quang Ngai's Fisheries Society.
China released the eight fishermen and the two Vietnamese rescue boats on April 2 evening, the report added.
Hannah Nguyen