Series of global press and social media reported "China concealing the truth" on Coronavirus
Many press and news agencies include well-known and trust-worthy ones in the world have simultaneously reported on what called "China concealing the truth on Covid-19" recent days. While more than 935,000 people have now been infected with the deadly virus and 47,200 dead, as millions are in lockdown across the world indefinitely. What is really happening in our world?
Today 4 April, Express.co.uk informed that more than 860,000 people have now been infected with the deadly virus and 42,000 dead, as millions are in lockdown across the world indefinitely. COVID-19 is believed to have originated in Wuhan at a seafood market where wild animals including birds, bats and snakes were traded illegally. The first case of the virus is thought to have been recorded as early as December 1, but China did not report the outbreak to the World Health Organisation (WHO) until December 31.
Speaking on Four Corner's 'Secrets behind Coronavirus' documentary, Centre for Strategic International Studies senior fellow Richard McGregor said the Chinese government sat on this information for weeks. He said last month: "The key point in this saga is they lost about two weeks, maybe three, just when the virus was at its nascent point, just at a time where they could have traced it, a time when perhaps they could have checked it.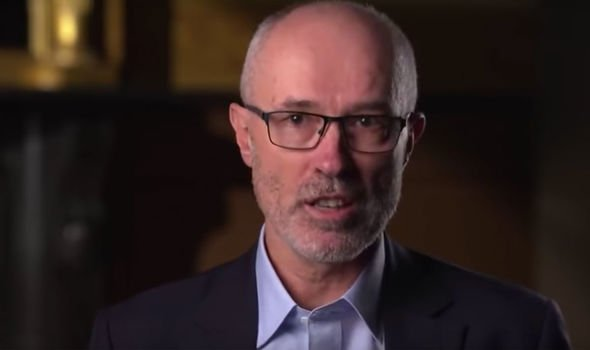 Richard McGregor said the Chinese government sat on this information for weeks (Image: FOUR CORNERS)
Otherwise, a series of news agencies and social medias such as: businessinsider; nationalreview, The Times of Israel, The South China morning post, Komonews, Foxnews, Dailysabah, Gnews, The Guardian, Blooberg, Luxtimes, thewest.com.au, Yahoo news, Youtube, Facebook..etc. informed that: The US intelligence community has determined that the Chinese government concealed the extent of its coronavirus outbreak and gave false numbers of cases and deaths in the country, citing three US officials.
Intelligence officials transmitted a classified report of their findings to the White House last week. Bloomberg described its sources as saying that the report's main conclusion was that China's public reporting of coronavirus cases was "intentionally incomplete." Two officials told the outlet that it found that China's numbers were fake.
China was the center of the novel coronavirus outbreak until last week, when the US's number of cases of COVID-19, the illness caused by the virus, surpassed China's. The World Health Organization declared it a pandemic on March 11.
As of Wednesday, more than 885,000 people across the globe had been infected and more than 44,000 had died. China had reported 82,361 confirmed cases and 3,316 deaths, according to a database from Johns Hopkins University. The US had reported 190,089 positive cases and 4,102 deaths.
The outbreak originated late last year in the city of Wuhan, in China's Hubei province. As more and more people got sick, China's government implemented strict lockdowns and ordered residents to stay inside while officials raced to contain the spread of the virus.
It was also reported by SCMP that :
While China eventually imposed a strict lockdown beyond those of less autocratic nations, there has been considerable scepticism of China's reported numbers, both outside and within the country. The Chinese government has repeatedly revised its methodology for counting cases, for weeks excluding people without symptoms entirely, and only on Tuesday added more than 1,500 asymptomatic cases to its total.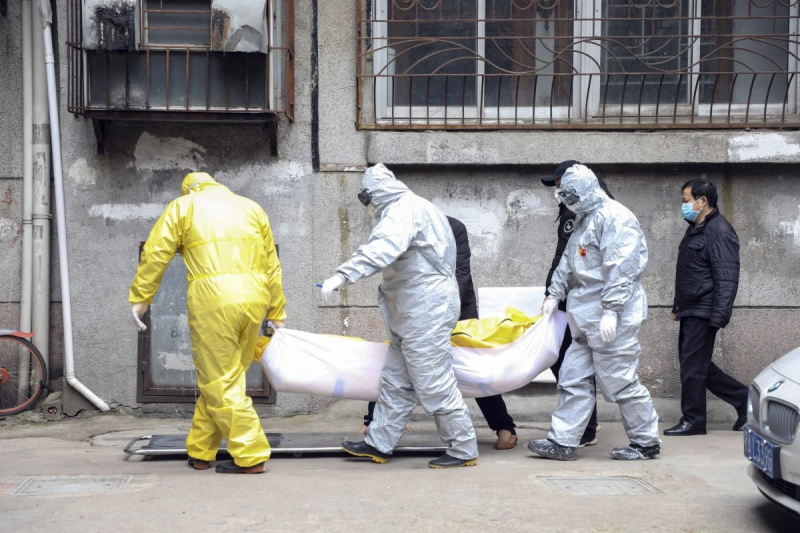 Funeral home workers remove the body of a person suspect to have died from a virus outbreak from a residential building in Wuhan in early February. Photo: AP
Stacks of thousands of urns outside funeral homes in Hubei province have driven public doubt in Beijing's reporting. Deborah Birx , the State Department immunologist advising the White House on its response to the outbreak, said on Tuesday that China's public reporting influenced assumptions elsewhere in the world about the nature of the virus.
Authorities in Wuhan are unlikely to disclose the overall number of deaths until now in the central Chinese city despite renewed concerns about underreporting of fatalities from the coronavirus pandemic.
An official at Wuhan's Civil Affairs Bureau said on Monday that the numbers would be released in the second week of June as scheduled, and that there is no plan to alter the date.
The comment came after reports that funeral homes in Wuhan have ordered thousands more urns than the official death tally of coronavirus patients in the city.
In a report on the weekend, Caixin magazine quoted a truck driver as saying he delivered about 5,000 urns on Wednesday and Thursday to the funeral parlour in Hankou district – one of eight such facilities in the city.
One photograph published with the report purportedly showed 3,500 urns stacked on the floor of the funeral home. According to official reports, Covid-19, the disease caused by the coronavirus, has killed 2,535 people in Wuhan since it first emerged in December.
Wuhan, a city of about 11 million people in the province of Hubei, went into lockdown to try to control the spread of the coronavirus on January 23, a measure that included suspension of all funeral and mourning activities. As a result, relatives of the deceased were only allowed to collect the ashes of their relatives from last week as the funeral homes began to clear their backlog.
The Caixin report suggested that more people might have died from Covid-19, the disease caused by the coronavirus, than the official figure indicated.
It was also widely reported that the official death figure did not account for patients who have died before they were tested for the coronavirus and those who were also suffering from other diseases.
Medical personnel interviewed have said that many patients were turned away in the early stages of the outbreak when the hospital system in Wuhan was overwhelmed.
According to the bureau, there were 56,007 cremations in Wuhan during 2019, nearly 3 per cent more than 2018 and about 4 per cent above 2017. The official reports did not specify the reason for the rise.
A district official in Wuhan said on Monday that there was a period of "chaos and confusion" from mid-January to February and some of those patients who were suspected of having been infected with the virus were not counted in the official figures.
The official, who commented on the condition of anonymity, said that later figures – those published after Beijing sent its supervisors to Wuhan and overhauled the city's leadership – were basically accurate.
Beijing sent then-Jinan Party secretary Wang Zhonglin to Wuhan to take command of the city in mid-February. Wang ordered cadres of neighbourhood communities to locate all suspected patients and send them to isolation or quarantine.
The district official said there was "no reason for Wang to hide the real death toll as the mess was left by his predecessors".
"It is in his interest to expose the whole problem so he can have a clean start and ask for more help from the central government," the district official said.
Premier Li Keqiang has also urged cadres and officials to be "open and transparent" in releasing information on the epidemic.
"Being open and transparent means every new case must be reported once it's discovered, report them as they happen. [You should] not conceal or under-report," he said during a State Council meeting.
The report on Bloomberg also points out: Suspect Reporting
The U.S. intelligence community's conclusion is an attempt to divert attention from surging deaths in the U.S. and other Western countries, Hu Xijin, editor-in-chief of China's state-run Global Times, said on his account on Chinese social media platform Weibo.
There was no way for serious data faking to occur in today's China, especially for an incident that has drawn such widespread attention, Hu said. He said China managed to curtail the death toll in Hubei, the province where the virus first emerged late last year, by sending medical workers and equipment there from other parts of the country.
"To fake the casualty data, which departments will be deployed? Who will implement the plan?," Hu said. "It will involve many different departments in many places to get the total numbers. If one of them is faking once, they have to fake it all the time. The risk of screwing up could be very high."
China isn't the only country with suspect public reporting. Western officials have pointed to Iran, Russia, Indonesia and especially North Korea, which has not reported a single case of the disease, as probable under-counts. Others including Saudi Arabia and Egypt may also be playing down their numbers.
U.S. Secretary of State Michael Pompeo has publicly urged China and other nations to be transparent about their outbreaks. He has repeatedly accused China of covering up the extent of the problem and being slow to share information, especially in the weeks after the virus first emerged, and blocking offers of help from American experts.
"This data set matters," he said at a news conference in Washington on Tuesday. The development of medical therapies and public-health measures to combat the virus "so that we can save lives depends on the ability to have confidence and information about what has actually transpired," he said.
"I would urge every nation: Do your best to collect the data. Do your best to share that information," he said. "We're doing that."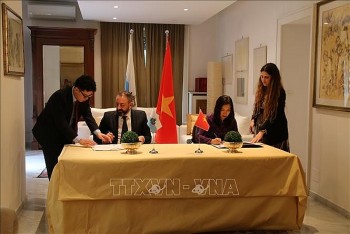 Friendship
The two countries will continue promoting cooperation to enhance growing ties between the two countries based on the good friendship since they established diplomatic relations in 2007.