China should have respected Vietnam's sovereignty in East Sea as a reputable big neighbour
Foreign Ministry spokeswoman Le Thi Thu Hang on March 26 requested China to respect Vietnam's sovereignty over its territory in the East Sea following our big neighbour putting into operation two illicit research stations on Vietnam's Truong Sa (Spratly archipelago).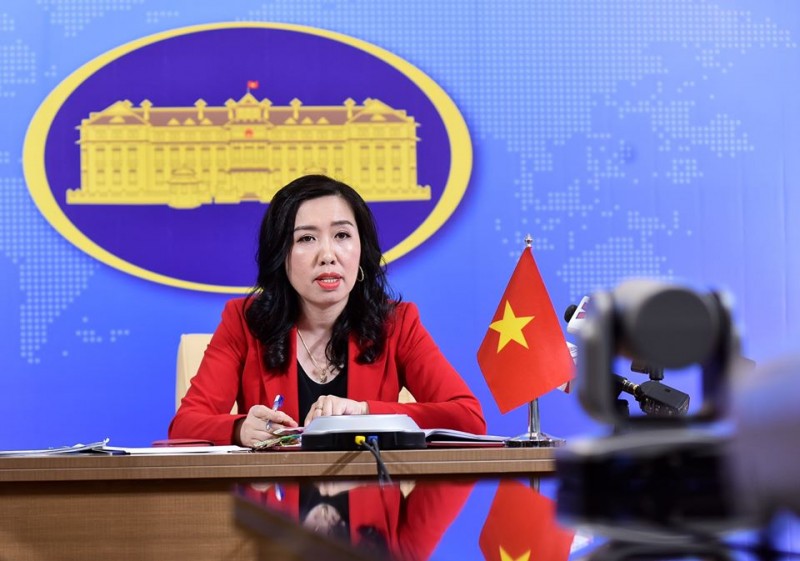 Foreign Ministry spokeswoman Le Thi Thu Hang. Photo: VGP
"Vietnam has repeatedly stated it has sufficient historical and legal evidence to prove its sovereignty over Hoang Sa (Paracel) and Truong Sa (Spratly) archipelagoes in line with international law. As a result of this legal proof, all activities that take place there must be subject to permission being granted by Vietnam," stated Hang during an online press conference held in Hanoi.
"Vietnam asks China to respect Vietnamese sovereignty by not taking action to increase tensions, complicate the situation, and affect peace and stability in the East Sea and the region, as well as the countries' ongoing efforts in negotiating the Code of Conduct (COC) in the East Sea."
The statement comes after the Xinhua News Agency reported on March 20 that China had inaugurated two research stations on Da Chu Thap (Fiery Cross Reef) and Subi Reef. These reefs are among a chain of seven marine features that are part of Vietnam's Spratly archipelago and have been illegally transformed into outposts by China.
According to Xinhua, the two research centres, which contain laboratories on ecology, geology, and the environment, would be used to support scientists in field investigation, sampling and scientific research on the Spratly archipelago.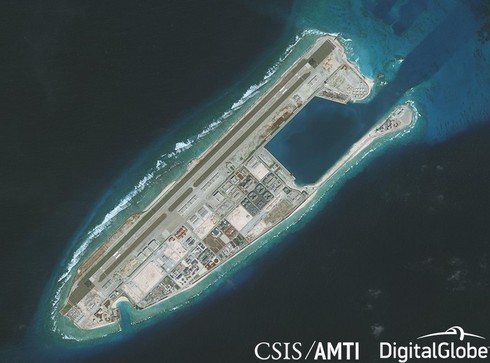 Da Chu Thap (Fiery Cross Reef) has been illegally transformed into outposts by China.
It is confirmed that China has no "historical right" in the East Sea and the "buffalo-tongue" or "9-dash" line that it unilaterally draws violates the 1982 United Nations Convention on the Law of the Sea (1982 UNCLOS).
China's sovereignty claim, based on its so-called "historical right", is not defined in international law. In 2016 China's sovereignty claims based on the 9-dash line and historical rights were rejected by the International Court of Arbitration in The Hague. Beijing has not accepted the PCA's ruling and has persisted in trying to affirm its sovereignty by unilateral, illegal, coercive measures.
Also at online press conference, Hang voiced Vietnam's strong objection to Taiwan (China)'s live-fire drills around Ba Binh (Itu Aba) island and demanded it stop similar actions in the future.
She described Taiwan's continuation of live-fire drills in the waters surrounding Ba Binh island of Vietnam's Spratly archipelago "a serious violation of Vietnam's territorial sovereignty, posing a threat to peace, stability and maritime security and safety, as well as causing tension and complicating the situation in the East Sea."
Vietnam resolutely protests and asks Taiwan not to carry out similar illegal exercises in the future, said the spokeswoman./.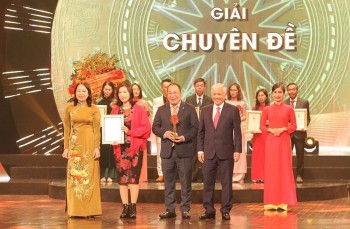 Overseas Vietnamese
VietnamTimes (Viet Nam Union of Friendship Organizations) is a reliable address for overseas Vietnamese to quickly and objectively update political, economic, cultural, and social news. The agency has created a helpful forum and connection between expatriates and the motherland.