Vietnam to Pilot Domestic Flight Resumption
The government has approved a pilot reopening of several domestic air routes starting Oct. 10 with further adjustments being made later on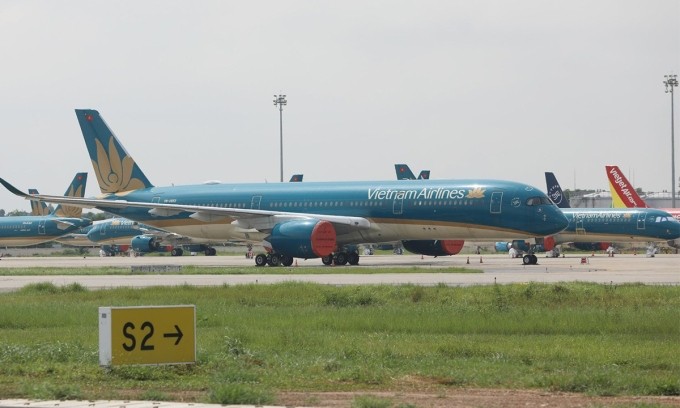 Aircraft park at Noi Bai Airport, Hanoi. Photo: VNE
From Oct. 10-20, there will be 23 return flights every day, 10 of them from HCMC to other localities, six from Hanoi, four from Da Nang and three from Thanh Hoa, according to the domestic flight resumption plan presented by Le Anh Tuan, Deputy Minister of Transport, at an online meeting Friday.
Passengers can take the flights if they are fully vaccinated with the last dose administered at least two weeks before the flight; or if they are Covid-19 patients who have recovered at least six months prior, as reported by VNE.
All passengers are also required to take Covid-19 tests 72 hours before their flights with negative results.
When moving from the airport to their accommodation and during their stay, passengers have to strictly follow Covid-19 prevention guidelines.
According to VNA, a representative from the national flag carrier Vietnam Airlines said all of its staff had been given the first shot while all pilots and 80% of flight attendants have been fully vaccinated.
Deputy Health Minister Do Xuan Tuyen said during the pilot time, the frequency of each flight should be less than half of previous schedules.
Deputy Prime Minsiter Le Van Thanh said the resumption of flights was necessary to gradually restore socio-economic development but also posed infection risks.
He asked localities nationwide to closely keep track of residents and passengers coming from pandemic-hit areas and absolutely prevent the outbreak of complex infection hotspots.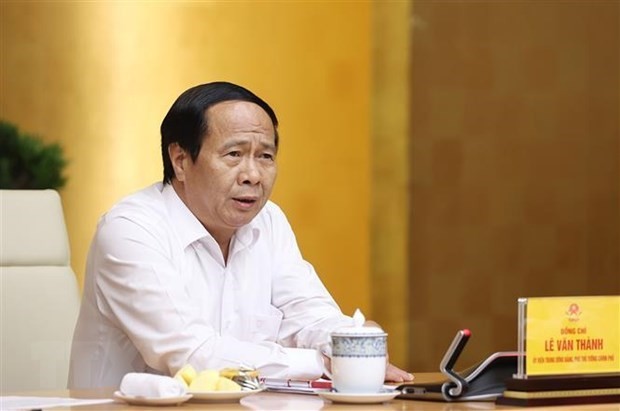 Deputy Prime Minister Le Van Thanh. Photo: VNA
The Hanoi People's Committee has proposed a seven-day quarantine for passengers after they return at the city's quarantine centers or at designated hotels.
Aviation authorities had late August asked carriers to stop selling tickets for domestic flights until further notice. Cargo flights and those carrying coronavirus frontline forces have remained functional.
During the fourth coronavirus wave that began in late April, the country has recorded over 827,000 infections.
National borders were closed and all international flights stopped in March last year and are yet to resume.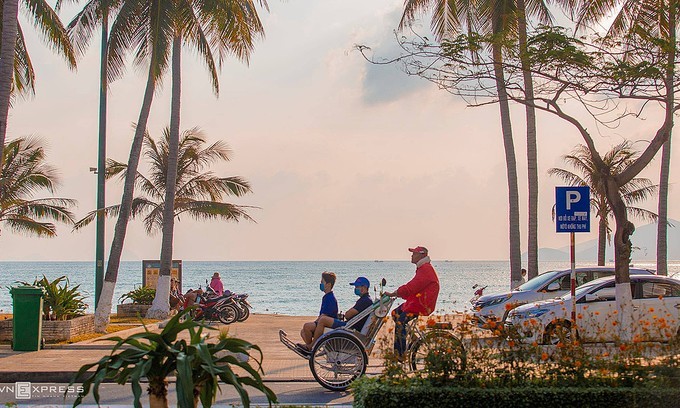 Tourists take a cyclo ride along Tran Phu Street in Nha Trang, April 2021. Photo: VNE
Meanwhile, authorities are hoping to reopen select tourist destinations to vaccinated foreign visitors from countries with low Covid risks from November ahead of a full resumption in June next year.
From November 2021 to March 2022, the popular resort island of Phu Quoc off the southern province of Kien Giang will be the first destination to be reopened to foreign arrivals, mainly from source markets with good management of the Covid-19 pandemic and high vaccination rates such as Northeast Asia, Europe, the United States, the Middle East and Australia.
From December 2021 to June 2022, other favorite tourist sites such as Ha Long Bay in the northern province of Quang Ninh, Hoi An city in the central province of Quang Nam, Nha Trang city in the central province of Khanh Hoa and Da Lat city in the Central Highland province of Lam Dong may follow the suit.
The country will fully reopen its doors to foreign tourists from June, the Vietnam National Administration of Tourism said.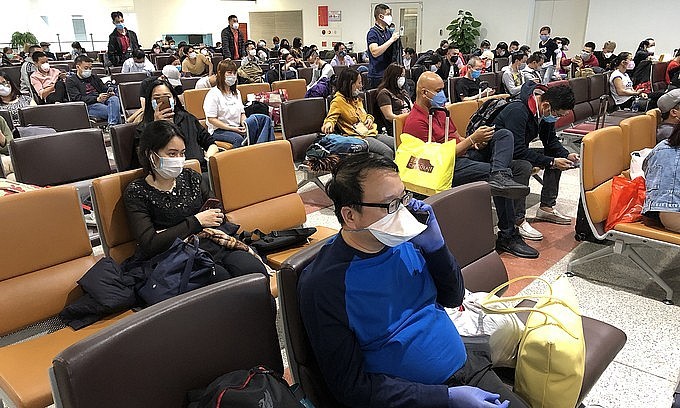 Vietnam is considering mutual recognition of vaccine passports with certain countries. Photo: VNE
Vietnam is considering mutual recognition of vaccine passports with countries in Southeast Asia, China, Japan, South Korea, the EU and the United States, the Government Office announced Sunday.
Such mutual recognition is "very important and especially necessary in the current context."
Prime Minister Pham Minh Chinh has assigned the Ministry of Foreign Affairs to coordinate with the Ministry of Health and work with authorities in other countries on this issue.
The government closed its doors to foreign tourists and canceled all international flights in March last year as a Covid containment measure. Only Vietnamese repatriates, foreign experts and highly-skilled workers are allowed in with stringent conditions.
Vietnam recorded a 79% decline year-on-year in the number of foreign visitors in 2020 due to travel restrictions amid the pandemic.
The nation welcomed just 3.83 million foreign visitors against a record 18 million in 2019, according to official data.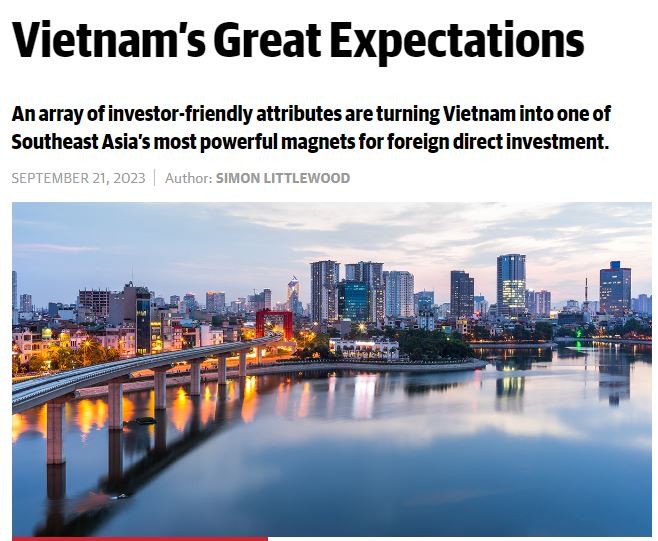 Economy
"An array of investor-friendly attributes are turning Vietnam into one of Southeast Asia's most powerful magnets for foreign direct investment," said Global Finance Magazine in a recent article.
September 23, 2023 | 16:38
Economy
Vietnam has a fast-increasing semiconductor ecosystem and possibilities to improve its position in the global supply chain. In the joint announcement of the US-Vietnam Comprehensive Strategic Partnership, the two countries acknowledged Vietnam's significant potential to become a key nation in the semiconductor industry, adding they "are supportive of the rapid growth of the semiconductor ecosystem in Vietnam."
September 22, 2023 | 09:22