Int'l Flights Route Reopened, Overseas Gain Chances to Celebrate Tet in Homeland
Several international flight routes have been reopened with different prices.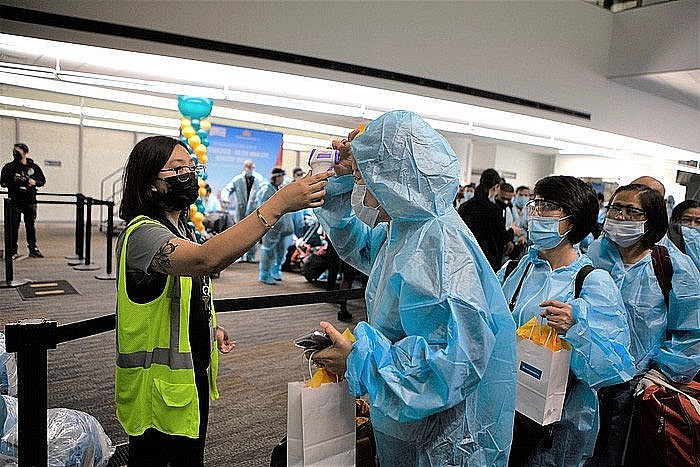 Several international flight routes have been reopened with different prices. (Photo:VNA)
According to the Civil Aviation Authority of Vietnam, currently, seven out of nine countries and territories have basically agreed on Vietnam's proposal to resume regular commercial flights.
Those seven includes the USA (4 flights per week), Japan (3 flights per week), South Korea (2 flights per week), Taiwan - China (1 flight per week), Singapore (2 flights per week), Thailand (2 flights per week), Cambodia (4 flights per week).
Airlines said the flight frequency would be closely monitored by them and increased according to the market situation. They will forecast the increase of foreigners and Vietnamese' travel demand in Tet to adjust the frequency.
Airlines ask passengers to stay updated and ensure that they meet entry requirements of the destinations that they plan to arrive at as prescribed by authorities before buying tickets. Those requirements include passports, vaccines, negative Covid-19 test results, accommodation, health monitor.
International flights route reopened overseas gain chances to celebrate Tet in the homeland. (Photo: VN Express)
According to Vietnam Airlines' website, air tickets from Ho Chi Minh City to San Francisco (USA) opened for sale on January 12, 2022, with the one-way price of VND 21.3 million (US$ 926) including taxes and fees.
On Vietjet Air's website, the route from Hanoi to Tokyo (Japan) has the lowest one-way ticket price of 6.6 million VND (US$ 268.1)/ticket/way (economy class) and VND 13. 8 million (US$ 600) /ticket/ way(business class).
The Taipei - Hanoi flight on January 8 costs VND 6.8 million (US$ 296). A ticket from Taipei to Ho Chi Minh City on January 12 is priced at VND 12.2 million (US$ 530)/ticket.
Vietnam Airlines' economy one-way fare from Hanoi to Tokyo has the price of VND 10.6 - 16 million (US$ 461-696), business class from VND 25 - 41 million (US$ 1,087-1,783)/ticket.
If Vietnam Airlines can open its round-trip from Hanoi to Japan in January 2022, passengers will have to pay VND 24-28 million (US$ 1,043-1,217) per economy class ticket, which is much higher than the price before the pandemic.
Dinh Thuy Anh, a representative of an airline ticketing agent in Hanoi, said international flight tickers were open for sale, but the frequency of exploitation was low, so the price was higher than it was in previous years. However, in the following months, as the flight frequency increases, ticket prices will be reduced.
Regular flights have so far been safely operated and received positive responses from passengers, especially overseas Vietnamese wishing to repatriate after a long time due to the pandemic.