Vietnam Trade Office protects rice trademark in Australia
The Vietnam Trade Office in Australia says it has taken urgent measures to protect trademark rights for Vietnam's rice after a company in Australia applied for protection of the rice trademark ST24 and ST25 as the World's Best Rice.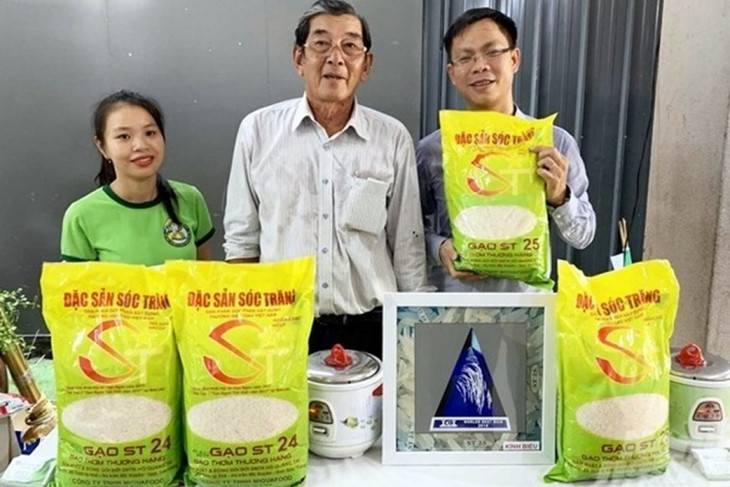 Rice varieties named ST24 and ST25 are successfully developed by Mr. Ho Quang Cua and a team of Vietnamese scientists and have been granted a patent in Vietnam. Photo: Labor Newspaper
According to the Office, T&L Global Foods Supply PTY LTD, located at 420 Victoria Rd Malaga, WA, 6090 Australia, on April 22, filed the application and it will take months for the Australian agency to consider the case.
ST25 rice is a strain developed by farmer-scientist Ho Quang Cua and his colleagues in the Mekong Delta province of Soc Trang. In 2019, ST25 rice was named the winner of the World's Best Rice Contest in the Philippines.
The Vietnam Trade Office discussed with Ho Quang Cua to coordinate actions and also actively engaged in discussions with the leaders of T&L Global Foods Supply PTY LTD, the VOV reported.
The Trade Office have sent an official dispatch with attached documents and pictures to IP Australia to clarify that the rice varieties named ST24 and ST25 were successfully researched and produced by Ho Quang Cua and a team of Vietnamese scientists and has been granted a patent in Vietnam. The Office is discussing with Australian lawyers to prepare the next steps in accordance with IP Australia regulations.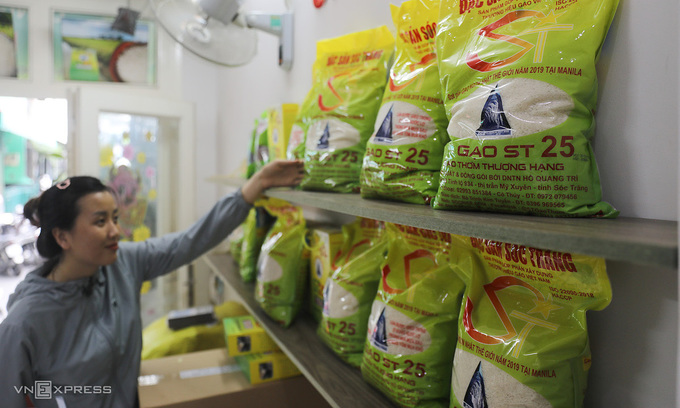 A person reaches for a bag of ST25 rice at a store District 10, Ho Chi Minh City, on April 23, 2021. Photo: VnExpress
VnExpress said T&L Global Foods Supply PTY LTD is the sixth company internationally –the other five are in the US– to seek to appropriate ST25.
"We ask IP authorities in Australia to consider the matter, and to avoid possible disputes that could affect ST24, ST25 rice exports from Vietnam to Australia.
"Relevant procedures to prove the rice varieties are Vietnamese need to be accelerated," said Nguyen Phu Hoa, head of Vietnam Trade Office in Australia.
Ngan Tran, director of Maygust Trademark Attorneys in the Australian capital Canberra, said it takes three to four months to carry out checks for a patent registration.
If an application meets all the requirements, the IP agency would issue a notice accepting the trademark and disclose the information enabling anyone with an objection to file within two months, she explained.
If there is no objection, the patent would be granted, she said.
Vietnam Trade Office in Australia also contacted T&L, which stated it would "check the matter with the brand department."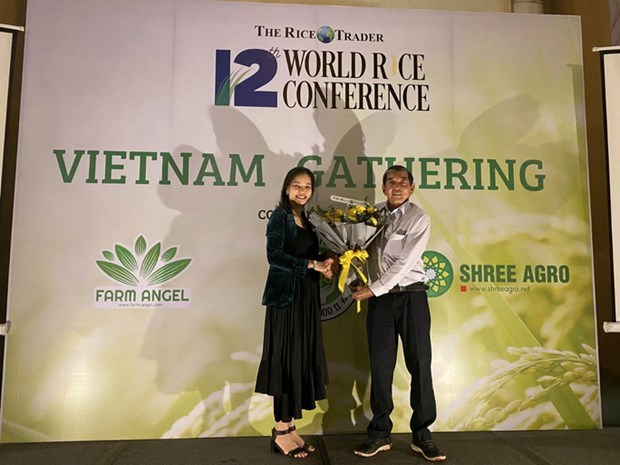 Vietnam's ST25 rice won the second place at a contest of the world's best in 2020, held within the framework of the 12th world rice conference in the US from December 1 – 3. Photo: VFA
Ngan Tran said the trademark is protected by territory, so it does not mean it would be protected in other markets such as the US and Australia. Therefore, businesses need to actively apply for protection in specific countries.
Of the five applications for ST25 submitted to the United States Patent and Trademark Office (USPTO), only the one by I&T Enterprise Inc. has crossed the first stage.
Vietnam exported rice worth $4.7 million to Australia in Q1, a year-on-year increase of 66 percent, according to the Ministry of Industry and Trade.
The country exported 6.15 million tonnes of rice worth US$ 3.07 billion in 2020, down 3.5 percent in volume but up 9.3 percent in value year-on-year, the Ministry of Agriculture and Rural Development said. /.
Vietnam continues rice industry restructuring

Vietnam will continue to restructure the rice industry in the direction of improving efficiency and sustainable development towards the objectives of fully meeting domestic consumption ...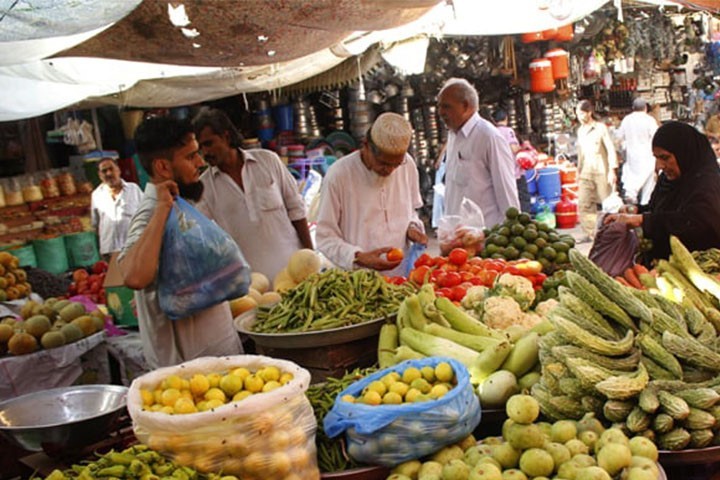 Economy
The finance ministry on Wednesday forecasted inflation to surge by 3-4 percentage points to 31 per cent in September compared to 27.4pc in the preceding month mainly because of a major increase in fuel prices.
October 04, 2023 | 07:00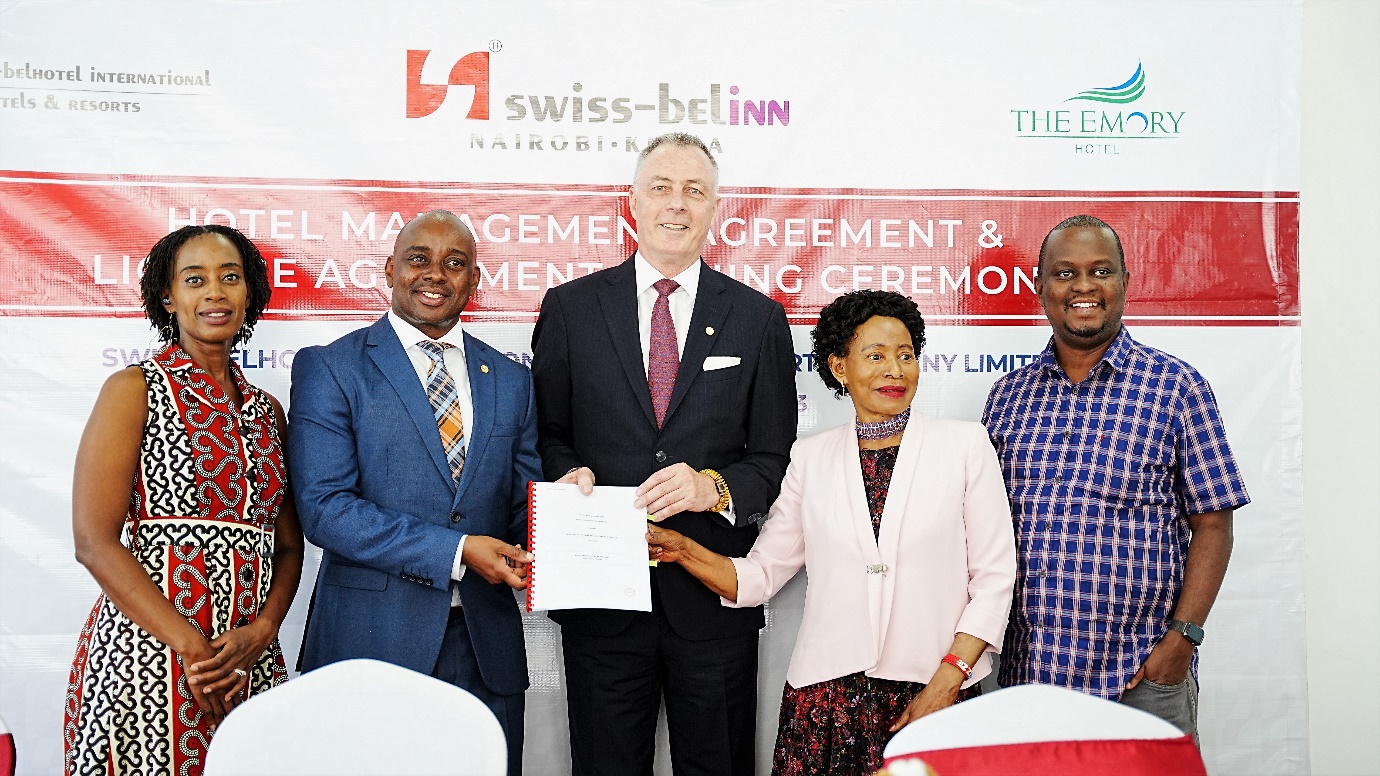 Economy
Swiss-Belhotel International, the rapidly growing global hotel management group, has signed an agreement with the NIBS Resort Company Limited to manage the Swiss-Belinn Nairobi, the group's first operating hotel in Africa. This collaboration underscores Swiss-Belhotel International's strategic expansion plans in Africa.
October 03, 2023 | 14:00